Brussels is an enchanting winter destination thanks to its charming Christmas markets, sparkling lights throughout the city, and warm cafés that are always ready to welcome you in. The city is abundant in museums, palaces, squares, shops, and restaurants, so there is always something going on for you to enjoy. Spend your days roaming the city streets, dipping in and out of cafés and restaurants for hot drinks and warming plates of top seasonal produce.
While there are enough things to keep you occupied for a long vacation, the city is also small enough that you could tick off a number of the main city sights in just a few days. If you have more days to spend in the city, there are some lovely day trips from Brussels you can easily plan, like Bruges, Ghent, or Antwerp.
Disclaimer: This post contains an affiliate link. This means that should you click on certain links, and then subsequently purchase a product, I will receive a small commission.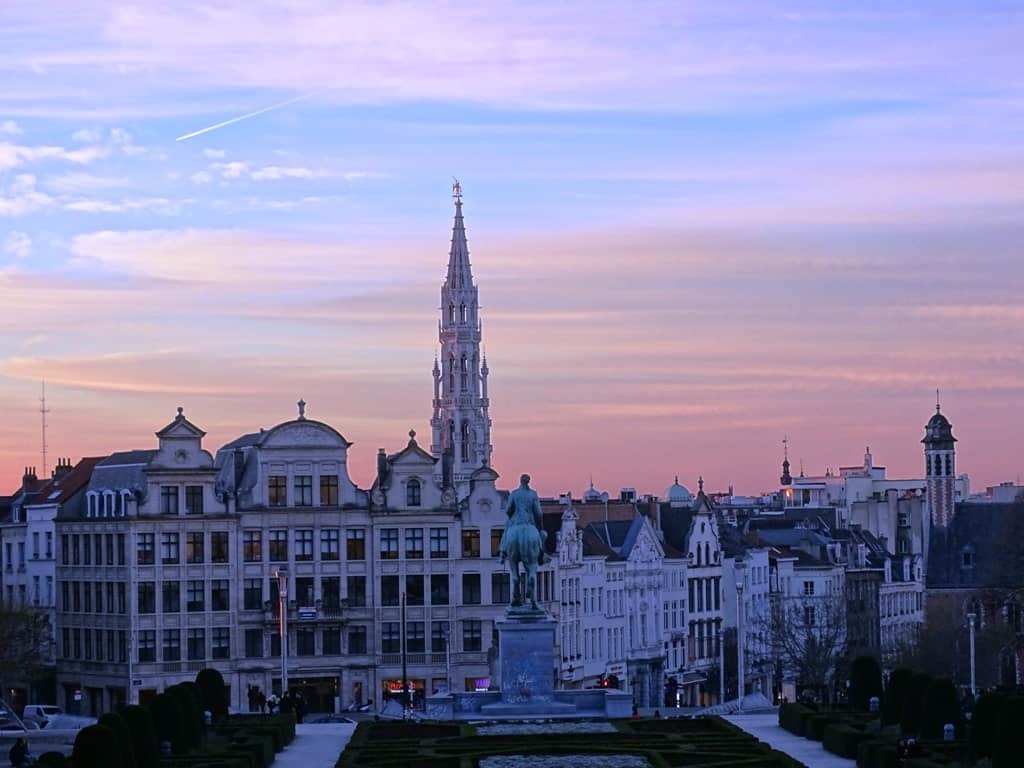 Brussels in Winter Quick Guide
Planning a trip to Brussels? Find here everything you need:

Looking for transportation from/to the airport? Click here for your private tranportation and book your tickets.

Top-Rated Tours and Day Trips to Do in Brussels:

– From Brussels: Ghent and Bruges Day Tour

– Brussels Atomium Entry Ticket with Free Design Museum Ticket

– Entry Ticket to Mini-Europe

– Choco-Story Brussels: Chocolate Museum Entrance with Tasting

Where to stay in Brussels: The Hotel Brussels (luxury), NH Brussels Grand Place Arenberg (near all the top sights),
Brussels Weather In Winter
Brussels is one of the cooler European countries in winter, with temperatures generally ranging between 2-7C. While the mercury is unlikely to drop into the minus numbers, you'll still want to wrap up warm with plenty of layers so you are able to explore all that Brussels has to offer, both inside and out.
On the whole, Brussels averages between 10-12 days of rain per month throughout the winter, so you're more likely to have dry days than wet ones! Even if you do get chilly, rainy days, the Belgian capital has so much to see and do inside that you'll still have hours of entertainment. That's not to mention warm waffles and steaming cups of Belgian hot chocolate to keep you cozy!
Check out the average temperature for Brussels in winter:
November average temperature for Brussels: 48°F high and 39°F low / 9°C high and 4°C low
December average temperature for Brussels: 43°F high and 37°F low / 6°C high and 3°C low
January average temperature for Brussels: 41°F high and 34°F low / 5°C high and 1°C low
February average temperature for Brussels: 41°F high and 32°F low / 5°C high and 0°C low
March average temperature for Brussels: 50°F high and 37°F low / 10°C high and 3°C low
16 Things to do in Brussels in winter
1. Christmas Markets at Grand Place
It doesn't get more wintery than wandering around Christmas markets in a quaint European city, drinking mulled wine and hot chocolate, and shopping for gifts and souvenirs. Thankfully, Brussels has a fantastic Christmas market that pops up in the Grand Place each year.
This picturesque central square becomes full to the brim with wooden huts selling wares to get you in the Christmas spirit. The market also has a giant Christmas tree at its centre, adding to the festive feel!
2. Eat Waffles
Belgium is famous for a whole host of food and drink specialties, and fresh, warm waffles with Belgian chocolate are one favorite that is a must-try for any trip to the capital. You'll usually smell the deliciousness before seeing a waffle stand or café, so your mouth will be salivating just walking down the street!
However, you won't be disappointed when you stop off to try one of these fluffy sweet treats. The dips in the waffles perfectly cradle the cream, coulis, or chocolate that is smothered all over the top and a topping of fresh fruit just adds to the magic!
3. MIM Museum and Restaurant
Housed in the stunning Old England building, the Musical Instruments Museum (aka MIM) plays host to a whole range of ancient and modern musical instruments from all over the world. While this is quite a niche theme for a museum, you'll be fascinated by the sight and sounds of these 2000+ instruments as you pass through the halls.
Another bonus of visiting this museum is the breathtaking architecture of the building itself and the café restaurant at the top, which affords wonderful views across the city.
4. Les Galeries Royales Saint-Hubert
If you find yourself on a wet or windy day in Brussels, you might want to head to Les Galeries Royales Saint-Hubert to spend a bit of time indoors. This 19th-century shopping arcade features boutiques and designer stores for you to peruse at your leisure while also being extremely photogenic with a high glass ceiling and attractive flagstone flooring. Some cafés also feature 'outdoor' seating within the arcade so you can enjoy a hot drink while watching the world go by.
5. Visit the Atomium
Most of us never get the chance to see a single atom, but Brussels has blown it up on a huge scale (around 165 billion times bigger!), so we are greeted with a 100m-high model of an atom as we walk into Heysel Park in the west of the city.
Not only can you witness the atom, but you can also go inside it, taking the lift to the top in just 20 seconds. The Atomium also features a museum that looks back on the 1950s, the decade in which this iconic building was created.
6. Enjoy a Belgian Beer in a Cosy Pub
When the nights draw in, and you're not exploring the city, you'll want to find yourself a cozy pub or chic bar to enjoy a glass or two of traditional Belgian beer. Belgians are very proud of their craft, with hundreds of bars across the country celebrating pale ales, wheat beers, and fruit lambics, to name but a few!
Most bars have a charming atmosphere, live music, and cozy nooks and cranies to sit back and enjoy your drink; some even have a choice of over 1000 beers! Even if you're not a beer lover, you might want to try one of the fruity options to see if the Belgians can change your mind!
7. See the Manneken Pis
This quirky statue has become renowned the world over and is one of the most popular tourist attractions in the whole of Brussels. Essentially, Manneken Pis is a small bronze statue of a little boy having a wee! It is said to embody Brussel's sense of humor and this can be seen in the crazy range of outfits that he is dressed in on a daily basis. There is also a female equivalent, Jeanneke Pis, and Het Zinneke, a dog version, but these are less famous than the boy himself.
8. Visit Brussel's Notre Dame Du Sablon
Notre Dame Du Sablon is a spectacular representation of 14th-century Gothic architecture, with large arched windows, intricate detailing, and a grand spire on top. The church was famed for a Madonna statue that was said to have healing powers, and while the statue was supposedly stolen by thieves, there is still a model version inside, which draws in visitors. The church, with surrounding manicured gardens, is extremely photogenic and worth visiting while exploring the capital.
9. Musée Royaux Des Beaux Arts
Another wonderful indoor activity to enjoy in Brussels is the Musée Royaux Des Beaux Arts. This expansive museum and gallery comprise both ancient and modern art, celebrating all the different styles that have been created through the ages.
The gallery contains over 20,000 works of art, including pieces by famous European painters such as Reubens, Van Dyke, Memling, and Magritte. You can easily while away a few hours wandering through the halls of the museum, a perfect option for a cold winter day.
10. Go to a Gig at La Botanique
What was once a thriving greenhouse in the 19th century is now a buzzing music venue that plays host to shows, gigs, and cultural performances on a daily basis throughout the year. Big-name acts come here to show off their talent on a grand scale, using the acoustics of the Orangerie to perform to 700 admiring fans.
La Botanique also puts on exhibitions, and film screenings so is a great place to warm up in winter while getting your culture fix. If the weather is good, you can also explore the beautiful gardens surrounding the building, which are full of life year-round.
11. Explore Belgian History at the Broodhuis
Yet another of Brussels' breathtaking buildings is the Broodhuis located in the Grand Place. This opulent museum has intricate exteriors and is filled with interesting artefacts and exhibits inside that represent the history of the city.
The museum is also home to the many costumes of Manneken Pis, the little statue I mentioned earlier! The name of the building, Broodhuis, translates as the Bread House thanks to its original use as the town bakery.
12. Visit the Parc Du Cinquantenaire
If you're blessed with a sunny day during your trip to Brussels in winter, you should make the most of the weather and visit the Parc Du Cinquantenaire. The park was opened by Leopold II to celebrate 50 years of Belgian independence and is a major site of importance in the capital.
The grand gardens and pristinely manicured, and the park's monuments, like the giant arch, are well worth a visit. The park is also home to a range of museums which can be great to nip into if the weather decides to change its mind!
13. Take a Walking Tour
In order to see a range of Brussels' best sites in one go, opt for a walking tour that will take you around some of the top spots, such as the Opera, Royal Palace, and La Monnaie. Your guide will give you a wealth of information about the city's history, giving you a feel for the culture and community. You can also choose themed walks such as architecture or food-specific so you can delve further into the subjects you love while exploring the city.
14. The European Parliament and the Parlamentarium
While the European Parliament building might be otherwise engaged in political debates during your visit, the Parlamentarium is an interactive museum that offers an insight into the ins and outs of how the EU works. The museum is completely free and open year-round, so there's no excuse not to visit.
With digital displays, interactive maps, and even a scavenger hunt, the Parlamentarium is fun for all the family! Travellers may also be able to visit the Hemicycle to soak up the parliamentary atmosphere and see where European debates take place.
15. Eat Moules Frites
Last but by no means least is another of Brussels' best eats: Moules Frites. This is a popular national dish that is loved by locals and tourists alike who love to chow down on the fresh seafood, rich sauces, and crispy fries that create a match made in heaven.
Choose classic flavours like a white wine sauce, or go for something like bacon and cheese, which really pack a punch.  Belgium is known for its huge variety of toppings for fries which also make for a meal in their own right!
16. Enjoy Belgian Chocolate
Belgian chocolate is irresistible at any time of year, but when it's winter, it's cold outside, and you fancy indulging, a slab of Belgian chocolate or some melt-in-the-mouth truffles are exactly what you need. Plus, the Belgian delicacy is absolutely incredible when melted down to create the most sumptuous hot chocolate you will ever try!
Cafés, chocolate shops, patisseries, and department stores packed with Christmassy chocolate treats make it almost impossible not to try a handful of delicious Belgian goodies. Neuhaus, Maison Pierre Marcolini, Belvas, Mary's, and Frederic Blondeel are just a few top places to devour some amazing Belgian chocolate in Brussels!
Where to stay in Brussels
Deciding where to stay in Brussels depends on your style, budget, and what you want to get out of your trip to the city. For example, if you want nightlife, you might want to stay somewhere different from those who want to be up and about sightseeing first thing in the morning.
If it is your first trip to Brussels or you have just a few days to explore the city center, you probably want to stay close to Grand Place, the heart of the historical tourist centre. This is where the bustling Christmas markets take place and is home to some of the city's most breathtaking buildings.
Alternatively, you might have visited Brussels before and now want to see a different side of the city, in which case you may prefer to stay in the areas of Saint Gery or Saint Gilles. These regions are better for those seeking cool nightlife, quirky cafés, and a more local scene.
Whether you choose a hotel, Airbnb, or a hostel, you're sure to enjoy your time in this stunning, interesting city, especially in winter when Brussels comes alive!
This four-star hotel is a sleek, elegant city centre property that offers fantastic views across Brussels and is just 15 minutes from Grand Place. Not only does The Hotel Brussels allow you a prime position within the city, but it features great on-site facilities such as a restaurant, spa, and panoramic lounge.
Therefore, if you're visiting in winter and fancy an evening in, you have everything you need within the hotel! Each room features comfortable furnishings, a flat-screen TV, a minibar, and a Nespresso machine, as well as bathrobes and slippers that allow you to relax in style.
Click here for more information and to check the latest prices.
NH Brussels Grand Place Arenberg
While NH Brussels Grand Place Arenberg doesn't have the catchiest name, the chic interiors, friendly staff, and excellent location will make you glad you chose this hotel in the heart of Brussels. The hotel is within five minutes walk of all the top spots, and there are loads of bars and restaurants nearby, so it's ideal for a first trip to the city.
Plus, the hotel offers a daily buffet breakfast which sets you up nicely for a day exploring the city's museums, galleries, sights, and squares. Rooms here are especially spacious, too, with superior suites having cozy lounge areas.
Click here for more information and to check the latest prices.
How to get around Brussels in Winter
While much of Brussels can be explored on foot (and this gives you a chance to see the city's spectacular architecture), you may not want to spend too much time outside when the winter weather sets in. Thankfully, Brussels has a decent public transport system which offers you plenty of choices of how to get around.
The Pré-Métro (aka the tram system) allows you to travel in and around Brussels while not being affected by traffic or pedestrians. This system is really efficient, and once you've figured out where you're heading, you can wave down the tram and be on your way. This is the same for buses that regularly pass by the main city sights.
Like other European cities, Brussels also has a Metro system which can be found by looking out for the large white 'M' signs that can be found around the city. There are six metro lines, so you're always bound to find one close by.
If you've purchased a Brussels Card, you can hop on and off buses, trams, and metros, as well as have access to a range of museums and galleries so you can explore the city completely hassle-free!
Alternatively, if you're willing to brave the winter weather, you might want to hire a bike to explore the city. Like walking, this is a great way to see the city; you'll need to make sure you wrap up so you're warm and dry!
If you want to explore other parts of Belgium or are planning your onward travel, check out the fantastic train system that allows you to reach Bruges, Ghent, and Antwerp in around an hour, as well as Paris and Cologne in less than two.
What to pack for Brussels in Winter
Layers are a must when packing for Brussels in winter, as Belgium isn't known for its warm weather and blue skies. It's likely to be pretty cold and grey during your time in Brussels in winter, so you'll want to ensure you're prepared so that you can make the most of your trip. Long-sleeved tops, a decent waterproof coat, and comfortable, waterproof shoes are all essential, as are winter accessories like a hat, scarf, and gloves. You may also want an umbrella for extra protection while walking around the city.
Of course, you will want to dip in and out of museums, pubs, and cafés while exploring, so you want to layer so that you don't get too warm while enjoying that hot chocolate or a glass of mulled wine!
On the whole, Belgium is pretty accepting, so you can ultimately wear what you want, but the locals tend to have a fairly classic style, with jeans, jumpers, and a cosy coat being the go-to clothing. A cross-body bag is always a good idea for exploring a city, too, so you can keep your valuables safe and handy at all times.
Whether you explore Brussels during a stand-alone trip or make it a European adventure, you're sure to have an amazing time soaking up Belgian culture, cuisine, and community spirit. A trip to Brussels can easily be paired with day trips to Antwerp, Bruges, and Ghent, so you can compare and contrast these stunning Belgian cities.
Brussels is the perfect destination for foodie lovers, culture vultures, architecture geeks, and those who love a European city break. Travelling to Brussels in winter allows you to enjoy the top city sights without the crowds, meaning you can explore in peace. While the weather is chilly, to say the least, the Christmas charm, warming winter drinks and dining, and the plethora of indoor activities make it an ideal destination for a winter break.
Looking to extend your trip to Belgium? You might be interested in:
PIN IT!