Italian Adriatic Coast goes from Friuli Venezia Giulia to Puglia and it hosts many cities of art, seaside resorts and popular holiday resorts. Adriatic Coast resorts are also cheaper than the ones located on the other side of the "Boot" or on the Islands, so that they may be really crowded during summer (ex: Salento area or Gargano, but also some small villages in Emilia Romagna).
Adriatic Coast also gives you the chance to discover some of the most beautiful cities of art in Italy, like Venice or Bari, and modern and vibrant cities like Rimini or Pescara, that are very much appreciated by young people.
Adriatic Coast, Italy: Best resorts and towns to visit
1. Trieste – for history lovers
Trieste is located in Friuli Venezia Giulia and it's close to the Slovenian border. For this reason, its atmosphere is half Mediterranean and half Central European.
When: September
How long: 1 weekend
Must see:
Miramare Castle: a beautiful castle overlooking the sea and offering amazing views
Unità d'Italia Square: it is the largest square in Europe that directly overlooks the sea.
Risiera di San Sabba Museum: it was the jail where Italian soldiers were imprisoned during the Nazi period. It was also the only concentration camp in Italy.
Tips:
Train is the fastest and easiest way to get to Trieste, which is very well connected to the main Northern Italy cities.
Get the FVG Card, that is a customized prepaid card allowing you to freely enter many facilities in the whole Region.
2. Grado – for a spring day trip
Grado is a small lagoon town in Friuli Venezia Giulia and it's a nice and picturesque place where to spend a day off.
When: Spring
How long: a day
Must see:
Sant'Eufemia Cathedral: an interesting early-Christian church located in the historic area of the town.
Barbana Island: it is just in front of the town, in the middle of the lagoon, and it is populated by a community of Franciscan Friars.
Waterfront: walk along the so-called "dam", like locals call this street by the sea.
Tips:
For your summer vacations, don't choose Grado, because the sea is not one of the best in Friuli.
If you've never been to Venice, the historic area of Grado can be a good replacement, since it's really similar.
3. Lignano Sabbiadoro – for a weekend gateway
Lignano Sabbiadoro (literally "golden sand") is a seaside resort in Friuli Venezia Giulia. It's one of the most popular holiday destinations of the whole Region.
When: Summer
How long: a weekend
Must see:
Punta Verde Zoo: it hosts more than 1000 animals in environments similar to their natural habitats.
Riviera Beach: the beach for families
Doggy Beach: this beach allows dogs to enter and have a bath and it also offers sunbeds and services just for them too.
Tips:
If you are young and you are searching for fun and entertainment choose a hotel and a beach in the Sabbiadoro area, while if you have young kids choose Riviera or Pineta instead.
Beware of jellyfishes, which are widespread throughout the whole Northern Adriatic Sea.
4. Venice – visit this city in Autumn to enjoy its misty atmosphere
Venice is the capital of Veneto Region and it is one of most visited and beloved cities of Italy.
When: Autumn
How long: 5 days
Must see:
Canal Grande: one of the symbols of the city with its 4 bridges (Rialto, Scalzi, Accademia and Costituzione).
Palazzo Ducale: a beautiful gothic building that was once the residence of the Doge, that is the chief of the Venetian Republic
San Marco Cathedral: another symbol of the city, which is famous worldwide.
Tips:
Always keep a map at hand because it's really easy to get lost in the Venetian calli.
Buy your tickets online in advance to skip the long lines.
5. Comacchio– for wild landscape lovers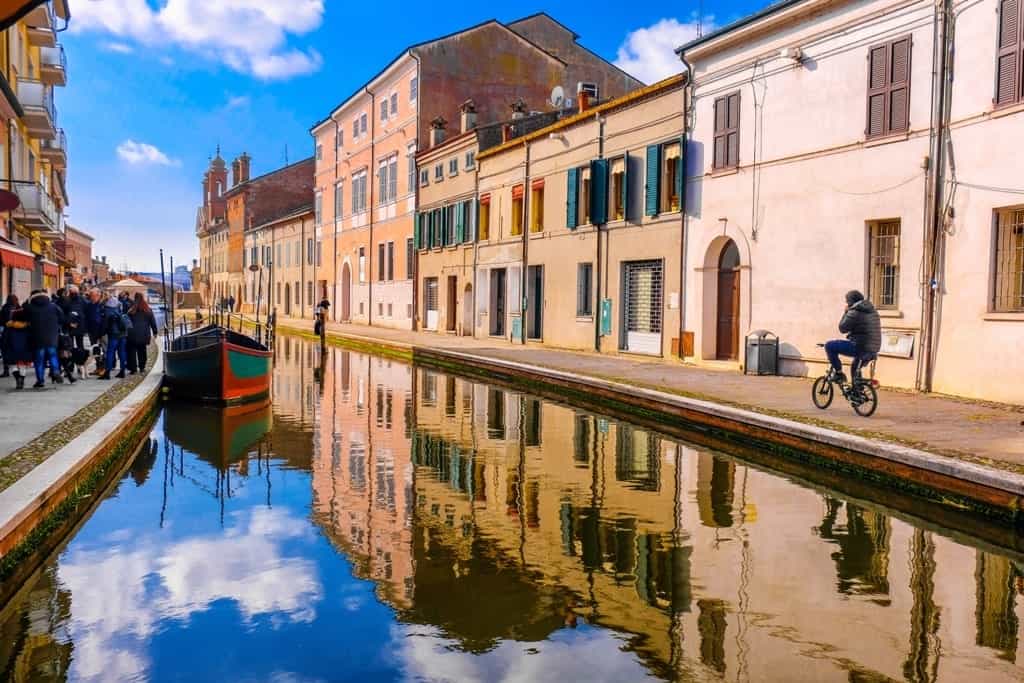 Comacchio is a small town located in Emilia Romagna, in the middle of the Po Delta Natural Park.
When: September
How long: a day
Must see:
Po Delta Natural Park: with its 54.000 hectares, it hosts many species of local flora and fauna and offers amazing natural landscapes. It's been part of UNESCO's World Heritage List since 1999.
Trepponti: the fortified bridge which is the symbol of Comacchio
Manifattura dei Marinati (Marinated Fish Factory): the local traditional activity is the eel fishing and here you can learn all the details.
Tips:
Comacchio is a perfect day trip during your stay in Ravenna
If you have another couple of hours, visit also the Pomposa Abbey in the neighbourhood.
6. Cesenatico– for a family holiday
Cesenatico is one of the main seaside resorts in Emilia Romagna, together with Rimini.
When: Summer
How long: 1 week
Must see:
Porto Canale: a canal going through the historic city centre. Its banks offer a nice walk.
Shore n. 88: one of the most popular beach clubs with plenty of services and facilities
Maritime Museum: it also has an interesting floating section, inside 11 vintage boats.
Tips:
Don't miss a sailing trip along the coast
If you have kids, take them to Atlantica water park
7. Rimini – for a typical Italian summer vacation (only if you love large crowds!)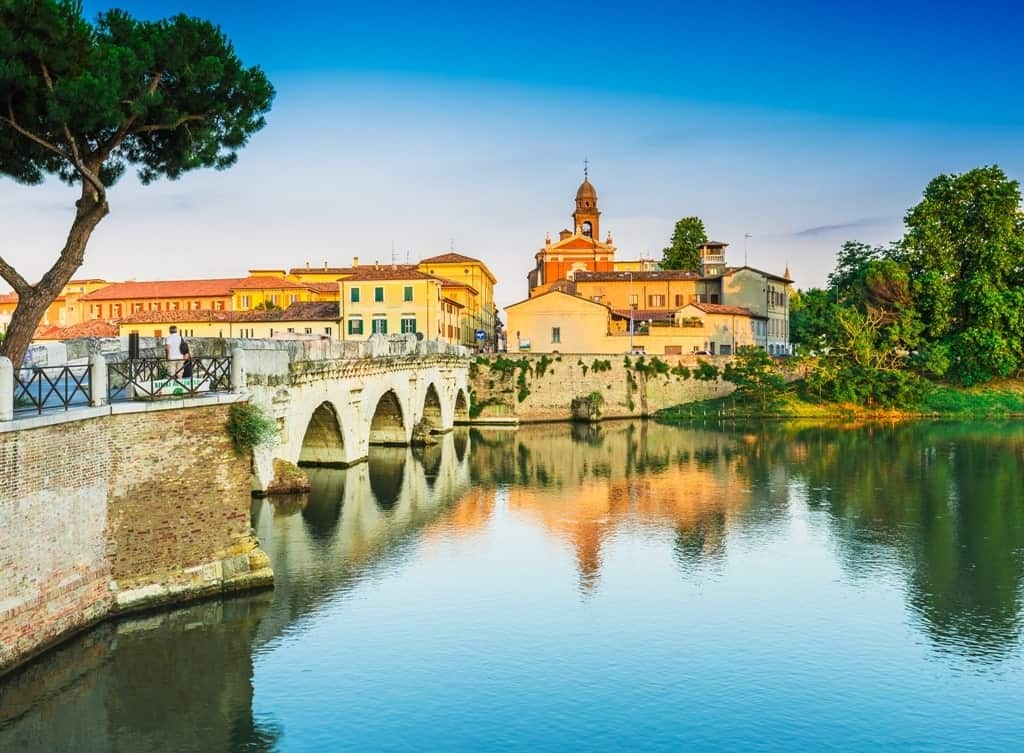 Rimini is the ultimate summer vacation resort in the North of Italy, but it's really crowded and chaotic, so it's not for everybody.
When: Summer
How long: 1 week
Must see:
Tiberio Bridge: an historic Roman bridge crossing Marecchia river.
Borgo San Giuliano: it was the former fishermen's district and it has kept its lively and genuine atmosphere along with its narrow streets and colourful houses.
Marina Centro: to enjoy local nightlife.
Tips:
To enjoy the real Rimini atmosphere come here in summer, because in winter there are fewer people, several facilities are closed and the weather is usually grey and humid.
Taste local "piadina", that is the typical flatbread filled with cheese, cold cuts of vegetables.
8. Pescara – for modern cities lovers
Pescara is a vibrant city on the coast of Abruzzo Region. It offers beaches, restaurants, shops and entertainment for all tastes.
When: Spring
How long: a weekend
Must see:
The Sea Bridge: a futuristic cycle-pedestrian bridge
The house of Gabiele D'Annunzio: the place where the famous Italian poet was born is now an interesting house-museum
Waterfront: the perfect place for walking or biking
Tips:
If you love shopping, head to Corso Umberto I
To enjoy local nightlife, go to Corso Manthoné
9. Termoli– the starting point to discover Molise coast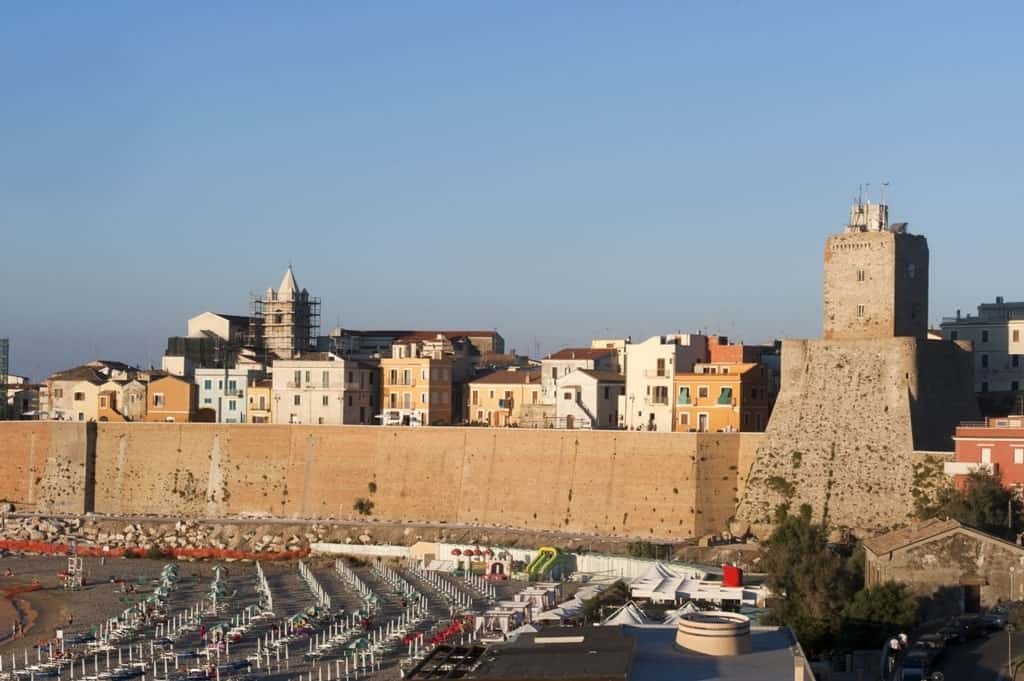 Termoli is one of the most beautiful cities in Molise and it is also its most popular seaside resort.
When: Summer
How long: 1 weekend
Must see:
Medieval Village: this historic district lays on top of a promontory overlooking the sea
Panfilo Beach: the most popular beach in town
Cathedral: this beautiful church was built in XIIth century and its architecture reminds of the ancient churches in Puglia
Tips:
You can easily reach Tremiti Islands from Termoli port
Search for the narrowest alley of Italy called Rejecelle and 41cm wide
10. Trani – a little known city of art
This small town in Puglia is rich in historic heritage and it's still away from mass tourism.
When: Spring
How long: a weekend
Must see:
San Nicola Pellegrino Cathedral: one of the best examples of Romanic architecture in Puglia.
Historic district: to learn more about the Swabian kingdom and its heritage
Port: to enjoy a pleasant walk watching the boats
Tips:
Summer is not good for sightseeing because of hot weather
If you are planning a classical seaside vacation, don't choose Trani, because it only has small beaches and not many facilities
11. Bari – one of the most important cities of art in the whole Southern Italy
Bari is a really popular destination among people looking for a seaside resort but also a place full of art and historic heritage.
When: Summer
How long: 5 days
Must see:
Old Town: the most picturesque spots in Bari are to be found here
San Nicola Cathedral: this cathedral hosts the relics of San Nicola and it is a place of worship both for Catholics and Orthodox
Waterfront: the favourite walk of both locals and tourists
Tips:
Visit Bari by bike, especially its Old Town
Bari is the place where most of the Adriatic Cruises start, so that you can choose a cruise taking you to Albania, Croatia and Montenegro to continue your trip
12. Polignano a Mare – to discover local folklore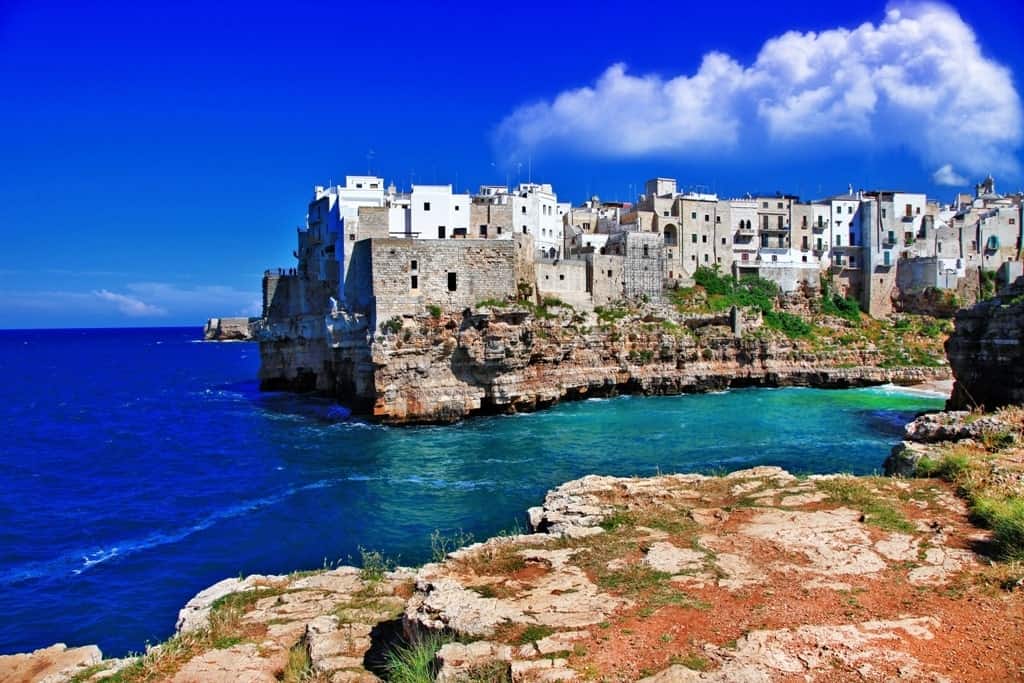 A medieval village that is renown both as a seaside resort but also for its ancient traditions like the Living Nativity Scene or the San Giuseppe Fires.
When: Summer
How long: 1 weekend
Must see:
Old Town: it is a nice walk for the day and the right place to enjoy local nightlife
Lama Monachile Beach: a small but beautiful beach with green water and a special rocky scenery
Fear Cove: here you can find two little bays with a nice rocky beach and a small marina
Tips:
Don't miss the statue of Domenico Modugno on the waterfront
Taste the local "Special Coffee" made with coffee, cream, lemon, sugar and Amaretto liqueur
13. Monopoli – seaside resort offering cultural and artistic attractions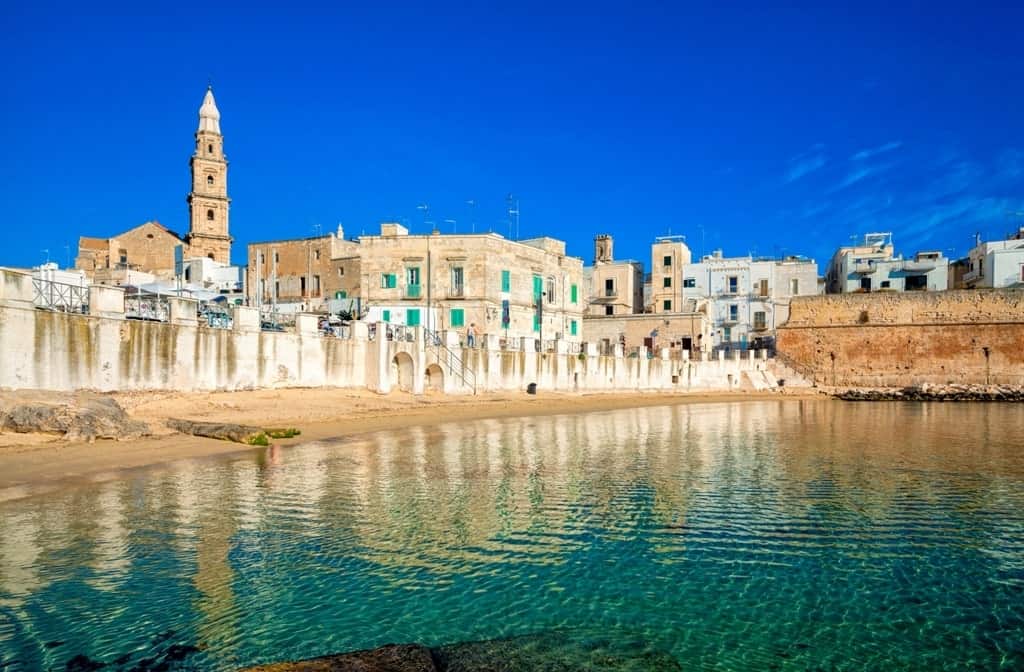 When: June or September
How long: 1 week
Must see:
Porta Vecchia are: a pedestrian area loved by young people
Maria Santissima della Madia Cathedral: a beautiful and richly decorated baroque church
Colonia Beach: the most popular beach in Monopoli, located just outside the town.
Tips:
Don't forget to spend a couple of hours to Lama degli Ulivi Botanic Garden
If you spend 1 week in Monopoli, you'll have plenty of time to explore its surroundings too, so head to Castellana Cave, to explore an unusual underground natural scenery.
14. Lecce – the perfect destination for young people
Lecce is the main city of Salento area and it's a wonderful city of art, with many baroque buildings and churches, but also a dynamic and vibrant place suitable for young people.
When: September
How long: a weekend
Must see:
Old Town: the first thing to do in town is having a walk through this area to see all the most important attractions at once
Faggiano Museum: an interesting archaeological museum that was born by accident, on the occasion of some renovation works of a private house
Piazza del Duomo: come here at night to enjoy the evocative blue lighting.
Tips:
If you want to also enjoy the coast nearby, choose Torre dell'Orso, one of the villages where locals go during the weekend.
To easily reach the coastal villages, the city of Lecce has set-up a network of buses connecting the most important resorts.
15. Otranto – to take amazing pictures
If your main interest is the beauty of the location, choose Otranto, with its "exotic" look.
When: September
How long: 1 weekend
Must see:
Turkish Bay: the most popular beach of the Otranto area
Bauxite Cave: a former cave of bauxite that gave origin to a surreal landscape made of red land and a green lake.
Old Town: save some time to get lost in its narrow alleys and take some pictures to its white buildings
Tips:
Rent a bike and take a tour of the natural areas along the coast
Don't go there in July and August, because there are too many tourists and the village becomes too chaotic.
For a trip of the entire Adriatic coast, from the North to the South of the Country, save at least 2 weeks and visit the most important locations in terms of heritage and natural sceneries. The best moment to do so is September, to enjoy sunny and warm weather in a peaceful environment. Moreover, from the North to the South, the "beach season" goes from late May to late September (early September North of Rimini).