This post is also available in: French
If you think about Italy, you'll probably dreaming of summer, sunny days, seaside resorts, long walks along picturesque streets and so on…well, winter arrives here too and it brings along a great variety of wheatear conditions, peculiar landscapes and many activities and events you cannot miss!
A guide for visiting Italy in Winter
How is the weather in Italy in winter?
It depends on the different areas of the Country! Italy has a wide range of climate scenarios, but we can summarize the typical winter wheatear as follows:
Northern Regions
The coldest months are December and January, where the temperature may reach -10°C. In the North Eastern areas there is a cold wind called Bora. Fog is a common phenomenon along the Po river, which often makes driving difficult. In the Northern Regions it does not rain often in winter, but it can snow a lot, especially in the mountains. Generally, days are cold but sunny and it's the perfect weather for winter sports and outdoor activities.
Central Regions
In winter it can get really cold, but the temperature rarely goes below zero. It snows a lot in the mountains, especially in January. In Umbria there is a cold wind called Tramontana.
Southern Regions
This area of the Country is milder and the temperature rarely goes below 8-9 degrees. On the other hand, winter is generally rainy. Sometimes, Scirocco wind coming from Africa makes the temperature rise up to 20°C.
Islands
Winter is warmer (about 10-12 degrees) and sunnier. In Sardegna there are frequent sea storms.
What to pack for Italy in winter
It largely depends on your destination, but there are some things that are suitable for any place in winter: wool sweaters, a coat, a scarf and an umbrella!
Other tips?
Choose thermal sportswear that will keep you warm without filling all the space in your suitcase;
Dress in layers, so that you can have a t-shirt for warm restaurants and shops, a sweater for museums and public places and a coat for open air activities;
Wear a hooded jacket, so that you can protect your head in case of sudden rain or snow;
Wear comfortable shoes and, if possible, make sure they are waterproof too, because you'll surely face rainy or snowy days;
Don't forget a pair of gloves if you go to the mountains;
Traveling on your own to Italy? Then you should check this guide on solo travel in Italy.
Main winter events for each Region in Italy
Valle D'Aosta
Sant'Orso Fair (January 30th and 31st in Aosta): typical folk crafts fair (wooden sculptures, panniers and laces)
Trentino Alto Adige
Christmas Markets (December in Merano and Bolzano)
Piemonte
Christmas Markets (December in Turin): in Piazza Castello and Cortile del Maglio
Lombardia
Ambrosian Carnival (February in Milan): it begins when the other Italian Carnivals end, that is the first Saturday of Lent season.
Liguria
Flowers Carnival (February in Sanremo): traditional parade of floats decorated with local flowers
Veneto
Venezia Carnival (February in Venezia): one of the most famous Carnivals in the world
Check out my 2 day Venice itinerary.
Emilia Romagna
Rogo del Vecchione – Old Man's Fire (December 31st in Bologna): a traditional bonfire where locals burn a puppet representing the ending year
Toscana
Viareggio Carnival (February in Viareggio): historic Carnival famous for its huge papier mache floats
Check out 45 things to do in Tuscany.
Marche
Festa delle Candele – Candles Festival (early December in Candelara): folk crafts market and lighting of candles to enlighten the village at nightfall
Umbria
Natale della Rocca (December in Perugia): Christmas Market in the fortress and its underground corridors
Lazio
Christmas Markets (December in Rome): in Piazza Navona and Piazza di Spagna
Check out my 5 day Rome itinerary.
Abruzzo
Living nativity scene (early January in Rivisondoli): hundreds of participants perform the nativity scene
Molise
Christmas markets (December in Campobasso): in Corso Vittorio Emanuele
Basilicata
Anthropological Carnival (February in Matera): traditional masks and folk music
Campania
Luci d'Artista – Artistic Lights (November – January in Salerno): artistic light installations
Friuli Venezia Giulia
Ski season in the mountains (November – March)
Puglia
Fiera dei Pupi (December in Lecce): Christmas market and exhibition of handmade papier mache and clay nativity scene figures.
Check out off-the -beaten- track destinations in Puglia.
Calabria
Mediterranean Cup (early November in Reggio Calabria): popular international race
Sicilia
Bronte's Nativity Scene (November – January in Bronte): exhibition of nativity scenes
Check out my winter Sicily itinerary.
Sardegna
Christmas Markets (December in Cagliari): in Corso Vittorio Emanuele and Piazza Yenne
Best winter destinations in Italy
Rome (Lazio)
To enjoy spring out of season
Best period: Christmas holidays
Why: its mild wheatear is perfect for long walks and for your sightseeing tours.
Things to do in winter:
bring your kids to Villa Borghese garden and let them play in the open-air;
if it rains during your stay, enjoy long breaks in cafés and restaurants to taste the local recipes;
visit Piazza Navona Christmas Market to buy original gifts;
If you have more days: visit the historic Renaissance Christmas in Nettuno.
You might also like : Where to stay in Rome
Napoli (Campania)
To sightsee in the sun
Best period: late January, after the Holiday season
Why: to enjoy the beautiful views of the historic city and the sea in the bright Southern sun, even in the heart of winter.
Things to do in winter:
walk along the famous "Spaccanapoli", that is the long and ancient street going through the whole historic center of the city;
take amazing pictures of the bay from Piazzale San Martino;
visit the "via dei Presepi", that is San Gregorio Armeno Street: here you can visit many craft shops producing nativity scene figures all year long;
If you have more days: have a boat trip to Capri (just check the sea conditions before)
You might be interested in: 3 days in Naples.
Palermo (Sicilia)
To live like a local without too much tourists around
Best period: November
Why? Because Sicily has only two seasons: spring and summer!
Things to do in winter:
visit the Ballarò market to experience the authentic local atmosphere;
visit Kalsa district, that is the ancient Arabic part of the city;
have a picnic on Mondello beach to enjoy the warm weather;
If you have more days: visit the Ancient Theater of Taormina and take some pictures of the sea from there
You might like: Things to do in Palermo
Venezia (Veneto)
To enjoy the city without the crowds of spring and summer tourists
Best period: November
Why? The winter fog creates a magical atmosphere among the canals and over the lagoon.
Things to do in winter:
enjoy the ancient building and the historic "calli" and "campielli" (Venetian streets and alleys) that are usually partially hidden by the crowd;
Take some amazing pictures of the foggy landscape at nightfall;
If you don't mind being among a huge crowd, enjoy the crazy local Carnival;
If you have more days: visit Verona too
Madonna di Campiglio (Trentino Alto Adige)
For a holiday made of sport and fun.
Best period: Christmas Holidays
Why? It is one of the most popular ski resorts in Italy
Things to do in winter:
skiing, snowboarding, tobogganing, snowshoeing and many other winter activities;
relax at one of the many spas nearby;
go skating on the local frozen pond;
If you have more days: visit Trento, the capital of this Region
Torino (Piemonte)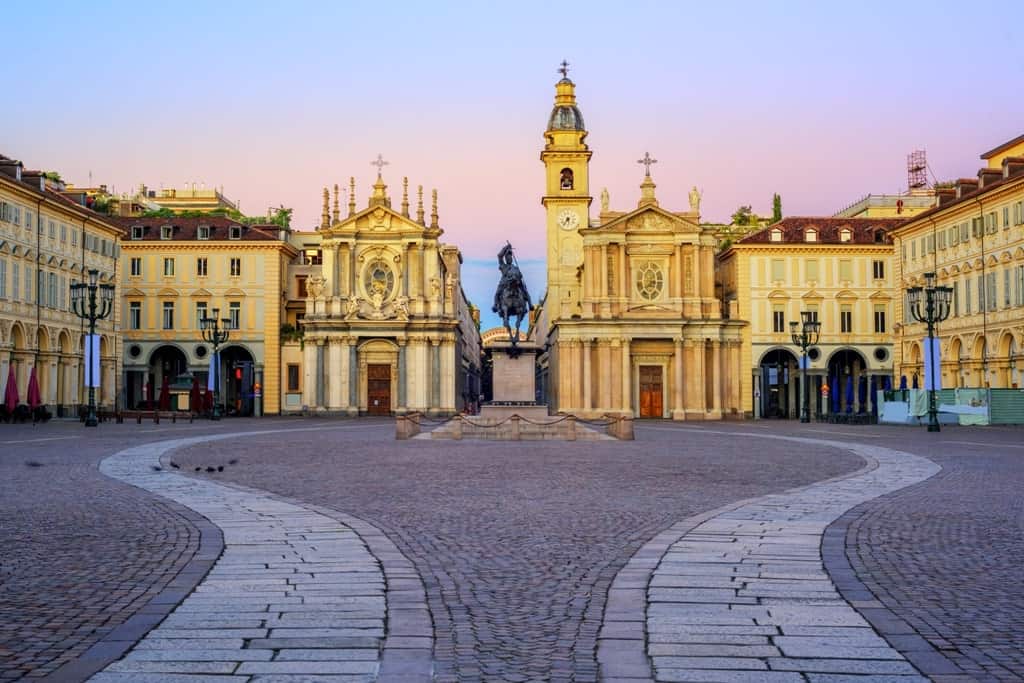 To experience the royal life of Savoia kings.
Best period: December
Why? Torino is renowned for its 18 Km of arcades, built in the XVII century to offer nobles a covered walkway in case of rainy or snowy days.
Things to do in winter:
warm up with a Bicerin, that is the local hot drink made with chocolate, coffee and whipped cream;
visit the complex of Royal Museums, to discover the life of the former Italian royal family;
enjoy the opera at Teatro Regio (one of the most important opera houses in Italy);
If you have more days: visit the Reggia di Venaria, that is a large Royal Palace located in the countryside near Turin.
Bologna (Emilia Romagna)
To have fun, even with freezing weather.
Best period: New Year's week
Why? To fight the cold and rainy weather, Bologna offers many museums, indoor activities and covered walkways to locals and tourists.
Things to do in winter:
try each one of the 3 famous spas of the city and choose your favorite one;
visit Palazzo Poggi, with its original collections and reconstructions of scientific instruments and objects belonging to old scientists;
Eat! Emilia Romagna is said to have the best typical cuisine in the whole Country, so taste tortellini, tagliatelle al ragù and local cold cuts with a glass of red wine;
If you have more days: visit the medieval village of Bertinoro, which is located on top of a hill overlooking the sea.
You might like: Things to do in Bologna.
Cagliari (Sardegna)
To stay in the open air all day.
Best period: February
Why? It's warm and sunny, with few rainy days during the whole winter.
Things to do in winter:
sun-bathing on Poetto beach;
take some pictures of the bay and the city from St Remy Bastion;
have a walk in the local botanical garden;
If you have more days: visit Alghero too
Alba (Piemonte)
To enjoy local gastronomy and visit food festivals
Best period: November
Why? Alba and Langhe area have a strong gastronomic tradition, so it is the perfect destination for food lovers.
Thins to do in winter:
visit the annual Truffle Fair in November;
enjoy some wine tastings in the many local wineries;
have lunch in a local farm offering typical products and traditional farmer's dishes;
If you have more days: visit the picturesque town of Saluzzo
Verona (Veneto)
To celebrate St Valentine's Day.
Best period: February
Why? It is the setting of Shakespeare's Romeo & Juliet love story and it is considered one of the most romantic destinations in Italy.
Things to do in winter:
Visit Juliet's House and leave a love message like many tourists have already done over the years;
have an "aperitivo" (happy hour) in Piazza delle Erbe, to enjoy a typical Italian custom;
visit Arena: you can't go to Verona without having a tour there, even in winter!
If you have more days: visit Palladio museum in Vicenza
You might be interested in: Things to do in Verona.
Pré-Saint-Didiers (Valle d'Aosta)
For a relaxing vacation.
Best period: New Year's week
Why: to relax in a beautiful natural landscape and concentrate on wellness, silence and quiet.
Things to do in winter:
enjoy the famous thermal pool in the open air, where you can bath in hot water surrounded by snow;
visit the Glaciers Fair on December 30th, to discover local craftsmen and their works;
enjoy your favorite winter sports, but also long walks among a beautiful frozen landscape;
If you have more days: visit Courmayeur
Destinations to avoid in Italy in winter
Chianti area and the Tuscan countryside: the landscape is not at its best. Keep this area for spring;
Rimini and Adriatic seaside resorts of Northern Italy: winter is cold there and many hotels, venues and restaurants are closed;
Northern Lakes: the landscape is not at its best;
Po Delta natural areas (Veneto): too foggy and muddy;
Trieste (Friuli Venezia Giulia): Bora wind makes the city really freezing;
Cortina d'Ampezzo (Veneto): too crowded and too much "high society" in winter
Pros of visiting Italy in winter
Some areas of the Country have pleasant and mild climatic conditions (Southern Regions and Islands);
Some famous destinations are less crowded during winter (especially seaside resorts in Southern Italy and some Northern cities like Venezia, Bologna or Torino);
In Southern Regions, you can have picnics and do outdoor activities in the sun;
Christmas Holidays are an excellent occasion to discover local traditions and customs;
Winter is the ultimate ski season, so any location in the mountain is a good idea for sport lovers;
Cons of visiting Italy in winter:
Many Italian Regions are cold, snowy, rainy or windy, so that you'll surely have at least a few days of bad weather during your stay;
Many small towns (especially along the coasts in the Northern and Central Regions) are less populated in winter and many hotels and restaurants choose to close until late spring;
There are fewer hours of light, so landscapes are not at their best and the colors of nature are mostly brown and grey;
Nights can be really cold, especially in Northern areas and in the mountains, so that it's not the best period to enjoy the local nightlife;
Christmas Holidays are a classical period to have short trips and visit family members in other cities, so that many locals are moving and this increases traffic and make hotel prices raise considerably (the cheapest winter months are November and February);