Southern England is filled with incredible historical sites as well as gorgeous natural landscapes. From quaint villages and bustling university towns to natural parks, you're spoilt for choice when it comes to places to visit.
The great thing about this region is that you can also see most of the top attractions on epic weekend trips from London, as most of them are within a 2-3 hour drive from the capital. 
Here are 10 unmissable things to do in Southern England, from the must-see bucket list sights to the lesser-known hidden gems of the area. 
This is a guest post by Jiayi Wang of The Diary of a Nomad.
10 Things To Do in Southern England
1. Hop Around the Picturesque Villages of the Cotswolds
The Cotswolds is home to some truly stunning countryside landscapes as well as countless quintessential English villages. It's worth spending at least a weekend, if not a whole week, there exploring this marvelous region.
One of the best Cotswolds villages to see is Bourton-on-the-Water. This picturesque village offers tons of fun and quirky attractions, such as a miniature model village that'll make you feel like a giant, and the Birdland Park & Gardens, where you can spot flamingos, parrots, penguins, and 500+ other kinds of birds! 
Of course, no trip to the Cotswolds would be complete without a visit to the famous Water Lane in Castle Combe. This row of stone cottages is truly postcard-worthy. Be sure to get there early to avoid the crowds!
2. Take Some Relaxing Walks in the Malvern Hills
The Malvern Hills is an amazing hidden gem that most tourists don't venture to. For this reason, it's truly a great place to escape the crowds of the city and go for a quiet retreat in nature.
In fact, there are tons of stunning walks in the Malvern Hills that'll keep you busy for at least a day or two. Be sure to walk up to and around Worcestershire Beacon, the highest point of all the hills. This walk is very easy and suitable for walkers of all experience levels.
Not far from there is Great Malvern, a quiet spa town with a lovely park and cathedral worthy of seeing as well. It's a wonderful place to grab a pint after a long day of walking.
Don't leave the Malvern Hills without walking up Herefordshire Beacon, which offers the best views of the whole region. While many parts of the walking trails are pretty secluded, you can also find a few cafes scattered around the woods for those necessary breaks.
3. Take in the History, Food, and Art in London
London is the beating heart of England, and it goes without saying that there are endless things to do there, whether you're into history, culture, nature, or food. If you enjoy photography, you're also in luck because there are plenty of famous Instagram places in London to explore as well.
One of the most photogenic spots in town is the iconic Tower Bridge, which stands proudly over the Thames River. Take a stroll on the bridge before exploring the Tower of London, which is home to the royal Crown Jewels. Not far from there is Millennium Bridge, which offers stunning views of St. Paul's Cathedral.
Don't leave London without exploring Westminster Abbey or the famous Buckingham Palace, where the UK's monarchs reside. For a unique experience, head over to Sky Garden, a rooftop terrace that offers an incredible view of the whole city. Get there in time for sunset for an extra magical panorama!
4. Treat Yourself to a Relaxing Spa at Bath
Bath is hands down one of the most historical cities in England, and it's definitely worth spending at least a day here learning about Britain's Roman past. That's right, the main attraction in town is the Roman Baths, which will basically make you feel as though you're in Italy. 
At the Roman Baths, you can learn a lot about the way Bath's locals used to live during the Ancient Roman Empire. Afterwards, you can take a dip in Thermae Bath Spa, which is fed by the same natural spring waters that supplied the Roman Baths back in the day!
There are tons of pools and spa rooms in Thermae Bath Spa, so it's worth spending at least two hours relaxing there. The highlight of this place is the heated rooftop pool, which offers stunning views of the city.
5. Go on a Self-Guided Harry Potter Tour in Oxford
Oxford is a world-famous university town with absolutely stunning architecture and buzzing nightlife too. If you're a Harry Potter fan, you'll enjoy walking around the university campus even more — there are several Harry Potter filming locations there, including the Christ Church College, New College, and Bodleian Library.
Another unmissable thing to do in Oxford is to go punting, which has been an Oxford tradition for centuries now. You find several tour companies to go with, or, if you have a friend at the university, you can go with them for free.
Oxford is also home to tons of cool museums, such as the Ashmolean Museum and the Museum of Natural History, where you can learn about everything from sharks to minerals!
6. Take in the Magnificent Landscapes of the Jurassic Coast
The Jurassic Coast is hands down one of the most breathtaking places in all of England. The perfect way to see it is to do a road trip and explore the whole coast at a leisurely pace. You can easily spend 3 whole days there in order to cover all the best sights.
The highlight of the Jurassic Coast is without a doubt Durdle Door, a unique rock formation lying in the water, in front of a picturesque beach. During sunset, the scenery there is especially gorgeous, so be sure to have your camera handy!
Next to Durdle Door are the stunning cliffs of Lulworth Cove, which offers even more incredible vistas. During your time there, be sure to go for a swim in Mupe Bay and also see the historic Lulworth Castle, which used to be a hunting lodge in the 17th century.
For an unforgettable experience, head over to Cranbourne Chase AONB, one of the best places to go stargazing in Southern England. There's very little light pollution there, so be sure to bring a blanket and a late-night picnic.
7. Admire the Cliffside Views of Dover
One of the most unique places in Southern England is Dover, a historical seaside town that played a big role during WWII. One of the main sights to see here is Dover Castle and its Secret Wartime Tunnels. In medieval times, British soldiers used to hide there as they protected the region from German invaders.
After getting a bit of a history lesson, be sure to take a walk at the White Cliffs of Dover, which are absolutely breathtaking. You can spend most of the day strolling along the cliffs and enjoying the seaside landscapes.
During your walk, don't miss the pretty South Foreland Lighthouse, which used to guide sailors through the Strait of Dover in the 1800s!
8. Enjoy a Relaxing Getaway at Canterbury
Canterbury is a vibrant UNESCO city with cute cobblestone streets and a gorgeous countryside vibe. It's totally worth spending a day relaxing in this town and exploring some of its historical monuments.
Take a stroll at the Westgate Gardens, which offers stunning views of River Stour. You can even relax with a picnic there! The town itself also offers beautiful vistas of the river, and the sight of the townhouses next to the water is especially picturesque.
Not to be missed is the Canterbury Cathedral, one of the oldest Christian institutions in the UK. The architecture there is quite spectacular, and the cathedral has over 1,000 years of history worth learning about.
9. Experience the Punting Tradition in Cambridge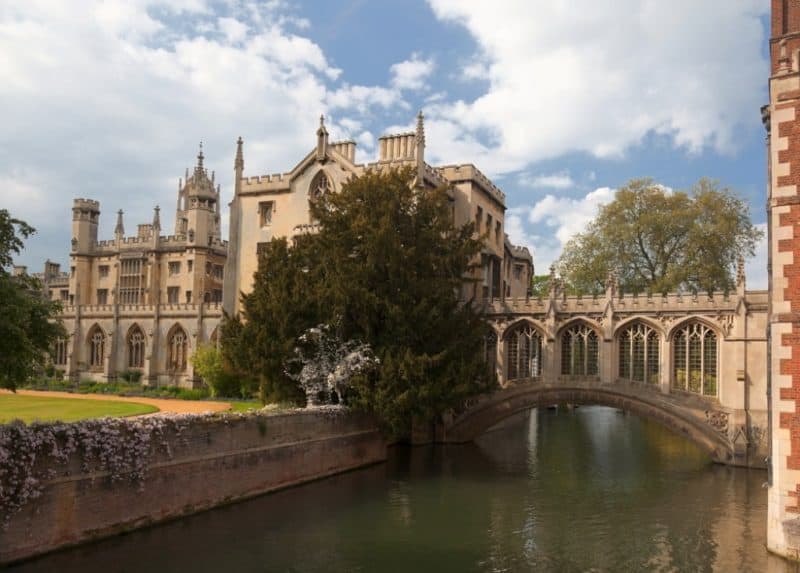 Cambridge has something for everyone, whether you're a history buff, an outdoor enthusiast, or a culture lover. This university town straddles the River Cam, which means punting is a very popular and a must-do activity during your time there. You can even book a guided punting tour to get to know the local culture more!
Cambridge University itself is very much worth exploring too, especially its majestic King's College Chapel, which stands right in front of River Cam. There's also a lush Botanic Gardens in town, which contains over 40 acres of beautiful woodland.
Be sure to stop by The Eagle for a pint. This is one of the oldest pubs in Cambridge, and interestingly, it's also where Watson and Crick first publicly announced that they'd discovered DNA!
10. Get Lost in the Arcades of Brighton Beach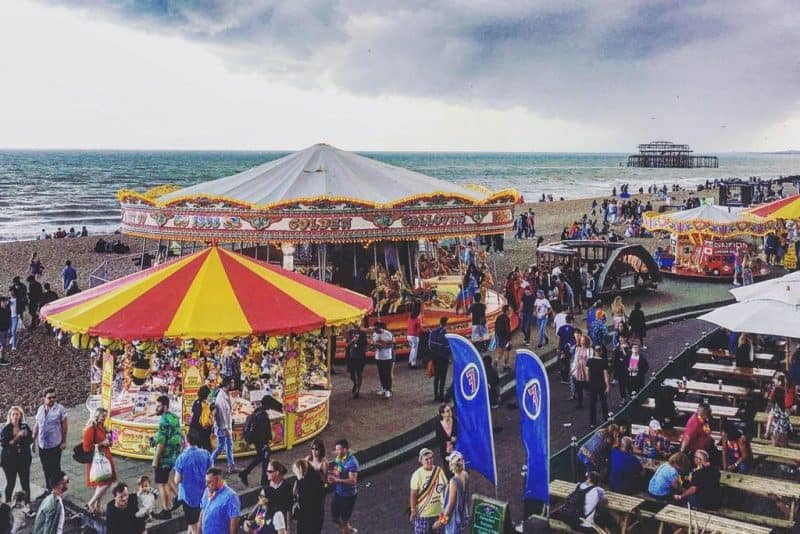 No trip to Southern England would be complete without a stop in Brighton, one of the most vibrant cities in the UK. Home to the biggest Pride Festival in England every August, this town is complete with a beach and has a very lively atmosphere — perfect for a family trip, a fun friends trip, or a romantic getaway!
Head over to Brighton Pier for lots of fun arcade games. Next to it lies the pebbly Brighton Beach, where you can sit down for a picnic or go for a swim if the weather isn't too cold. There are also lots of seafood restaurants by the beach, such as Riddle And Finns.
Don't leave Brighton without visiting the historic Brighton Lanes, which is filled with boutique shops and cute cafes, or climbing up the British Airways i360 Viewing Tower for a panoramic view of the whole town.
Author Bio: Jiayi Wang is the writer and photographer behind The Diary of a Nomad, a travel and photography blog with a special love for less-visited destinations. While she was raised in Rome, she has been living in London for over 5 years now.