Planning to spend 2 days in Budapest, and looking to see as much as possible? There are so many things to see in the city over a weekend. This 2-day itinerary will help you make the most out of your stay in Budapest.
Few cities in Europe have a richer history than Budapest in Hungary. This region was part of the Hapsburg Austro-Hungarian Empire, then became part of the Ottoman Empire. The many centuries covered by these times are well-represented by a range of interesting landmarks that make Budapest such a fascinating city today.
It was originally two cities, Buda on high looking across and down over the Danube to Pest. The amalgamation of the two cities took place officially happened in 1873 although the Chain Bridge across the Danube opened in 1849. So here's our recommendation on how to spend 2 days in Budapest.
Disclaimer: This post contains an affiliate link. This means that should you click on certain links, and then subsequently purchase a product, I will receive a small commission.
Two Days in Budapest: Where to stay?
Kempinski Hotel: Ideally located with great views and great staff, this contemporary-styled hotel has an indoor pool, a spa, a fitness center, and several eateries to choose from including a Japanese restaurant. A metro station and a bus stop are close by. Click here for more information and to check the latest prices.
Aria Hotel Budapest by Library Hotel Collection: Providing the highest level of service, this beautifully decorated hotel is ideally located right next to St. Stephan's church in the heart of the old town. Enjoy a glass of wine in the afternoon whilst listening to piano music, partake in yoga on the rooftop terrace, or relax in the Harmony spa. Click here for more information and to check the latest prices.
Promenade City Hotel: Centrally located close to all of the tourist attractions, a metro station, and surrounded by restaurants on a pedestrianized street next to the river, this hotel has quite contemporary decorated rooms to ensure a peaceful night's sleep. Click here for more information and to check the latest prices.
How to spend 2 days in Budapest, A Detailed Itinerary
You might also be interested in: Things to do in Budapest in winter.
Budapest in 2 days: Day One
Buda Castle & Castle Hill
Castle Hill is a great defensive position. There is a Funicular up to the cobbled streets above. It is directly in front of the Chain Bridge across to Pest. The Castle is a 200-room palace built in the 18th Century on a site of an old 13th Century castle which helped protect citizens from the Mongols and Tartars, not always successfully.
It was damaged during World War II, but external renovation has been done. Internally you will find what is now the National Gallery and the Budapest History Museum that are well worth some of your time.
UNESCO has recognized the whole of Castle Hill, its architecture, and medieval streets as a World Heritage site.
Fisherman's Bastion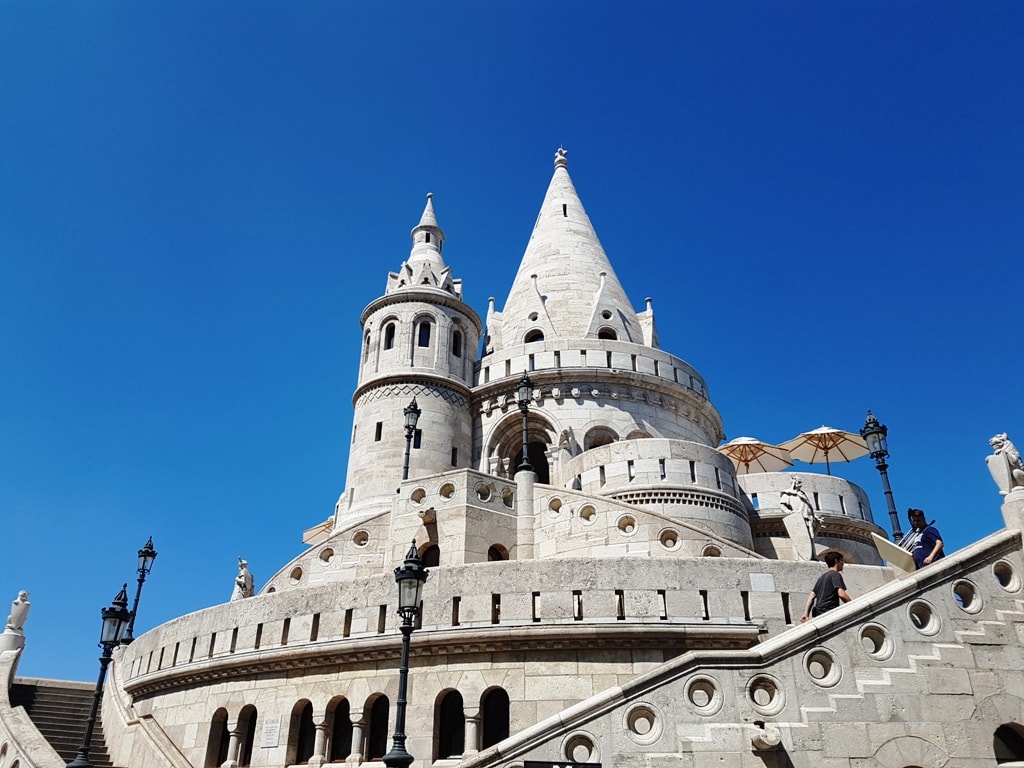 The Guild of Fishermen built defensive walls back in the Middle Ages. Neo-Romanesque, what you see today, towers, courtyards, and walls date back to the late 180s. The views across the Danube are stunning.
A bronze statue of St. Stephen, the first King of Hungary on horseback together with reliefs depicting scenes from his life are just two of the highlights of walking around here.
Mattias Church
The Church of our Lady was finished in 1269. The relief of her death in the doorway to the south was added during the next century. The Ottomans arrived here in 1541 and spent a century and a half in what is now Budapest.
This Church became a mosque during that time. Several events in history have taken place here including the coronation of Charles I in 1309 and that of Franz Joseph I of Austria. The Liszt Coronation Mass was composed for this event.
Great Synagogue & Jewish Museum
You can spend several hours up on Castle Hill, but as you only have two days, you should head across to Pest to see this magnificent synagogue and museum close to what was once a Jewish ghetto when the Nazis were here.
There is a story of tragedy but also survival to learn about here, but also tomorrow on the banks of the Danube. It was built in 1859 and remains the largest synagogue in the world outside New York. The Tree of Life Memorial remembering those killed by the Nazis is on the Northside and the Museum is both a sad and informative place.
Click here for more information and to book your tickets to the Great Synagogue.
New York Café
All this sightseeing is hungry work but there is a final thing for the day, and that is to visit this café which is a star attraction in itself. It is attached to the New York Palace Hotel and has been described as the most beautiful café in the world.
It serves from breakfast-time onwards, but you are there to have dinner. It is probably advisable to book a table well in advance. Coffee and a light lunch might be in order, for the day. You will enjoy live music from a small orchestra and marvel at the marble, gilt, ornate carving, and lovely roof. It is over 120 years old, and it takes you back in time.
Széchenyi Spa
A great way to finish the first day of your visit to Budapest is a visit to one of the city's many thermal baths. Széchenyi Spa is one of the best and largest spa baths in Europe.
Click here for more information and to book your tickets to Széchenyi Spa.
Budapest in 2 days: Day Two
Parliament
The world's third-largest parliament building, this Neo-Gothic building opened in 1886. It overlooks the Danube on the Pest side and has almost 700 rooms. Imagine walking all its corridors; 20 kilometers. You can get a guided tour at just under an hour when the government is not sitting and includes the Crown Jewels.
Click here for more information and to book a tour to Parliament.
Shoes on the Danube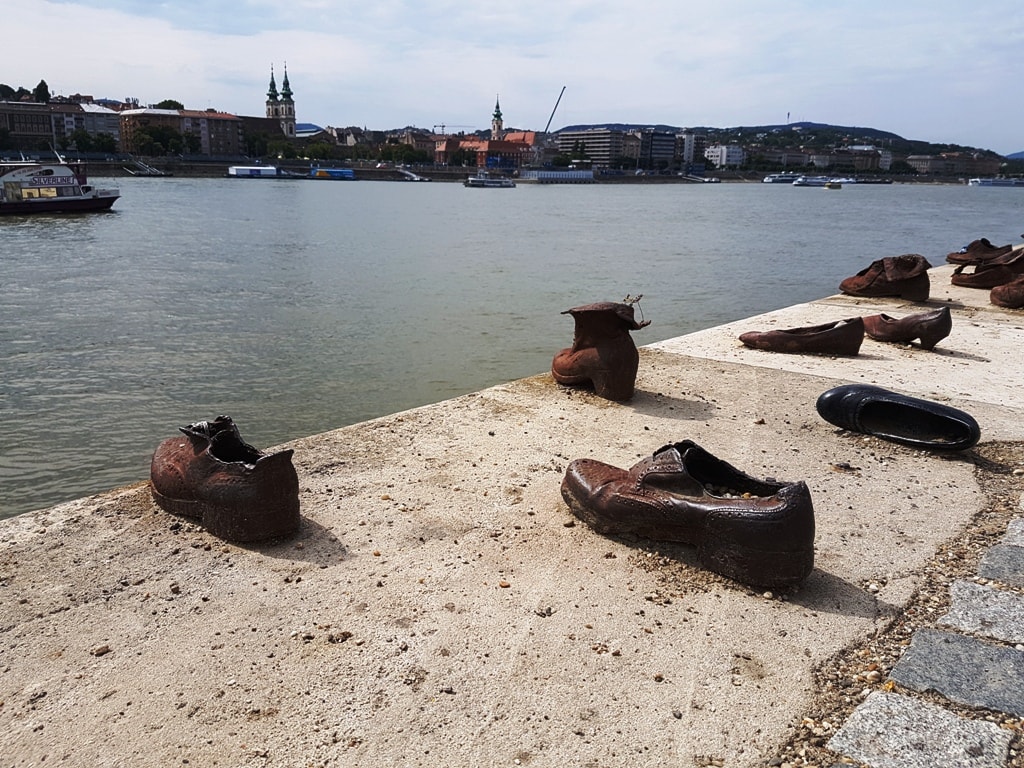 Now you are on the banks of the Daube, head for this Jewish memorial. There are 60 pairs of shoes, made from steel which represent the footwear of Jews shot here by the Nazis, falling into the Danube to float away. There were far more than 60 of course. The sculptors, Can Togay and Gyula Pauerdid the work in 2005, with an inscription on a long stone bench behind: '' To the memory of the victims shot into the Danube by Arrow Cross militiamen in 1944-45.''
St. Stephen's Basilica
This prominent cathedral was started in 1851 but not consecrated until 1905; at one point during construction, the dome collapsed. After being damaged in World War II, it needed further work. There are lovely internal mosaics and the mummified right hand of St. Stephen, the first King of Hungary. You can climb the 364 steps or take the lift to get some wonderful views of Budapest.
Click here to book an organ concert in St. Stephen's Basilica.
Central Market Hall
Many locals go to the Hall for shopping; many tourists simply go to look around the take in the atmosphere. It is definitely the best food hall in Budapest, with fresh produce, meats, etc. There are three floors in this large building its size is just one of its attractions.
Danube Cruise
A Danube cruise is one of the most romantic things to do in Budapest. There are regular cruises up and down the Danube day and night. You can get a good perspective of both banks and the many attractions of the city as you sail along. In a short visit, there is no time to go on to Margaret's Island which is at one end of a typical cruise.
There are a few bridges to pass under on the River as well as the impressive Calvinist Church on the Buda Bank opposite Parliament.
Click here for more information and to book your Danube Cruise.
You might also be interested in the Ozora festival in Hungary.
Two Days in Budapest: Where to Eat?
The New York Café is definitely a place to visit during your stay, but here are some ideas to enjoy the best of Budapest cuisine, lunch or dinner.
You might want to check this guide with the best restaurants in Budapest.
Onyx Restaurant offers the best of Hungarian and contemporary cuisine, good enough to have earned a Michelin star. Vörösmarty tér 7-8.
Megyeri Csárda Tavern is a historic building, renovated and enlarged over time. The local brandy, palinka, fine wines, folk music, and dancing all add to the experience. Külső Váci út 102-104
Fisherman's Bastion offers wonderful views across the Danube to Pest, a varied menu including seafood, and live gypsy music while you dine. Budai Vár, Halászbástya, Északi Híradástorony.
Százéves Étteremis another restaurant in historic surroundings with an interesting menu involving Hungarian and international cuisine with outdoor terrace seating in the summer, Piarista utca 2
Practical Information for your 2-day Budapest Itinerary
When is the best time to visit Budapest
The shoulder seasons of March-May and September-November are great times to visit Budapest as there aren't crowds of tourists to contend with, flights and hotels are cheaper, and the weather is beautiful though do pack a raincoat if visiting in May or November as you can expect 8-10 days of rain in these months.
In Spring you can enjoy the city coming to life again with plenty of events taking place as the flowers bloom – visit the Spring Festival which runs March-April, or in May for the Gourmet Food Festival and Budapest Beer Week.
The temperatures in Spring can vary greatly year-to-year but on average, expect 6c in March climbing to 16c in April and 19c in May.
Summer is crowded and although it's hot, there are short yet sharp rain showers, June actually being the wettest month of the year but still plenty of festivals taking place.
Autumn is beautiful with long sunny days, less rain, and fewer crowds, temperatures averaging 17c in September, dropping to 11c in October. Visit in September for the Wine Festival or in October for Oktoberfest though this event does draw in the crowds which can put accommodation and flight prices up.
Winter shouldn't be overlooked if you want to experience the city during the magical Christmas period when the Christmas Markets are on, temperatures anywhere from -2c-3c with around 9 days of wet weather.
How to get to and from the airport
Bus: There are 2 buses that run from the airport to Budapest city center. Bus 100E goes to Kálvin tér, Astoria and Deák Ferenc tér central metro station every 30minutes between 05.00-00.30.

Alternatively, bus 200E goes to the closest metro station from the airport; Kobanya-Kispest metro station where you can switch to the metro to get to the city center. A night bus, bus 900, runs from 00.30- 4 am going to Kobanya-Kispest metro station. Price: €3 Duration: 35-45minutes

Taxi: Get a yellow taxi operated by Fö outside of the airport, but note that there are usually queues at rush hour. Taxi's in Budapest do not charge a flat-rate fee so the exact price will be determined by the meter depending on distance and time with surcharges for luggage, late-night journeys, and traveling on holidays. Price: Approx €26 Duration: 35minutes

Private Transfer: Book online with Welcome Pickups and a friendly English-speaking driver will be waiting for you outside arrivals. Knowledgeable of the city, your driver will be happy to make recommendations on where to visit and you can also pre-book child seats and travel extras to make your arrival hassle-free.

Click here for more information and book your private transfer.
How to get around the city
Budapest is a very walkable city when exploring the historic areas, the Pest side of the city completely flat with the Buda side of the city, particularly the castle area, hilly but you can save your legs by taking the funicular up the hill.
The metro, trams, and trollies are great to move around on if you're short on time, your legs are about to give up for the day, or you need to get further afield, tramlines 2, 4, and 6 gets you to most places in the city along with the 4 metro lines.

If you just want to see the sights you might opt for a 24hr or 48hr ticket on the hop-on-hop-off bus tour so that you're dropped directly at or near the top tourist attractions with the added benefit of being able to learn a bit more about the city thanks to the audio guides.
Click here for more information and to book your hop-on-hop-off tickets.