There is no better way than seeing a city from above and especially when we talk about Florence with its red rooftops and beautiful monuments that dominate the skyline.  There are many places in Florence offering amazing views. Here are my favorites.
Pin this for later

Best views of Florence from above
Piazzale Michelangelo
Piazzale Michelangelo offers one of the most fantastic views of Florence's skyline. No matter what time of day you will visit the views are breathtaking and especially at sunset. Beware it gets very crowded and especially during the summer but it's still worth it. There are many cafes around the square and a beautiful restaurant. You can get there either on foot or by taking bus number 12 or 13 from the centre of Florence. If you decide to go on foot here is a map to help you. I remember there are a lot of signposts in the street as well.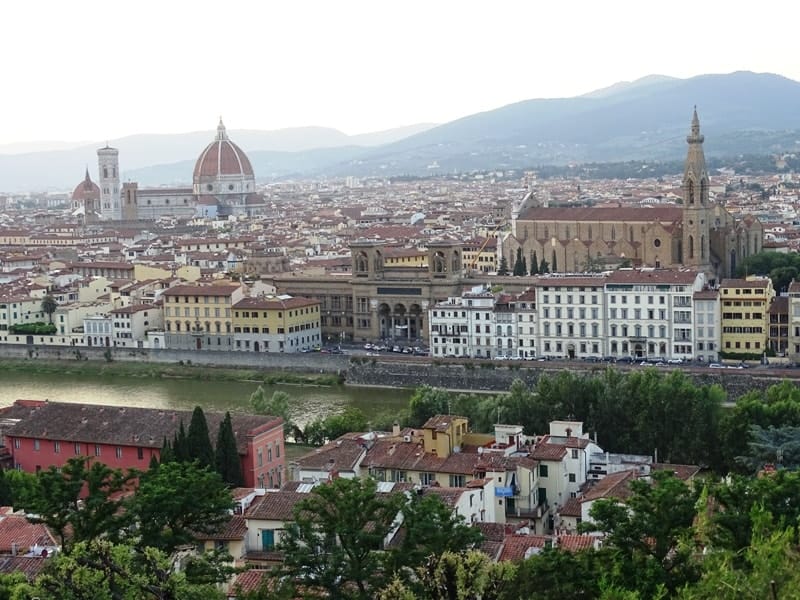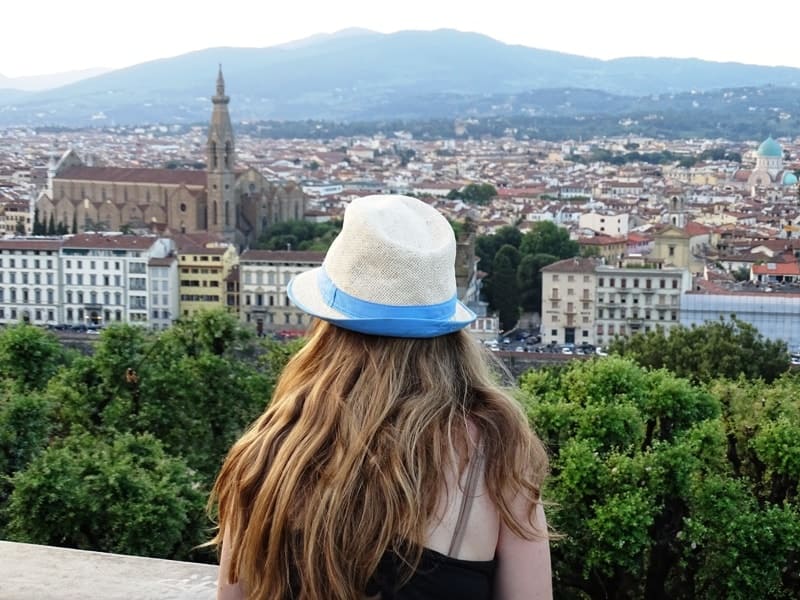 Duomo's Cupola
From the top of Duomo's Cupola, the views of Florence are spectacular. The only way to get to the top is by climbing 463 steps as there is no elevator. Apart from the views of Florence, you will be able to see from very close the frescoes of the dome and the in particular Last Judgement designed by Giorgio Vasari.  If you want to climb the Cupola you need to buy beforehand an OPA tickets that allow you access to the five monuments in Piazza Duomo (cupola, Giotto's bell tower, baptistery, crypt below Cathedral, and Opera del Duomo Museum). The cost is 15€. During the summer high season, there is a big queue to enter the Cupola. You might have to wait in line for 3 hours. In that case, I highly suggest that you either book your tickets online and reserve your entrance to visit them at a given time and skip the queues or if you plan to visit a lot of museums in Florence you can buy a Firenze card that offers you free access and priority entrance without a reservation.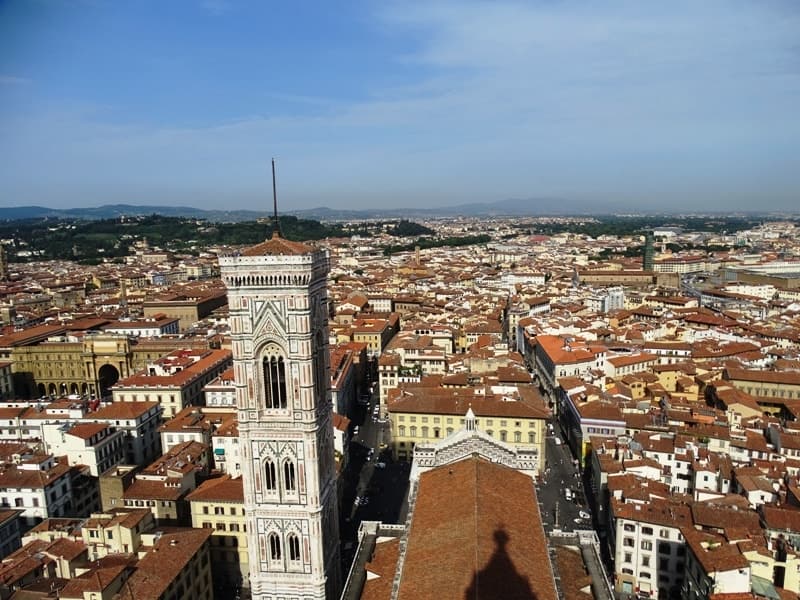 Giotto's bell tower
The Campanile di Giotto, Duomo's bell tower is another perfect place to admire the view of Florence from above. To reach the top you have to climb around 400 steps but it's easier than climbing the Cupola as it has several stops where you can rest and admire the views before reaching the top. Same as the Duomo you have to buy an OPA ticket to get inside.
Uffizi Museum
The Uffizi Museum in Florence is widely known for its magnificent art collection that includes masterpieces from Botticelli, Leonardo da Vinci, Michelangelo, Caravaggio and many more prominent artists. The building itself is a piece of art with beautiful frescoes and ceilings designed by Giorgio Vasari for the Medici family to accommodate the offices of the Florentine magistrates. Apart from the artwork, the Uffizi offers a spectacular view of the Arno river and PonteVecchio bridge.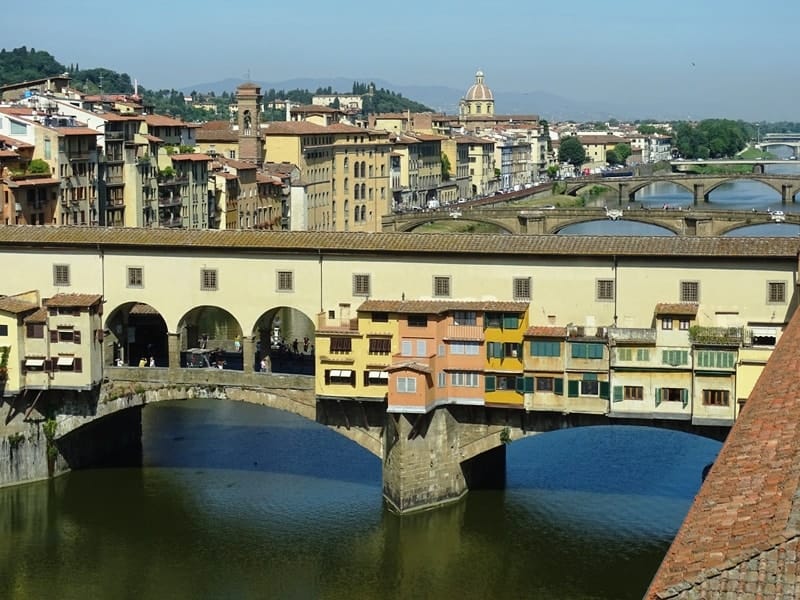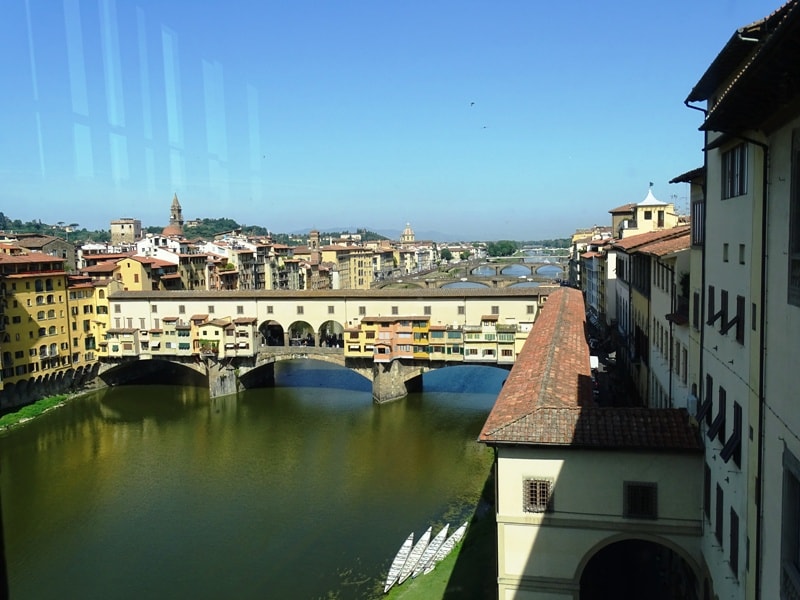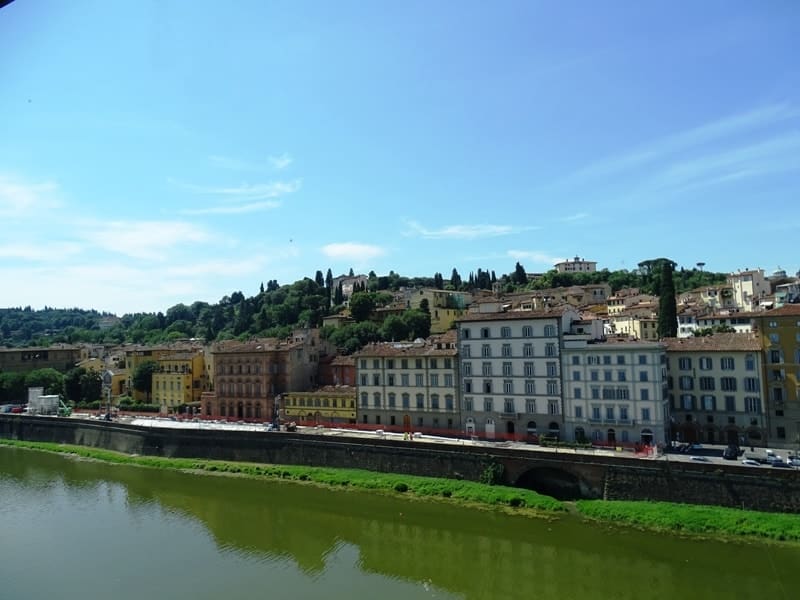 Other options to see Florence from above include the rooftop bars of hotels like Hotel Minerva, Hotel Continentale, and Westin Excelsior. Finally, you can head to the nearby town of Fiesole, which was an Etruscan town and from there you can enjoy views of the city of Florence. To get there, you can take the bus number 7  from Piazza San Marco near the Accademia. It only takes around 20 minutes to get there. Unfortunately, we didn't have the time to go, but it was recommended to us more than once.
Have you been to Florence? Which is your favorite spot to view Florence from above?
If you are looking for a walking tour in Florence check my post: A walking tour of Florence with David by Livitaly Tours.