Florence is an Italian dream and it's on the bucket list of many travellers. Once you've exhausted the sights or if you're just after a change of pace then you should consider one of the many different places that you can visit from Florence on a day trip. Being situated in the centre of Italy makes Florence a great base to explore the Tuscan countryside and many of the other towns around.
The Best Day Trips from Florence
Pisa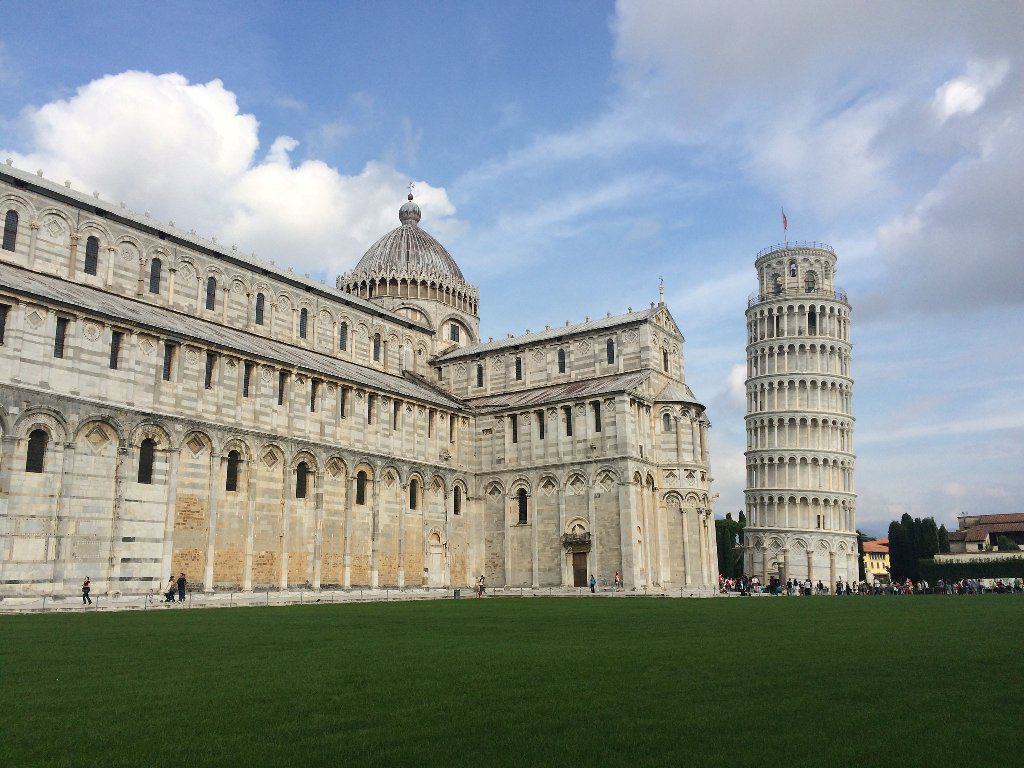 Pisa has to be done. It may be one of the more touristy areas to visit but it really would be a shame to miss it if you're so close because it's extremely easy to get to from Florence whether you have your own transport or not. There are several trains going from the main station in Florence, Santa Maria Novella, that go straight to Pisa and if you do take a car there is a large parking lot near to the tower.
Pisa is of course known for its famous leaning tower and even if all you do is wander around the area taking silly photos of holding the tower up it's really a fun thing to do.  We went to Pisa with the kids and we loved doing this!  It is busy there, is filled with souvenir shops and it does feel very touristy but if you can see past that it's a great day out.
If you have time you can climb to the top of the Leaning Tower of Pisa and you can also take in the other interesting buildings in the 'Square of Miracles' –  the Campo dei Miracoli.  There's the duomo (cathedral), the baptistery, and the cemetery all of which are interesting.  You do need tickets for entry and they can be booked in advance which is advisable.
I recommend the following day trip from Florence: Pisa Day Tour with Leaning Tower of Pisa
Check out: One day in Pisa.
Lucca
Lucca is a beautiful walled town in the heart of northern Tuscany. It small and gives you that wonderful Italian architecture without all the huge crowds of Florence. The walls date back to the 16th century and you can even walk on the top of them giving a wonderful view of the town.
On our trip to Lucca, one of my favourite areas in the town was the Piazza dell'Anfiteatro which is a beautiful and quite quaint area that is built on the old Roman Amphitheatre and the current buildings keep the elliptical shape. It is full of cafes to sit, watch the world go by and soak up some Italian atmosphere.
If you're a fan of opera then you might be interested to know that Lucca is also the birthplace of Puccini, an opera composer, and there is a small museum in Lucca dedicated to him.
You can get to Lucca from Florence in around 1 hour by car, parking is easy on the outside of the walls, or it's also easily reached by train.  As Lucca is so close to Pisa, it's worth combining the two in a single day trip.
I recommend this Pisa & Lucca Day Tour with Buccellato Tasting from Florence.
Siena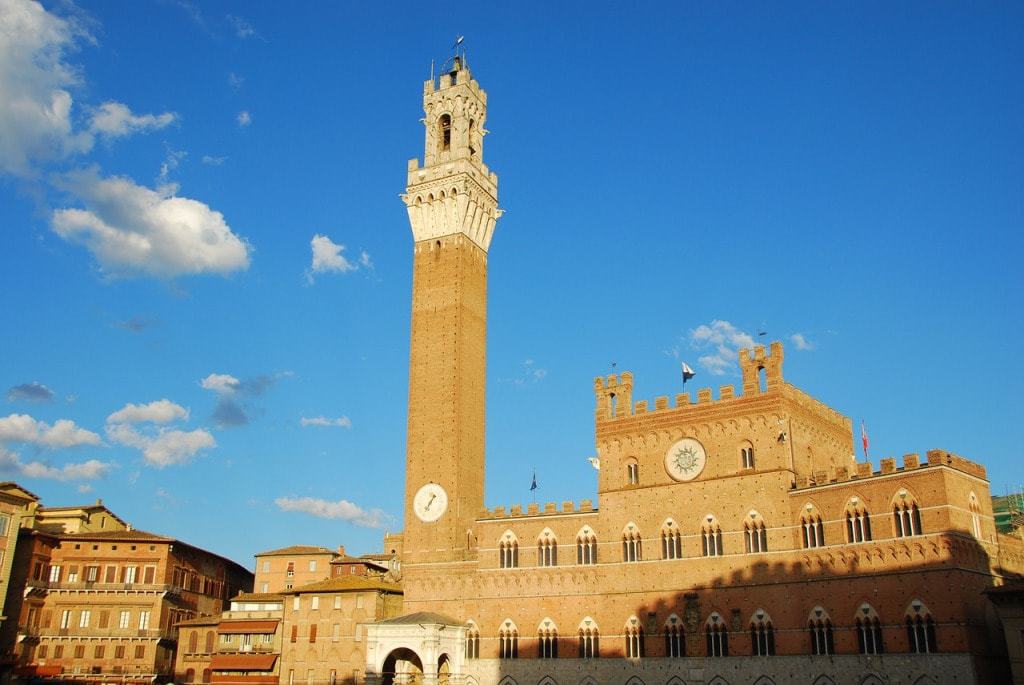 Siena is often touted as a rival to Florence and some say that it is a much nicer city to visit. It's not too far to get to so if you're already in Florence it would be an easy day trip to compare for yourself.
The main attractions in the city is the architecture and beauty of the buildings. The amazing Duomo is a gothic cathedral which is quite a spectacle. It's situated in the centre of the city, just next to the Piazza del Campo which is the other area not to miss. The Piazza is a unique shape and unlike anything else I've found in Italy – it's kind of a fan or a fish tail shape. There's plenty to see around the square or you can just take a moment to yourself and indulge in a bit of people watching!
Siena is easily reached by train from Florence, taking around an hour and a half and there's two trains per hour. Alternatively it's around 1 hour and 20 mins by car.
Check my posts: How to get from Florence to Siena by bus and by train.
How to spend one day in Siena.
If you prefer to take a guided tour and check other places around Tuscany too I recommend:
If you decide to go just to Siena by train or bus I recommend:
Chianti
If you've had your fill with Italian architecture and want to explore the amazing countryside then getting out towards the Chianti area is a great idea. As you can probably guess, the Chianti wine is from round here and a trip in to the area reveals many vineyards to visit. It's amazing countryside and a welcome relief from the bustling towns and cities of Tuscany.
There are many vineyards that you can visit in the area with wine tastings available, but as well as that there are some charming villages and towns with some wonderful churches and castles to visit and local produce to try. If you don't know where to start then I suggest Greve which is a quaint and small village and is known as the gateway to the area.
The Chianti area is just south of Florence. If you want to get there using public transport it is possible to get a bus to Greve but car is definitely best so you can make the most of the smaller villages.
If you don't have a car you can also take a guided tour in Chianti:
Cinque Terre
Five picturesque villages perched upon hills and rocky cliffs and overlooking the Ligure Sea: Riomaggiore, Manarola, Corniglia, Monterosso, and Vernazza. They all look very similar to one another with narrow alleyways, pastel-colored façades, and scenic terraces, and they are surrounded by sea, mountains, vineyards, and olive groves.
You can visit them all in one day by train since they are very well connected to one another (local trains run every 10-15 minutes all year round). If you prefer to explore the lush Mediterranean scrub and enjoy some trekking, choose one of the many trails in the Cinque Terre National Park.
If you haven't enough time to discover every corner of this area, limit your visit to the main villages (Riomaggiore and Monterosso) or choose a short and easy trail like Via dell'Amore (Love Trail) taking only 20-30 minutes and offering some of the most beautiful views of the entire coast.
To reach Cinque Terre, you just need to take a train from Florence and get to La Spezia (about 2h). Once there, buy a Cinque Terre Card (Cinque Terre Treno MS Card | Parco Nazionale delle Cinque Terre ) to have free access to local coastal trains.
If you prefer, join a guided tour from Florence. I recommend this day trip from Florence to Cinque Terre.
For more information check: A day trip from Florence to Cinque Terre.
Arezzo & Cortona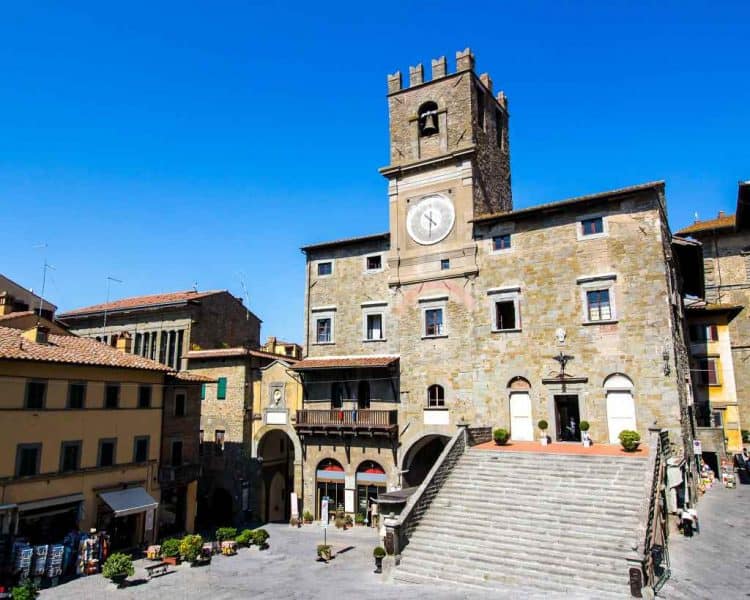 Arezzo is a lovely town rich in history and full of traces of its ancient Etruscan and Roman past. It is less famous and visited than other Tuscan cities but it can offer several sightseeing opportunities. What you cannot miss: S. Francesco Basilica with its medieval frescoes by Piero della Francesca, the Cathedral with its amazing stained-glass windows, Piazza Grande (also called Piazza Vasari) with its iconic trapezoidal shape and its noble medieval mansions.
You can easily reach Arezzo by train in just 1 hour from Florence. Since the old town is quite small, you'll have enough time for another visit: choose Cortona, a small town on top of a nearby hill that you can reach with another short train trip (about 20 min from Arezzo).
Cortona is a charming small town enclosed by ancient walls and wrapped around the XIV century Piazza della Repubblica with the iconic City Hall featuring a majestic staircase and the clock tower. Don't miss a stop at the MAEC, which is the Museum of Etruscan Civilization, to learn more about the ancient past of Tuscany.
San Gimignano
A medieval fortified village that will make you travel back in time and forget about modernity! San Gimignano is renowned for its many towers (there are "only" 14 towers today, but they were 72 in the past) giving it a highly recognizable profile that you can spot from a distance.
Take your time to wander around the picturesque old town and visit the Cathedral which does not look like much on the outside, but it's beautifully decorated with medieval frescoes inside.  In front of the Cathedral, you'll also see Palazzo del Popolo, which has been the heart of local public and political life since the Middle Ages.
Inside, you'll have the chance to visit an art gallery displaying some medieval and renaissance local works of art. Piazza della Cisterna is the most picturesque location in town: located on the highest point of the hill, it is surrounded by medieval buildings and it takes its name from the ancient well standing right in the middle of the square.
San Gimignano has no train station, so the best way to get there from Florence is by car (it's an easy 1-hour drive).
As an alternative, you can join a guided tour from Florence that includes some wine tasting too, like this one.
If you want to get from Florence to San Gimignano by public transport check my post here.
Val d'Orcia
When thinking about the typical Tuscan countryside, you'll be probably thinking about a landscape located in Orcia Valley: hills, farmland, castles, medieval villages, and farms surrounded by greenery and vineyards. Life is slow and peaceful there and this area has always been considered the symbol of the Italian rural lifestyle. It is also a popular place for wine and food lovers and there are plenty of farms and wineries offering tastings of typical products.  
To visit the Orcia Valley in just one day, you'll have to make a selection of villages and attractions to make the best of your visit. Choose at least Montalcino to taste some Brunello wine, Pienza to taste local pecorino cheese, and Bagno Vignoni to see what medieval and renaissance baths looked like.
Other activities you can do there include: relaxing at the many natural spas nearby, cycling, trekking, horse riding or simply walking or driving around taking plenty of pictures! The best way to visit the Orcia Valley is by car since you'll be free to stop whenever you see something you like and to explore the countryside at your own pace.
Montalcino
If you prefer to visit only one village at a time, Montalcino is one of the best options for a 1day trip. It's a perfectly preserved and picturesque medieval village enclosed by walls and offering a fairy atmosphere and some of the best Tuscan wines too!
Visit its medieval fortress (La Rocca) and enjoy the view from its ramparts. If you want to take a couple of other pictures of the beautiful Tuscan countryside, you can stroll along the 4 Km walkway upon the medieval walls. Once back in the old town, simply wander around and spend a moment to admire the XI century Piazza del Popolo with its elegant Palazzo dei Priori and its high and narrow tower. Visit also a couple of churches: the best ones are the Romanic S. Augustine Church and the stone church of S. Egidio.
End your day with a wine tasting in one of the many wineries producing local Brunello wine. The fastest way to reach Montalcino from Florence is by driving for about 1h30 in the countryside, but don't forget to stop here and there to take some pictures!
You might like: Hilltop Villages of Tuscany.
Pienza
Pienza is another great destination for your 1day trip from Florence. It was almost entirely rebuilt in the Renaissance period and it was known as the "Ideal Town". The great humanist Enea Silvio Piccolomini, who later became Pope Pio II, had a dream: to turn the humble village where he was born into a "perfect" Renaissance town that had to be elegant, neat, and modern.
When he became Pope, he could finally fulfill his dream and develop a new city plan together with some famous architects. Of course, you cannot miss a visit to the Piccolomini Palace to get to know this historical figure and admire the roof garden that was used as a backdrop in the famous "Romeo & Juliet" movie by Zeffirelli.
The Cathedral is close to the Palace and you shall spend a moment to admire its beautiful paintings. Just outside Pienza, there are two castles deserving a second look: Cosona and Spedaletto Castles, the latter being also a farmhouse and a shop of local products. The best way to reach Pienza from Florence is to drive in the countryside making a couple of stops along the way to enjoy the landscape. The journey will take about 1h20.
Montepulciano
This town is famous both for its strategic position on top of a hill and for producing the prized Nobile wine which is internationally recognized as one of the best Tuscan products. It is a popular location among foodies but also among nature lovers searching for a relaxing holiday immersed in an idyllic landscape.
Start your visit wandering around the old town and reach the central Piazza Grande. Visit the Cathedral and the City Hall that were kept exactly as they were built back in the XVI century. You can have lunch in a farmhouse offering local dishes and products and spend some time walking or cycling in the countryside.
End your trip with a visit to the gothic Church of S. Francesco and the majestic fortress from where you can watch the sunset before getting back to Florence. You can easily reach Montepulciano with a 1h drive from Florence.
Volterra
One of the most interesting towns near Florence is Volterra: an ancient Etruscan settlement that was later a Roman town and a flourishing medieval citadel. You can easily spend a whole weekend there since you'll find plenty of things to see and do!
If you happen to be there in August, don't miss the Medieval Festival named "Volterra AD 1398" to step back in time and spend a day as a medieval citizen. As always, the first thing to do once arrived is exploring the old town and visit the heart of local public life:  Palazzo dei Priori, Palazzo Pretorio, and the Cathedral with its Baptistery.
Don't miss a visit to the local Etruscan Guarnacci Museum to learn more about those ancient times and to see many traces left by the first inhabitants of Tuscany. Visit also the Etruscan Acropolis, which is an interesting archeological site located on top of a hill and featuring many Etruscan and Roman ruins like ancient temples and villas.
Get back to the Renaissance period at the Medici Fortress: it was built in 1474 when Volterra came under the rule of Florence. You can easily reach Volterra with a 1h30 drive from Florence.
You might also be interested in: 45 things to do in Tuscany,
Kirsty travels with her husband and two teenagers and one of her favorite places to visit has to be Italy where they spent a month on the Ligurian coast.  She writes about her adventures at Lost in Landmarks.

Did you like this post? Pin it!