Planning to spend 2 days in Hong Kong and looking to see as much as possible? There are so many things to see in the city and the surrounding area. This 2-day itinerary will help you make the most out of your stay in Hong Kong. 
Once a former British colony, Hong Kong has independently become a city thriving with major business, sublime shopping, and a vibrant nightlife. It boasts a stunning skyline, whether you view it from on the ground or in a high-rise building, and the dense population makes it a city constantly buzzing with excitement. Here are the best things to see and do if you have two days in this lively city:
You might also be interested in these Hong Kong Travel Tips.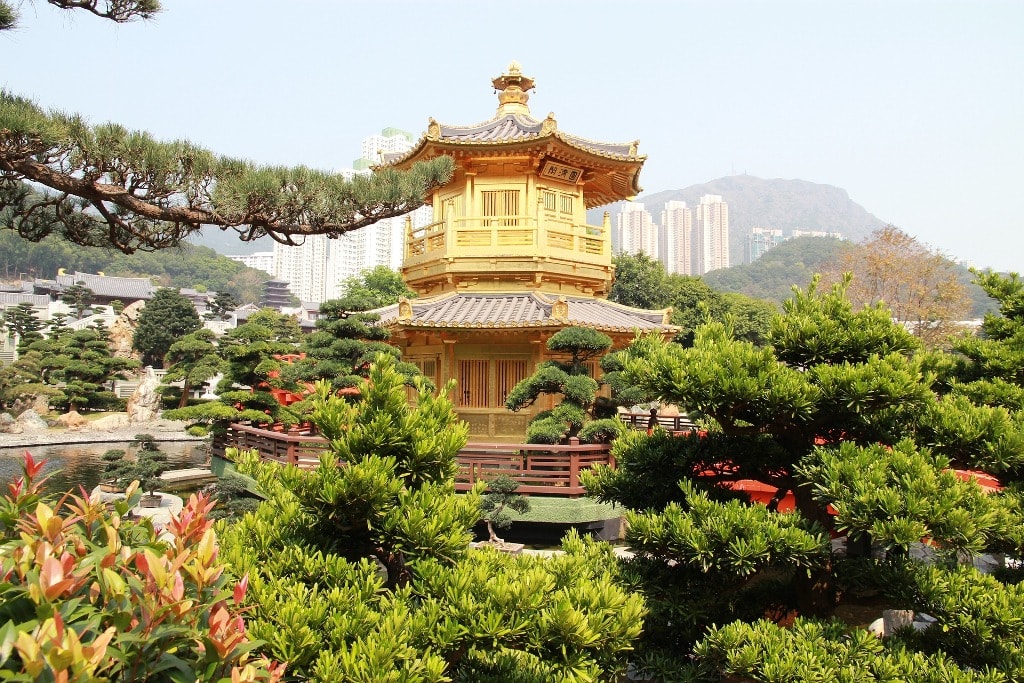 Two days in Hong Kong: Where to stay?
Ibis: Overlooking the Victoria Harbour, this 3-star hotel offers modern rooms with wood floors, city views, flat-screen TVs, and free Wi-Fi. Amenities include a colorful restaurant and bar. Click here for more information and to check the latest prices.

Novotel Century: Situated only 4km from Victoria Harbour, this 4-star hotel has wood-furnished rooms complete with 24/7 room service. Amenities include an Italian restaurant and a bar, gym, and pool. Click here for more information and to check the latest prices.

The Kowloon Hotel: This 4-star hotel is only 500 meters from the harbor and offers elegant rooms with city views and free Wi-Fi. Along with a free breakfast buffet, there is also a dim sum restaurant. Click here for more information and to check the latest prices.

The Upper House: A luxurious 5-star hotel 6 minutes away from the train station and offering complimentary bike rentals and yoga classes. There is also a trendy restaurant, café, and terrace bar. Click here for more information and to check the latest prices.

The Ritz-Carlton: Located 16km from Ocean Park, the 5-star Ritz Carlton comprises lavish rooms with city views. Amenities include two bars, three restaurants, a ballroom, spa, gym, and an indoor pool. Click here for more information and to check the latest prices.
How to spend 2 days in Hong Kong, a Perfect Itinerary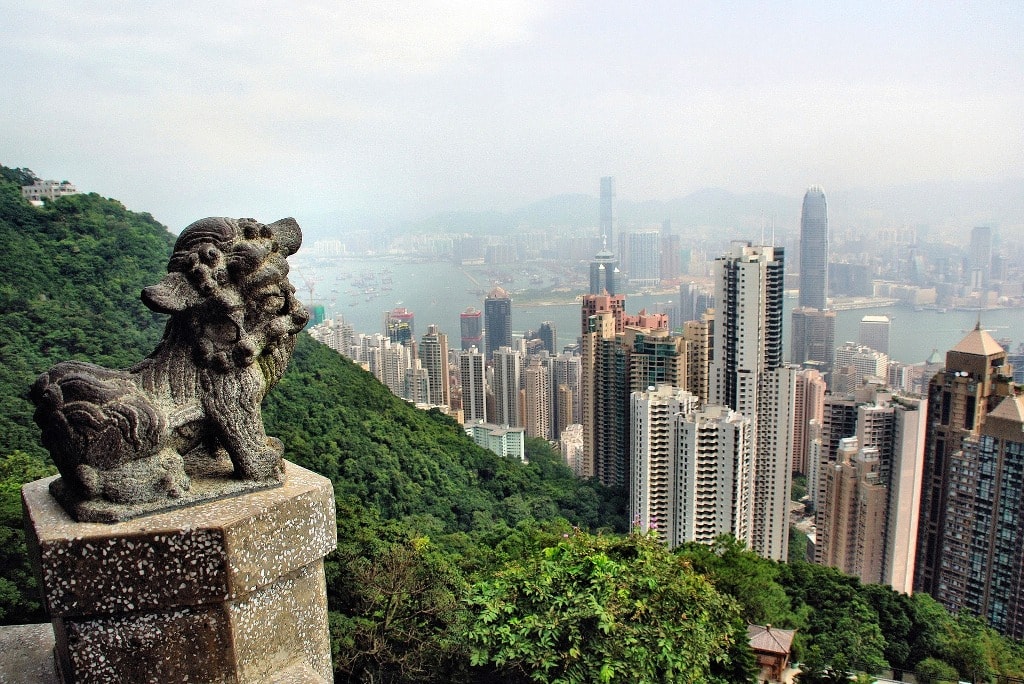 Hong Kong in 2 days: Day One
The Peak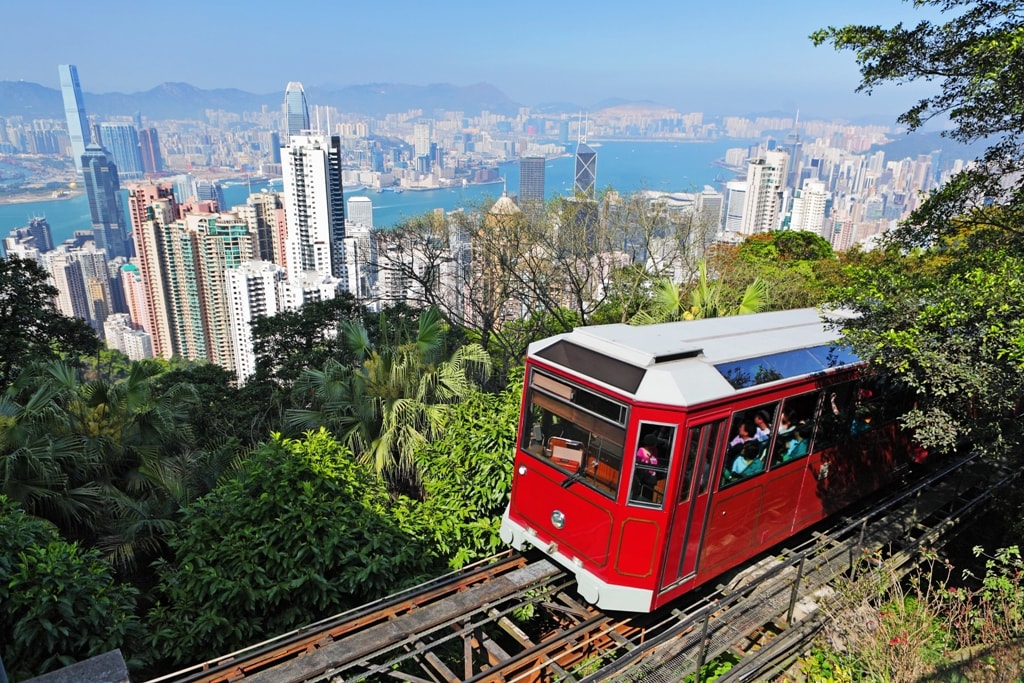 Also known as Victoria Peak, this mountain sits on the west side of the city and offers a simply unmissable and breathtaking panoramic view of Hong Kong and its harbor. You can take The Peak Tram for a quick and scenic way to arrive at the top.
Man Mo Temple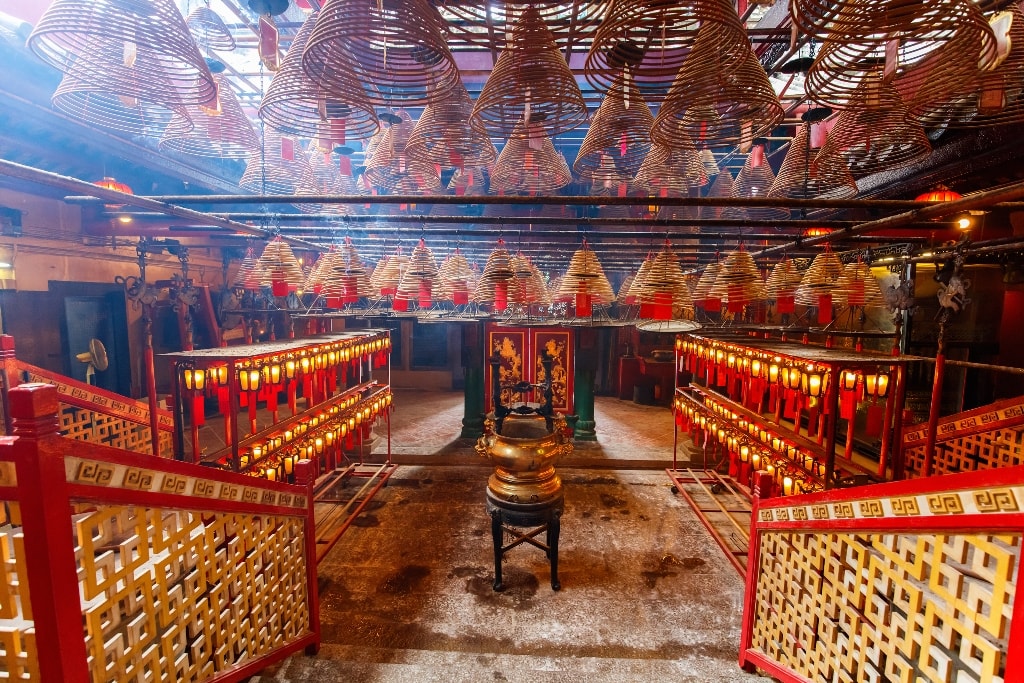 Built in 1847, this temple was built as a tribute to the God of Literature and God of War. It is the largest Man Mo temple in Hong Kong and the calm atmosphere of the complex makes for a pleasant contrast to the bustling financial district nearby.
Harbour City
This expansive shopping mall is located in Tsim Sha Tsui and is made up of three other shopping malls: Ocean Terminal, Ocean Centre and Gateway Arcade. It is Hong Kong's largest and features more than 700 shops, 50 food outlets and a couple of cinemas overfour levels.
Hong Kong Observation Wheel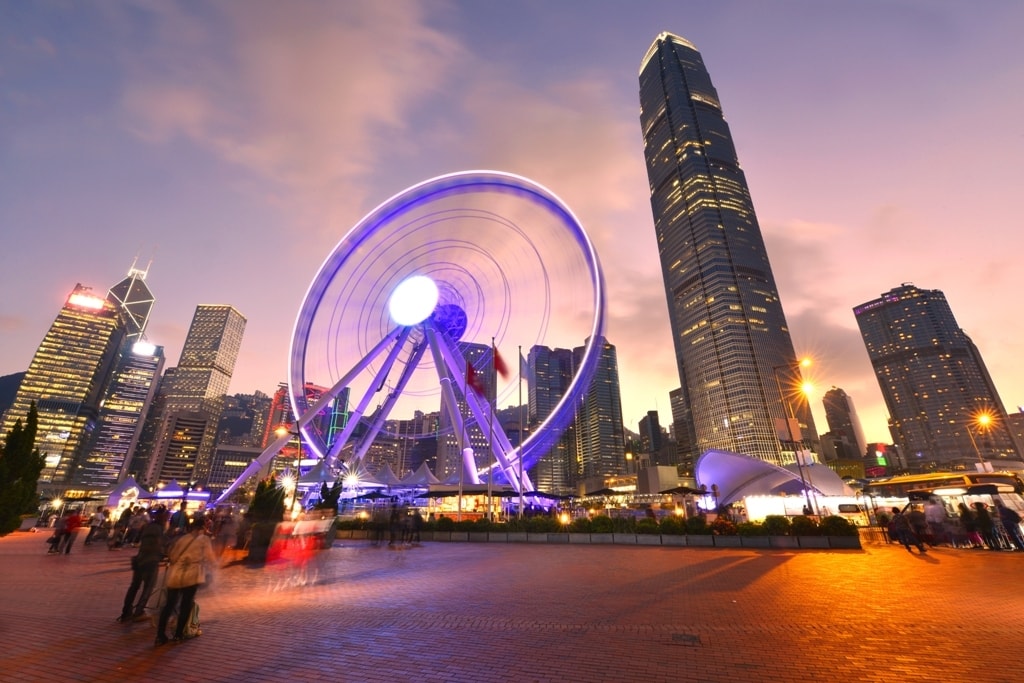 Measuring a phenomenal 60-meters tall and overlooking Victoria Harbour, this observation wheel boasts stunning views of the city and water during the day and night. It has 42 gondolas that comfortable seat eight people and comes equipped with high-speed Wi-Fi.
Symphony of Lights
Witness the Symphony of Lights, a free and spectacular light and sound show which is the largest of its kind in the world. It takes place at Victoria Harbour daily and involves 40 buildings, colored lights, laser beams and search lights to celebrate the diversity and spirit of Hong Kong.
Hong Kong in 2 days: Day Two
Ocean Park
This marine mammal park, theme park and oceanarium provides endless fun for the whole family. It offers marine shows, thrilling rides and impressive attractions including the popular Sea Jelly Spectacular, Abyss Turbo Drop and Mine Train rollercoaster.
Eat Dim Sum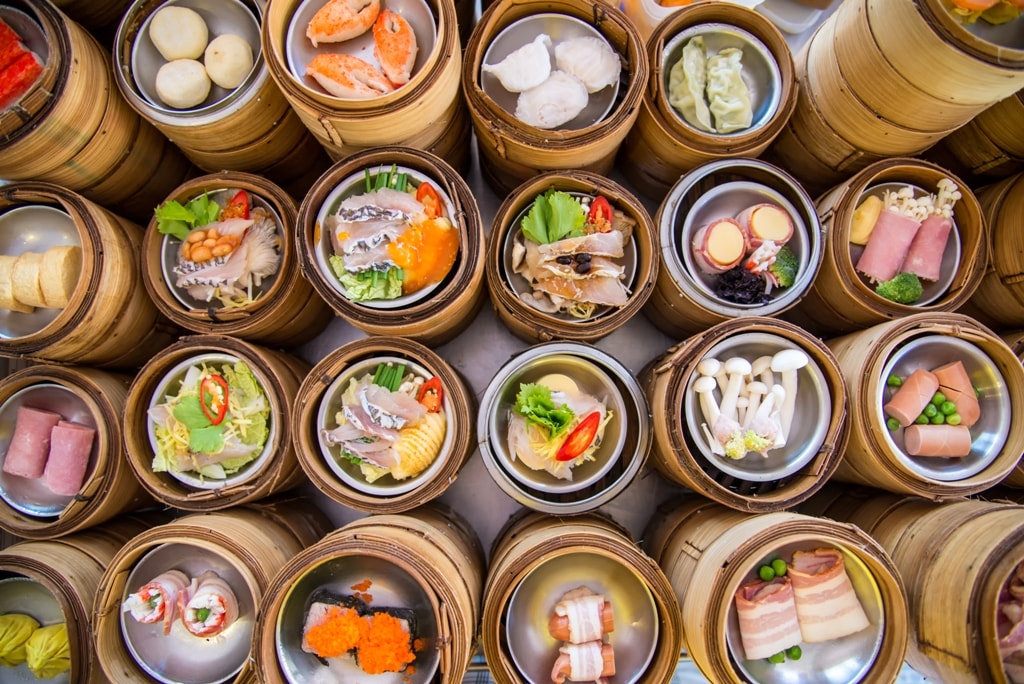 A visit to Hong Kong is not complete without tasting its famed dim sum. This Chinese cuisine consists of hot, bite-sized portions of food served in small baskets and shared around the table. The most popular dishes are dumplings, buns, rolled rice noodles and chicken feet.
Temple Street Night Market or Ladies Market
The Temple Street Market is a popular and vibrant street bazaar where you can find opera singers, fortune tellers and traders selling their wares. Ladies Market is also a good option to experience the hustle of a Hong Kong bazaar;all kinds of trinkets and goods such as clothes, souvenirs and street food fill a one-kilometer street.
Evening Cruise at Victoria Harbour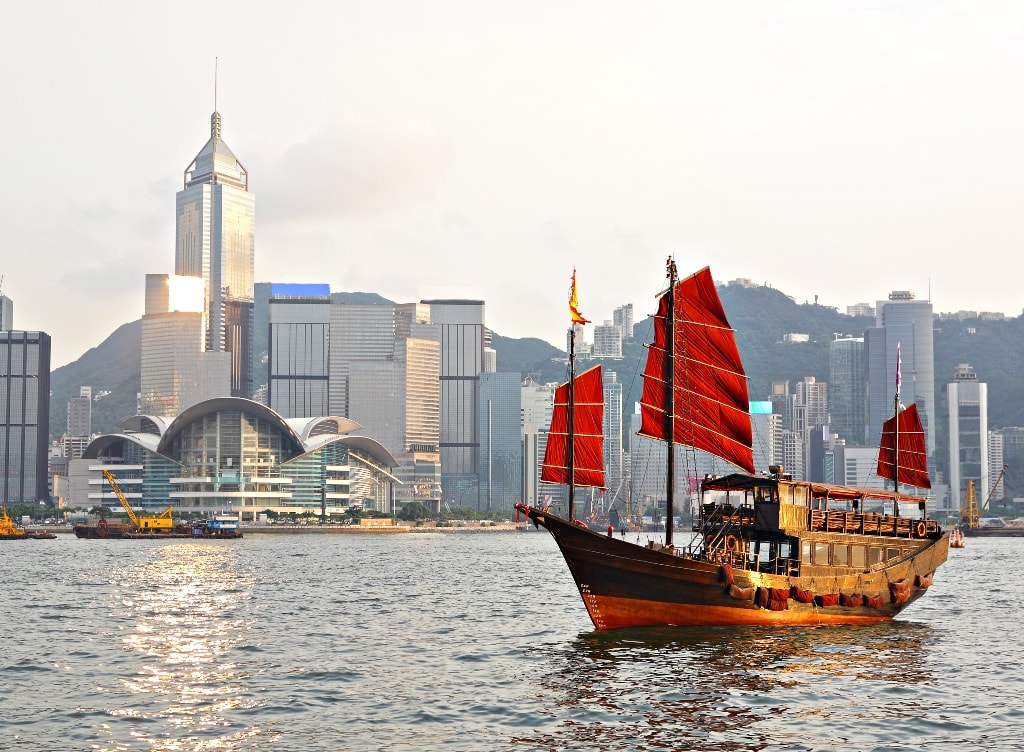 Experience Hong Kong's beautiful skyline on the harbor with an evening cruise. The dazzling city lights and bright colors reflecting on the water make for a memorable experience and can be enjoyed with either the whole family or a significant other.
Two days in Hong Kong: Where to Eat?
Lung King Heen: Head to the Four Seasons Hotel for a fine-dining experience at Lung King Heen. This Michelin-starred restaurant serves delectable Cantonese food in a chic atmosphere.
Pirata: This restaurant serves delicious Italian food and cocktails in a sleek and industrial setting, complete with a terrace. The food portions are generous and there is an all-you-can-eat antipasti buffet.
Ho Lee Fook: This popular joint serves Chinese and Asian fusion dishes in a stylish setting. The food is not only creative and tasty but the service is just as excellent.
Tin Lung Heen: Located on the 102nd floor of the Ritz-Carlton hotel, this highly-rated, Michelin-starred restaurant serves traditional dim sum as well as Cantonese food in an elegant setting.
Little Bao: For an adventurous and playful culinary experience, head to Little Bao, a modern diner that serves mouth-watering Asian hamburgers as well as a variety of authentic Chinese food.
More than two days in Hong Kong? The best day trips
Disneyland
Known as the happiest place on earth, Disneyland is a must-experience for the whole family. It features seven areas complete with exciting rides, theatrical shows and costumed characters. It is located at Penny's Bay on Lantau Island and is easily accessible via an extensive transportation network.
Macau
Also known as the 'Vegas of China,' the luxurious nearby city of Macau is famed for its casinos and malls. It was Portuguese territory until the late 90's and reflects a mix of different cultures. Be sure to visit the Macau Tower which stands at 338-meters tall and offers sensational views of the city.
Lantau Island
The largest island in Hong Kong, Lantau is home to Disneyland, Po Lin Monastery and the 34-meter bronze Tian Tan Buddha statue, which sits on top of a hill. It is a mountainous island; its very own Lantau Peak measures 934-meters high and is climbed by hikers for its famous sunrises.
How to get to and from the Hong Kong Airport
Train: The Airport Express train, which has free wifi on board, departs from the airport to central station every 10 minutes during peak hours and operates from 05:54 – 00:48. A free shuttle bus takes train passengers from the central station to 50 nearby hotels free of charge. Price: 115 HK$ Duration: 24minutes
Bus:: There are several public buses going to/from the airport, number A11 being the most popular for travelers as it stops at HK-Zhuhai-Macao Bridge, HK Port, Lantau Link Toll Plaza, Kowloon Station, Sheung Wan, Central, Admiralty, Wan Chai, Causeway Bay, Causeway Bay (Moreton Terrace & Tin Hau), Fortress Hill, and North Point. The A11 City Flyer bus, which has information regarding stops in Chinese and English, runs every 20 minutes from 06:10 – 00:30 with a night bus (N11) taking over at  00:50 until 04:50. Note that no change is given when you pay cash to the driver. Price: 40HK$ Duration: 75minutes
Taxi: There is no flat-rate fee for taxis to/from the airport so your journey will be based on time and distance as calculated by the taxi's meter. When traveling to the city center, be sure to get in one of the red urban taxis outside of the airport (Hong Kong has Urban, New Territories, and Lantau taxis which all travel within different areas). Surcharges for luggage and tolls may apply.
Private Transfer: For convenience, book online with Welcome Pickups and avoid the queues at the taxi rank and the hassle of navigating public transport. Your English-speaking driver will be waiting for you outside of airport arrivals holding a board with your name and will be only too happy to help you with recommendations on where to eat and what to see from a local's perspective. Price: 655 HK$ Duration: 30minutes Click here to book your private transfer.
Hong Kong is a city filled to the brim with things to eat, see and do and is a striking reflection of a city influenced by cultures from the East and West. It is a large melting pot of delicious eats, vibrant markets and malls and unbeatable city and harbour views, retaining its crown as a premier travel destination in Asia.
Do you have anything else to add on this 2-day Hong Kong itinerary?
Did you like the post? Pin it!