Planning a trip to Poland and cannot decide whether to go to Krakow or Warsaw? This post compares these beautiful polish cities to make your decision easier.
Poland, a country that brims with a poignant history, one indelibly shaped by the events it has gone through, and one with roots that go back hundreds of years is an incredibly beautiful country to visit.
Boasting historical sites, natural wonders, medieval town squares, and towering skyscrapers, the country of Poland is most often ignored, making it the perfect little European gem aching to get discovered.
With that beings said, a lot of times people are overwhelmed by the amount of things they can do in Poland, and even between which city to visited exactly – specifically when it comes to Warsaw and Krakow.
In my opinion, both Warsaw and Krakow offer entirely different experiences, and both need a level of immersion in them – thus if you have enough time, don't even think twice about visiting both!
Warsaw or Krakow which one to visit
For the past couple of years, there has a long ongoing debate on which city is better than the other, which one to visit, which one is nicer to live in, which one has more things to do, and while these are fairly normal to ask, the debate is somehow unfair since both are completely different.
It would be hard to compare those two cities together as both offers completely differing experiences, thus turning this from a competition between the two to more of a debate. In my opinion, if you enough time, both are worth the visit so you can get contrasting views of Poland.
Warsaw vs Krakow – Size
When it comes to size, Warsaw is undoubtedly so much bigger and a lot more spread out, unlike Krakow, a quaint little town that has most of its attractions huddled up together in the Old Town. Everywhere in Krakow is walk able, while in Warsaw it would take you some time to get from one place to another.
Warsaw vs Krakow – Architecture, Design and General Looks
Warsaw was completely damaged in World War 2, and only a handful of places there remained intact, and thus the whole city was rebuilt from scratch in a successful post-war construction. On the other hand, you've got Krakow that has endured much of what happened in the war and therefore ended up looking the same it did a few years ago, still boasting quite a historical atmosphere.
Warsaw is a lot more modern looking, a thriving metropolis with sweeping skyscrapers, wide boulevards, modern boutiques, restaurants and the entire "feel" to the city is very post-war and modern-ish, with the main focus on modern architecture and skyscrapers. This made the city the hub for all businesses and financial institutions, along with embassies and multinationals. It is argued quite a lot that the prevailing Stanlisit architecture in Warsaw makes the city "grey, gloomy and depressing."
Krakow, on the other hand, has monuments dating back to many years before the war, boasting its past, and priding itself on its authentic historical appeal. The architecture is mostly medieval with an abundance of Gothic buildings, charming architecture, enchanting cobblestone streets and a very European vibe to it. Krakow is significantly older than Warsaw and clings dearly to its past and historical monuments.
Warsaw vs Krakow – Things to do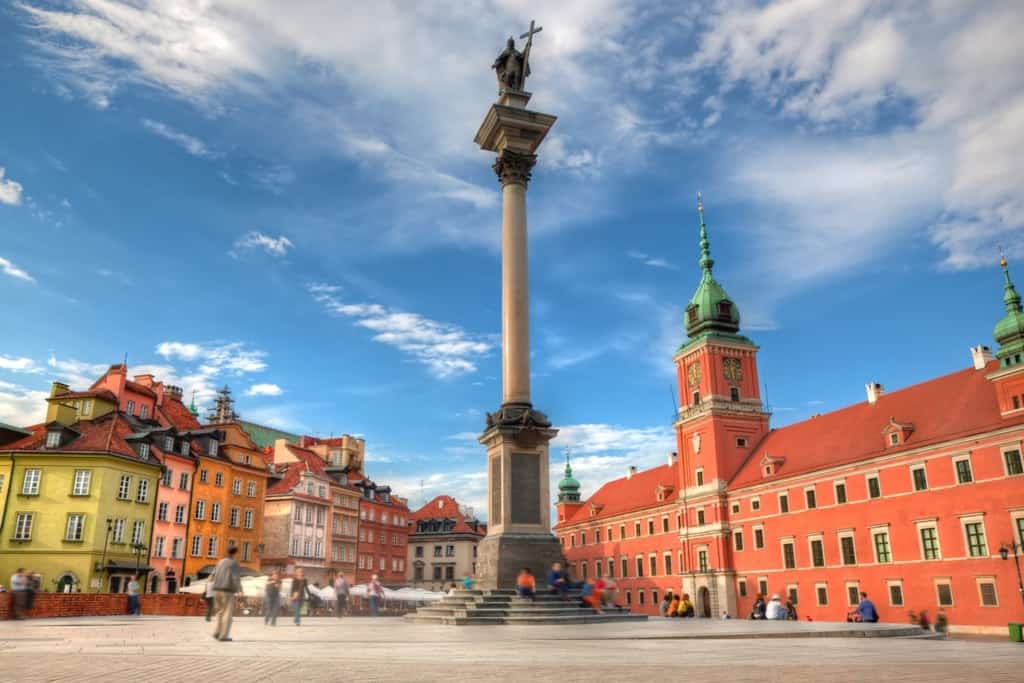 When it comes to comparing the two cities, checking out the things to do in each is essential. Both offer abundant opportunities for attractions, sightseeing and getting acquainted with the city, and which one you will like completely depends on your personal interests, needs, and general likes.
Krakow has a much cozier feel, so all the streets lead to the one main Old Square where everything happens, making it extremely convenient, while Warsaw is a lot more spread out with more options of things to do, but a harder time on getting a grasp on exactly where to go.
When it comes to art galleries and museums, nothing beats Warsaw with its abundance of those two – from the Uprising Museum to the Copernicus science Center – nothing beats the quality and size of the museums in Warsaw. Sure, Krakow boasts a few museums as well, but they don't come anywhere near the grandeur of the ones in Warsaw.
If you want to take a short trip to one city, and then head to other cities in Europe, then Krakow has better traveling routes.
If you're interested in recent history, post-war, and Soviet-Realism architecture, then Warsaw is your place, but if you lean more into character, medieval squares, gothic buildings and narrow cobblestone streets then you should head over to Krakow.
Warsaw vs Krakow: The general vibe:
Warsaw has a general poignant vibe to it; with every walking step you take reminding you of the disasters of the war, of the conflict and the suffering. It's a heavy place to visit and might get a little bit depressing, although it can also be taken as a symbol for uprising, for victory and for modernity and triumph.
Krakow is quainter, cozier, and friendlier and has this small-town vibe to it, even though it is usually sprawled by tourists.
A Guide to Warsaw
Warsaw is an incredible story of rebirth, of constant change, of bewildering advancement and of insistence. The city has a poignant tumulus past that is evident and prevailing in each of its monuments, neighbourhoods and streets, and it has been shuffled by all types f dynasties and kings, thus creating a cultural multi-layered city that reflects success.
Warsaw is not a city you fall in love with immediately, it's a city that snakes its way through your heart, seducing you with its allure, a city that intrigues you and keeps you asking for more. It's bewildering, the juxtaposition between the gleaming skyscrapers and the concrete Communist-era apartments.
It's a city with lush green spaces, neo-classical and Baroque architecture, and one with a brand new façade, buzzing cosmopolitan city as it should be with a thriving arts and culture scene, top-notch restaurants, incredible contemporary architecture and upmarket stores.
Top things to do in Warsaw
Old Town of Warsaw
The Old Town in Warsaw is reminiscent of what Warsaw used to look like, a beautifully arranged square that has been reconstructed so accurately it was named a UNESCO World Heritage Site. It's made up of a labyrinth of winding cobblestone streets, medieval facades, picturesque plazas and it was originally built in the 12th century. In the summer, this place is usually hoarded by a lot of tourists, coming to experience what Warsaw was like before embarking on a journey through Warsaw's recent modernity.
Things to do in the Old Town:
walk around the old town market – You can walk around the market that dates back to the 13th century. Today, you'll find an endless mixture of restaurants, bars, and street shops selling souvenirs and unique merchandise.
Historical Museum of Warsaw – The historical museum focuses on culture, art and Warsaw's turbulent history. It demonstrates the changes the city has gone through after the World War.
Sigismund's Column – The most essential meeting point in all of Warsaw, where it's always sprawled by couples, kids, teenagers, meeting lovers, and much more. A bronze sculpture dominates the skyline, while the people of Warsaw dominate its actual base.
Royal Castle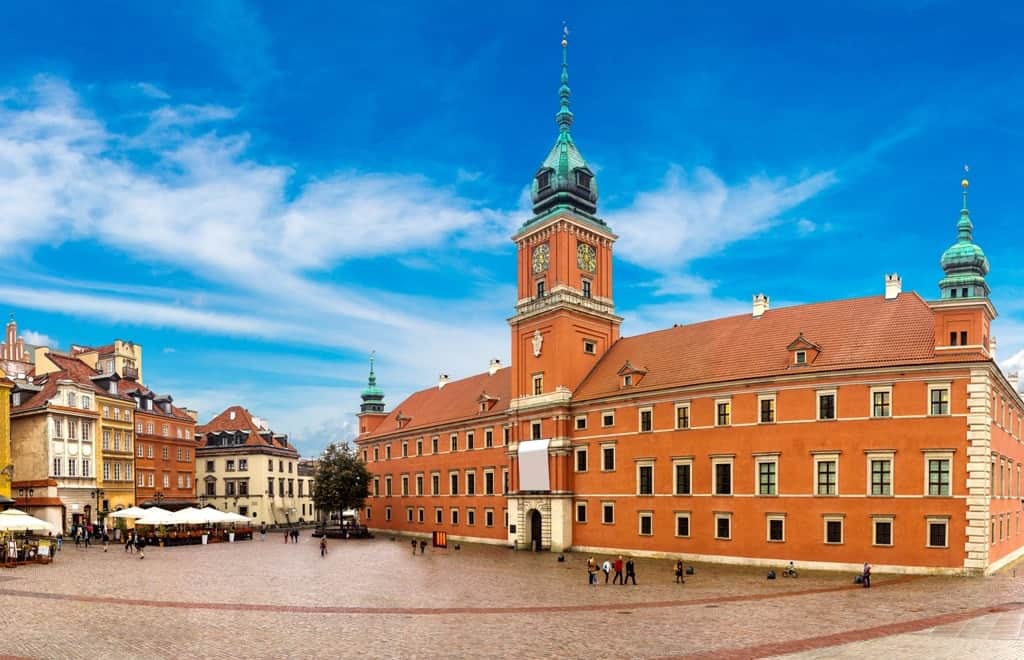 The royal castle was built in the 13th century and expanded many times until it reached this incredible structure you will see today. Back then; it was the official residence for most monarchs, while today it serves as a museum.
The façade is incredible, to begin with, with imposing brick facades, views over the Castle Square, the square towers, the bulbous domes, the clock tower and the riverbank below.
There are also a lot of things to do inside, with glided and intricately designed rooms, paintings and sculptures.
Things to see inside:
Assembly Room – Without a doubt, the most beautiful room with columns, mirror and chandeliers.
Throne Room – This is a room with a throne standing right in the middle of it, with shining red and gold decorations.
Marble Room – Paintings on the ceiling and marble that seems like it goes on forever.
The Canaletto Room – Paintings by Bernando Belloto and scenes from Warsaw before the war.
The knight's room – Walls covered with huge paintings and the Statue of Chronos.
Warsaw Uprising Museum
The museum is a tribute to all the soldiers who fought and died in the war, and is truly an overwhelming, exhilarating experience that will instill a sense of awe, of desperation, of sadness and of surprise into your heart.
You'll be experiencing a lot of memories from the war first-hand, with real life photographs, objects, video footages and recordings that will instantly connect you to the past and the heroic struggles and decisions that have been taken.
You'll be so involved in everything happening, as you watch the illustration and the interactive displays and there is no way you will not be moved by all this history.
The museum is set in an old brick power station, and you'll be able to learn about:
The Nazi rule, along with sound effects all over you as explore.
The mezzanine level: where you'll be able to see detailed videos explaining the battle, and what happened then.
City of Ruins: An aerial film that will show you the picture of a liberated Warsaw in March 1945.
The Replica of the B24 plane.
Lazienki Palace and Gardens
The Lazienki Krolewskie (Royal Baths Park) is an incredible Palace-Garden complex that shows the modern lavishness of Warsaw. It's a mixture of classical French architecture, Venetian canals, Baroque architecture and English-style gardens, with a lot to do more than just sitting by the grass and having a picnic.
It was mainly commissioned to be the Royal Summer Residence, and as you walk through the park you'll find yourself alternating between different times, cultures and continents and juxtaposing forest areas and flower arrangements along with little museums. It's truly one of the most stunning parks in Europe with an incredible display of greenery and architecture.
Some of the things you can do:
Enjoy weekend piano concerts.
Palace on the Island – Check out the palace, with its small pavilion, its garden, and its symbols of Warsaw.
Myślewicki Palace – A classical palace, and one of the very few that survived the war. You can explore the different wings of the palace, and see Chinese art.
White House – Gigantic interior paintings, offices decorated with preserved art, and the King's former authentic bed.
Amphitheater – The Amphitheater is topped with statues of famous writers, and the stage is Reminiscent of ancient Roman Forums.
Wilanow Palace
Wilanow is a seventeenth century palace, that is often compared to Versailles in Paris, a sumptuous place with gilded halls and breath-taking gardens. A palace that boasts ancient gates, an eclectic yellow-and-white exterior, a baroque gateway an ad an authentic historical quality. It survived World War II completely intact, and it reflects one of the most glorious periods of Polish architecture and history.
Things you can see inside:
Baroque Architecture – The Baroque Architecture is reflected into the furniture, the paintings and even the silverware.
The Museum Palace – Former residence of King Jean III Sobieski.
The Wilanow Gardens – You can admiringly stroll through the beautiful gardens. The two-level garden is the most popular attraction in the palace mixing charachteristics from baroque, anglo-chninese, English and renaissance architecture.
A Guide to Krakow
Krakow is the epitome of quaint mythical, enchanting little European towns. It's a beautiful placed with a mystical atmosphere, cultural and historical monuments and over 5,000 medieval buildings. It's a city you fall in love with from the beginning, with its charm instantaneously taking over you. It's a land of mystery, of stories, of legend and of myth, and it's one of the top European tourist destinations. It can be argued that Krakow is the best tourist destination in Poland – with its constant hustle and buzz, it's small-town vibe, and it's generally endless array of activities to do.
Things to do in Krakow
Main Market Square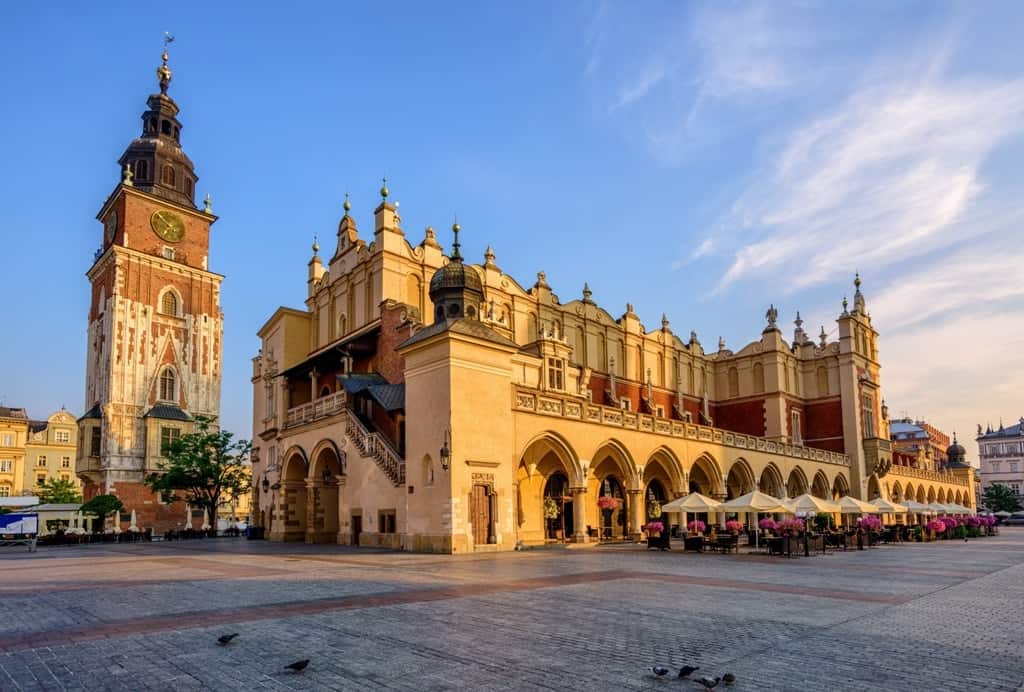 The Main Market Square is the bustling heart of the city, its gravitational center and its pulsing beat. This is the biggest medieval market square in the world, and it's incredibly spacious containing several palaces, churches, Halls, covered markets and vendor stalls selling all types of things in the market. There are also over 25 restaurants, cafes, bars, and the entire place is overflowing with an eclectic energy that matches the vibrancy and the colors of the house that surround the square.
Check out:
Cloth Hall – A huge hall crammed with merchant stalls, and vendors selling their merchandise from lace, woodwork and souvenirs.
Ryneck Underground – A high-tech museum reflecting the history of Cloth Hall.
Adam Mickiweiez –one of the most beloved statues in all of Poland.
Town Hall Tower – After many fires and destruction, what you will see today is the only remaining part of what once was a magnificent tower back then. You'll be able to enter gothic vaulted rooms, which include photographs of what Krakow used to look like and some breathtaking scenery in the pictures.
Wawel Castle
Perched on top of a hill, the Warwel complex is one of the most important ones in all of Poland, a symbol of incredible national pride, of legends and myths, and of patriotism. It's an incredible palace with a seamless blend of architectural styles – from Romanesque, Renaissance and Gothic architecture all dating back to the 14th century and creating an incredible Polish jewel.
The legend of the dragon is an interesting one, and you can still see the cave that the alleged mythical dragon used to live in.
The story of the dragon is actually the most famous Polish folk tale, with the story saying that there was a dragon terrorizing the entire town until Shoemaker Skuba fed the dragon a sheep filled with sulphur and they all lived happily ever after..
You can check out the incredible interior, with a glimpse of Poland's previous glory, the Crown Treasury, the Royal Crypts' where the previous president and his wife rest, the Envoy's Room with a collection if impressive historical weaponry.
Wieliczka Salt Mine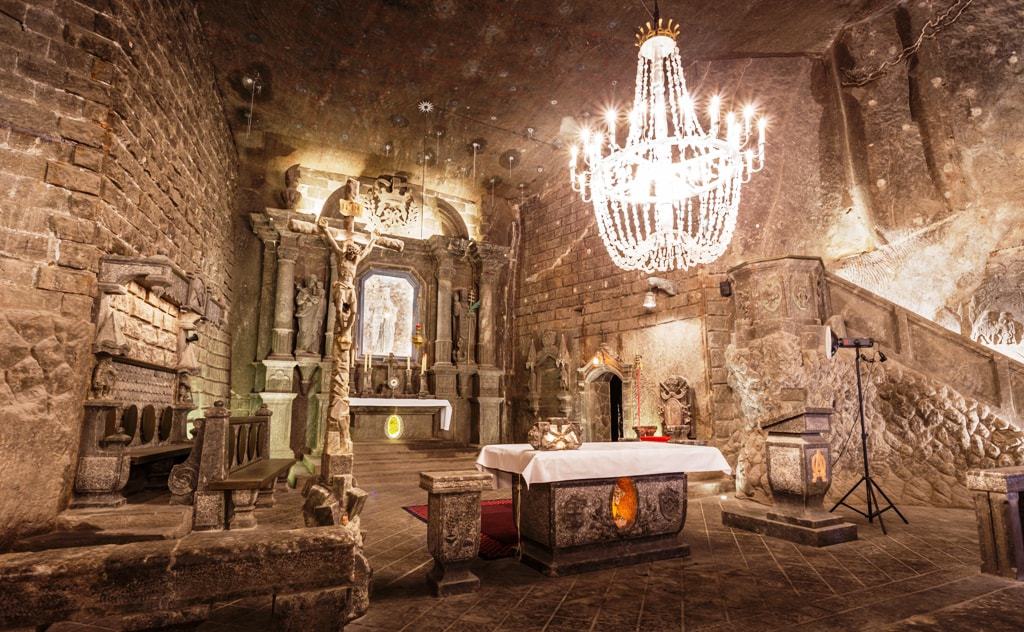 This is a must visit underground mine that mirrors an entire world down there, with not only salt mines but lakes, cathedrals, chambers, and many more attractions that will surely entice a sense of awe into you. It's a special type of attraction, not a palace, not a garden, not a museum but a complete underground world that is hard to replicate.
The main attraction is the abandoned salt lake, but the quintessential St. King's Chapel is what truly steals the show. It's an entire underground temple that was built by the talented miners and artisans, ornate chambers, and beautiful acoustics – all made completely out of salt.
Auschwitz Memorial
The Auschwitz Memorial is a harrowing example and reminder of the Nazi regime, and one of the most human memorials in the world. This was the exact that experienced the genocide of over 1.1 million innocent Jews, polish politicians, Soviet prisoners, and Roman gypsies.
You will be able to experience first hand the exhibitions that will take a toll on you, from the gas chambers, the watchtowers and the memorials inside that all tell the frightening story of one of the worst genocides in the world.
You can check out the Auschwitz I, which dates back to the 1930s and is a political prison where you will learn all about all types of medical experiments and torture practices that were made.
Check out: The best day trips from Krakow.
Schindler Factory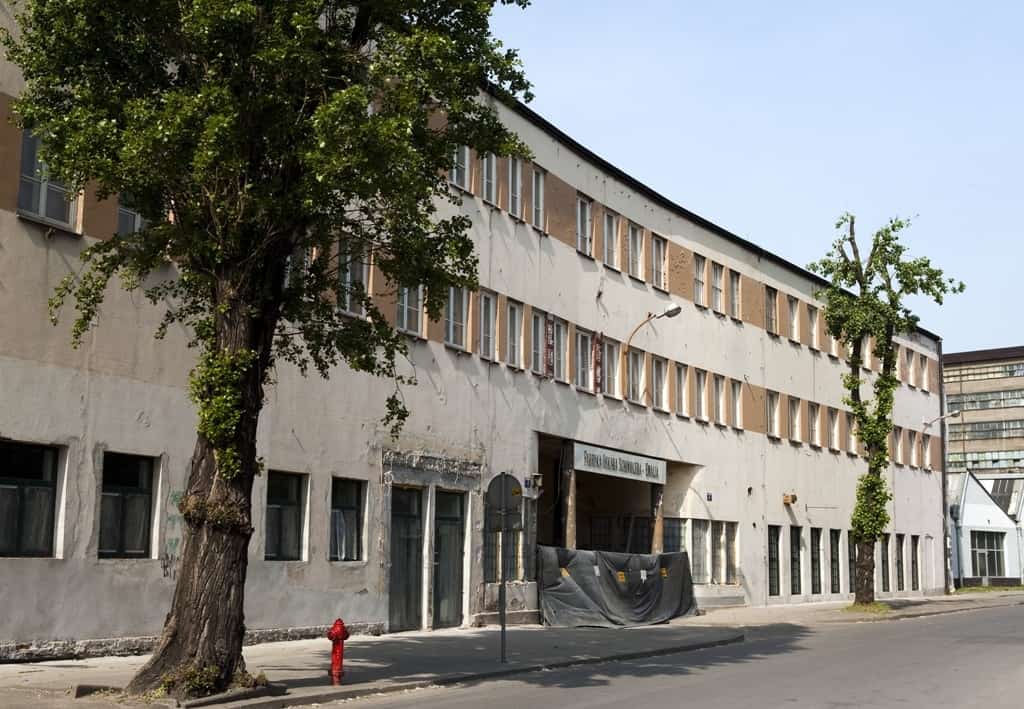 Made popular by the movie, Schindler's List, this museum covers the German occupation of Krakow in WWII. You'll be able to see how everyday life went by under the occupation, what happened to the Jews, how the underground city resisted, and you'll be able to go through hundreds of pictures, radio and film.
So which one to visit Warsaw or Krakow?
As you've seen, Krakow and Warsaw are entirely different attractions, each offering a diverse array of activities. It's all dependent on what you want to do and what you're more interested in. if you're interested in beautiful, medieval, quaint towns then head over to Krakow, but if you're more interested in learning about WWII and prefer skyscrapers over medieval buildings, then Warsaw is definitely for you.
As for me, I recommend you travel to both and get a taste of both cities.