Greece apart from the archaeological sites and stunning beaches is home to some amazing wines as well. If you are a wine lover, a wine tasting tour from Athens will make the perfect day trip for you.
On a sunny Sunday morning, my friends from Travel Bloggers Greece and myself embarked on a day trip to Nemea with Greece2Taste.
Nemea is located in the northeastern part of Peloponnese and it is only a one and a half hour drive away from Athens. The area of Peloponnese in Greece has a long tradition in wine making. The first references to winemaking in the area can be found in Homer who called it Ampeloessa, which means full of vines. Nemea is one of the most important wine regions in Greece known for the production of the red Agiorgitiko variety.
Domaine Bairaktaris
The first stop of the tour was at Domaine Bairaktaris. As soon as we arrived Mr. Bairaktaris welcomed us to the family-run winery and gave us a tour around the produce room, bottling room and the wine cellar while explaining the wine making process. Domaine Bairaktaris produces the Agiorgitiko, Cabernet, Merlot, Syrah, Roditis, Savatiano, Moschofilero varieties.
It was then time for the wine tasting. We sat on a big table by the garden and tasted 5 different wines accompanied by bread, local cheeses, and olives from their olive grove.
We had the chance to taste:
Monolithos White: A white dry wine made from the Muscat, Chardonnay, and Sauvignon Blanc grape varieties with a rich aroma of pineapple, banana, and mango.
Monolithos Roze: A rose dry wine made from the Agiorgitiko and Assyrtiko varieties with a special aroma of pomegranate, cherry, and sour cherry.
Monolithos Red: A red dry wine made from the Agiorgitiko variety with an aroma of black cherry, raspberry, and plum.
Nemea Monolithos: A red dry wine made from the Agiorgitiko variety aged for 16 months in French new oak barrels and an aroma of red fruits, spices, and vanilla.
Semi Sweet: A red natural semi-sweet wine from the Agiorgitiko variety, aged for 12 months is ideal to accompany fruits and desserts.
Palivou Estate
After buying our favorite wines from the Domaine Bairaktaris we headed towards our next stop, the Palivou Estate. The Palivou Estate owns one of the two biggest vineyards in the area and produces more than 30 tons of wine every year, The main variety cultivated is the Agiorgitiko, but they also cultivate Rodites, Malagousia, Chardonnay, Merlot, Cabernet Sauvignon, and Syrah.
After a tour of the vineyard and the premises, we ended up in a wine cellar for the wine tasting. We again had the chance to taste 5 different wines accompanied by a variety of cheese and ham.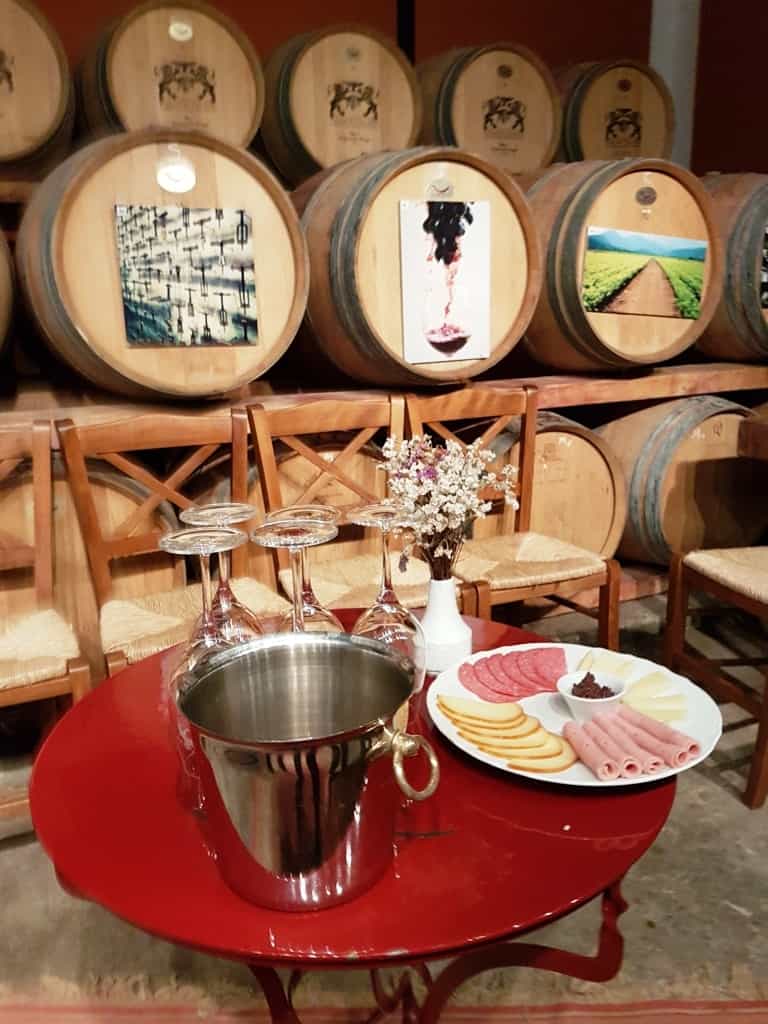 Stone Hills: A white dry wine made from the Chardonnay and Malagouzia grape varieties with a fruity aroma.
Vissino: A rose dry wine made from Agiorgitiko and Syrah and aromas of strawberry, cherry, blueberry, and citrus.
Ktima Palivou Nemea: A red dry wine aged for 12 months in French oak barrels and 6 months in the bottle, 100% Agiorgitiko with aromas of black cherries, vanilla with chocolate and toasted wood.
Ammos Terra Leone: A red dry wine aged for 18 months in French oak barrels and 8 months in the bottle, 100% Agiorgitiko with aromas of cherries forest fruits, baked raisins, vanilla, dried fruits. and chocolate.
Bee: A rose semi-sweet and semi-sparkling wine, 100% from the Agiorgitiko variety with aromas of pomegranate and wild forest fruits accompanies white cheese, creamy sweets, and fruits.
By that time I was feeling a little dizzy and hungry. Fortunately, our lunch stop was very close.
Sofos Restaurant Nemea
At this beautiful restaurant, we had the chance to taste a traditional Greek menu accompanied by local wines. We were served a green salad, a Dakos salad, baked aubergines topped with cheese, tender beef with mashed potatoes and chicken with pasta. For desert, we had a creme caramel. Lunch was delicious and the staff at the restaurant was very attentive.
Our last stop before heading back to Athens was the nearby Archaeological Site of Nemea. Here he had the chance to see the ancient stadium of Nemea. Located just 400 m away from the temple of Zeus the stadium could accommodate around 40.000 people. It was built at the end of the 4th century B.C and it was here that the Panhellenic games were held every two years in honor of Opheltes, son of Lycurgus.
Information about the tour with Greece2Taste
Duration: 8 hours
Starts: 10am
Cost: 2-6 persons: 140 euros per person
7-9 persons: 120 euros per person
For larger groups, please ask for price
Min. 2 persons – Max. 30 persons
Price includes:
1 experienced culinary tour guide
tasting of at least 15 wines in three different wineries
visit to Ancient Nemea
transportation from Athens to Nemea and back
full lunch at a local restaurant or winery with Nemea wines
greek coffee
About Greece2Taste
Greece2Taste is a company created by a group of friends passionate about food and wine. Apart from the tour "A day of wine tasting in Nemea " they offer:
A day at the Market of Athens
Athens Wine bar hopping
A Greek Wine Tasting
Cooking Greek with Madame Ginger
For more information:
Email: [email protected]
Tel: +30 6936918596
Did you like this post? Pin it >>>>>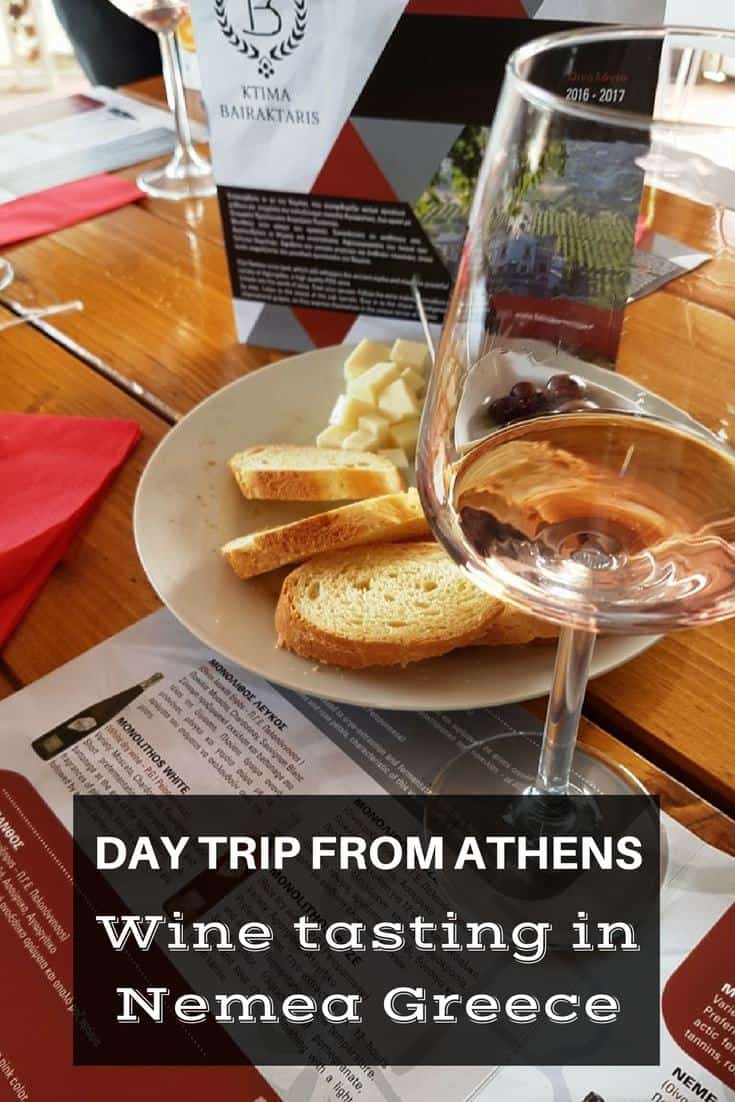 Do you enjoy wine tours?
I was a guest of Greece2Taste but as always all opinions are my own.