The UK is filled with historical and cultural destinations as well as a whole host of stunning landscapes so it would be a shame to just stay in one location when visiting England. In order to get a real taste of what England is all about, you want to travel the length and breadth of the country, visiting sights such as Buckingham Palace, the Tower of London, the Roman Baths, Oxford University, and Shakespeare's hometown, Stratford-Upon-Avon. This jam-packed England itinerary does just that with visits to London, Bath, Oxford, Stratford-Upon-Avon, and York.
Spending 10 days in England is enough to give you an insight into the country's cuisine, culture, and community spirit and allows you to tick off some real bucket list destinations. While you'll still only scrape the surface of what England has to offer in this 10-day itinerary, it is a great whistle-stop tour of some of the best bits and it will certainly make your England-loving friends and family back home jealous!
This itinerary perfectly balances a range of destinations with some stints of travel, so you don't feel as though you're spending the whole time on the road but are not just stuck in one place either!
Read on to find out more about this 10-day England itinerary so you can start planning your trip…
Disclaimer: This post contains affiliate links. This means that should you click on certain links, and then subsequently purchase a product, I will receive a small commission.
TRAVEL TIPS
🚗 Rent your car in advance
with Rentalcars and make your trip as convenient as possible
✈️ Book your flight in advance
To find the cheapest flights and most suitable option, use WayAway
🧾 Get your tickets and tours
with Viator and get the most out of your journey
10 days in England: Day One – Arriving in London
You'll likely be tired after your journey but make the most of every hour you have and get yourself out onto the streets to explore the most iconic locations of good old London Town!
Buckingham Palace and Trafalgar Square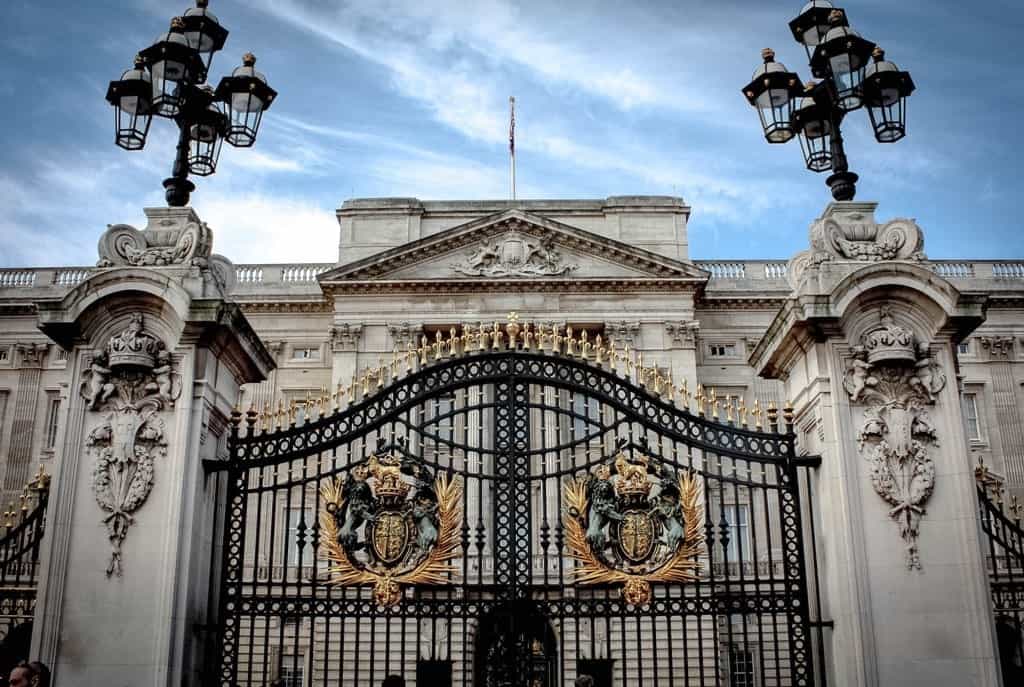 Make your way to Trafalgar Square where you'll find Nelson's Column towering 52 meters into the air and guarded by four stone lions. Take some moments to admire the other statues, especially 'Fourth Plinth', before making your way down the famous tree-lined street 'The Mall' for your first glimpse of Buckingham Palace – Be sure to get your timing right so you can witness the famous Changing Of The Guards ceremony too!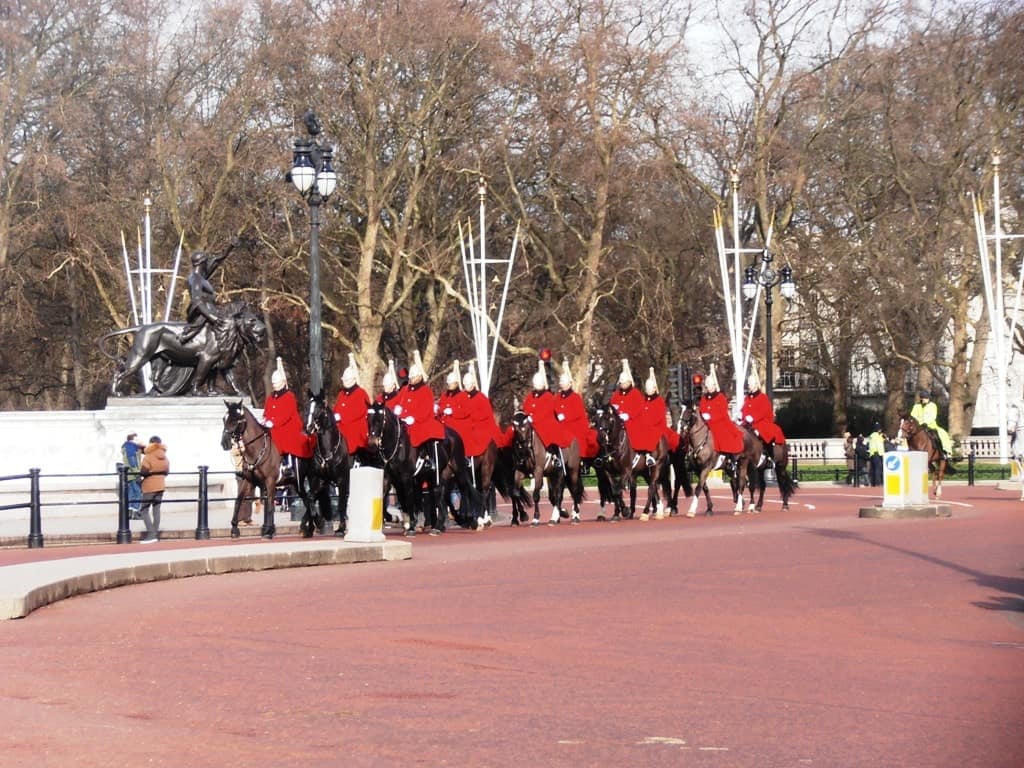 Don't just admire the Queen's home from the outside though, during the Summer and selected days in Winter and Spring, when the Queen is not at home, you can go on a guided tour of the State Rooms and garden.
Love the Royals? Skip a visit to Churchill's War Rooms and visit the Royal Mews, a working stables where the royal horses and carriages are kept, and The Queen's Gallery which displays an array of artwork from the Royal Collection on a rotating basis.
Opening Times:
Changing Of The Guard – 10:40 am (for 11 am) daily during Summer. Mondays, Wednesdays, Fridays, and Sundays Spring, Autumn, and Winter. (Weather Permitting)
The State Rooms 9:30 am to 7:00 pm (closes at 6:00 pm in September)
The Royal Mews 10.00 am to 4.00 pm (closes 5.00 pm March to November)
The Queen's Gallery 10.00 am to 5.30 pm (opens 9.30 am in the summer)
You might be interested in:

– Changing of the Guard & Buckingham Palace Tour
– Buckingham Palace: The Queen's Gallery Entrance Ticket
– Buckingham Palace: The State Rooms Entrance Ticket
– Buckingham Palace: The Royal Mews Entrance Ticket
Churchill's War Rooms via St James' Park
From Buckingham Palace, enjoy a stroll through St James' Park and make your way to Churchill's War Rooms, the labyrinth of corridors and rooms located below the streets of Westminster where history was made. As well as seeing where the Prime Minister and his war cabinet ran the government (and directed the war) during the bombing raids, you'll be able to learn more about the life and legacy of Winston Churchill at the museum.
Admission: £21. Included in London Pass
Opening hours: 9.30am to 6.00pm (1 July-31 August: 9.30am to 7pm)
Big Ben, The Houses of Parliament, and Westminster Abbey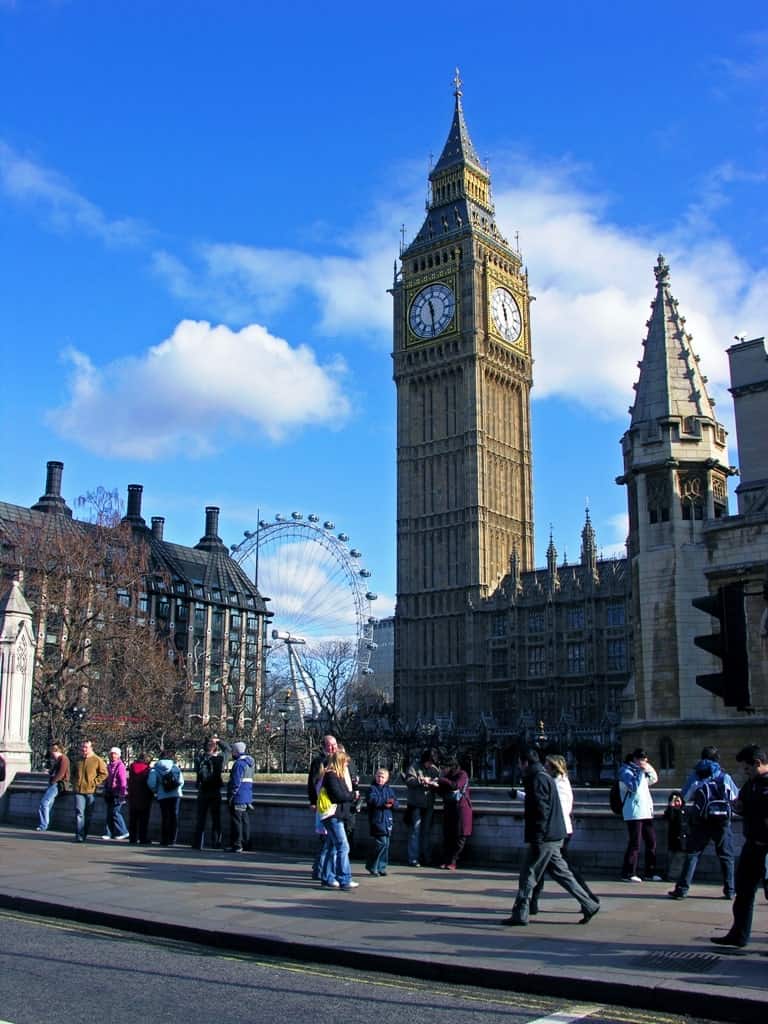 Parliament Square is just a short walk from the Churchill War Rooms and contains the Houses of Parliament, Westminster Abbey, and Big Ben.
Travel Tip – Big Ben is undergoing major repair work and will be covered in scaffolding with the bell only chiming for special events and 24/7 until 2021 – Delay your trip if you want the iconic shot in front of Big Ben looking its best!
Westminster Palace (the site of the Houses of Parliament) was built in 1840 and is a truly impressive building – You can book a 90-minute guided tour to see inside the 1,000-year-old Westminster Hall with a visit to the House of Commons and the Lords Chambers whilst learning how parliament works.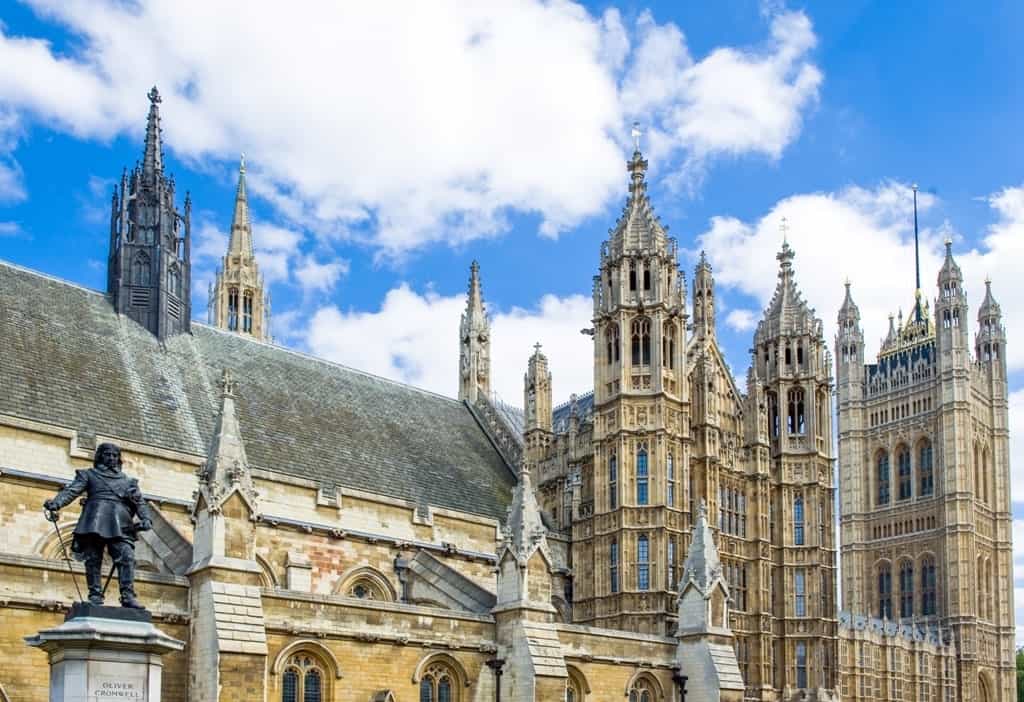 Westminster Abbey (the church where William and Kate got married) is located next to the Houses of Parliament and has been the site of all of the royal coronations since the time of William the Conqueror. It is the final resting place of 17 monarchs including Henry V, Mary I (Mary Tudor), Elizabeth I, Mary Queen of Scots as well as notable historical figures Isaac Newton, Charles Darwin, Charles Dickens, and Rudyard Kipling.
If you have the time and want to learn more about this historic Gothic church, guided tours are available.
Admission:
Houses of Parliament £28 (cheaper if booked in advance)
Westminster Abbey £22. Included in London Pass. Tour costs an additional £5
Click here to book your Westminster Abbey entry tickets.
End your first day in London by cruising down the River Thames – There's no better way to see the city as you cruise past Big Ben, the Tower of London, the London Eye, and Shakespeare's Globe Theatre.
A range of cruises are available, get the basic sightseeing cruise if you're on a tight budget, or splash out a bit with a Music Cruise by City Cruises where you can dance the night away as you pass by London's most iconic sights. If that sounds a bit too strenuous, go on one of the more traditional dinner cruises – You can't go wrong no matter which you choose.
I recommend: Westminster to Greenwich River Thames Cruise.
10 days in England: Day Two – London
The second day of our England itinerary takes us sightseeing along the river Thames, checking the major sights.
Rebuilt in the Baroque style after The Great Fire of London in 1666, St Paul's Cathedral cannot just be admired from the outside. Pass through the historic doors and admire the view across London from the Stone and Golden galleries then, with your traveling partner, try out the Whispering Gallery where, due to the architecture, you can whisper on one side of the dome and be heard on the other. If you're into architecture, stop to see the exhibition on Sir Christopher Wren, the architect of St Paul's, and learn about the challenges he overcame with his unique design.
Admission: £18 including a guided tour. Included in London Pass
Opening hours: 8:30 am to 4:30 pm
Click here to book your fast-track tickets to St. Pauls's Cathedral.
This 900-year-old castle and fortress is most remembered for being a prison. Guarded by the Yeoman wardens (aka the Beefeaters, kitted out in their regal red and black uniforms emblazoned with ER), the tower is made up of 3 buildings; the Jewel House where the Crown Jewels are stored, the Royal Armories located in the White Tower, and the 'Bloody Tower', the prison where Anne Boleyn, Sir Walter Raleigh, the Two Princes, Lady Jane Grey, and even Guy Fawkes were all imprisoned.
Hear the history and stories from the Beefeaters on a guided tour as you see the ravens, the crown jewels, the Royal Mint. Also explore the bloody side with instruments from the torture chamber and Tower Green, the place where the prisoners were executed.
Admission: £26.80. Included in London Pass
Opening hours: 10.00 am to 5.30 pm
Click here to book your Tower of London and Crown Jewels Exhibition Ticket.
You can't visit London and not have your photo taken in front of this iconic landmark! Walk across the bridge and then admire the view from the banks of the River Thames below.
If Tower Bridge has always fascinated you, go beyond admiring the view and visit the Tower Bridge Exhibition, as well as learning about the engineering of this historic bridge you'll get to see the old engine rooms and can walk the glass walkway 44 meters above the River Thames.
Admission: £9.80. Included in London Pass
Opening hours: 10.00 am to 5.30 pm
Click here to book your tickets to the Tower Bridge.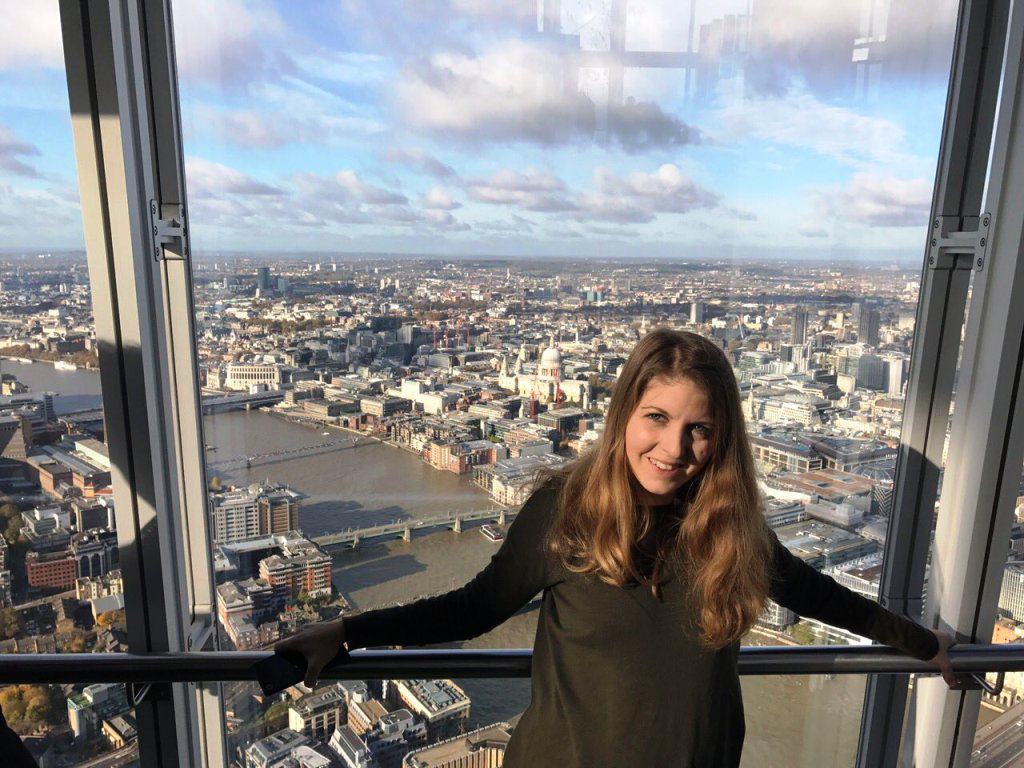 Measuring in at 309.7 meters high, this 95-floor skyscraper towers above the city with views reaching out for 40 miles on fine days. Go see the city of London from a different angle at the two viewing platforms, one on the 69th floor and one on the 72nd floor (the highest viewing platform in London). Splash out if you can afford it and enjoy lunch, afternoon tea, or a romantic dinner at The Shard. Wondering if it's worth it? Read about my Shard experience here.
Admission for The View from the Shard: £30. Included in London Pass
Opening hours: 10 am to 10 pm Thursday to Saturday, 10 am to 7 pm Sunday to Wednesday
Click here to book your tickets to The Shard.
The Southbank
Make your way to the River and take a scenic stroll down the dynamic tree-lined South Bank, the heart of London's cultural scene, passing some of the most iconic London sights on the way. This pedestrianized riverside pathway is lined with street food vendors, cafes, and pubs, fairground rides, and so much more. Pass by London Bridge, Southwark Bridge, the Tate Modern, Oxo Tower Wharf, Waterloo Bridge and so much more. If you're good for time you might choose to stop off at Borough Market or the Tate Modern before making your way further round the river to the London Eye.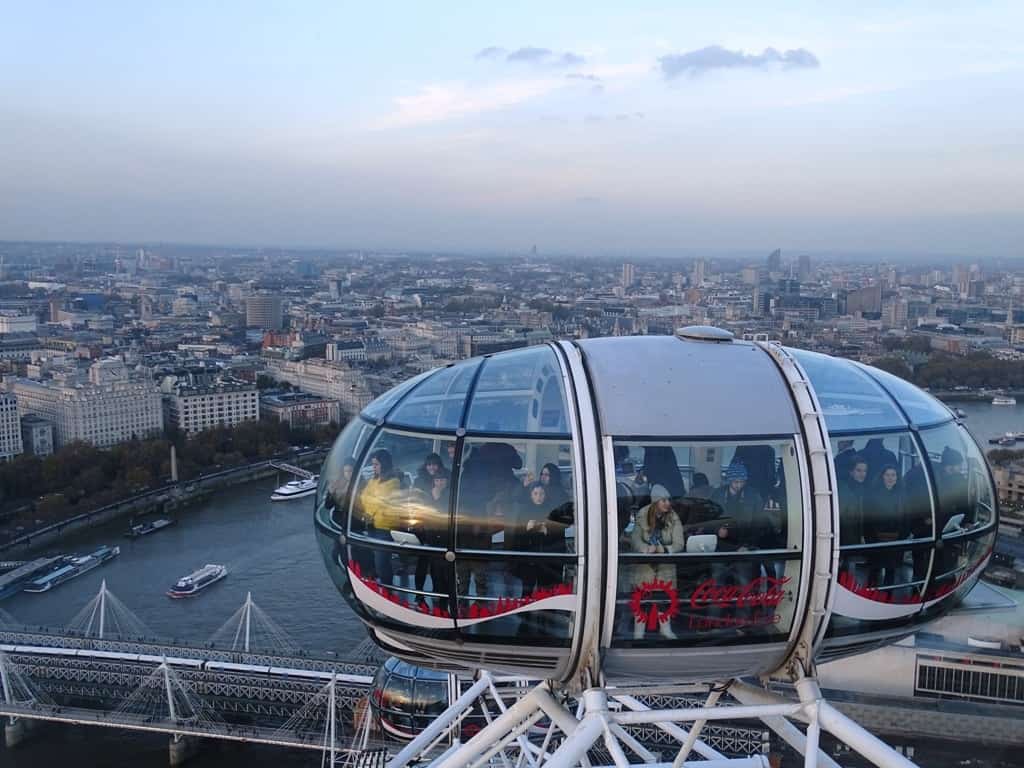 Keen for more aerial views of the city? Hop on one of the pods at the London Eye, England's most popular paid attraction and the tallest wheel in Europe and enjoy the 360-degree view above Westminster. Pods have audio commentary so you know exactly what you're looking down upon with views reaching as far as Windsor Castle (25 miles away!) on clear days. You can read about my London Eye experience here.
Click here to book your tickets to the London Eye.
Admission: £27
Opening hours: dependent on the season, check online for details.
10 days in England: Day Three – London
Spend the day enjoying London's finest museums. You won't be able to see them all (unless you stick to Kensington and pop in to see the best bits of the Natural History Museum, the Victoria and Albert, and the Science Museum) so pick one or two to focus on based on your interests, and know that you'll have to come back to London to cover all of the top museums!
The British Museum
One of the best museums in the whole of the UK, the British Museum displays over 2 million years of human history with arts and antiquities from around the world – Indeed, a visit to the British Museum can allow you to travel to all corners of the world without leaving London! See the Rosetta Stone, Egyptian Mummies, the Parthenon Marbles, Roman Mosaics, and so much more not forgetting the temporary exhibitions.
Opening hours: 10.00 am to 5.30 pm
Admission: Free
Tate Modern
If modern and contemporary art is your thing, lose yourself in the massive Tate Modern gallery where you'll not only find paintings but photography, film, performance, and live art exhibits too. Galleries are organized by movement I.e surrealism, minimalism, abstract art, pop-art, etc with works by Dali, Miro, Picasso, Matisse, Cezanne, Pollock, Warhol, and many others.
Admission: Free
Opening hours: 10.00 am to 6.00 pm (closes at 10 pm on Friday and Saturday)
Natural History Museum
Beloved for its dinosaur exhibition, the Natural History Museum teaches you everything about planet Earth (and beyond) and how human's evolved. Learn about earthquakes and get on the earthquake simulator to see how it feels to have the earth truly move, see chunks of moon rock, a dodo skeleton, the largest gold nugget in the world and so much more. The museum is divided into 4 zones: Green for birds, insects, fossils, and minerals. Blue for dinosaurs, mammals, reptiles, and amphibians. Red for Earth, the planets, and the universe. Orange (only April-October) for the Wildlife Garden. Plan what areas to focus on before you go to make the most of your time!
Admission: Free
Opening hours: 10.00 am to 5.50 pm
V&A Museum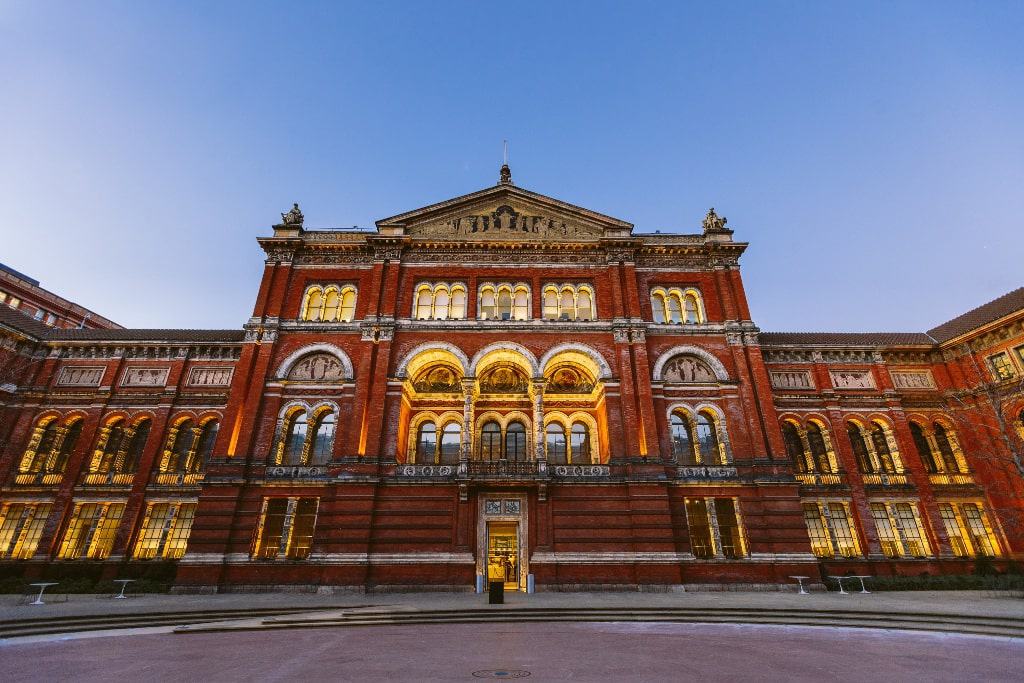 The Victoria and Albert Museum, known affectionately as 'The V&A' is the place to go if you want to indulge in decorative arts and design. Its 7 miles of galleries contain ceramics, textiles, post-classical sculptures, glass, jewelry, furniture, and more. Highlights include Tipu's Tiger, the earliest known photograph of London from approximately 1839, The Great Bed of Ware (mentioned in Shakespeare's Twelfth Night), Raphael's Cartoons (not cartoons as we know them but a series of tapestries commissioned by Pope Leo X) and more.
Admission: Free
Opening hours: 10.00 am to 5.45 pm
Science Museum
Discover the history and technology of medicine, nuclear power, electricity, and transportation including the space age at this fascinating hands-on museum with a 3D IMAX cinema, an interactive flight simulator, and discovery motion theatre alongside all the exhibits. See the oldest surviving steam locomotive, the first jet engine, a full-scale model of the Beagle 2 Mars lander, a replica of Sputnik 1, the Apollo 11 flight plan, proto-computors and so much more.
Admission: Free
Opening hours: 10.00 am to 6.00 pm
The West End
End your day of culture by heading to the West End to see a show. Enroute you can window shop at Oxford Street and Covent Gardens and get a selfie in Leicester Square, perhaps there will be time for a drink in Soho before or after the show too.
The West End is London's equivalent of Broadway and is home to more than 40 theatres so there are plenty of shows to choose from including the long-running classics such as Phantom of the Opera (Her Majesty's Theatre), Les Misérables (the Queen's Theater), and Mousetrap (St Martin's Theatre) plus comedy and an array of other shows and entertainment. The London Palladium is the most iconic and quintessential West End theatre whilst the London Coliseum is one of the largest theatres in London, no matter where you go or what you see, be sure to dress up!
10 days in England: Day Four – Bath
It's time to leave the bright lights of London behind and head South-West to the historical city of Bath, the former home of Jane Austen. Famed for its history, literature, art, and Georgian architecture, the UNESCO World Heritage city was founded in the 1st century by the Romans who built a reservoir to control the natural thermal spring water, building the city around the baths from which Bath gets its name.
How To Get from London to Bath
Train: Direct trains go from London Paddington to Bath Spa (just a few minutes walk from the city of Bath) approximately every 30 minutes.
Time: 1.5 hours
Cost: From £15.50
Bus/Coach: National Express has coaches departing every 90 minutes from 7.30 am until 11 pm from Victoria Coach Station to Bath Spa bus terminal (located next to the train station). Megabus also run a service from Victoria Coach Station to Bath.
Time: 2 hours 20 minutes
Cost: From £5
You might be interested in: Bath: 1.5-Hour Walking Tour with Blue Badge Tourist Guide
The Roman Baths
Considered one of the greatest religious spas of the ancient world, allow yourself 2 hours to explore the Roman Baths which consist of the Roman Bath House, the Roman Temple, the Sacred Spring, and the museum. You'll see the Great Bath, the saunas and plunge pools, even the changing rooms. There is an audio tour to help you understand what you're seeing but during peak times a free guided tour takes place on the hour, every hour. Try the natural water from the spa water fountain (if you dare!) at the end of your visit.
Admission: £14.40-£19.80 depending on the time of year.
Opening hours: November-February: 9.30 am-6 pm. March-October 9 am-5 pm with selected late opening until 7 pm over Easter and 9 pm end June-August.
Bath Abbey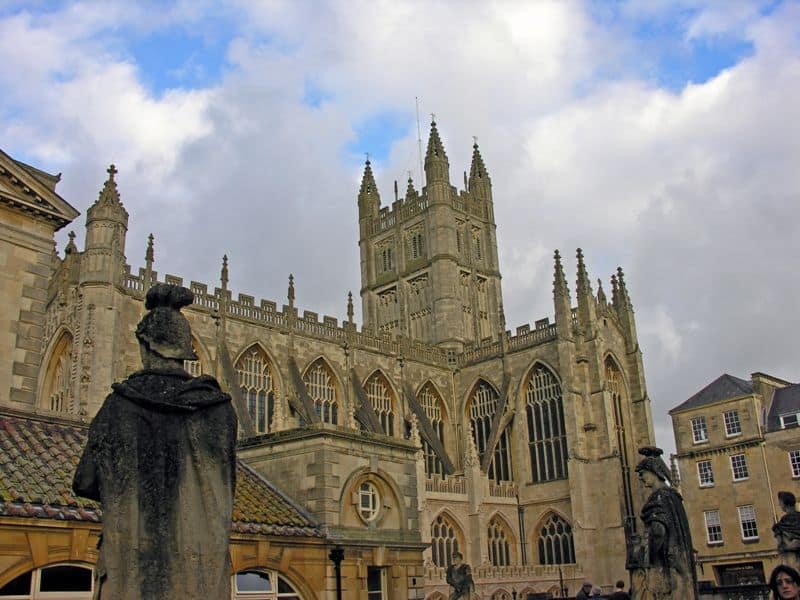 Located next to the Roman Baths, the 7th-century abbey towers above the city and is one of the finest and largest examples of Perpendicular Gothic architecture in the West Country.
Step through its historic doors to admire the interior with its stunning stained glass windows and vaulted ceilings (accessible when there are no services taking place), and be sure to climb the 212 steps to the top of the tower to admire the view across Bath whilst also getting to see the ringing chamber and bell chamber and getting to sit behind the clock face. If you want to get an in-depth understanding of the abbey, guided tours are available lasting 45 minutes.
Get your guided tour here
Admission: Tower £8
Opening hours: Monday 9.30am-5.30pm, Tuesday-Friday 9am-5.30pm, Saturday 9am-6pm, Sunday 1pm-2.30pm and 4.30pm-6pm
Afternoon Tea
You simply must stop to enjoy afternoon tea in Bath, there are numerous quaint and historic tea rooms around the city but Sally Lunn's is a must if you can get in. This tearoom is located in the oldest house in Bath (circa 1483) and serves the famous 'Sally Lunn Bun' which is a semi-sweet bread roll though they also serve cakes, scones, and those quintessentially British cucumber sandwiches!
Royal Crescent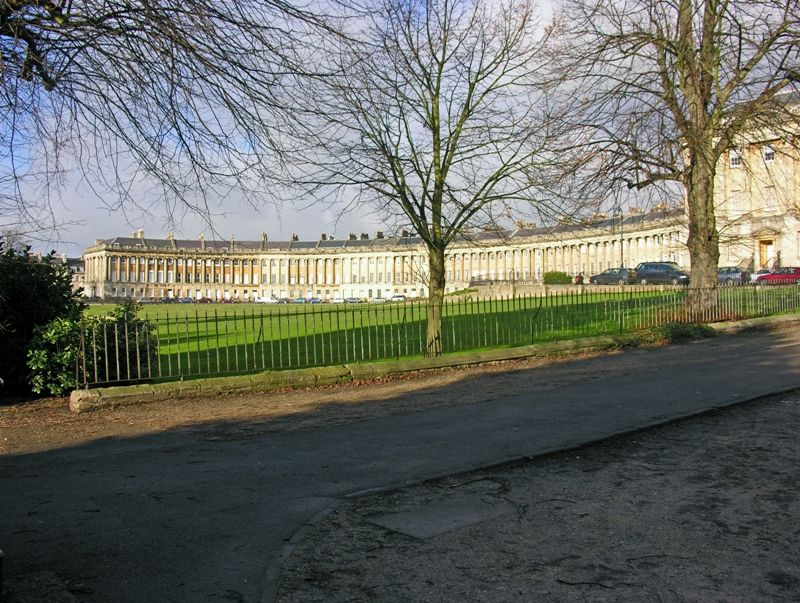 One of Bath's most iconic landmarks, walk in the footsteps of Bath's high society as you see the 30 terraced Georgian houses built in a 152-meter long sweeping crescent facing an attractive green. Though the cars spoil the scene somewhat, the Royal Crescent will likely look familiar to you if you're a fan of period drama for it has been a film location for the 2008 film The Duchess and the ITV Drama Persuasion.
Optional Extra – Learn more about the Royal Crescent whilst seeing what these houses would have looked like inside during the 18th century with a visit to the Bath Crescent Museum.
The Jane Austen Centre
Learn all about the famous author Jane Austen and the time she spent in Bath at the Jane Austen Centre, a museum located in an original Georgian townhouse. Fans will know that Bath featured within several of her novels and played an important part in her life and her writing, here you can learn more about the life and works of Austen from experienced Regency-dressed characters.
Admission: From £11
Opening hours: 9.45am-5.30pm
10 days in England: Day Five – Salisbury and Stonehenge
Getting from Bath to Salisbury and Stonehedge
Train: Take the direct train from Bath Spa to Salisbury train station with South Western Railway or Great Western Railway and then jump on the hop-on-hop-off Stonehenge Tour Bus which leaves the station every 30-60 minutes calling at Salisbury Cathedral, Old Sarum, and Stonehenge.
Time: 1 hour (to Salisbury Train Station)
Cost: Train From £11, Stonehenge Tour Bus from £10
The order in which you see/do things will depend on your timed entrance to Stonehenge and whether you're making your way independently to Salisbury or are part of an organized trip to Stonehenge.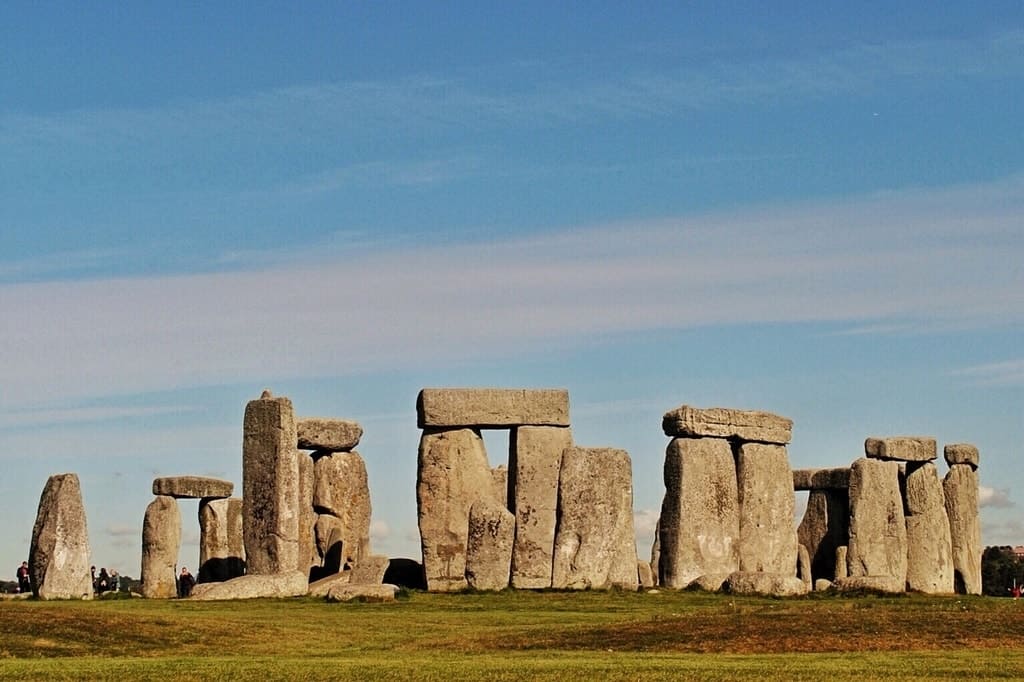 One of the most iconic landmarks in England, Stonehenge is a mysterious place with its huge standing stones that measure 4 meters tall and 2 meters wide. Though the stones of this prehistoric monument can no longer be touched, and a walk around will be some distance away unless you buy a special ticket, its magical mysterious history will still rub off on you and you wonder what were they for, and how did they move them?!
At the nearby visitor center (a free shuttle bus moves visitors between the visitor center and the Stone Circle but you also have the option to walk) you can gain a lot of insight into the history and meaning of Stonehenge. Reconstructed Neolithic houses enable you to see how people lived 4,500 years ago when Stonehenge was being created and you can see the finds from archaeological digs in the area, finds including pottery, tools, jewelry, and human remains.
Admission: £17.50 when booking in advance – You will be given a 30-minute time slot in which to arrive so be sure you arrive in plenty of time.
Opening hours: 9.30 am to 7.00 pm
Click here to buy your Stonehenge Admission Ticket.
Salisbury Cathedral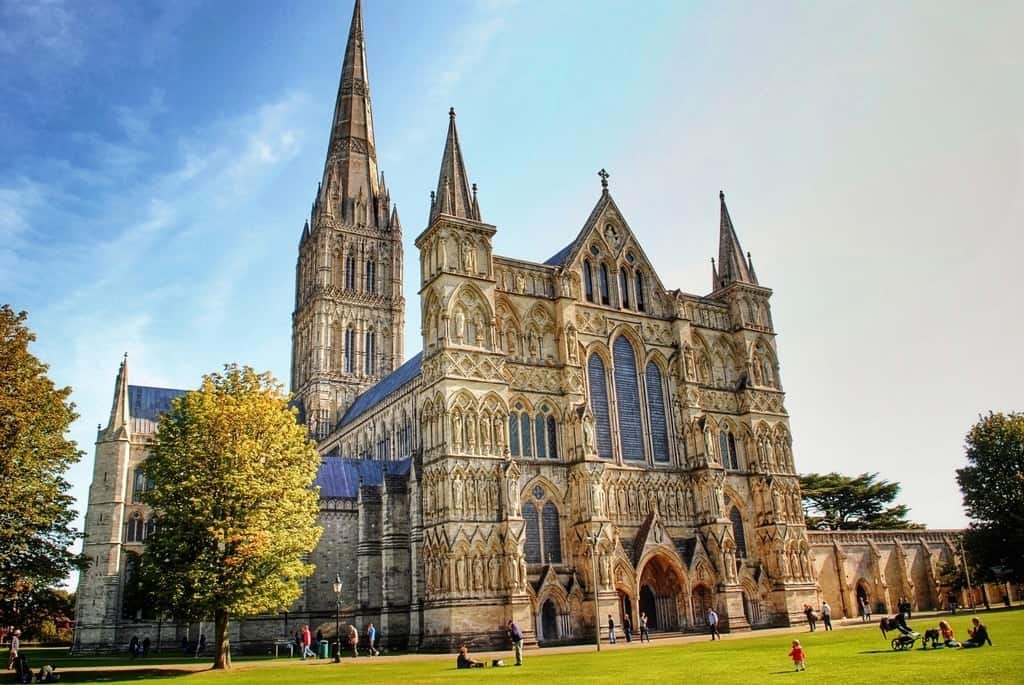 Whether you take an official tour to learn the history of this English Gothic cathedral or just pop in on your own, Salisbury Cathedral is well worth a visit! With beautiful cloisters and stained glass windows, its tower is Britain's tallest spire and it's possible to climb the 332 steps to look down on the city of Salisbury from above as part of a 'Spire Tour'. Meanwhile, the Chapter House contains the Magna Carta – One of four original copies that remain in good condition dating from 1215.
Admission: Recommended donation £7, £13.50 Tower Tour
Opening hours: Monday-Saturday Main Cathedral 9 am-5 pm, Sunday Noon-4pm. Magna Carta and Tower are open at different times, check the website for details.
Old Sarum
Salisbury wasn't always located in its current location – prior to the 1300s, it was located here, uphill from modern-day Salisbury at Old Sarum. Originally an Iron Age hill fort, 2,000 years of history can be traced at this site with Roman, Norman, and Saxon activity. See the hill fort with the deep ditch that was originally the moat, castle ruins (the Medieval castle built by William the Conqueror in 1070), and the foundations of the original Salisbury Cathedral.
Admission: £6
Opening hours: 10am-6pm Summer, 10am-4pm Winter
10 days in England: Day Six – Oxford
How To Get To Oxford from Bath
Train: There is a regular train service with Great Western Railway from Bath Spa to Oxford via Didcot Parkway from 5.45 am through until 10.45 pm.
Time: 90 minutes
Cost: From £14.50
Bus: National Express has buses departing Bath Spa University to Oxford (Gloucester Green bus station in the center of the city) every 2 hours during peak hours.
Time: 4.5 hours
Cost: From £10
Known as the city of dreaming spires, Oxford is a beautiful historical university city that is compact meaning you can easily see all of the sights on foot. Admire the colleges as you walk in the footsteps of Oscar Wilde and C.S. Lewis, just watch out for the cyclists during term time!
I highly recommend: Oxford University and City Walking Tour with Alumni Guide.
Oxford Castle
Built in the 10th century, Oxford Castle became a prison from the 14th century and was a working prison right up until 1996! Today, visitors can take a guided tour, led by a character guide, to learn the history of the 1,000-year-old castle/prison complex with access to the crypt, parts of the prison (other parts have been turned into a hotel!), St George's Tower (great city views), and the Motte (the big earth mount opposite the building).
Admission: £12.50
Opening hours: 10am-4.20pm
Christ Church College and College Cathedral
The most famous college in Oxford and one of the grandest also featuring one of the most beautiful gardens, a look inside Christ Church College is a must! See some of the halls, the picture gallery, the cathedral, the inner courtyards, cloisters, and the gardens whilst learning the history of the college and about student life today. Lewis Carroll (real name Charles Dodgson) lived and worked here so you may note some things that inspired Alice in Wonderland as you wander around.
If you're more of a Harry Potter fan, you aren't imagining things when you see the dining hall for this was the inspiration for Hogwarts' Great Hall and its entrance was used as the film set in Harry Potter and the Philosopher's Stone when Professor McGonagall met the 1st years.
Admission: £17 garden tour, £10 general admission. Free entrance to the college cathedral for services.
Opening hours: Monday-Friday only. No access July-August. Tickets are available 1 week in advance from the website.
Punting on the River Cherwell
When the weather is fine there's nothing more quintessentially English than punting along the river passing the beautiful University buildings and grounds out into the Oxford countryside. Take a guided tour so you can enjoy the ride or grab a pole and do it yourself.
Admission: From £18 per hour do it yourself or £30 for 30 minutes chauffeured.
Opening hours: Mid March – Mid October
The Tower at the Church of St. Mary the Virgin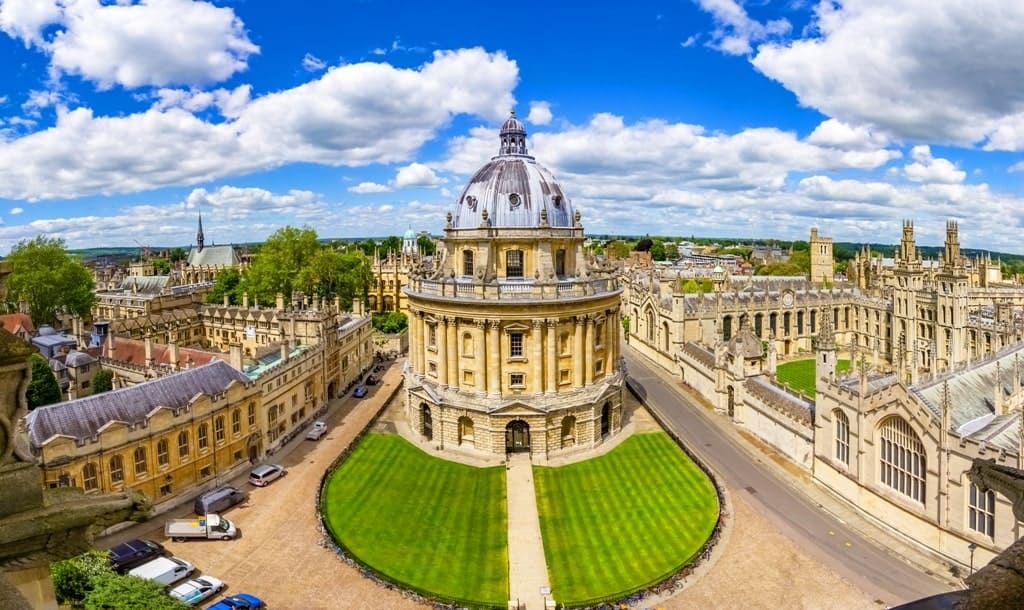 The spiritual heart of the oldest university in England, this simple yet historic church is visited and loved for the views it offers from its tower. Climb 127 steps to admire the view of the colleges and Radcliffe Camera – One of the best views in the city.
Admission: £5 for Tower
Opening hours: Monday-Saturday 9.30 am-5 pm, Sunday noon-5pm (6 pm July and August)
Covered Market
The historic covered market has outstanding Victorian architecture dating back to the 1770s and is filled with indie shops, craft stalls, and food/drink stands. Be sure to stop in for a fresh fruit juice or a less healthy smoothie as you take a look around – Perfect if you need to duck out of the rain.
Admission: Free
Opening hours: Monday-Saturday 8am-5.30pm, Sunday 10am-4pm
The Radcliffe Camera
The most iconic building in Oxford, the beautiful, neoclassical, Radcliffe Camera is part of Oxford University and was built in 1737 to house the Radcliffe Science Library making it one of the world's oldest libraries. There's no camera here, the word 'camera' comes from Latin meaning 'building' or 'vault' therefore, this building is a reading room comprising 2 reading rooms (upper and lower) and a gallery. Bibliophiles can take a 90-minute guided tour inside.
Admission: £14
Opening hours: Selected times, tickets available 2 weeks before – Check website for details.
Bridge of Sighs aka Hertford Bridge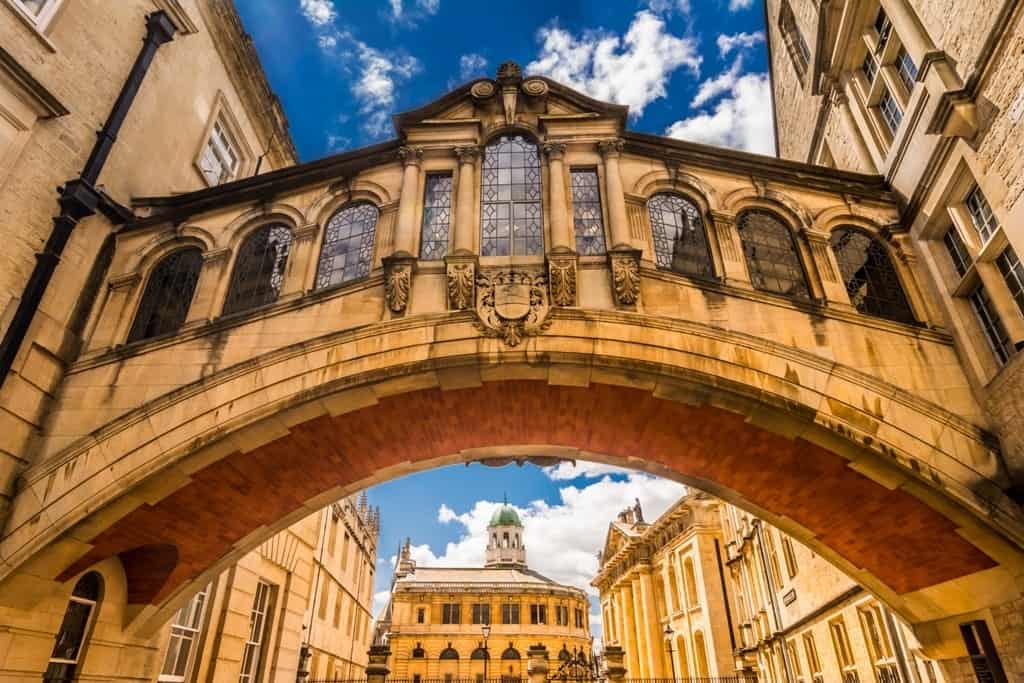 This covered bridge, reminiscent of the Bridge of Sighs in Venice, rises above New Lane joining the Old Quad and New Quad of Hertford College together. Sadly, unless you're a student at Hertford College, you can't cross the bridge but it's an iconic piece of architecture well worth passing by.
The Sheldonian Theatre
This 350-year-old building with its masterpiece of a roof is the official ceremonial hall of the University of Oxford. It was the first major design completed by architect Sir Christopher Wren who also designed St Paul's Cathedral in London. Impressive from the outside with its funny 'Emporer Head' sculptures, step inside to be truly astounded and admire both the painted ceiling and the 360-degree panoramic views from the Cupola.
Admission: £3.80 (£8 guided tour)
Opening hours: 10 am-4 pm unless in use by the University
The Eagle and Child Pub
Otherwise known as 'The Bird and Baby', end your day of sightseeing at one of London's most famous pubs, a regular meeting place during the 1930s and 1940s of J.R.R Tolkien, C.S Lewis, and friends who together were nicknamed 'The Inklings'. Whether you just want a pint or stay for food, step inside to see the memorabilia hanging on the walls but breathe in, it's tiny! Who knows, maybe you'll be inspired to pen your own fantasy novel!
Opening hours: Monday-Saturday 11 am-11 pm, Sunday noon-10.30pm
10 days in England: Day Eight – Stratford Upon Avon
How to Get from Oxford to Stratford Upon Avon
Train: There are 19 daily trains departing Oxford train station to Stratford Upon Avon, the fastest route going via Leamington Spa as there are no direct trains. An alternative route goes via Leamington Spa and Dorridge but it's better to only change trains once if you have lots of luggage with you.
Time: 90 minutes
Cost: From £14
Coach: National Express has a direct, non-stop, service from Oxford to Stratford Upon Avon leaving daily at 11am – If that time works for you it's the faster, easier, and cheaper option compared with taking the train.
Time: 70 minutes
Cost: From £10
This quaint medieval market town (often shortened to Stratford but not to be confused with the London district) is located along the banks of the River Avon and along with its iconic half-timber Tudor houses is famous for being the birthplace of William Shakespeare. The entire town is a living history to the life and times of Shakespeare, a must-visit destination for anyone interested in British history.
Visit the timber-framed Tudor house and gardens where William Shakespeare spent a good chunk of his life, being born and raised here alongside his siblings as well as living here for 5 years with his wife, Anne Hathaway until he was 23 years old. The house, now a fascinating museum, is full of exhibitions with costumed guides bringing 450 years of history to life plus resident actors performing Shakespeare Aloud in which you can ask them to perform parts from any play!
Admission: £17.50
Opening hours: Spring-Autumn 9am-5pm, Winter 10am-4pm
Anne Hathaway's Cottage
This 600-year-old thatched farmhouse with garden is as sweet as a chocolate-box! Make the journey 1 mile outside of Stratford to Shottery to visit the childhood home of Anne Hathaway, Shakespeare's wife as you learn more about their love story. Step inside to see personal effects and other items dating back to Anne's childhood including the original oak Hathaway bed. Don't miss out on the sculpture trail if it's a fine day!
Admission: £11.25
Opening hours: Spring-Autumn 9am-5pm, Winter 10am-3.30pm
Shakespeare's New Place
Located on the site of Shakespeare's last home where he lived from 1579 (once he was an established playwright, it thought that he would have written The Tempest during this time) until his death in 1616, 'New Place' is a new exhibition center that opened in 2016. It houses rare artifacts from Shakespeare's life and includes a beautiful garden containing artwork. The original home was sadly demolished in 1759 but the new build follows the footprint of the original home.
Admission: £12.50
Opening hours: Spring-Autumn 9am-5pm, Winter 10am-4pm
Optional Alternatives
Fascinated by the life and times of the Tudor's but overdosed on Shakespeare? Skip Shakespeare's New Place and/or Anne Hathaway's Cottage and explore the life and times of the Tudor's. Or, if that's still too much history to keep your family happy, break your day with butterflies at the butterfly farm or indulge in mechanical art and design at the interactive MAD museum.
Tudor World – £6 – 10.30am-5.30pm
Stratford Butterfly Farm – £7.25 – 10am-5pm or 6pm
MAD Museum – £7.80 – 10am-5pm
Take a River Boat Trip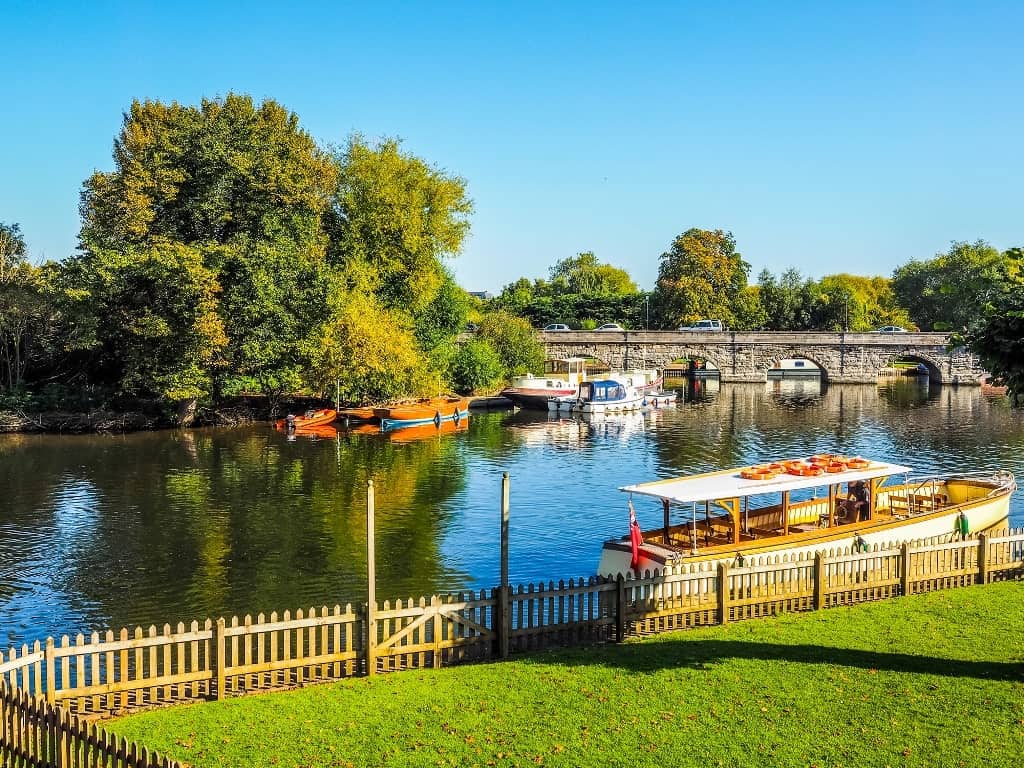 See Stratford-upon-Avon from a different vantage point as you sail/cruise/row/paddle down the picturesque River Avon – Pedal boats, canoes, motorboats, electric boats, and punts are all available to rent and there are also sightseeing tours with a barge tours that go through the town's historic working lock plus a river cruiser tour.
Admission: 45-minute Cruiser Tour: £6, 45 minute Barge Tour £6, a DIY boat trip from £7 per hour.
Watch One Of Shakespeare's Plays
End the day by watching one of Shakespeare's plays performed by the RSC whether that's Romeo and Juliet, Macbeth, Hamlet, or one of Shakespeare's lesser-known plays. There are two theatres in Stratford-upon-Avon where the Royal Shakespeare Company (RSC) performs, The Royal Shakespeare Theatre and The Swan Theatre.
Admission: From £10
You can combine the sightseeing to Stratford Upon Avon with a visit to nearby Warwick Cast
How to get from Stratford Upon Avon to Warwick
Train: There's a regular service from Stratford upon Avon to Warwick Parkway train station with trains departing roughly every half an hour from 6 am – 11pm. Some trains are direct, others require you to change at Dorridge which increases the journey time by a further 30 minutes.
Time: 25-30 minutes
Cost: From £7
This castle truly brings history to life for the whole family. Originally built as a wooden motte and bailey fort in 1068 for William the Conqueror, the stone castle seen today dates back to the 1100s with its conversion to a country house taking place in the 1700s. Enjoy numerous exhibitions and a live-action walk-through with actors and special effects along with the largest trebuchet in the world and birds of prey display. You can also visit the dungeons if you purchase an extended ticket.
Admission: From £21
Opening hours: 10 am-4 pm or 5 pm depending on the season. Some special openings until 9 pm, check website for details.
Click here to buy your Warwick castle entrance tickets.
Always wanted to stay in a castle? You can book the luxury Tower Suites in the 14th century Caesar's Tower. Cheaper options include a stay at the castle's Woodland Lodges or Medieval Glamping!
The Mill Garden
Located beneath Warwick Castle, this delightful cottage garden with woodland area provides visitors with a tranquil oasis that covers half an acre. Follow the meandering footpaths by the river Avon and photograph the views of the castle, the ruined medieval bridge, Castle Millpond, and Victorian summer house.
Admission: £2.50
Opening hours: 9 am-6 pm April-October only
10 Days in England: Day 9 – York
How to Get from Warwick to York
Train: To get from Warwick Parkway station to York, there is a minimum of 2 changes with passengers needing to not just change trains but also change stations getting from Birmingham Moor Street station to Birmingham New Street station whether on foot, by bus, or by taxi for the onward journey to York.
Time: 3.5 hours
Cost: From 21.50
Bus: National Express work in collaboration with the coach company the Yorkshire Coastliner with a daily service departing Warwick at 9.30 am arriving into York at 4.30 pm (dependent on traffic). You must change coaches (and companies) at Leeds coach station where there is a 45 minute wait time.
Time: 7 hours
Cost: £40
A visit to York, with its quaint cobbled backstreets, gives you a glimpse into the best of British history with its Roman, Anglo Saxon, Viking, Norman, Tudor, and Victorian influences all leaving their mark on this fabulous city plus there are many interesting things to do in York.
I recommend: The York City Pass: Access 20 Attractions for One Great Price.
York Minster Cathedral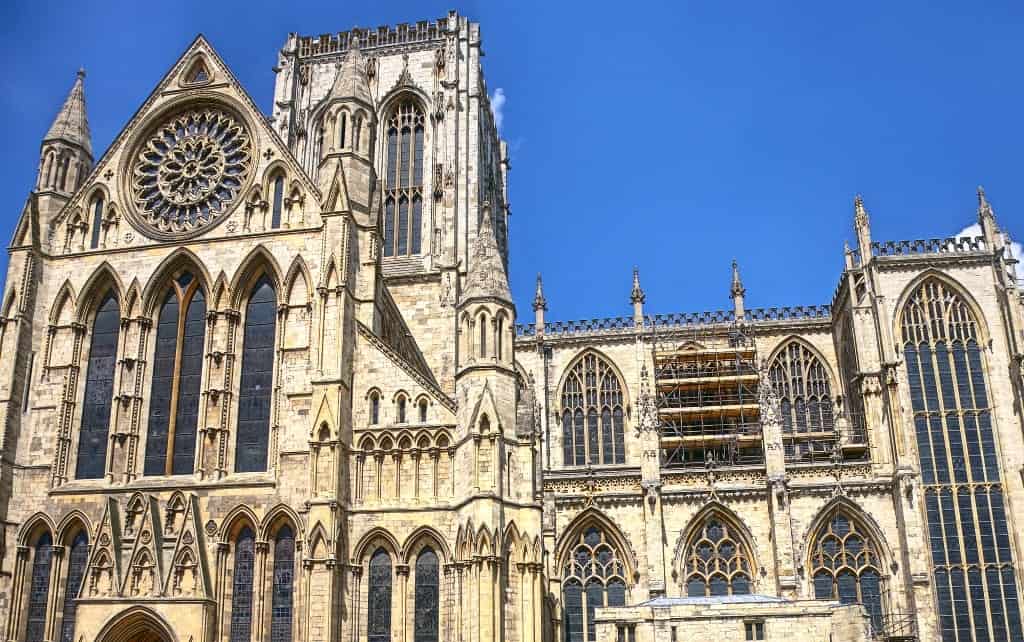 Officially known as the Cathedral and Metropolitical Church of St Peter in York, this is one of the largest cathedrals not just in England but in all of Northern Europe. An icon of the city, a church has stood on this site since 627 but the stunningly ornate Gothic building seen today dates from 1291 and took 60 years to complete. Take a free 1 hour guided tour to learn the history of the cathedral whilst visiting the undercroft and seeing the Great East Window which has the largest expanse of stained glass in the UK. An optional extra is a climb up the 275 tower steps to admire the panoramic views across the city and surrounding countryside.
Admission: Church: £11 Interior + Tower: £16
Opening Hours: Monday-Saturday 9am-4.30pm, Sunday 12.30pm-3pm
The Shambles
Like a real-life Diagon Alley (and what is thought to have inspired J.K. Rowling) The Shambles is the most photographed street in the city filled with quaint shops located within 14th century overhanging timber-framed buildings with even tinier alleys (called snickways!) veering off of it. The perfect place to wander, you'll come across 3 Harry Potter shops, a year-round Christmas shop, Viking shops, as well as the famous 'The Shop That Must Not Be Named'.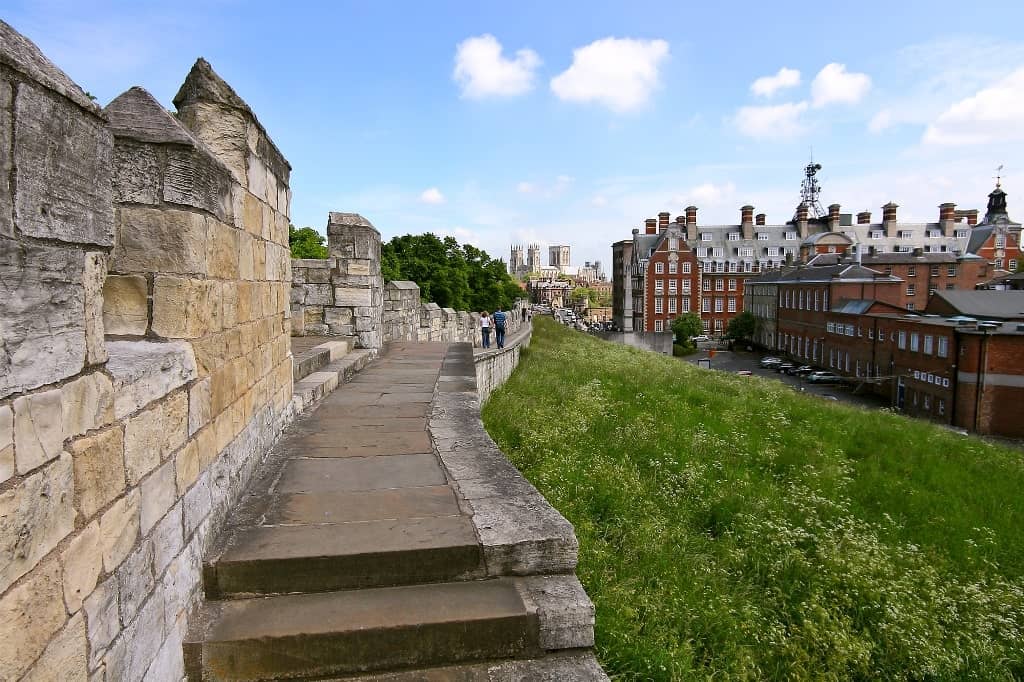 Betty's Tea Rooms
The most famous tea rooms in York, Betty's is a must-visit (despite it being a busy tourist attraction now) so that you can try their legendary Fat Rascal Scones. These scones aren't the usual kind, they're crunchy on the outside and chock full of calories but should be tried at least once but you can enjoy a classic afternoon tea experience if you prefer.
Opening Hours: 9 am-9 pm
Jorvik Centre
End your first day in York with a journey beneath street level to discover what life was like in York when it was a Viking village. A mix of archaeological finds displayed in an exhibition center and an indoor theme park ride (you travel in a cart) through a lifelike Viking village complete with authentic smells, the Jorvik Centre really brings Viking history to life for the whole family.
Admission: £11
Opening Hours: 10am-5pm (4pm in Winter)
10 days in England – Day Ten – York to London
Clifford's Tower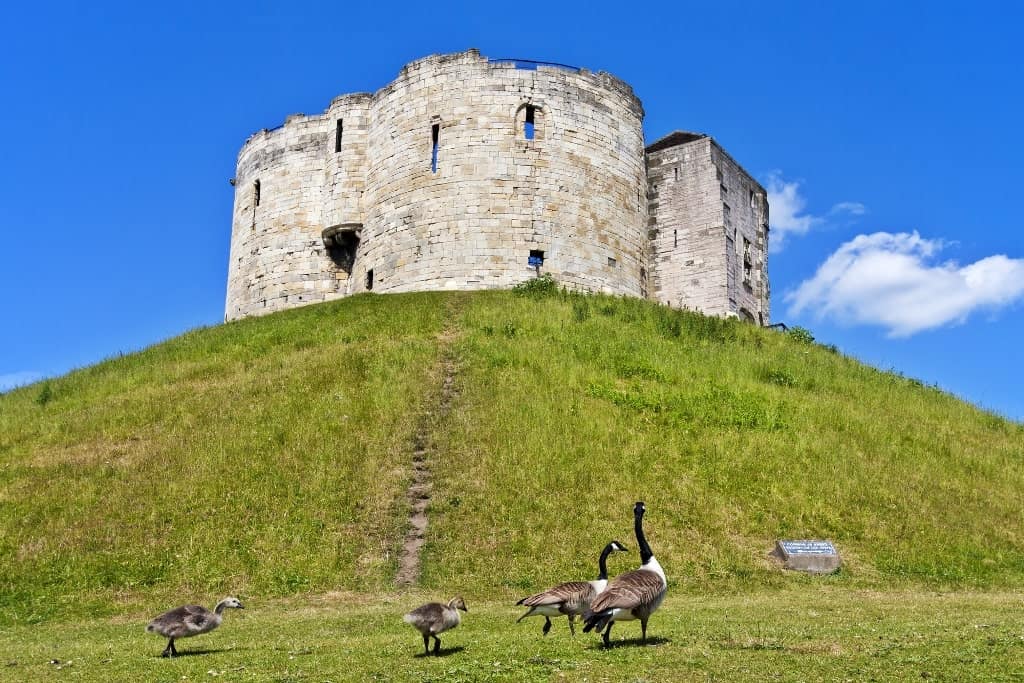 The last part of York Castle that still remains, climb to the top of this 13th-century tower (used as a prison and a Royal mint) and admire the panoramic view of York including the view of York Minster.
Tip – Best visited in Spring when the tower is surrounded by daffodils.
Admission: £5.40
Opening Hours: 10 am-6 pm
York Castle Museum
Don't judge a museum by its name! Next door to Clifford's Tower (on the site of the old castle) you'll find the York Castle Museum which contains a weird yet wonderful mixture of things to see and do including the cells of the old York prison, a replica Victorian street, and a range of permanent and temporary exhibitions including Toy Stories which has a 100 year old carousel which is sure to take you back to your childhood, The Sixties exhibition with iconic objects of the era, and a 1914 exhibition showing you how the world changed forever.
Admission: £12
Opening Hours: 9.30 am-5 pm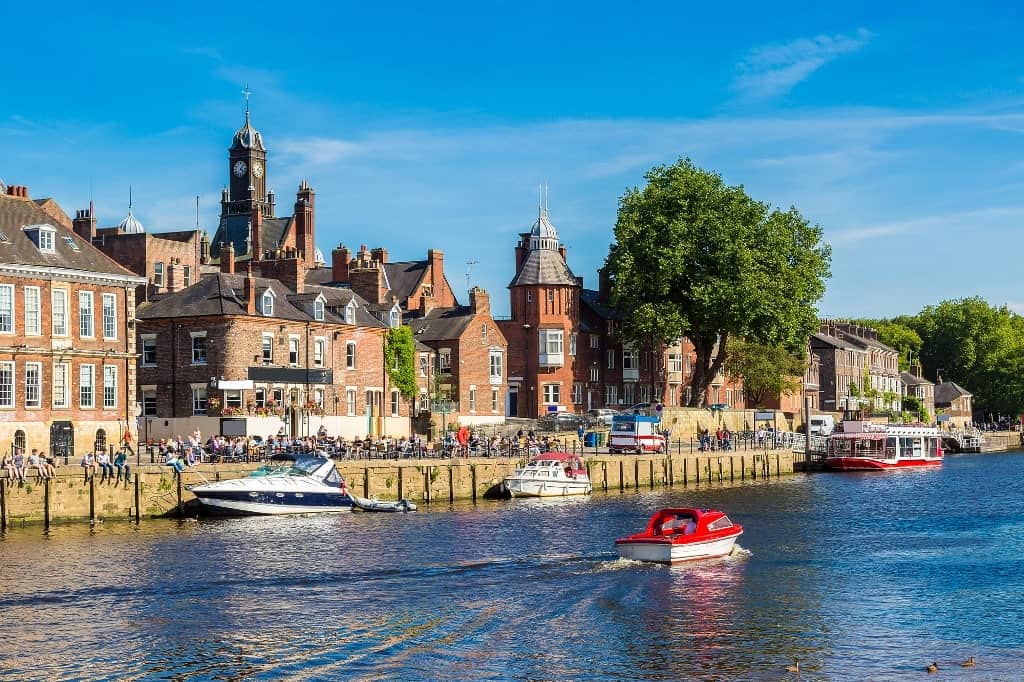 Chocolate Museum
Skip lunch and head to The York Chocolate Story, a chocolate museum that takes you on a 90 minute guided tour to unwrap the history of some of Britain's famous confectionery companies for Rowntree's, Terry's and Craven's were all started in York. With chocolate samples to taste in just about every room and a chocolate lollipop to make before you leave, you'll learn that Terry's created a chocolate lemon and a chocolate apple before landing upon that staple of Christmas, the chocolate orange and so much more.
Admission: £12.95
Opening Hours: 10 am-4 pm
National Railway Museum
Across the river, from the Yorkshire Museum, you'll find the largest railway museum in the world. York's National Railway Museum contains 100 trains on display so if you're a train buff, you might want to skip a couple of the previous museums and spend more of your day here. Highlights include The Mallard; the world's fastest steam locomotive, Queen Victoria's Royal Train including her favorite carriage, the only Japanese bullet train on display outside of Japan and an original Eurostar train.
Admission: Free!
Opening Hours: 10 am-6 pm
Now it is time to head back to London for your flight home.
How to get from York to London
Train: Trains depart approximately every 15 minutes from York to London King's Cross station (direct) with an average of 30 trains per day making your return journey to London hassle-free. Book in advance to get the best prices on this 174-mile journey.
Time: 2 hours
Cost: From £14
Bus: National Express coaches depart York for London Victoria Coach Station every 1-2 hours throughout the peak daytime hours with more limited service at night. Some coaches are direct making for a hassle free journey, others require you to change at Leeds Coach Station with a 30-minute change over time.
Time: 6 hours
Cost: From £7.50
How to Get to and from Central London to The Airport
From Heathrow Airport
The largest airport in the UK, Heathrow is located 18.5 miles from the city of London and covers the majority of long haul flights plus scheduled European flights. It is the hub for British Airways, Emirates, Lufthansa, American Airlines, and Virgin Atlantic. With 5 terminals, pay attention to which terminal you'll be arriving in to help plan your onward journey into the city center.
Heathrow Express Train
The fastest way to get from the airport to central London, the Heathrow Express train departs for London Paddington every 15 minutes from terminals 2-3, and 5 with the first train at 5 am (6 am on Sundays) until 11.30 pm. If arriving into terminal 4, use the free shuttle train to transfer between terminals. Don't worry about terminal 1 – It closed in 2015!
Time: 15 minutes
Price: From £16.50 when booked online in advance
Cash Saving Tip! The TfL Rail service (formerly known as the Heathrow Connect) also takes passengers to London Paddington, the journey takes longer (35minutes) due to stopping at other London stations including Ealing Broadway and Southall but the ticket price is cheaper.
Underground Train
Heathrow Airport is connected to the London Underground at terminals 2-3, 4, and 5 with the Piccadilly line taking passengers directly to central London. It is possible to use Oyster and travel cards for this journey to save money on a single cash fare. Trains run every 10 minutes from approximately 5 am until 11.30 pm with the exception of Friday and Saturday when the underground operates a 24-hour service. Note – There is no night train service to terminal 4, leave the underground train at terminals 2-3 and take the free shuttle to terminal 4.
Time: 50 minutes
Price: £6.00 single cash fare
Coach
National Express runs regular services from Heathrow Airport (terminals 2-3, 4, and 5 ) to London Victoria coach station. Coach services run every 30 minutes during peak hours with the first coach departing at approximately 3 am and the last at midnight.
Time: 35 minutes
Price: From £5
Taxi
A classic black cab can be hailed from outside each of Heathrow's terminals. A surcharge of £2.80 is added for fares starting from Heathrow airport but there is no extra charge for luggage.
Time: 30-60 minutes
Price: £48-£90
From Gatwick Airport
Located 29.5 miles South of London city center, Gatwick airport is the UK's second busiest airport and handles international long haul flights as well as many European charter flights. It's a hub for Easyjet, Thomas Cook, and TUI along with British Airways and Virgin Atlantic.
Gatwick Express Train
The Gatwick Express train is the fastest option for reaching central London with non-stop trains departing the South Terminal (take the free shuttle train from North to South terminal if needed) to London Victoria train station every 15 minutes during peak hours. The first train departs at 5.40 am and the last train departing shortly after 11 pm.
Time: 30 minutes
Cost: £19
National Rail Trains
Regular trains also depart the South Terminal. Thameslink runs services from Gatwick airport to London Bridge, Blackfriars, Farringdon, and St Pancras International whilst Southern Trains go to London Victoria train station via Clapham Junction and East Croydon.
Time: 30-45 minutes
Cost: From £8
Coach
National Express has regular services departing from both the North and South Terminals for London Victoria coach station with stops along the way. Coaches run 24/7 every 20-60 minutes.
Time: 1.5-2 hours
Cost: From £5
Alternative Option – On a tight budget and staying in West London? Check out easyBus with fares from as little as £2 each way going to Chelsea.
Luton Airport
Located 34 miles from London city, Luton Airport handles a lot of low-cost airline flights from around Europe being a hub for Ryanair and Wizzair. It does not have a train station connected to the airport, therefore it's often easier to get the coach into London.
Coach
Up to 4 coaches depart Luton airport every hour with two routes, A1 goes to Victoria coach station whilst A2 goes to Paddington. Both routes have several stops on the way.
Time: 50 minutes
Cost: From £5
Train
A shuttle bus (price included in the train ticket price when you select LUA/Luton Airport as your starting point rather than Luton Airport Parkway) takes passengers from Luton Airport to Luton Airport Parkway train station every 10 minutes during peak times with limited night trains. Regular train services run to London Bridge, Blackfriars, City Thameslink, Farrington, and London St Pancras.
Time: 40 minutes
Cost: £13-£18
Stansted Airport
Located 42 miles North East of London, the Stansted airport is a hub for Easyjet, Jet2, Ryanair, Tui, and Thomas Cook primarily serving European destinations with either holiday charter flights or budget flights. It has a train station on-site giving travelers easy access to London.
Stansted Express Train
The fastest way to get into London, the Stansted Express Train departs every 15 minutes during peak hours and every 30 minutes during the night for London Liverpool Street station with some trains stopping at Tottenham Hale underground station on the way to give passengers access to the Victoria underground line. The first train departs Stansted at 5.30 am and the last at 00.30.
Time: 47 minutes
Cost: From £10
On a budget? Compare the price of the regular Greater Angular train service with the Stansted Express – Both trains go to London Liverpool Street station in the same amount of time.
Coach
National Express coaches run 4 different services to central London every 30-60 minutes. Service A6 calls at Baker Street, Paddington, Marble Arch, and Portman Square. Service A7 goes to Victoria Coach Station via Whitechapel, Southwark, Waterloo, and Victoria Train Station. Service A8 goes to King Cross via Shoreditch, Liverpool Street, and Farringdon. Service A9 goes to London Stratford.
Time: 50 minutes
Cost: From £5
PIN IT!