Istanbul is an iconic city that straddles two continents, Europe and Asia. Despite not being Turkey's capital, worldwide it is certainly regarded as the Country's most important city; it is certainly the one that receives far more overseas visitors than any other. It is a huge place with a unique atmosphere. Life is hectic and at times it is difficult to travel around at any pace.
However, if you have 3 days to explore this historic city, it is possible to see most of its highlights. That is partly because the main landmarks from the Ottoman times, and before, are located in one district on the European side, Sultanahmet. Four of them are within a short walking distance of each other.
It means the pressure is off and with the Bosphorus running between the two continents, you can take to the water to marvel at the skyline as well as avoid the traffic to reach other places you should try to see.
Disclaimer: This post contains affiliate links. This means that should you click on certain links, and then subsequently purchase a product, I will receive a small commission.
How to spend three days in Istanbul, things to do and see
3 Days in Istanbul: Day One

You need not set foot outside Sultanahmet on your first day to enjoy some of Istanbul's top attractions.
Hagia Sophia
Hagia Sophia was commissioned by the Emperor Justinian back in the 6th Century and it became the largest Christian Cathedral in the world. When the Ottomans took Constantinople in the middle of the 15th Century, they began its conversion into a mosque. It is a complex structure with a huge dome built in a region susceptible to earthquakes. Natural forces and the design of the dome have caused problems and at one point the dome actually collapsed completely.
Christian frescoes were plastered over and it has only been since it was closed after the formation of the Turkish Republic that they have been revealed one more. Its dimensions are 100 metres by 70 metres with the dome almost 60 metres high. The frescoes are best seen from the Gallery where there are also a number of photographs and pictures.
The Blue Mosque
The Blue Mosque is an Ottoman design and is located just a minute's walk from Hagia Sophia. Obviously, the public is not admitted during prayer times but otherwise, visitors can queue, remove their shoes and enjoy this stunning mosque which uses the various shades of blue to great effect and simply pay a donation when they leave.
It opened in 1610 and has been the main mosque in Istanbul ever since. Fully carpeted, few cannot but appreciate it as a masterpiece.
Justinian Cistern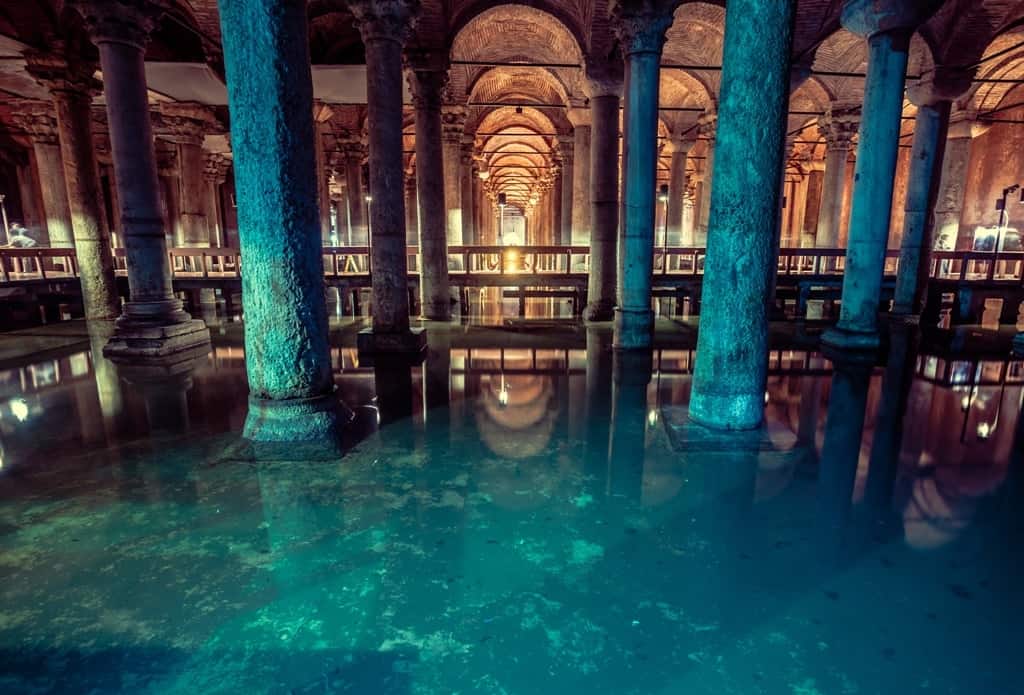 The nearby underground cistern was the source of water to the Byzantine city of Constantinople. It was created in the time of Justinian and tourists who don't walk down its steps to enter the eerie environment are missing something. Goldfish swim in its waters and you can walk around to see them, and some ancient carvings in the stone columns.
The Cistern has been used as a location for a few famous Hollywood films, most recently Tom Hank's ''Inferno.''
Topkapi Palace
The Topkapi Palace was home to the Ottoman Sultans until the middle of the 19th Century. Sultan Mehmet the Conqueror began its building in 1460 and it took eighteen years to complete. A whole empire was run from these buildings overlooking the Bosphorus. Many treasures remain with some priceless exhibits in the Treasury. The Harem is fascinating and at the rear is an area where the harem could walk away from any prying eyes. The beautiful gardens in which the Palace sits complement the buildings wonderfully.
You might also be interested in: Taking the train from Turkey to Georgia.
3 Days in Istanbul: Day Two

Grand Bazaar
The Grand Bazaar has more than 50 streets and 4,000 shops and is located in Karpalicarsi in Fatih on the European side. You can buy almost everything in what is the largest covered market in the world. The core, Ic Bedesten, was built in the years that followed the Ottomans taking Constantinople in 1453. Bedesten means ''arcade'' and gradually more ''arcades'' were added.
Today, there are restaurants, a mosque, hammam, post office, police station, health dispensary and most Turkish banks have a branch there.
It is clearly possible to get lost in the maze of narrow streets but there will always be someone to help. There are 22 entrances so you will always be able to find your way out. The question will be where you have then found yourself.
Remember to bargain if you want to buy. Don't ever lose your temper while bargaining and shopkeepers are not offended if you walk away. That happens to them hundreds of times a day.
Spice Bazaar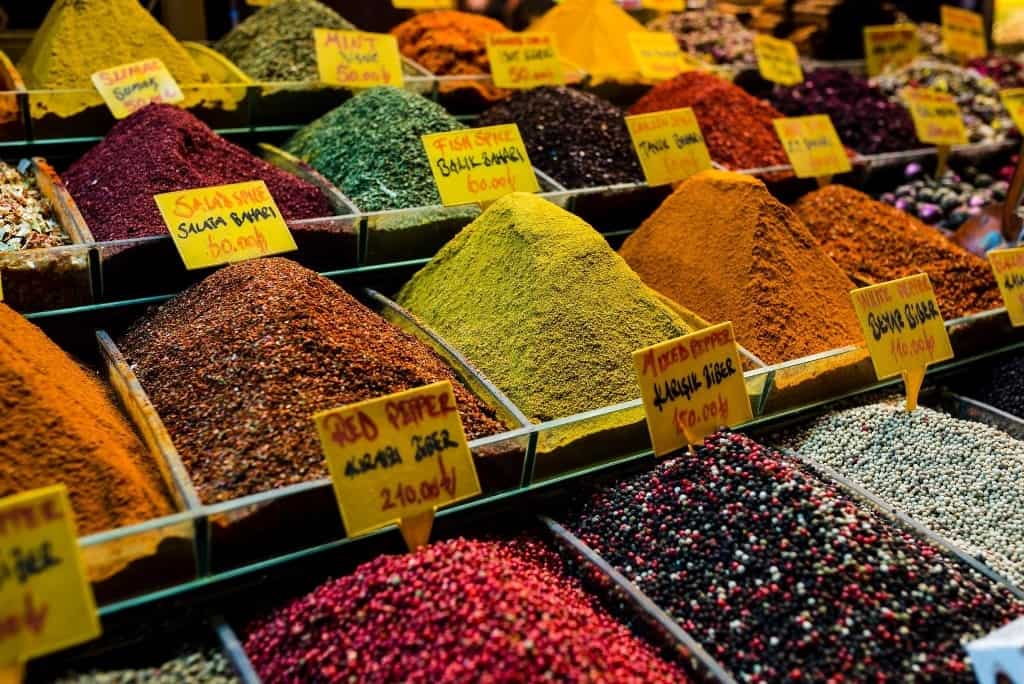 There is much more to the Spice Bazaar than spices. Both of these famous bazaars are on the European side of Istanbul and you will have little difficulty getting to them. The Spice Bazaar is in Eminonu in Fatih near the Golden Horn. It opened in the 1660s and is still going strong.
Suleymaniye Mosque
In some ways, Suleymaniye is overshadowed by the two stunning buildings in Sultanahmet. It was built on the 3rd Hill on the Golden Horn on the instructions of arguably the greatest Ottoman Sultan of all, Suleyman the Magnificent. He ruled for 46 years, 1520 to 1566, and this period saw the Ottoman Empire at its most prosperous. He was renowned for his many skills and his subjects remembered him fondly. There is a mosque in the complex but also a library, school and living accommodation.
Suleymaniye Mosque is an integral part of the Istanbul skyline and can be seen from the Bosphorus but it does deserve closer inspection.
3 Days in Istanbul: Day Three
Bosphorus
The Bosphorus is a busy stretch of water that not only divides Europe from Asia but also links the Sea of Marmara to the Black Sea. There is a constant stream of traffic, commercial ships carrying freight backward and forwards.
A great way to see the Bosphorus and the city from another perspective is a cruise. You can check out the following:
Bosphorus Dinner Cruise with Entertainment
or a Bosphorus Cruise and Cable Car: 4-Hour Afternoon Tour
View across the Bosphorus
It is Russia's link out into the Aegean and thence the Mediterranean. There are ferries crossing from Europe to Asia every minute of the day and boats that take passengers to various points on both shores. If you want to simply cruise and take in these shores, you will find that extremely interesting. You will see the activity without finding yourself in busy traffic.
The Prince Islands heading west are interesting but spending too much time there would leave you with little time to do anything else in the day.
Dolmabahce Palace
The Ottoman Sultans left the Topkapi Palace and moved to this new Palace right on the Bosphorus in the district of Besiktas, over the road from the new stadium of the famous Turkish soccer side of the same name.
It was commissioned by Sultan Abdulmecid and was finally completed after 13 years in 1856. It was decided to create a palace with more of a European ''feel'' and thus it was filled with the latest of European fashion. The 4.5-tonne chandelier, for example, was a gift from Queen Victoria and the handmade wooden flooring remains impressive even today.
The Palace is huge, 100 meters long and estimates say that the cost of building it exceeded $1.5 billion in today's values. it is the place where the founder of the Turkish Republic, Mustafa Kemal Ataturk died in 1938. The clock was stopped at the exact time of his death; 9.05 am, 10th November and all these years later, Turkey stops at that time to remember him.
Hamam
While in Istanbul, you must have a Turkish bath. It is something that has been available in places throughout the world for years but the authentic hammam is an experience that should not be missed in Istanbul. After three busy days in Istanbul, it is certainly a way to relax and clean your body of everyday grime.
Click here for more information and to book a Sultanahmet Traditional Turkish Bath.
How to get from and to the airports of Istanbul
Istanbul has two airports, Ataturk on the European side and Sabiha Gokcen on the Asian side. A new airport is imminent on the European side and will ultimately replace Ataturk
From/to Ataturk airport:
Ataturk airport is only 25 km away from Taksim Square in the centre of the European side of Istanbul
Shuttle Bus:
The cheapest way to travel between Ataturk airport and Taksim Square is by a shuttle bus that takes around 45 minutes depending on traffic.
Tickets cost 12tl (2 euros) one way.
Metro:
There is an overland metro service which at this point does not cover the whole city but you can travel into Taksim Square on the Metro and avoid the traffic.
Taxi:
You will find taxi stands outside the airport terminal. You are advised to use the official taxi services and do not take offers from drivers inside the terminal. They are metered but drivers may want to negotiate a price because of the heavy traffic and uncertain travel times.
Alternatively, you can book a private transfer to and from the airport.
Click here for more information and to book your transfer.
From/to Sabiha Gokcen airport:
Sabiha Gokcen is around 45 kms from Taksim Square.
Shuttle Bus:
The cheapest way to travel between Sabiha Gokcen Airport and Taksim Square is by a shuttle bus that can take up to 90 minutes depending on traffic.
Tickets cost 15 tl (2.5 euros) one way.
Taxi:
You will find taxi stands outside the airport terminal. You are advised to use the official taxi services and do not take offers from drivers inside the terminal. They are metered but drivers may want to negotiate a price because of the heavy traffic and uncertain travel times.
Alternatively, you can book a private transfer to and from the airport.
Click here for more information and to book your transfer.
How to stay connected in Istanbul
If you're travelling to Turkey, free, reliable, secure internet can be hard to come by. But this is where Rent n Connect steps in to offer you a great service at an amazing price! From just €5.99 a day you can connect to a solid 4G connection throughout the country with the ability to link up to 10 devices.
The Rent n Connect service is completely hassle-free, with drop-off and pick-up being arranged at a time and place that suits you. The uninterrupted 4G internet allows you to use your phone and laptop with ease while travelling so it is perfect for social media addicts and digital nomads alike!
Not only is the product itself fantastic but the communication and the service provided by Rent n Connect is second-to-none. With phone, email and Live Chat representatives available round the clock there is always someone on hand to sort out any issues that may arise.
Use the code TRAVELPASSIONATE_TR at the check out and receive 10% off.
Where to Eat in Istanbul
There are cafes and restaurants at every turn in Istanbul. Their menus range from the typical mezes, kebabs, salads and very sweet desserts to top quality international cuisine. You will not be disappointed by the food you are served in Istanbul.
Eating fish anywhere along the Bosphorus, especially at night when the City is lit up is certainly something to consider while there are rooftop restaurants with views that are equally impressive.
Visiting Istanbul is a special occasion anyway, but if you really want a treat, there are quality restaurants happy to satisfy your hunger.
Fish is a new restaurant and specializes in, you've guessed it. It is located on an islet in Galatasary. Suada Club, Galatasaray Adasi,Kuruçeşme
Lokanta Maya in Karakoy is another fairly new place, a bistro serving everything that is good about Turkish cuisine. Kemankeş Caddesi 35/A, Karaköy
Sultanahmet Koftecisi has been serving food for almost a century. If you want lunch on Day One while you are in Sultanahmet, try here. Alemdar Mahalle, Divanyolu Caddesi 12A, Istanbul
La Mouette is located on the roof terrace of Tom Tom Suites Hotel in Beyoglu and offers lovely views over the Old City. Tomtom Kaptan Sokak 18, Beyoğlu
Giritli in Sultanahmet is a great place for dinner. In warm weather, enjoy eating in the gardens. Keresteci Hakki Sokak, Cankurtaran/Ahirkapi.
Steve Smith is a retired Brit living on the South West Coast of Turkey in a small resort town of Dalyan. He is an experienced traveller and a regular visitor to Istanbul which is just an hour away by domestic flight.