This post is also available in: French
What can you do with 3 days in Istanbul? So much! This 3 day Istanbul itinerary includes the top cultural sites, a Bosphorus cruise, plenty of time for shopping, and more.
Istanbul is an iconic city that straddles two continents, Europe and Asia. Despite not being Turkey's capital, worldwide it is certainly regarded as the Country's most important city; it is certainly the one that receives far more overseas visitors than any other. It is a huge place with a unique atmosphere. Life is hectic and at times it is difficult to travel around at any pace.
Is 3 Days in Istanbul Enough?
Istanbul is a city that you can spend literal weeks in and not see everything. There's just so much to see and do.
However, if you have 3 days to explore this historic city, it is possible to see most of its highlights. That is partly because the main landmarks from the Ottoman times and before, are located in one district on the European side, Sultanahmet. Four of them are within a short walking distance of each other.
It means the pressure is off, and with the Bosphorus running between the two continents, you can take to the water to marvel at the skyline as well as avoid the traffic to reach other places you should try to see.
Are you staying in the city for more days? Check out this great 5 day Istanbul itinerary. Running short on time? You can still see many of the highlights of Istanbul in 2 days!
Disclaimer: This post contains affiliate links. This means that should you click on certain links and then subsequently purchase a product, I will receive a small commission.
How to spend three days in Istanbul, things to do and see
So, what can you do in Istanbul in 3 days? A lot! This Istanbul 3-day itinerary encompasses all of the major historical and cultural sites and a Bosphorus cruise, with plenty of time for shopping and enjoying local culinary delights.
Map for your 3-day Istanbul Itinerary
Istanbul in 3 Days: Day One
You need not set foot outside Sultanahmet on your first day to enjoy some of Istanbul's top attractions.
The Hagia Sophia was commissioned by Emperor Justinian back in the 6th Century, and it became the largest Christian Cathedral in the world. When the Ottomans took Constantinople in the middle of the 15th Century, they began their conversion into a mosque.
It is a complex structure with a huge dome built in a region susceptible to earthquakes. Natural forces and the design of the dome have caused problems, and at one point, the dome actually collapsed completely.
Christian frescoes were plastered over and it has only been since it was closed after the formation of the Turkish Republic that they have been revealed one more. Its dimensions are 100 meters by 70 meters, with the dome almost 60 meters high. The frescoes are best seen in the Gallery, where there are also a number of photographs and pictures.
Tip: Lines are big to enter Aghia Sophia so I suggest that you purchase a skip-the-line ticket with a guided tour.
The Blue Mosque
The Blue Mosque is an Ottoman design and is located just a minute's walk from Hagia Sophia. Obviously, the public is not admitted during prayer times but otherwise, visitors can queue, remove their shoes and enjoy this stunning mosque which uses various shades of blue to great effect, and simply pay a donation when they leave.
It opened in 1610 and has been the main mosque in Istanbul ever since. Fully carpeted, few cannot but appreciate it as a masterpiece.
Check my post about the best Mosques to visit in Istanbul.
Justinian Cistern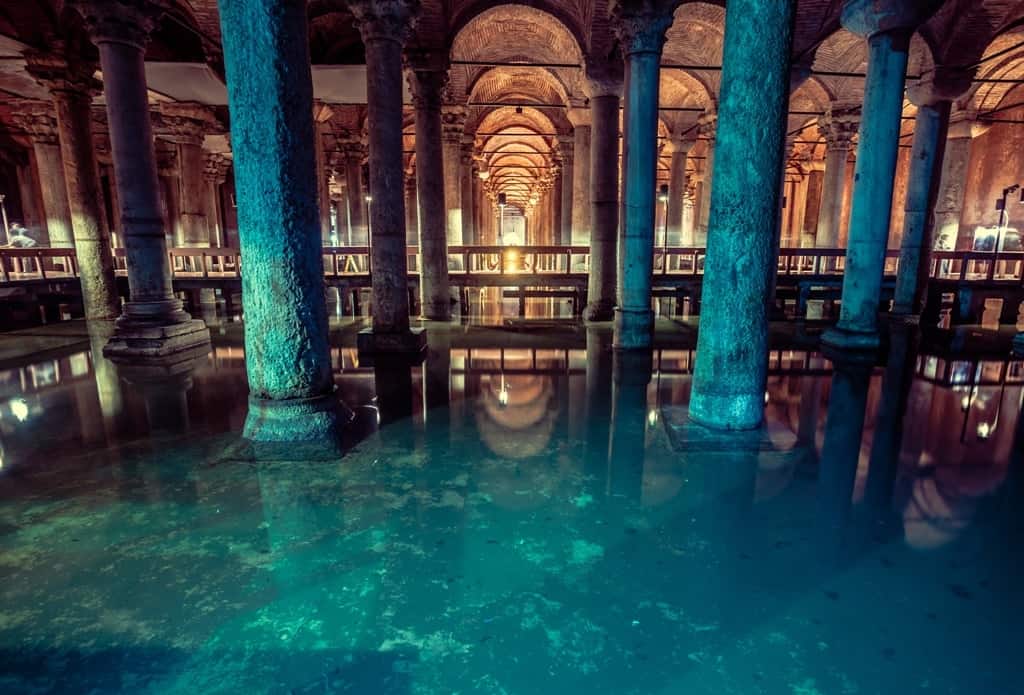 The nearby underground cistern was the source of water for the Byzantine city of Constantinople. It was created in the time of Justinian, and tourists who don't walk down its steps to enter the eerie environment are missing something. Goldfish swim in its waters and you can walk around to see them and some ancient carvings in the stone columns.
The Cistern has been used as a location for a few famous Hollywood films, most recently Tom Hank's ''Inferno.''
The Topkapi Palace was home to the Ottoman Sultans until the middle of the 19th Century. Sultan Mehmet the Conqueror began its building in 1460 and it took eighteen years to complete. A whole empire was run from these buildings overlooking the Bosphorus.
Many treasures remain, with some priceless exhibits in the Treasury. The Harem is fascinating and at the rear is an area where the harem could walk away from any prying eyes. The beautiful gardens in which the Palace sits complement the buildings wonderfully.
Tip: The Top Kapi Palace is huge and you should definitely visit the Harem which for me was the highlight. Again the lines are huge so I suggest this 3 hour guided tour that includes skip-the-line tickets.
The Whirling Dervishes Show
If you fancy a taste of traditional Turkish culture, then you'll want to witness The Whirling Dervishes Show at the HodjaPasha Culture Center. This spectacular portrays the Mevlevi Sema spiritual journey through the medium of dance. The hour-long performance features Turkish music, dancing, chanting, and drumming as part of a tradition that is over 800 years old! This is a must for anyone seeking an authentic experience while visiting Istanbul.
Click here for more information and to book your tickets.
Please note: photography is not allowed during the ceremony.
You might also be interested in: Taking the train from Turkey to Georgia.
Istanbul in 3 Days: Day Two
Grand Bazaar
The Grand Bazaar has more than 50 streets and 4,000 shops and is located in Karpalicarsi in Fatih on the European side. You can buy almost everything in what is the largest covered market in the world. The core, Ic Bedesten, was built in the years that followed the Ottomans taking Constantinople in 1453. Bedesten means ''arcade'' and gradually, more ''arcades'' were added.
Today, there are restaurants, a mosque, a hammam, a post office, a police station, and a health dispensary, and most Turkish banks have a branch there.
It is clearly possible to get lost in the maze of narrow streets, but there will always be someone to help. There are 22 entrances, so you will always be able to find your way out. The question will be where you have then found yourself.
Remember to bargain if you want to buy. Don't ever lose your temper while bargaining and shopkeepers are not offended if you walk away. That happens to them hundreds of times a day.
Spice Bazaar
There is much more to the Spice Bazaar than spices. Both of these famous bazaars are on the European side of Istanbul, and you will have little difficulty getting to them.
The Spice Bazaar is in Eminonu in Fatih near the Golden Horn. It opened in the 1660s and is still going strong.
Suleymaniye Mosque
In some ways, Suleymaniye is overshadowed by the two stunning buildings in Sultanahmet. It was built on the 3rd Hill on the Golden Horn on the instructions of arguably the greatest Ottoman Sultan of all, Suleyman the Magnificent.
He ruled for 46 years, from 1520 to 1566, and this period saw the Ottoman Empire at its most prosperous. He was renowned for his many skills, and his subjects remembered him fondly. There is a mosque in the complex but also a library, school, and living accommodations.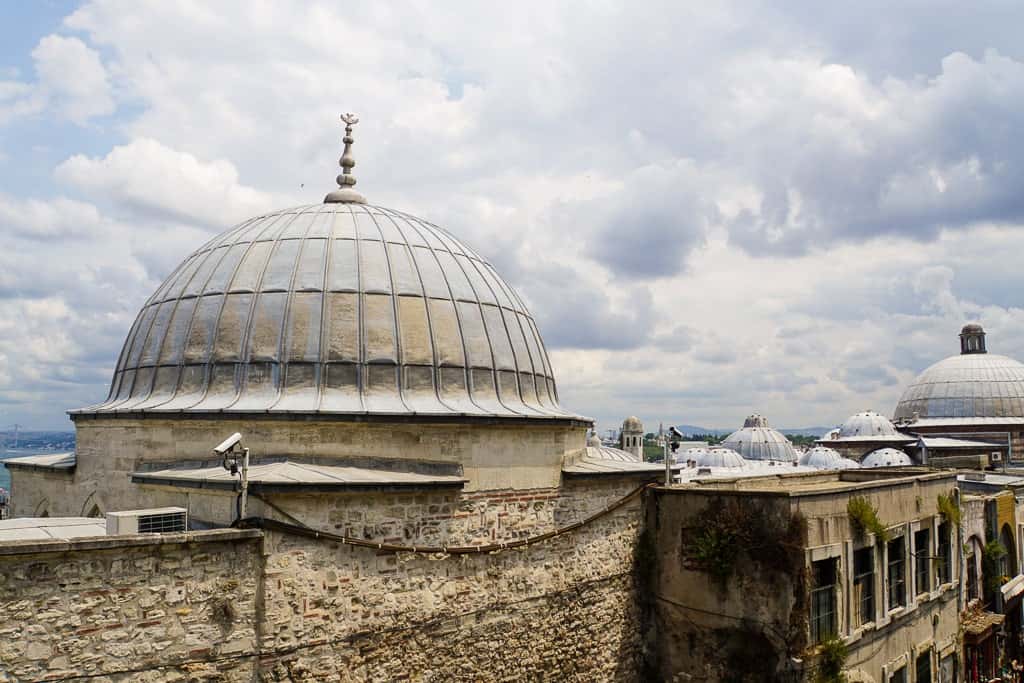 Suleymaniye Mosque is an integral part of the Istanbul skyline and can be seen from the Bosphorus, but it does deserve closer inspection.
Galata Tower
The Galata Tower is one of Istanbul's many famous works of architecture that dominates the landscape. Galata Kulesi (as it's locally known) is a stone structure with a conical roof rising 220 above the ground.
The viewing platform, at 66m up, offers visitors a fantastic panoramic view of Istanbul, from which you can take in other impressive buildings such as the Blue Mosque, the Galata Bridge, and the Golden Horn waterway.
Shopping on Istiklal Street
Another popular attraction in Istanbul is Istiklal Street (Independence Avenue), one of the main shopping streets in the city. This cobblestone street is a retail and entertainment hub loved by locals and tourists alike.
The street is mainly pedestrianized (apart from the old school tram running through the middle), so you can stroll along the street to your heart's content. Istiklal Street is also a great place to enjoy drinks and dining in the evening, with restaurants, shops, and bars staying open until late.
Visit Taksim Square
Taksim Square in Istanbul is a major square renowned for its lively atmosphere and events, as well as shops, bars, and restaurants to keep visitors entertained. Dotted around the square are important sites such as the Republic Monument and the Taksim Masjid mosque that is currently being built. Taksim Square is a lovely place to enjoy a cup of Turkish tea or do a spot of shopping before heading home.
Try The Famous Desserts
No trip to Istanbul would be complete without trying some (or many!) of the tasty traditional desserts that Turkey is famous for. These desserts include sticky and delicious baklava, sweet Turkish delight, sesame seed halva, and the almond-based Şekerpare sweets that are soaked in sugar syrup!
These desserts are served in many of the city's patisseries and cafés that are ideally paired with Turkish coffee or tea.
Istanbul in 3 Days: Day Three
Bosphorus
The Bosphorus is a busy stretch of water that not only divides Europe from Asia but also links the Sea of Marmara to the Black Sea. There is a constant stream of traffic, commercial ships carrying freight backward and forwards.
A great way to see the Bosphorus and the city from another perspective is a cruise. You can check out the following:
Bosphorus Dinner Cruise with Entertainment
View across the Bosphorus
It is Russia's link out into the Aegean and, thence the Mediterranean. There are ferries crossing from Europe to Asia every minute of the day and boats that take passengers to various points on both shores. If you want to simply cruise and take in these shores, you will find that extremely interesting. You will see the activity without finding yourself in heavy traffic.
The Prince Islands heading west are interesting, but spending too much time there would leave you with little time to do anything else in the day.
Dolmabahce Palace
The Ottoman Sultans left the Topkapi Palace and moved to this new Palace right on the Bosphorus in the district of Besiktas, over the road from the new stadium of the famous Turkish soccer side of the same name.
It was commissioned by Sultan Abdulmecid and was finally completed after 13 years in 1856. It was decided to create a palace with more of a European ''feel,'' and thus, it was filled with the latest of European fashion. The 4.5-tonne chandelier, for example, was a gift from Queen Victoria, and the handmade wooden flooring remains impressive even today.
The Palace is huge, 100 meters long, and estimates say that the cost of building it exceeded $1.5 billion in today's values. it is the place where the founder of the Turkish Republic, Mustafa Kemal Ataturk, died in 1938. The clock was stopped at the exact time of his death; 9.05 am, 10th November, and all these years later, Turkey stopped at that time to remember him.
Photography is not allowed inside the Palace.
Hamam
While in Istanbul, you must have a Turkish bath. It is something that has been available in places throughout the world for years, but the authentic hammam is an experience that should not be missed in Istanbul. After three busy days in Istanbul, it is certainly a way to relax and clean your body of everyday grime.
Click here for more information and to book a Sultanahmet Traditional Turkish Bath.
How to get from and to the airports of Istanbul
Istanbul New Airport (IST) is, as the name suggests, the new airport serving both sides of the city of Istanbul. This replaces all flights arriving at Istanbul Atatürk Airport, the former main airport for flights arriving from Europe and beyond. As of April 2019, there are no longer passenger services arriving at Istanbul Atatürk Airport, so travelers will need to arrive at IST and make plans to travel to and from the city accordingly.
Istanbul New Airport (IST) is located around 50km from Sultanahmet, the Old Town of Istanbul – the main tourist center of the city.
There are various options for getting from the airport to Sultanahmet, with journey times varying between 30 to 90 minutes depending on which mode of transport you take and your whereabouts in the city you are heading.
Via Taxi
Driving or taking a taxi will take approximately 60 minutes to reach the center of Istanbul. A private taxi is likely to cost between €60-70 and can be booked online prior to arrival or at the airport.
Via Shuttle Bus
Shuttle services are also available from Istanbul Airport into the city center, with shared mini-van services costing approximately €20 per person, dropping you right at your hotel. These services will take multiple guests to different hotels, and therefore journey times may vary depending on where your hotel is located in relation to others.
Via Bus
Another option for getting into Istanbul's city center from the airport is to take the bus. The New Airport Transit Bus runs around 150 times a day between the airport and the city, and bus tickets can be purchased from floor -2 of the airport. There are a range of bus tickets that can be purchased, including the rechargeable Istanbulkart (6 TL), 5 Pass Card (BeşGeç, 17 TL), or 10 Pass Card (OnGeç, 32 TL).
Bus services IST-5 Istanbul Airport – Besiktas, IST-18 Istanbul Airport – Mecidiyeköy, and IST-19 Istanbul Airport – Taksim run every 15 minutes from the airport to the city. Alternatively, you could take the H-2 Airport Express service that runs from the airport to the Şişli-Mecidiyeköy metro station.
This journey takes around 35 minutes and costs just 5.20 TL using an Istanbulkart. From the Şişli-Mecidiyeköy metro station, you can change to the M2 metro line, which allows you to reach Taksim and Sultanahmet in the city.
Metro/Train
As of January 2022, there is now a metro that runs between the Istanbul airport and the city center. The M11 metro line runs between the airport and Kagithane, with 7 stops in between. The line is expected to expect to Gayrettepe as soon as April 2023.
You might also like: How to spend 2 days in Istanbul.
How to Get Around Istanbul
The easiest way to get around Istanbul is the public tramway system. It runs about every 5 minutes from 06:00 to 24:00. The T1 line is usually the most useful for tourists, as it runs the Sultanahmet and across the Galata Bridge.
To ride the tram, you'll want to purchase a rechargeable Istanbul Card from a bus station, public transportation office, or vending machines at certain stops. The Istanbul Card (Istanbulkart) will work not only on the trams but also on the metro, buses, and ferries.
You can use one card for up to 5 passengers, so you'll only need one if you're traveling with a friend, and it can be recharged at any time.
There are also buses and minibusses in Istanbul, but they tend to be much slower due to the traffic.
Where to Eat in Istanbul
There are cafes and restaurants at every turn in Istanbul. Their menus range from the typical mezes, kebabs, salads, and very sweet desserts to top-quality international cuisine. You will not be disappointed by the food you are served in Istanbul.
Eating fish anywhere along the Bosphorus, especially at night when the City is lit up is certainly something to consider while there are rooftop restaurants with views that are equally impressive.
Visiting Istanbul is a special occasion anyway, but if you really want a treat, there are quality restaurants happy to satisfy your hunger.
Afternoon Tea at the Pera Palace
If you want a fine dining experience in Istanbul, look no further than Afternoon Tea at the Pera Palace. This luxury hotel serves tasty Turkish snacks and drinks for you to enjoy in style in one of the palace's many restaurants and cafés. Kubbeli Saloon Tea Lounge and Patisserie De Pera feature exquisite furnishings, lighting, and windows which make the ambiance of your Afternoon Tea magical and memorable.
The Pera Palace is the hotel where the passengers of the Orient Express stayed and where Agatha Christie wrote part of the book, so it has a certain sense of charm and character.
Bilice Kebap
Bilice Kebap is an incredible place to enjoy Turkish kebabs and meze dishes, with chicken, lamb, and aubergine skewers cooked to perfection and served alongside tasty dips, salads, and freshly-baked bread.
The restaurant offers a range of small dishes so that every member of the group can try different meals and ingredients and choose their favorites. Bilice Kebap has a traditional rustic style, so you'll know you are dining on dishes that the locals love to eat.
Matbah
Matbah Restaurant in Istanbul offers Ottoman Palace cuisine in a luxurious locale, so you'll feel like royalty as you dine on decadent dishes all night long. The swanky restaurant features floor-to-ceiling windows around the room so that you can take in the breathtaking vistas of the city while you tuck into tasty Ottoman cuisine.
This is an exclusive (if somewhat expensive for Istanbul standards) dining experience that it well worth it if you're a foodie fanatic visiting Istanbul.
Where to Stay in Istanbul
It makes sense to stay on the European side of Istanbul if you are just staying a few days. You are closer to all the landmarks because the Asian side is largely residential and commercial. If you want a treat, take a look at these five hotels.
Click here for more hotel options and the best areas to stay in Istanbul.
Pera Palace Hotel dates back to the end of the 19th Century, welcoming guests arriving from the Orient Express and has recently been refurbished at a cost of $25 million. It hosted Agatha Christie at one time.
Ciragan Palace Hotel is a former Ottoman Palace on the Bosphorus and includes a suite as expensive as anything in the world.
The Four Seasons Sultanahmet is a former prison but now a quality hotel if you want to stay close to the district's major landmarks.
Ritz Carlton Istanbul in Besiktas is close to the Vodaphone Stadium and the Dolmabahce Palace.
Rixos Pera Istanbul is close to Taksim Square, ideally located to link with both international airports.
Is Istanbul Safe?
This is one question that always comes up when someone mentions Istanbul. And the answer is yes, Istanbul is safe for tourists to visit.
Of course, that doesn't mean throwing all common sense out the window. You'll still want to take the same precautions you would take anywhere else. Be careful of pickpockets and other petty crimes, and, for the most part, avoid walking alone at night.
A few other tips to ensure you get the most out of your 3 days in Istanbul:
Negotiate prices. Haggling is very common in Istanbul, so you should never go with the first price quoted for anything. Start at half of the price they tell you and go from there. It's all part of the game.
Make sure the taxis use a meter! Istanbul taxi drivers are notorious for either not starting the meter or driving in circles to run up the meter. Be sure the meter is on, and use an app like BiTaksi to get an idea of how much the ride should be.
Pay in lira. You will always get the best prices by paying and negotiating in the local currency.
Watch out for fakes. If you're planning to buy a Turkish rug or gold coins, do your research in advance, as there are many fakes out there.
Keep your valuables close. Always wear your purse in front of you, and don't leave any valuables within easy grabbing distance for pickpockets.
When Is The Best Time to Visit Istanbul?
Istanbul is a year-round destination with moderate temperatures. The most popular times to visit are mid-April to June and September to October. These months have mild but warm temperatures and aren't as hot and humid as the summertime (especially mid-July to mid-August), and there's no chance of snow as there is in January and February.