This post is also available in: French
While planning my trip to Greece I was told by several people, including my Mother, that I must take the time to visit Delphi Greece. I actually changed my itinerary which included Athens, Mykonos and Santorini in order to travel to Delphi.
Delphi Greece is located about 2 ½ hours driving distance from Athens on Parnassos mountain. We took a private bus tour and with stops at different hotels and rest areas it took us approximately 3 hours each way. Although this was an exhausting trip it was well worth it! We were given the opportunity to walk around ancient ruins while our guide spoke of the historical significance of Delphi. During the tour I was amazed at the breathtaking mountain views!
Delphi is a UNESCO World Heritage Site and dates back to ancient Greece: 510-323 BC. One of the most fascinating stories about Delphi is that it was considered to be the center of the earth. Legend states that the God Zeus sent two eagles flying from opposite ends of the world and they crossed paths over Delphi. This was marked by an "omphalos" which is a religious stone artifact. It represented the "navel" or center of the world. The omphalos can be viewed in the Delphi museum.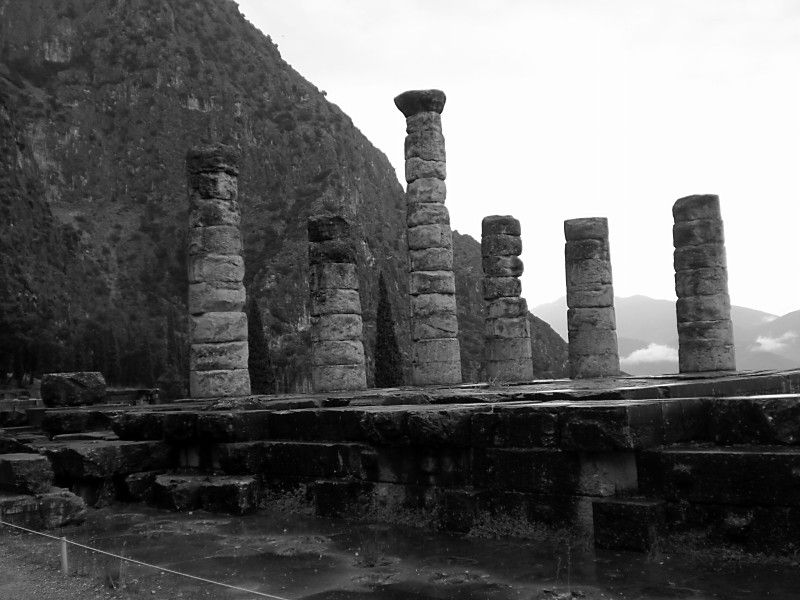 Another interesting site in Delphi is the Temple of Apollo. It is said that Apollo defeated a dragon there in order to protect the naval of the earth. Greeks worshipped Apollo at this site. You can visit the ruins of the Temple of Apollo during your visit to Delphi.
Delphi is also thought to be the precursor of the modern Olympics. Every four years athletes from all over Greece competed there in the Pythian Games. Be sure to visit the theater at Delphi.
The last part of our tour in Delphi included a stop in the Delphi Archeological Museum. In the museum you will view sculptures, enormous statues and read more about the history and mythology of the area.
So, if you love history, Greek mythology and would like to see more of the mainland of Greece, taking a day trip to Delphi from Athens should definitely be on your travel itinerary.
Book this Delphi day trip from Athens.
Nadeen White is the writer behind The Sophisticated Life. You can follow her on Facebook and Twitter.
This great story is part of the series Tales from Greece, where travelers share their experiences from their holidays to Greece.