Palazzo Victoria Hotel is ideally located in Verona's historic centre next to the Roman Gate, Porta Borsari. It's just a short walk from Verona's major points of interest, the Roman Arena, bustling Piazza Erbe, Juliet's house and Castelvecchio, home of the Della Scala family that ruled Verona from 1260 to 1387.
Although the hotel is located in the pedestrian zone, it can be easily reached by car, and private parking is available at extra cost.
We arrived at Palazzo Victoria after a short taxi ride from Verona's train station. As soon as we entered the hotel, we received a warm welcome from the reception staff. They checked us in and explained in perfect English all the facilities within the hotel and how to reach Verona's major attractions. They were all very helpful and knowledgeable. We were then escorted to our room on the third floor of the hotel.
You might also like: Things to do in Verona in one day
We were upgraded from a deluxe room to a gorgeous junior suite. Our room was spacious with beige patterned wallpaper and wooden floors. The large bed with the leather headboard was so comfortable you didn't want to get up. The feather pillows were also to my taste as were the soft, luxurious bed linen.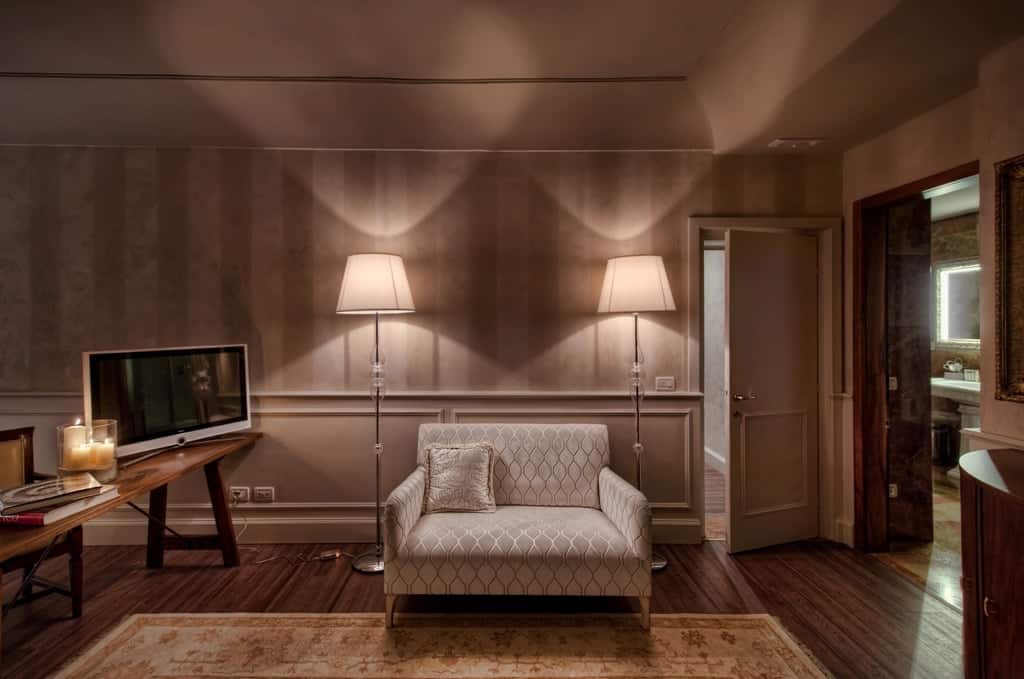 The room was furnished with high-quality wooden furniture and art objects. A spacious wardrobe with floor to ceiling mirrors, a satellite TV, coffee and tea making facilities, free WI-FI, a safe and a well-stocked mini bar were also available in the room.
The elegant bathroom was large with marble floors, wooden details and a spa tub, exactly what I needed to relax after a day walking around town. They were also fluffy robes, slippers and a rich variety of toiletries. The only thing missing was a hygiene kit.
From our room windows, we could see the terracotta roofs and cobble streets of Verona.
The decor in the public areas of Palazzo Victoria hotel blends the traditional with the contemporary. The hotel was built on Medieval, and Roman ruins that are preserved and can be seen throughout the hotel. The lobby has modern décor with leather couches and interesting touches such as a water feature.
The hotel's restaurant Borsari 36 has a unique concept as it has an open kitchen and guests can see the food as it is being prepared. It also has plexiglass holes on the floor from where you can admire the Roman remains underneath.The restaurant is particularly famous for its grill and pasta dishes. There is also a beautiful inner yard where you can enjoy your meal during the summer months.
Breakfast is served at the Borsari restaurant and is one of the best breakfasts I have had. The variety and quality of products offered is excellent. A selection of fresh fruits, croissants, cakes, tarts, savouries, local cheeses and salamis along with cooked to order eggs are bound to satisfy your appetite. I particularly liked the selection of fresh juices as I don't drink coffee or tea.
Without a doubt, we really enjoyed our stay at Palazzo Victoria. The service was excellent, our room very comfortable, the breakfast was delicious and the location unbeatable. If you want to enjoy a lavish stay in the romantic town of Verona, I totally recommend that you stay in Palazzo Verona.
Palazzo Victoria
Via Adua 8,
Verona
+39 045 596 508
https://www.fivestaralliance.com/luxury-hotels/verona/palazzo-victoria
I was a guest of Palazzo Verona Hotel, but as always opinions are my own.