This post is also available in: French
The picturesque Estonian capital is as compact as it is quaint, which makes it an ideal destination for an enthralling weekend break. The medieval Old Town is bursting with charm while the burgeoning food scene means that every meal you enjoy will be one to remember! A weekend in Tallinn works really well as you can explore the cultural and architectural wonders, get a taster of the nightlife, relax in cafés and parks and feel as though you have seen much of the city, while still feeling like you have more to explore upon your return.
Tallinn is a city whose atmosphere and enchantment changes throughout the year, with Christmas markets in winter and open-air museums in summer making for a completely different vibe. It's therefore worth visiting this Eastern European city time and time again to experience the capital's charm in different lights.
Read on to discover the top sights to see during a weekend in Tallinn so that you can relax and enjoy your break.
How to spend 2 days in Tallinn, a weekend itinerary
Tallinn itinerary: Day 1
How to get to and from the airport of Tallinn
Flights arrive into Tallinn from all over Europe on a Friday evening so hopefully you'll be able to catch a short flight to your destination in time for dinner or drinks on your first night. This allows you to get a glimpse of Estonian hospitality (which you'll be enjoying much more of over the weekend) and settle in to your accommodation before starting your weekend of exploration.
There are a few options to get from Lennart Meri Tallinn Airport into the city centre and which you choose will depend on your time frame, budget and group size. Public transport is, of course, the cheapest option and as it's fairly easily done this is the option most people go for.
Bus: You can get into the centre of Tallinn by taking the No.2 bus from the airport which runs every 20 minutes between 6.30am and midnight. The bus leaves from the lowest level of the airport (down from arrivals) and you'll be able to pay the driver in cash (approx. 2). You'll want to listen out for the stop Laikmaa as this is the most central bus stop. It's worth working out where your hotel is in relation to this stop so that you have the walking map saved for your arrival.
Tram: An alternative public transport option from the airport to Tallinn city centre is the tram. This runs for slightly longer than the bus (5.45am until 12.45am) so could be a good choice if you arrive particularly early or late. You'll want to take the tram in the direction of the city and get off at stop Viru. Again, tickets cost 2 and can be purchased from the driver or you can buy a QR-ticket on the Internet (1€)
Taxi: If you'd rather not use public transport and just want to arrive directly at your hotel, you might just want to grab a taxi. These generally cost around 10 Euros so it hardly breaks the bank and is a great option if there are a group of you travelling together.
The airport lies just 4km out of the city centre so you can be in and exploring in no time! If you opt for public transport and walk to your hotel, you're likely to be able to take in some of the city's Old-Town-charm right from the get-go!
As you'll probably be arriving fairly late on the Friday, you'll just want to grab some Estonian grub like borscht soup or a couple of excellent Eastern European beers and call it a night. Põrgu, meaning Hell in Estonian, is a fantastic place to drink and dine on local favourites.
Tallinn itinerary: Day 2
As you're only in Tallinn for 2 days, you'll want to make the most of your time by being up and out exploring the city in the morning. Thankfully, most of the top sights are located within walking distance of each other so you can wander around Old Town, perusing the architecture at your leisure.
Toompea Castle and Hill
Toompea Castle and the surrounding hillside is an area which houses The Parliament of Estonia (Riigikogu) and the famous Toompea Post Office. These are fabulous buildings and the view from the top of the 170-foot limestone plateau across the city is spectacular.
The hill was home to a fortress built in the 13th and 14th centuries which later crumbled and became the location for the current Baroque castle which was built in the mid-to-late 18th century. This area is steeped in history, with various leaders having ruled over the city and country from this spot. Travellers can book a free excursion of the castle from Monday to Friday if booked ahead of time.
Cathedral of St Mary the Virgin
Another impressive city sight is the Cathedral of St Mary the Virgin which stands on Toompea Hill. The Cathedral is thought to have been built between the 13th and 14th centuries and has been touched up and rebuilt many times ever since. The Estonian Evangelical Lutheran Church is a work of varied architectural styles, with its famous Baroque tower being a late addition in the 1770s.
Inside, the Cathedral is home to grand coats of arms and burial stones of Estonia's German nobility. The church is the oldest in Estonia and was, in fact, the only building to survive a mammoth fire on Toompea Hill in the 17th century! Visitors can explore the inside of the church for a small donation and can even climb the 69-metre bell tower.
Tallinn Town Hall Square
Tallinn Town Hall Square is home to a number of stunning buildings which are a photographer's dream thanks to the colourful facades, elegant spires and wrought-iron detailing making them unmissable. The town hall square has been a focal point of Old Town for many centuries and today features regular markets, concerts and festivals. The Town Hall Square also boasts an annual Christmas tree display that has been held in the square since 1441!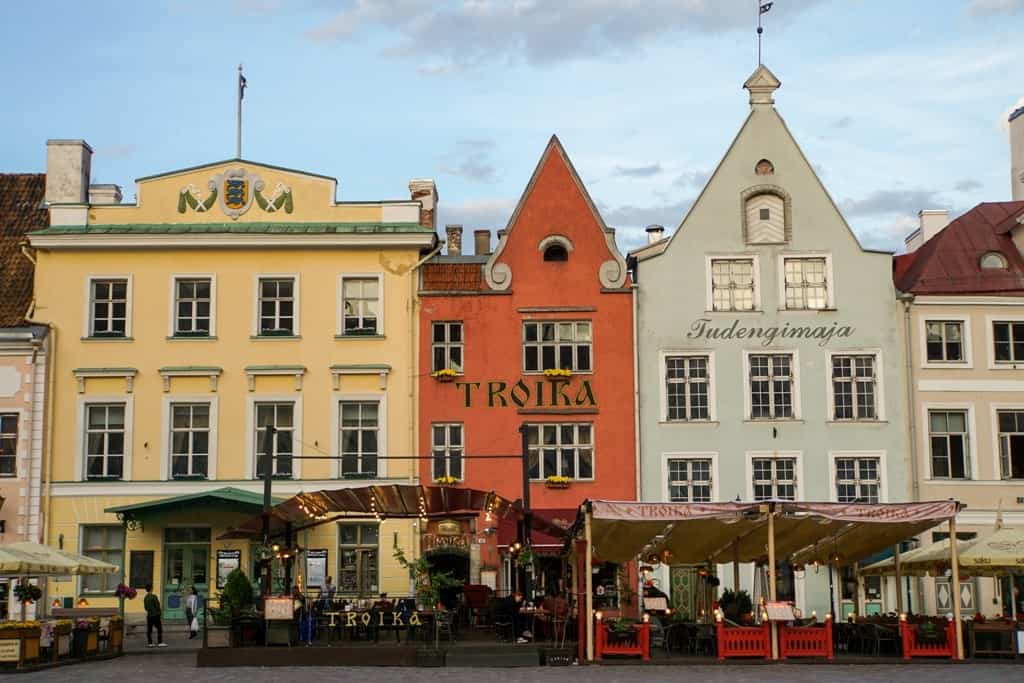 Tallinn Town Hall
Tallinn Town Hall which stands on the south side of the square is the oldest town hall in the whole of Scandinavia and the Baltic Region and is one of the most famous buildings in the city. Located on the very top of the Town Hall tower is the Vana Toomas, a weather vane named Old Thomas. Old Thomas has become a bit of a symbol of the city as he stands proudly atop the tower with his sword and armour.
Tallinn Town Hall Pharmacy
Another one of Europe's oldest is the Tallinn Town Hall Pharmacy, one of the oldest continuously-running pharmacies in the whole of Europe. Housed at number 11 in the Town Hall Square, the Tallinn Town Hall Pharmacy is a quaint, white building with medieval signage that is thought to have been operating as a pharmacy since around 1415! The Burchart family ran the pharmaceutical business from 1582 to 1911, a pretty impressive feat for one family!
You can spend the morning wandering these sights, or if you'd rather a more structured or in-depth tour of Tallinn's medieval Old Town, you can take a guided walking tour to witness and hear about the city's most famous and important sites.
Go for coffee and cake at Tallinn's oldest cafe Maiasmokk
Once you've explored the highlights of Old Town, it'll be high time for a coffee and cake at Tallinn's oldest café, Maiasmokk. This cute café offers an incredible array of tasty treats that will have you licking your lips the second you walk in the door! If you've taken your time during your morning of exploration and it's a little later, you might want to grab a spot of lunch and they do some delicious savoury options too.
Town Wall
Depending on the weather, you might want to spend your first afternoon walking along sections of the old Town Wall. These ancient fortifications have been preserved, and in some places restored, to allow you to climb the towers and walk the walls as armies would have done in days gone by. The preserved sections include 1.85 km of the wall, 26 defence towers, two full gates and fragments of two front gates. There are various spots around the city where you can ascend the town walls which give you a beautiful view of the city landscape.
Have a medieval dinner at the Olde Hansa
For a truly memorable meal on your main night in Tallinn, why not enjoy a medieval dinner at the Olde Hansa, a restaurant offering epically authentic banquets with the décor to match?! With menus created from documented medieval texts, these guys serve up an absolute feast, with 17 courses of ye olde deliciousness, or a choice of 48 dishes on the a la carte menu! This is a really fun way to enjoy some traditional Estonian cuisine and it's a great choice for a celebration or event. The staff wear traditional medieval dress and there is live medieval music six nights a week!
If you don't fancy a medieval banquet then fear not as Tallinn has an incredible food scene with tons of restaurants popping up month-on-month with excellent offerings and amazing beers, wines and schnapps to boot!
Address: Vana turg 1, 10146 Tallinn, Estonia
Tallinn itinerary: Day 3
Hopefully you'll wake on your third day in Tallinn without a heavy head (after one to many craft beers!) and you'll be ready to enjoy a tasty breakfast before heading off to explore some more of the city.
Kadriorg Park and Art Museum
If the weather is fine, you might want to head over to the Kadriorg Park and Art Museum as you can roam the halls of the gallery before taking a stroll in the park grounds. Both the museum building and the grounds are stunning in themselves so Kadriorg is well worth a visit, and it's a beautiful place to see in the sun.
The Kadriord Art Gallery is housed in a Baroque palace that was a gift from the tsar Peter the First to his wife, Catherine. Inside, the building itself is a work of art with ceiling murals, sculptures and intricate detailing throughout. The collections include pieces from Estonian artists as well as many other European painters and features regular changing exhibitions.
After this, travel back over to Old Town to spend the rest of your day enjoying the sites that you missed yesterday.
Alexander Nevsky Cathedral
The Alexander Nevsky Cathedral is one of the most breath-taking buildings in the city of Tallinn, built with a domed Russian Revival style. The orthodox cathedral is relatively new by Tallinn standards, being built between 1884 and 1900. At this time, the country was ruled by the Russian Empire and the Alexander Nevsky Cathedral therefore stands as a strong reminder of this period.
Danish King's Garden
Another of Tallinn's sites with foreign influence is the Danish King's Garden close to Toompea. This is said to be the spot where a (now Danish) flag descended from the sky during a battle as part of the Danish invasion. You can learn more about the legend of the flag while in the gardens, witnessing the information boards and Tuli lipp ('The Flag Descended') sculpture dedicated to the event.
St Olaf's Church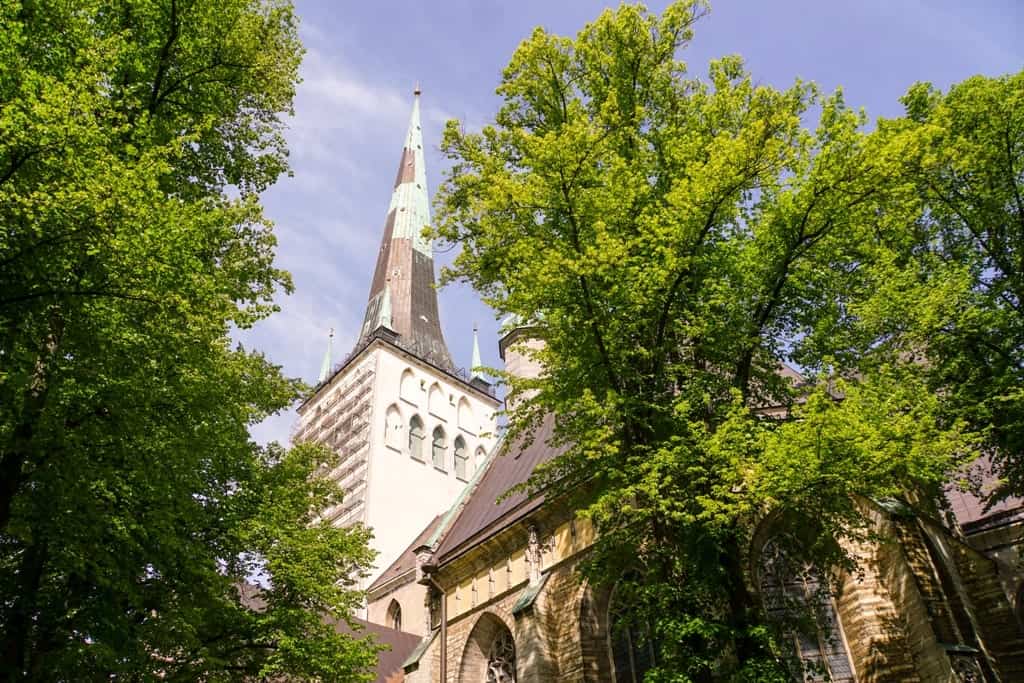 St Olaf's Church in Tallinn is a grand, medieval structure that has been through its fair share of historical strife in the way of lightning strikes and fires! The tower of St Olaf's Church is thought to have been struck by lightning over 10 times, three of which caused extensive fires and damage. Visitors can now climb to the top of the tower for an astounding view of the city.
KGB Museum at Hotel Viru
An alternative site to visit in Tallinn is the KGB Museum at Hotel Viru. This hotel hosted both foreign guests as well as secret KGB employees making for an interesting history indeed. The staff here can give you a short but insightful tour which is a fascinating way to spend an afternoon.
Enjoy a farm to table dining experience at the Leib
If you have time to enjoy one last meal before catching your flight home, you might want to try a farm to table dining experience at the Leib. The team here absolute love food, fresh produce and creating mouth-watering menus. The chef here works one-on-one with sommeliers and farmers to produce an array of dishes and pairings using local, seasonal ingredients. This will truly give you a taste of Estonia and will be a meal you won't forget in a hurry!
Address: Uus 31, 10111 Tallinn, Estonia
Where to stay in Tallinn
The St. Petersbourg Hotel in Tallinn is one of the amazing Small Luxury Hotels of the World, with spectacular interiors, charming staff and excellent facilities, not to mention it's the oldest hotel in the city! This boutique, five-star hotel is situated in the heart of old town, which is ideal for a weekend break, and even if you don't fancy leaving the hotel you have all the creature comforts of home and more within your room such as an iPad, TV, bathrobes and slippers!
Click here for more information and to check availability.
The Merchants House Hotel is another great, central hotel with grand rooms and quirky features like claw-footed, freestanding, roll-topped baths and elegant leather armchairs. Merchants House Hotel offer a range of modern and historic rooms so you can choose one that suits your style. A breakfast buffet is served each day which is the perfect way to start your weekend of exploration.
Click here for more information and to check availability.
I was a guest of Visit Estonia, but as always opinions are my own.
Disclaimer: This post contains affiliate links. This means that should you click on certain links, and then subsequently purchase a product, I will receive a small commission. It costs nothing extra to you but helps keep my site running. Thank you for supporting me in this way.