Europe is my favorite continent. It is full of historical sites, medieval towns, beach resorts, incredible nature and fantastic food. There are so many nice towns in Europe perfect for a romantic getaway. On this post, 33 travel bloggers share the most romantic places in Europe. If you are looking for a trip with your other half keep reading for some inspiration.
34 Romantic places in Europe recommended by travel bloggers
1. Castle Wernberg, Germany
contributed by Jim and Corinne of Reflections Enroute
No matter what time of year or what occasion you want to celebrate, Castle Wernberg is one of the most romantic places in all of Germany. Eating and sleeping in a real castle, complete with moat made us feel like royalty. From the moment we stepped across the bridge and entered the courtyard, we were pampered.
There are two restaurants, a spa, and beautiful stone-walled bedrooms to enjoy. We took a cooking lesson from their famous 2-star Michelin chef and then indulged in an amazing four-course dinner. If you've always dreamed of being treated like a king or queen, this experience is for you.
2. Montreux, Switzerland
contributed by Arzo of Arzo Travels
While Switzerland has many cute towns and cities that are somehow romantic, one of the most romantic places is a little town called Montreux, located at the shores of Lake Geneva.
While I cannot say that Montreux has trillion of amazing romantic restaurants it has one thing that makes the places incredible romantic and which no other place has in Switzerland: The most beautiful promenade. 
The promenade is special as there is no other place that is so beautifully decorated with flowers, which come in all different colors and shapes, as the promenade of Montreux – it seems this place is made for romantic strolls while looking at Lake Geneva and the mountains.
Strolling along the promenade during the day or at sunset/sunrise is one of the most romantic things you can do. Many benches along the way will allow you to sit down and have a wonderful chat – great views always guarenteed.
And I would not be surprised to hear that one or the other has proposed to its partner – right there, at the promenade.
3. Algarve, Portugal
contributed by Tom of TravelTomTom

If you are looking for the most amazing coastline in Europe then head to the south of Portugal. The high cliffs and endless small hidden beaches of the Algarve will amaze you and your lover for sure. This beautiful region is perfect for a van trip and watching the sunset from out of the back of your van parked somewhere deserted in the dunes is hard to beat. With a van you can drive from one romantic little beach to the other the next day.
Most beaches have stairs leading down from the surrounding high cliffs and some can only be reached by boat or after a little swim. The sunsets are amazing, but so are the sunrises if you are an early riser and good weather in summer is guaranteed. Another great thing about the Algarve is that is has a couple beautiful cute little towns, like Tavira and Sagres and prices are very moderate compared to other European destinations.
4. Ljubljana, Slovenia
contributed by Rashmi and Chalukya from GOBeyondBounds

Ljubljana
the capital city of Slovenia is a charming city in eastern Europe. The city though small, is packed with historical buildings and several iconic bridges spanning the Ljubljanica River that separates the old town from the newer part of the city.
As you walk the bridge into the old town it's like a time warp, there are several historical buildings, monuments, and a great marketplace and above all this, dominating the city skyline is the Ljubljana Castle. The Ljubljanica River is lined with cafes, restaurants, patisseries, bakeries, gelato shops and much more with outdoor seating and light music in the background.
The Ljubljanica riverside promenade is a lovely place for romantic evenings where you can enjoy the golden reflection of the illuminated city in the calm waters of Ljubljanica and watch as the world goes by. You can even take a day trip to one of the beautiful lakes of Slovenia the Lake Bled or to the coastal town of Piran and Portoroz.
5. Tuscany, Italy
contributed by Jeremy and Kate of Our Escape Clause
Rolling green hills, ancient cities, and one of the best wine regions in the world–there is no limit to the number of romantic places to visit in Tuscany.
If you visit with your beloved, be sure to wander through classic Tuscan towns such as San Gimignano, Lucca, and Siena, to indulge in pasta and gelato together every single day, and to admire artistic masterpieces and stunning architecture throughout the region.
Of course, no romantic trip to Tuscany could overlook Florence: easily one of the most romantic cities in the world, be sure that you and your partner take time to explore Florence's markets, climb to the top of the Duomo, and watch the sunset from Piazzale Michelangelo.
As for the Tuscan countryside, there are plenty of ways to explore it–but we're partial to exploring either by horseback or classic Vespa!
Be sure to follow up with a private wine tasting at a vineyard afterward–after a couple of glasses of Chianti Classico, we can virtually guarantee that you will be tempted to ship home not only a few bottles of wine, but some local olive oil, truffle oil, and balsamic vinaigrette for you and your love to remember your trip to Tuscany by!
6. Berlin, Germany
contributed by Stefan and Sebastien of Nomadic Boys
We love Berlin. It's one of our favourite destinations in Europe. It's also a very romantic destination for couples. As a gay couple we felt particularly welcome and safe in Berlin because it's such a lax, liberal and extremely forward thinking city.
Some of our favourite romantic things to do in Berlin include watching a classical show at the Charlottenburg palace with dinner, climbing the Fernsehturm Berlin TV Tower at Alexanderplatz and having a romantic drink there at sunset, checking out a show at the Friedrichstadt-Palast famous Theatre and our favourite, walking around the city.
There are many world famous sites here, which you can reach on foot or by bike. A few must-not-miss favourites of ours include the Brandenberg Gate- a symbol of the reunification, the East Side Gallery on Mühlenstrasse in the Kreuzberg area, which is focal point for memories of the former Berlin Wall, and the area around the Reichstag.
7. Cagliari, Italy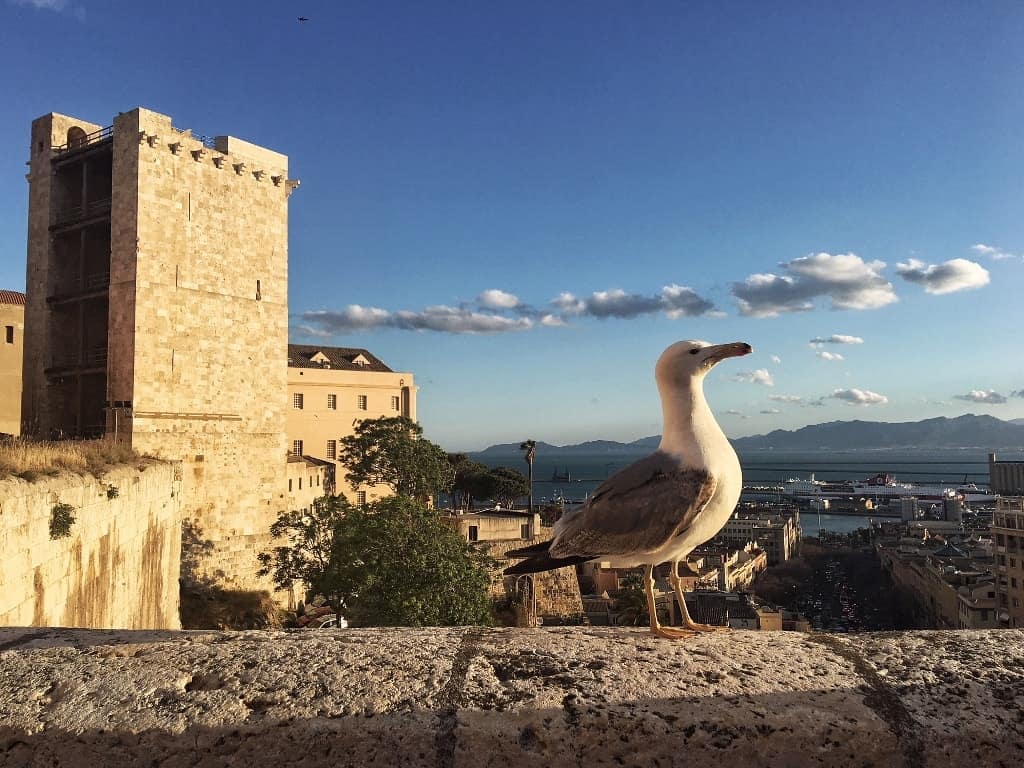 contributed by Claudia of My Adventures Across The World
Not many people have acknowledged that, but Cagliari is one of the most romantic cities in Italy. Located on the hills and overlooking the gorgeous Mediterranean sea, Cagliari is packed with lookout points from where it is possible to catch amazing sunset and sunrise views.
A mere urban hike grants a splendid sight over Poetto beach, which, by the way, is a lovely beach to go for a walk in any season. There are many lovely restaurants and cozy cafés and wine bars around town. There, it's possible to enjoy a glass of wine and a fabulous meal with music played in the background and cozy lightning.
The top choice is Ristorante Lo Scoglio, which offers seafood and fish dishes cooked to perfection and has a fantastic terrace overlooking the Gulf of Cagliari.
8. Sintra, Portugal
contributed by Gina and Zeke of Jet Set and Forget

One of the most romantic destinations in Europe is Sintra, Portugal. Located 45 minutes north of Lisbon, this city has a collection of 19th century Romantic architectural monuments and is surrounded by mountains that dip down towards the coastline of Portugal.
It is the perfect city to visit either day or night, or you can spend an entire weekend exploring the different areas. Not only can you see historic sites dripping in Portuguese history, but the coastline of Sintra is the most westernmost point of Europe.
You can embrace your loved one overlooking the Atlantic Ocean; share a Pasteis de Nata after your lunch at Quinta da Regaleira; and finish off the day watching the sunset from the colorful Pena Palace.
If you are so lucky to attend a wedding in Sintra, you will not be disappointed. They have an ample collection of wedding venues that will leave you breathless. If you have yet to fall in love with Portugal, this city will be sure to make that happen!
9. Sveti Stefan, Montenegro
contributed by Alexis and Bertaut of World Travel Adventurers
Sveti Stefan is a tiny islet in Montenegro and one of the most romantic places we've ever visited. It's rich history dates back to the 15th century, when it was a fortified village built to defend against the Turks. It became a haven for pirates of the Adriatic Sea and later a playground for the rich and famous in the 1970's.
Now it is home to the exquisite Aman Sveti Stefan resort, which has restored its old world charm and romance. Sveti Stefan is only accessible to guests of the Aman resort, so you feel like you have the entire islet to yourselves. You can walk with your lover down cobbled lanes surrounded by ancient walls crawling with ivy. Enjoy complimentary wine tasting in a candle-lit courtyard.
Peer out at the dazzling blue Adriatic Sea from the pool terrace. Cuddle up in one of the cozy seating areas overlooking the pink sand beaches and stunning sea. Indulge in a couples massage and then relax the day away on the resort's private Queen's Beach, where Queen Marija of Serbia spent her summers in the 20th century. However you spend your time at Sveti Stefan, it's guaranteed to be romantic!
10. Saint Petersburg, Russia
contributed by Yulia of The Foodie Miles
The city on Neva River as Russians refer to Saint Petersburg is, hands down, the most romantic city in the whole country. Its architectural style is so drastically different from other uniform Russian cities built during Soviet era, that falling in love with Saint Petersburg is really the only option one has.
From its many canals to gorgeous castles and palaces to fountains, every corner in the cultural capital of Russia is overflowing with luxury, opulence, and grandeur. For a perfect romantic getaway you can take a boat through canals, plan a visit to one of the palaces, or, my personal favorite, watch the bridges open at night for cargo ships to pass by at night. Check the timetable beforehand and make sure you are on the right side or you are risking not being able to get home until the morning, when the bridges close back down.
By the way, if you are traveling to Saint Petersburg in June, you'll be able to experience white nights, and what can be more romantic than wandering around a city as majestic as Saint Petersburg till the wee hours of the morning in broad day light?
11. Malta
contributed by Charlie & Kristina of Map Trotting
Thinking of soulful sunsets and romantic cruises in the Mediterranean? Then head over to the tiny island of Malta.
Hugged by the rugged coastline, surrounded by azure seas, this rocky isle is still off the radar of most travellers. Located between Sicily and the North African coast, Malta can be a little rough around the edges but very warm in both climate and local attitude.
From top class restaurants to sunset boat trips in the Mediterranean sea, Malta can offer a great romantic getaway at any time of year.
Whether you are looking for a lazy day in the sun, sunset stroll along the rocky coastline, a BBQ on the beach or an active afternoon in the sea, you can have it all in Malta.
How about hopping on a private chartered boat and being whisked away to Malta's sister islands of Comino and Gozo for a wander? All while swimming and snorkelling in crystal clear Blue Lagoon and exploring spooky caves. Let's not forget a romantic lunch aboard with a glass of bubbly.
12. Budapest, Hungary
contributed by Rob and Taiss of Together to Wherever
Budapest, Hungary, is just oozing with romance. Not only are there lots of romantic things to do in this beautiful city, but there's something in the vibe it gives off that just makes you want to get close and cuddly with your other half. If the striking architecture doesn't do it for you then the breathtaking, dramatic views all around should do the trick. Or, maybe, some steamy baths will ignite that spark!
Strolling along the Danube, with the breeze whisking through your hard and the sun's rays dancing on the water, you're sure to be swept away by the charming views across the river. That same enchantment continues as you walk over The Chain Bridge or even take an evening dinner cruise down this shimmering waterway.
For the most dreamy views of Budapest, take your partner up to the Citadel. Enjoy some mulled wine or chimney cake with ice cream (depending on the season) and gaze out, hand in hand, over the sweeping landscape. Alternatively, for the ultimate relaxing time together, you can get flirty at the thermal baths. The steam rooms may get you all "hot and bothered" so make sure to get the VIP package if you go to the  Széchenyi Thermal Baths and enjoy some alone time on the hammocks upstairs.
You just can't go wrong with romance in Budapest!
13. Verona, Italy
contributed by Randi and Michael of Just a Pack
Verona's romantic charm lies in its winding knot of streets, its many piazzas and the incredible art and architecture that surrounds you wherever you look. And, of course, the mouth-watering Italian food. After all, what's more romantic than pizza and gelato?
You're probably familiar with the line "In fair Verona, where we lay our scene" from everyone's favourite Shakespearean tragedy Romeo and Juliet. It's set in Verona, and if you truly want to embrace your inner romantic, bring along a love lock for you and your s/o to attach to the gate outside Juliet's house (Casa di Giulietta).
Verona, like many Italian cities, is inherently romantic regardless of its Shakespearean associations. Historical and artistic heritage alone give Verona a dreamy atmosphere that embodies the timelessness of love; a modern day Renaissance romance.
Classically Italian terracotta buildings, shutters open and vines creeping up the walls, line the cobbled streets. By exploring these streets you'll happen upon secret gardens, hidden churches and stunning sculptures that will leave you feeling inspired by the beauty of the world.
Wandering the maze of streets aimlessly (hand in hand, of course) is a great way to discover a cute little trattoria to share a bowl of spaghetti, like those adorable dogs in "Lady and the Tramp".  Veronas 1st century amphitheatre is a perfect romantic spot to enjoy an evening opera performance, all the while marvelling at how many people have stood there before you. Afterwards, a walk along the Castelvecchio bridge, watching the sun set over the Adige River, is a great way to end a blissfully romantic day.
14. Chamonix, France
contributed by Delphine of LesterLost

Where do you find ideas for dates? When you travel as a couple, do you do anything that counts as a date? In my view, some travel destinations are incredibly romantic and don't need the usual things associated with dating such as flowers or a new outfit…
My husband and I visited the Aiguille du Midi in Chamonix, France. Located in the French Alps, the Aiguille du Midi stands at 3,842m and is the closest you can get to the Mont-Blanc, the highest peak in Europe. Incredibly, the mountain top is built with viewing platforms, restaurants, a shop and even a museum. You access the Aiguille du Midi through a cable-car and for a few hours, you can wander at very high altitude and admire the most beautiful beautiful panorama in the Alps. The grandeur and mystery of the mountains, with their sharp edges and eternal snow is a moving spectacle, and the perfect place to quietly reflect on the beauty of nature with your partner.
The most thrilling and romantic moment of my visit was the "Step in the Void", where we stood in a glass cage, facing the Mont-Blanc in all its majesty. The instant was slightly overwhelming, because we were standing above the void, but also because holding hands made it very special.
15. Lisbon, Portugal
contributed by James of Worldwide Shopping Guide
While many people think of Paris when they think of romantic city, for me Lisbon is Europe's most romantic city. Stretched out over seven hills, the city is perfect for strolling around leisurely. Look out for miradouros, which literally translate as 'golden views.' These are spots around the city which have exceptional views: perfect places to stop, relax, and take a photograph together.
If you need a little sustenance to keep you going as you explore Lisbon's sights, stop into one of the thousands of little cafes dotted around the city for a bica (espresso) and a pastel de nata. Although Pastéis de Belém claim to have the most original recipe, there are plenty of other pastelarias and cafes that are making equally good (if not better) Portuguese custard tarts.
Finally, after a romantic seafood dinner, take in a fado show. Fado is a traditional Portuguese style of music that's incredibly soulful and passionate, and an essential experience when you're in Lisbon for a romantic break.
16. London, England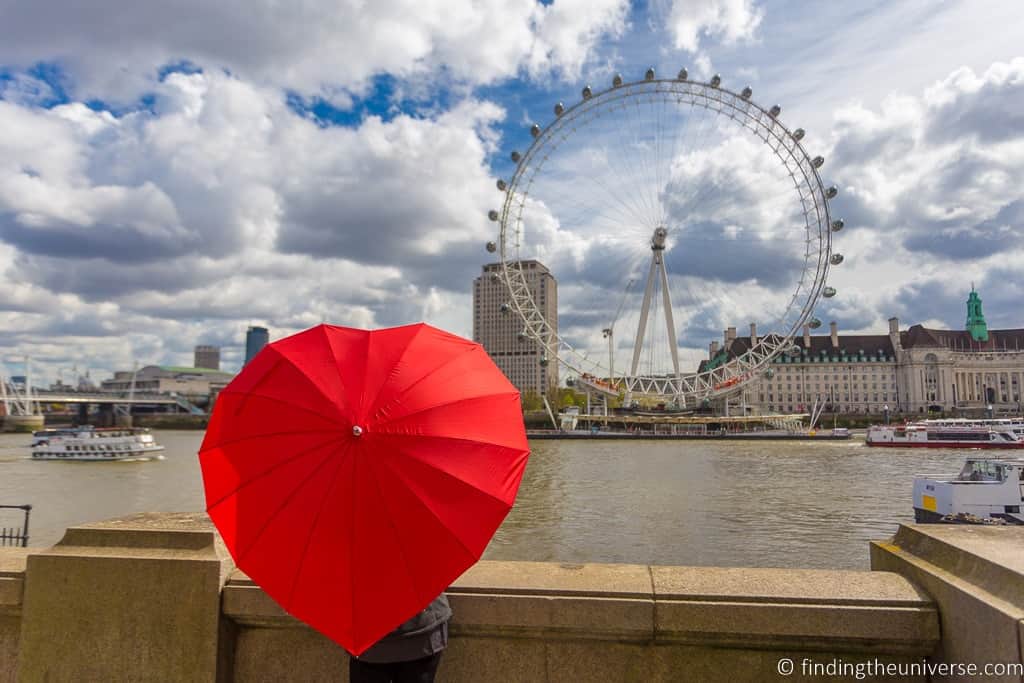 contributed by Laurence of Finding the Universe

I think London is one of the most romantic cities in Europe. The city just lends itself to romantic activities, if you're willing to put a bit of effort in. It's hard to beat watching the sunset over the city skyline from Primrose Hill, or wandering through Hampstead Heath, arm in arm with your significant other, or just picnicking in Hyde Park on a lazy summer afternoon.
I also love to explore London's south bank with my wife, in winter time especially, when the temperatures drop and you need hot roasted chestnuts from the vendors to keep warm as you wend your way between the light festooned trees.
This is without even mentioning all the romantic restaurants you can dine at, the extensive selection of theaters to visit and all the little old streets you can explore with your partner. Truly, romance is definitely to be found in the UK's capital! For more ideas on visiting London, check out my two day London itinerary for inspiration.
17. Capri, Italy
contributed by Katy of Untold Morsels
If you feel the pull of the sea, then Capri is one of the romantic places in the world. This small island
in the Bay of Naples, off the Italian mainland, has inspired myths and legends, poets and artists over
the centuries. The beautiful Sirens are said to have lured seafarers to their deaths on its rocky shores and the Roman
Emperor Tiberius built a beautiful villa high above the sparkling blue seas.
When you visit, hire a traditional gozzo boat and skipper for an intimate tour of the island by sea. The
dramatic shoreline holds many treasures including the famous Blue Grotto and Faraglioni rock formations.
Your captain will remind you to kiss your loved one as you pass through the middle of the Faraglione di
Mezzo – it's good luck!
On shore, explore the beautiful Gardens of Augustus with sweeping views of the coastline. Then relax in one of the
many glamorous bars and restaurants overlooking the sea and wait for an incredible Capri sunset.
18. Marianske Lazne, Czech Republic
contributed by Elena of Passion for Hospitality
Marianske Lazne is a famous spa town in Karlovy Vary Region of Czech Republic. During the Golden Era, during the second part of the 19th century celebrities, members of Royal families and European rulers would flock here to indulge in its curative carbon dioxide springs.
The town with its neoclassical buildings and pavilions, famous springs and vast natural beauty is an ideal place for a romantic escape. Marianske Lazne is a utopia for outdoor adventure enthusiasts offering majestic views, a ski resort, wildlife, numerous hiking and biking trails and a 18 holes Royal Golf Club Marienbad which was inaugurated from the very beginning by HM King Edward VII.
For an ultimate romantic holiday, escape to the luxurious
Rubezahl Marienbad
Luxury Historical Castle Hotel & Golf set on a hill overlooking the lush Slavkovsky forest. Grand staircases, lavish interiors, plush fabrics and a fairytale setting are just a few of the reasons why you will feel and be treated like royalty. On the grounds of this luxury castle hotel you will also meet the renowned folkloric character Rübezahl — his 3.5 meter granite statue is one of the highlights of the region.
This legendary creature would often disguise himself as a frog, a wolf, a monk or an old grandmother. Those who would come across his path and treat him with kindness, in return would be bless with good health and abundance. Those who would treat him badly would call disaster upon themselves. If you succeed in hopping on one leg 5 times around the statue, you can then make your wish and hope that Rübezahl will grant it. Are you ready for a fairy tale escape to Marianske Lazne?
19. Český Krumlov, Czech Republic
contributed by Natalie of Love & Road
When it comes to romance Český Krumlov is the perfect travel destination in Europe. This tiny picturesque town is perfect for lovers who want to enjoy charming hotels, stunning medieval architecture, art, delicious food and beer. There are many
things to do in Český Krumlov
and a romantic tour must include a walk through the old town cobblestone alleys, a boat tour at the Vltava River with a delicious South Moravian Czech wine, a visit to the castle and a late afternoon climbing to the castle tower.
The Český Krumlov Medieval and Renaissance architecture make this fairytale city an ultimate travel destination in the Czech Republic and although the city is usually packed during the day, it's after sunset that you can really enjoy its mystery and romance. Most of the travelers visit Český Krumlov as a day trip from Prague, so during night time you and your loved one can have the beautiful old square and castle gardens only for yourselves. Book a table at one of the local restaurants or at the town's brewery and enjoy a hearty dinner served with delicious Czech beer and celebrated with love.
20. Glen Coe in Scotland
contributed by Kathi from Watch Me See
Glen Coe has has been a popular destination long before it served as a film location in James Bond's Skyfall. But the valley is not just an isolated hideout for Bond and M, but it's also a perfect romantic getaway if you run from something a little less scary than the world's villains – city life.
On a cold but sunny winter weekend, my partner and I found ourselves on the scenic drive from Glasgow to Glen Coe. It only takes around 2 hours to get there, but there are so many photogenic stops on the way, that we turn the road trip into our first romantic duty of the weekend. In winter we are almost alone on the road and have every viewpoint to ourselves.
Accompanied by the snowy peaks of Glen Coe, we finally reach our romantic cabin. We light a fire and open a bottle of wine. Together we curl up on the sofa and dream about what the valley holds for us the next day!
PS: One of my favourite romantic things to do, it to try something new together. Near Glen Coe, at the Nevis Range, you can rent snowshoes, pretend you're in a Mariah Carey video and explore the snowy sloped of the Highlands together!
21. Loire Valley, France 
contributed by Jessica of Independent Travel Cats
The Loire Valley is located in north central France and is a perfect place for a romantic getaway. The area is often referred to as the "Garden of France" because it is a major agricultural region of France with lots of vineyards, orchards, and farms, which are irrigated by the Loire River. It is best known by tourists as an area with loads of castles, with hundreds of castles having been built in the past within this region.
Today, existing castles open to the public range from ruins to medieval fortresses to beautiful fairytale looking castles. We have personally visited over a dozen of the
Loire Valley chateaux
, and each is unique so it is easy to find a castle of interest to almost any visitor.
Couples can even spend the night in some castles for an even more romantic stay in the area. In addition to the castles, couples can also go wine tasting, visit a number of historical towns such as Amboise and Tours, go canoeing on the river, rent a bike, and sample the many local gastronomical delights from this region.
22. Rome, Italy
contributed by Andra of Our World to Wander
When I think of romantic places in Europe, my bets are on Rome! Because yes, I actually feel the romance floating in the air each time I visit it. Perhaps you wonder what makes it so special. I would say it's a mix. A mix of its amazing Roman architecture, delicious food with accompanying wines and proseccos, narrow streets in quaint neighborhoods and the piazzas filled with musicians.
If you want to have the perfect romantic day, you might want to try some of Rome's magical spots. You can start by roaming around the piazzas, don't miss Piazza di Spagna, Piazza Navona or Campo de' Fiori. I would recommend walking, but you can also rent a Vespa and feel like a true Italian. Enjoy a glass of wine in any of these places and then head to the charming neighborhood of Trastevere. Here you can try some delicious pizzas at one of the restaurants hidden in the narrow streets.
You can end your day by grabbing some Tiramisu and enjoying it at the iconic Fontana di Trevi, the famous fountain. In the evening it gets lit up and it's the perfect place to rest and bathe in the street vibes.
23. Seville, Spain
contributed by Addie of Addie Abroad
There is just something incredibly romantic about the south of Spain, and Seville, as the capital of Andalusia, embodies this romanticism perfectly. From the narrow streets of the old town to the millions of courtyards in the Real Alcazar, Seville is one of the best places in Europe to wander hand in hand with your partner.
Seville has something for every kind of romantic, as well. If you want to get super cliched, rent a rowboat at the Plaza de España and row around for an hour or book tickets for an intimate flamenco show. If you're looking for something a bit more alternative, walk across the bridge to Triana, the traditional home of the flamenco dancers, and go ceramics shopping, or go up to the roof of the Metropol Parasol (known by the locals as "the Mushrooms") to catch the sunset. Oh, and don't forget about ALL the tapas you can eat while you're there.
24. Tbilisi, Georgia
contributed by Margherita of The Crowded Planet
I think Tbilisi is definitely one of a kind. The capital of Georgia (the country) is probably the only place in the world where you can enjoy sulphur baths 24-7, where you can go to a techno club in a Soviet swimming pool and where you can enjoy the oldest winemaking culture in the world.
If you are visiting with your significant other, there are so many things to do in Tbilisi – you can hike hand in hand to Narikala fortress or Mtsaminda Park, from where you can enjoy great views over the city, or you can get lost in the narrow lanes of the Old City, finishing with a relaxing walk around the Botanic Gardens. Ah, and did you know that Georgian food is amazing? Eating out is always fun in Tbilisi! My favourite place is Bina 37, a secret restaurant on the 7th floor with a rooftop winery!
25. Santorini, Greece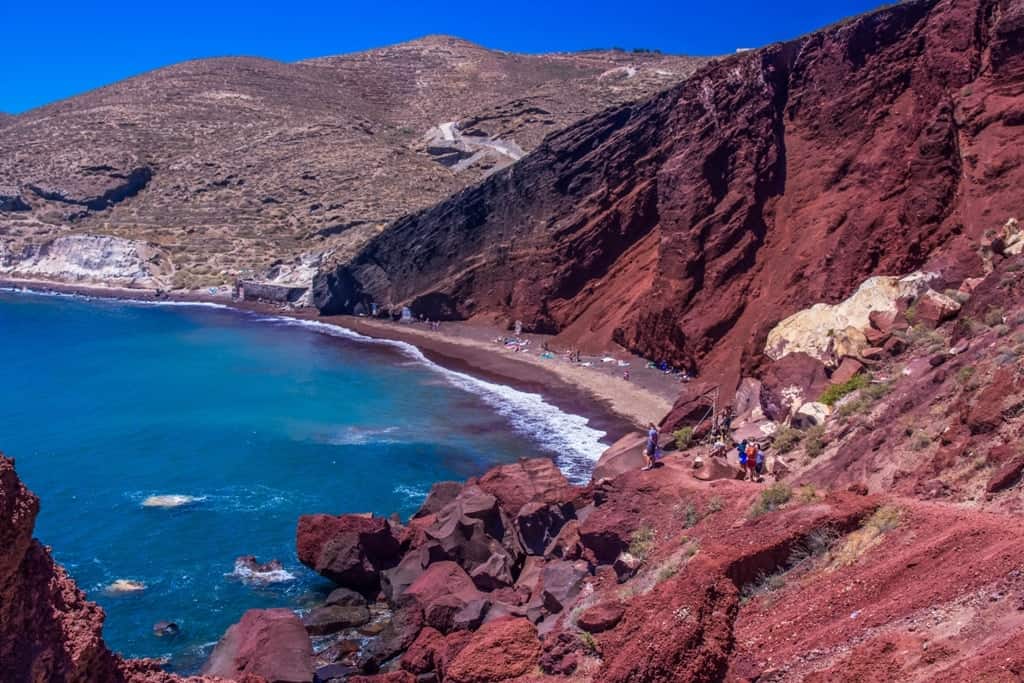 contributed by Jennifer of World on a Whim
Santorini, Greece is one of the world's most popular honeymoon destinations and as such is geared toward any and all things romantic. Daily activities include watching the sunrise from your cave house while breakfast is served to you on a private balcony and riding a vespa around the island until you eventually reach one of it's many unique beaches like the red beach, Akrotiri.
Plan on having an incredibly romantic meal on a cliffside under candlelight because you will have just watched one of the world's most epic sunsets and are hungry for some feta cheese and baklava. Cap off the evening soaking in a hot tub overlooking the caldera.
You just may be drinking a bottle of wine that you brought back from a local winery after a wine tasting excursion you went to earlier in the day. Sleep and repeat and meander through the charming streets while enjoying the uninterrupted ocean views with your significant other for the duration of your time on Santorini. Romantic? I think so!
26. Paris, France
contributed by Maggie of Mags On The Move
You can't talk about romantic spots in Europe without mentioning Paris. It's the OG romantic European city! Yes it's cliche, but Paris has earned its reputation as the city of love, after all it's been the setting for countless love songs, books and romantic comedies. Where else can you live out your teenage rom-com fantasies with the Eiffle Tower as a
backdrop (Vegas doesn't count!)?
There's plenty to make you feel all lovey-dovey in Paris, after all it's home to the best food in the world, incredible wines, Notre Dame, the Louvre, and just so much gold leaf, but my favorite spot in Paris is Montmartre. It's location on a hilltop outside of the city hustle and bustle in the 18th arrondissement makes it perfect for a private stroll with that special someone looking down on all of the city. Montmartre is most known as a bohemian epicenter, attracting artist and lovers for over a century.
If it's good enough for Picasso and Van Gogh, it's good enough for me! Montmartre also boasts the only winery in within Paris city limits, The Clos Montmartre, and the winner of the Best Baguette in Paris Grand Prix 2015 (yes, that's a real thing!), LeGrenier à Pain Abbesses. After all, what's more romantic than art, wine, and bread?
27. Sighnaghi, Georgia
contributed by Emily of Wander-Lush
Located in Republic of Georgia's fertile Kakheti region at the foot of the Greater Caucasus mountains, the red-roofed town of Sighnaghi has a well-earned reputation as Georgia's 'city of love'.
Along with neighbouring Armenia, Georgia is the cradle of modern viniculture and has a winemaking tradition that dates back tothe Neolithic period. In Kakheti, the centuries-old method of fermenting whole grapes—stems, seeds, skins and all—in earth enware qvevris still prevails.
Hire a driver and spend the weekend hopping between Kakheti's wineries. Raise a glass of the region's signature Saperavi at Pheasant's Tears, Kindzmarauli and Khareba—all popular cellar doors. Kakheti's churches and fortresses hark back to a history of kingdoms, conquests and love affairs. Gremi and Nekresi Monastery are both perched high on mountainsides and offer quixotic views of the countryside.
A family-run guesthouse in the heart of Sighnaghi is the best place to base yourself for a romantic weekend. Enclosed by a stone wall that dates back to the 1700s, Sighnaghi is straight out of a picture book. It's no wonder this is the wedding capital of Georgia—every weekend,the cobbled streets come alive with a procession of bridalparties, honking their way through town for good luck.
28. Ortigia, Sicily, Italy
contributed by David of Delve into Europe
The island of Ortigia is the ancient core of the ancient Greek city of Syracuse, once the most powerful city in the ancient world.
It's only across a short bridge from modern Syracuse (Siracusa in Italian) and mainland Sicily, but it feels a world apart, as if you're stepping back in time to another world.
Many of the buildings on Ortigia date from the 18th century, and we loved to wander the narrow backstreets lined with romantic old houses, stopping by at some of the trattoria to eat at the tables outside.
We also loved to stroll along the seafront on the west side of the island, enjoying the balmy late spring evenings and the light breeze from the Tyrrhenian Sea.
But for us the highlight of Ortigia was the gorgeous Piazza del Duomo, one of the most beautiful squares we have visited in the world. We made sure we stopped by for a gelato and coffee every evening, always with a prime view of the stunning Baroque façade of the cathedral which was built around the original Greek temple.
29. Girona, Spain
contributed by Ling & Guy from Travel-Ling
Less than an hour from Barcelona, Girona is a wonderful place to ignite some romance. Between the ambient medieval city centre, to the colourful apartments that sit precariously over the river, Girona has an undeniably romantic charm.
There is a unique vibe to Girona – modern, yet historical. Stroll hand in hand with your loved one through the Old Quarter (Barri Vell) and admire the mixture of Baroque and Romanesque architecture whilst enjoying a delicious coffee from one of the trendy cafes. Or cross the Eiffel Bridge over the Onyar River to share a sweet ice-cream from the famously whimsical ice-cream parlour Rocambolesc.
In fact, any of the bridges along the Onyar River provide the perfect place to stop and share a sweet kiss in between gazing at the colourful reflections of the apartments. And for the ultimate candlelit romantic meal, grab yourselves a sought-after table on the steps of Pujada de Sant Domènec at Le Bistrot. Girona is also the gateway to spectacular beaches and other fairytale medieval villages that are the perfect setting to fall in love.
30. Luxembourg
contributed by Kathryn of BoutiqueTravelBlog.com

Known as the green heart of Europe thanks to its many parks and green spaces, Luxembourg city may be one of Europe's smallest capitals, but it is also one of it's most beautiful and interesting. The city's Old Quarter, which is listed as a UNESCO World Heritage site, is a must see and a fabulous area to explore on foot, but I also loved the modern architecture of the Kirchberg financial district.
With a population coming from over 150 different nations it's no surprise that the city has an eclectic culture with fabulous museums and art galleries and a superb culinary scene with cuisines from around the world well represented. If you want to try a local dish go to Am Tiirmschen (32 Rue de l'Eau, Luxembourg City 1449) for their kniddelen (dumplings) with smoked bacon and cream. And be sure to also try the sparkling wine of the Moselle Valley or the local cider, Ramborn.
If you get the chance, hire a car, and get out into the beautiful countryside and visit one or two of the country's stunning fairytale castles such as Vianden or Bourscheid, both of which are surrounded by dense green forests — the perfect setting for a day spent walking and admiring Luxembourg's natural beauty.
31. Rhodope Mountains, Bulgaria
contributed by Stephanie of History Fan Girl
When I think of a dreamy romantic getaway, I don't think of flower strewn footpaths or cafes stuffed with candles (although both are lovely). Rather, I tend to think of something a little windier, wilder. Something out of a Jane Austin novel or ripped from the pages of Wurthering Heights. The Rhodope Mountains in southern Bulgaria have that wind-tossed romantic feel straight out of a 19th century novel.
However, because it's in Bulgaria, you don't lose out on the roses! Bulgaria is famous for it's rose oil, and after hiking to the local waterfall or photographing some rain-soaked horses, you can go back to your (extremely budget-friendly) spa hotel and get scrubbed head to toe with a rose oil scrub before joining your date for a romantic dinner.
Make sure to enjoy some local wine with your dinner. Known for delicious roses , you can sip to your heart's content since the bottle will cost half of what it would in western Europe.
32. Porto Cervo, Sardinia, Italy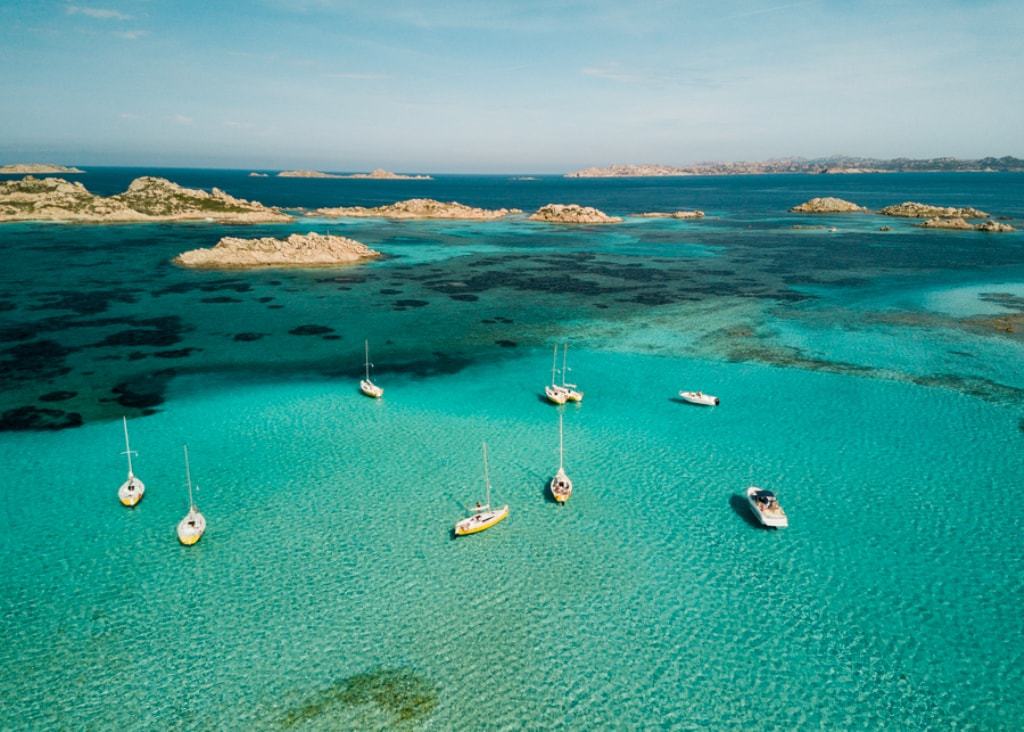 contributed by Collette of Roamaroo.com
Located on the Costa Smeralda or Emerald Coast of Sardinia, Porto Cervo is a picture perfect paradise for lovers. This enchanting destination has been a summer favorite of yachtsmen and sailors, but it's also one of the most romantic destinations in all of the Mediterranean. With its crystal clear waters,5-star hotels, and gourmet foodie scene, Porto Cervo is the ultimate romantic destination for lovers.
A vacation to Porto Cervo should start at one of its various luxury hotels such as Petra Segreta, the Cervo Hotel, Colonna Pevero, or Cala di Volpe. These hotels cater to the jet set glitterati and are all completely 5-star. For fine dining, indulge your senses at one of its various gourmet restaurants such as Petra Segreta or Spinnaker restaurant. For activities, lovers should rent a boat and head to La Maddalena archipelago, a group of 7 islands nestled between Sardinia and Corsica. While on the boat, lovers can island hop to famed beaches such as The Lagoon, Tahiti, and Spiaggia Testa di Polpo. Finish off a romantic getaway to Porto Cervo by dancing the night away at the world-renowned super club, Billionaire.
33. Castles in Germany
contributed by Hannah and Adam from Getting Stamped
One of the most romantic places in Europe are the
castles in Germany
. My husband and I just returned from a weeklong road trip where we visited castle after castle. There are over 20,000 castles in Germany and even several you can spend the night in. In the castle in the above picture, we were able to spend the night in. There are several castles rooms on Airbnb, that is where we the three we stayed in.
It's like a fairytale and every girls dream to feel like a princess. Our top 4 castles are Eltz, Neuschwanstein, Cochem, and Hohenzollern. We personally love road trips where we just have the freedom to go and stop anywhere. Along the Romantic Road you there will be tons of castles to pull off and visit. We also suggest packing a little picnic with and enjoying a glass of wine with a view of a castle. We can't wait to go back to Germany to explore even more.
34. Harry Potter steam train, Scotland
What could be more romantic than taking a trip on what has been described as one of the greatest railways in the world – the 84-mile journey through the Scottish Highlands on the iconic 'Harry Potter' steam locomotive.
This is the same train that puffed its way across an enigmatic multi-arched bridge as it took the young wizard to Hogwarts, and in my opinion the view from the top of that bridge is by far the most beautiful in Scotland.
The bridge (in reality the Glenfinnan viaduct) sweeps around the spectactularly pretty shores of Loch Shiel in the picturesque village of Glenfinnan, where mountains rise up on either side and a lonely monument stands guard on its tranquil shore.
For the ultimate romantic gesture I recommend relaxing in one of the nostalgic carriages and gazing out the window as the landscape swooshes past – preferably with a glass of champagne in hand.
It's a truly unique experience and one that your partner will definitely thank you for.
These are the most romantic places in Europe according to Travel Bloggers. Have you been to any? Which on eis your favorite?