The United States of America is such a vast and varied country, with coastline on the Pacific, Atlantic, and Arctic oceans that it's no wonder it's a difficult task choosing which are the best beach spots in the US. From the tropical paradise of Hawaii to the boardwalks of Myrtle Beach and Santa Monica, America has some pretty amazing beach destinations to choose from. Here I'll give you a run through some of my top beach hangouts in the United States, both East and West, so you'll be able to decide which one will go top of your bucket list.
18 Best Beach Destinations in the US to visit
1. Martha's Vineyard, Massachusetts
Contributed by Shobha of Martha's Vineyard Tourist
The island of Martha's Vineyard has lots of beautiful beaches dotted around the island. Everyone's favorite Vineyard beach is South Beach in Edgartown for several good reasons.
Not only is South Beach a wide sand beach but also long – stretching to about 3 miles of shoreline along the Atlantic Ocean. There is parking aplenty by the sand dunes but it is also connected to Edgartown with a bike path.
The Atlantic Ocean waves are plenty and the water is cold which is good because the beach faces south and gets sun all day long. Some of the beach though fronts onto the harbor side where the water is warmer and there aren't any waves. The Atlantic Oceanside tends to be the favorite of adults and teens while families congregate around the pond side. There are lifeguards in the summer in the season. One of the big events in Edgartown is the annual sandcastle building contest in early August on South Beach.
With a permit, you can drive onto South Beach as well. You can drive over in a 4×4 to Wasque Beach in Chappaquidick when the two beaches are connected. Every once in a while, the Atlantic Ocean breaches the connection though and Chappy does truly become an island off an island.
2. Waimea Bay Beach on Oahu, Hawaii
Contributed by Jackson of Journey Era
One of the top beach destinations in the US is on the North Shore of Oahu where you can find the incredible Waimea Bay. The famous Waimea Bay Beach has amazing snorkeling, cliff-jumping, underwater tunnels to swim through, sea turtles, rock climbing, some of the world's best big-wave surf, and is an epic sunset spot.
There are lots to love about Waimea Bay Beach with so many different drawcards.
It's one of the world's most famous big-wave surf beaches and hosts 'The Eddie' every year if the swell is big enough. Usually, 40ft+ waves make it an incredible sight from the shore as the surfers brave the big waves.
Snorkeling in Waimea Bay is brilliant with lots of underwater rock formations attractions tropical fish and green sea turtles.
The 10-meter cliff jump from the rock that sits right in the middle of the beach is popular amongst thrill-seekers.
Another great attraction at this beach is the hidden sea tunnel that you can swim directly through. It can be found underwater, below the big rock people are jumping from.
After enjoying all of these great activities, it's time to take in a sunset. The sun will set right out over the ocean, which makes Waimea Bay a perfect spot to end the day with beautiful colors in the sky!
3. Brookings, Oregon
Contributed by Sophie Clapton of We Dream of Travel
When asked about the best beaches in the US, most people imagine swaying palm trees and silky white sand. However, Brookings is a beach town with a difference. Tucked away along the Southern Oregon coast, it is home to a plethora of golden sand beaches, dramatic sea stacks and cliffs, hidden sand dunes, and an abundance of wildlife. One of the best beaches in the area is the aptly named Secret Beach, located in the Samuel Boardman Scenic Corridor.
Because there are no signs for Secret Beach, it is usually missed by tourists. This exclusivity is one of the things that makes it so appealing. Once found, you're rewarded with a pristine sand beach that can be enjoyed in peace.
You can find out how to access Secret Beach in We Dream of Travel's guide to Southern Oregon Coast Photography.
4. Secret Coast of Coastal Mississippi
Contributed by Charles of McCool Travel
The Secret Coast of Coastal Mississippi is currently one of my favorite beach destinations. At 26 miles long and 200 feet wide, the clean, cool, sugar sand between Pass Christian and Biloxi is actually the world's largest man-made beach and it is magnificent. Mississippi Gulf Coast Scenic Highway 90 is a dream drive (or marathon run) because nothing blocks your view of the Gulf of Mexico for most of that distance. Also rare among coveted US beaches is the FREE parking next to the beach. Literally—park, take three steps and enjoy USA's softest beach sand.
Coastal Mississippi secrets extend beyond the sand. Fresh Gulf shrimp and other catches are abundant in the former seafood capital of the world—but award-winning chefs at Vestige and White Pillars also incorporate local produce. Gorgeous and majestic live oak trees awe and inspire. Phenomenal US Gulf Coast sunrises and sunsets are the best secret so be sure to savor them. From the beach, of course!
5. Assateague Island, Maryland, and Virginia
Contributed by Taima of Poor in a Private Plane
Assateague Island, located on the east coast of the United States between Maryland and Virginia is one of the most unique beaches to visit in the United States.
What makes this such an amazing and beautiful beach is the fact that Assateague Island is home to Assateague's wild horses.
A visit to the beach means being able to watch these beautiful animals in their habitat as they roam freely.
If you have the opportunity to go camping on Assateague Island you will be treated to these majestic animals playing in the ocean as the sun rises. It's a beautiful sight.
Just remember these horses are wild feral animals so all visitors to the Island are warned to keep their distance.
Visitors also have the option to spend the day at one of the bay beaches on the Island where you can go clamming or just float along keeping a lookout for other animals that call Assateague Island home.
6. Myrtle Beach, South Carolina
Contributed by Tom of Travel Past 50
Myrtle Beach refers not only to the South Carolina tourist destination, but also to the 60 miles of beautiful white-sand beaches that stretch far down the Carolina coast making an ideal setting for a growing retirement community, as well as host to umpteen bachelorette parties, guys' golf outings, family reunions, and myriad conventions.
A drive through town on the main drag (there's no Interstate Highway here) captures the Southern scene sprinkled with Piggly Wiggly, Chick-Fil-A and Krispy Kreme stores. And it immediately screams beach town and family resort, with mega beach shops, mega-tsunami surf stores, dozens of miniature golf courses, and pancake houses every couple blocks.
The Myrtle Beach area also features more "cultural" attractions within easy driving distance. Aside from the many excellent restaurants specializing in seafood and Southern cuisine, there's the Brookgreen Sculpture Gardens, a stunning collection of American sculpture set amid gorgeous gardens, and Hopsewee Plantation, a meticulously maintained relic of the antebellum South, right down to the slaves' quarters.
7. South Beach, Miami, Florida
Contributed by Ivan of Mind the Travel
One of the legendary stretches of sand in Miami, South Beach is a desired destination for anyone traveling across the United States. The iconic South Beach area technically runs from the southern tip of the island to 26th Street. Often referred to as "America's Riviera" and the "Art Deco Playground," this trendy beach is an amazing place for anyone willing to check out the historic Art Deco architecture, buzzing nightlife and dine at some of the best restaurants in Florida.
The options are endless here: you can spend the whole day shopping at malls, indulging in spa treatments, or just strolling along Ocean Drive. Families can take the kids over to participate in hands-on interactions with fascinating animals at Jungle Island or to play at the Miami Children's Museum and foster a love of learning. South Beach also hosts numerous festivals and events, including volleyball tournaments, NASCAR championship weekend, Calle Ocho, and music and art shows.
The most touristy section is wedged between Alton Road, Ocean Drive, and 5th and 15th Streets, so if you want to unwind a bit the patches south of Fifth Street are generally less hectic. Hotel beach clubs generally situated between 15th Street to 22nd Street, but if the white sand stretch is something you're looking for, there's enough space for anyone to throw down a towel.
8. Santa Monica Beach, California
Contributed by Cazzy Magennis of Dream Big, Travel Far
Santa Monica beach is a pretty famous and fun beach for many reasons. Firstly, it's the end of the iconic Route 66 and it's got so many awesome things to do. Some of my favorite things to do at Santa Monica beach include renting a bike and cycling alongside the sea on the dedicated cycling route that takes you down into Venice beach & its beautiful palm trees.
Santa Monica is also home to the famous "Pacific Park" which is an outdoor theme park filled with fun rides, delicious eateries, and general good vibes. Take a ride on the iconic Ferris wheel and enjoy epic sea views of Santa Monica and beyond! Afterward, you can head to the soft sand and go for a swim in the sea. If you fancy a workout, then visit the original muscle beach of Santa Monica and swing on the rings and ropes over the sand. Santa Monica is a great place for friends and families to create memories and have fun!
9. Cape May, New Jersey
Contributed by Stella Jane of Around the World in 24 Hours
Cape May, New Jersey is one of the most charming beach destinations on the eastern coast of the United States. It is one of the oldest seaside resorts in the US. Because of all the Victorian buildings, you get the feeling that you are traveling back to the 19th century when you visit there. There are so many Victorian buildings that the entire city is registered as a Historic District.
But Cape May is just as famous for its gorgeous sandy beaches as it is for its architecture. Spend as much time as you like relaxing on the loveliest part of the Jersey Shore. You can take a break from catching rays by strolling along the boardwalk and hitting up the shops, snacking on the freshest local seafood, or getting amazing views of the beach from the Cape May Lighthouse. See why everyone from President Ulysses S Grant to Tina Fey just loves to vacation in Cape May.
10. Gulf Shores, Alabama
Contributed by Margarita of DownshiftingPRO
The first thing that strikes you is the feel of the sand. Not at all coarse or pebbly but fine, super fine. It's like walking on icing sugar or cornstarch. That is the feel of the sand on the 32 miles of beach in The Gulf Shores, Orange Beach and Fort Morgan, Alabama. All three of these municipalities lie on the Alabama Gulf Coast and are the recreational playground of the south. Take a nice long walk along these pristine beaches.
One main reason is a commitment to 'leave no footprints' to help keep the beach clean for wildlife. Share the Beach is a local program keeping a keen eye on nesting Alabama sea turtles. Closed in the evenings the beaches are patrolled to keep the turtles' nest safe. During the day, don't miss out on enjoying the plethora of water sports and activities to enjoy in The Gulf Shores. But first, dig into the soft sand a relax…
11. Kaanapali Beach Maui, Hawaii
Contributed by Sarah of CosmopoliClan
Sheltered by the West-Maui's green mountains and bordered by the Pacific Ocean's warm waters lies a tropical playground. Kaanapali Beach is exactly what Maui dreams are made of: a gorgeous palm-fringed beach with the softest golden sand, a sparkling waterline perfect for boogie-boarding or surfing, and an important symbol of Hawaiian heritage called Black Rock. This geographical landmark is believed to be the place where the souls of the dead cross over to the spirit world.
Every day at sunset, a torch-lighting and cliff-diving ceremony takes place here. The waters around Black Rock are some of the best snorkeling spots on the island and Hawaiian green sea turtles can often be spotted here. A meandering Beach Walk lined with tiki torches connects the various beach resorts to the restaurants and shops at lively Whaler's Village, where you'll also find an intimate museum that educates visitors about Maui's whaling history.
12. Fire Island, Long Beach, New York
Contributed by Tori of Tori Leigh
Long Island, NY, is home to many beautiful beaches and sprawling dunes. Perhaps one of the most picturesque beaches on Long Island is Fire Island National Seashore, a 26 mile stretch of a protected barrier beach. Separated from Long Island's main island by The Great South Bay, Fire Island offers amazing views of both the bay and the Atlantic Ocean.
The protected beach area also covers the Otis Pike High Dune Wilderness area and a true sunken maritime forest, where visitors can observe wildlife. Of course, there's the famous Fire Island Lighthouse, which is a must-see on Long Island, and multiple beach communities, like Ocean Beach and Kismet. Beachgoers can enjoy shopping, dining, or rent a vacation home and stay awhile. Whether day-tripping or looking for a week-long vacation, Fire Island's diverse landscape and amenities won't disappoint.
13. Outer Banks, North Carolina
Contributed by Neha of Travel Melodies
Outer Banks in North Carolina is the best beach destination on the East coast with 200 miles of coast and sandy beaches. The shoreline spans from Corolla all the way down to Ocracoke with no dearth of mesmerizing beaches and activities.
Corolla beaches are a must to visit to see the wild horses, the Mustangs. Also for adventure lovers, there is an option to drive their AWD vehicle on the Corolla and Cape Hatteras beaches making it one of the best things to do in Outer Banks NC.
The beaches at Kitty Hawk, Duck, Avon, Cape Hatteras are all family-friendly. But if you want to beat the crowds, then Ocracoke beaches are the place to be. When in Outer Banks, the magical sunrise and the sunset are sure to cast a spell on you.
Take the thrill to Drive on the Outer Bank beaches or just relax at them, the place is surely going to live in your heart forever.
14. Coronado Beach, California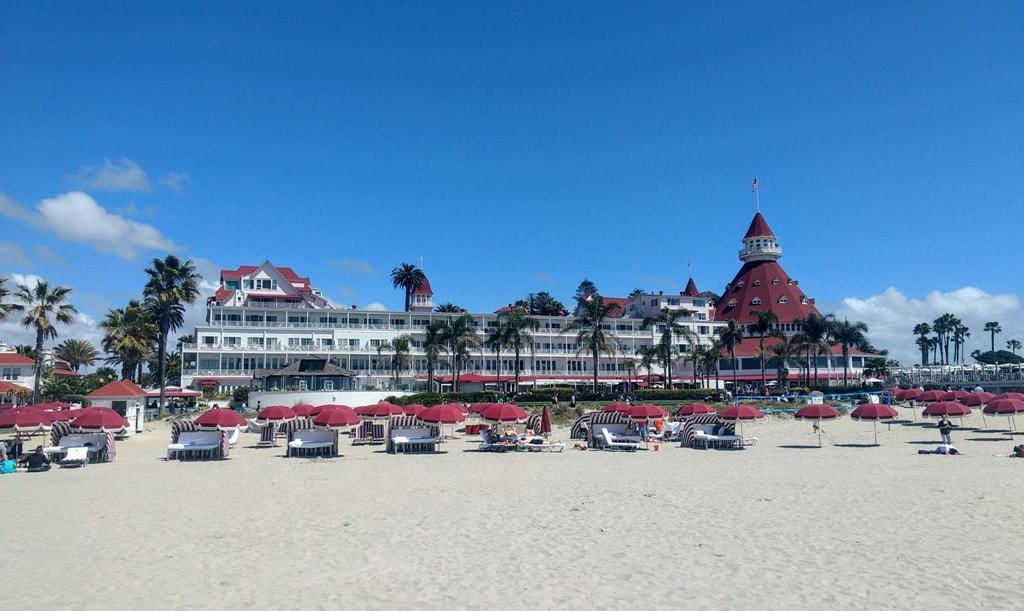 Contributed by Gwen of Healthy Travel Mom
Just across the bay from downtown San Diego in sunny Southern California lies one of the most beautiful beaches in the world – Coronado.
Coronado has an expansive stretch of beach, perfect for surfing, paddle boarding, boogie boarding, sunbathing, or just playing in the water or sand. Coronado is also home to the iconic Hotel Del Coronado. And luckily, you don't need to book a room to enjoy it! Wander through the hotel's shops, grab a drink or healthy snack at the Sun Deck Bar (and enjoy it while looking out at the sea!) or simply spend some time on the beach.
You can access Coronado via the Coronado Bridge (which will also treat you to one of the best views of the San Diego skyline!), the Coronado Ferry, or a water taxi. Coronado is also a popular stop on the San Diego Old Town Trolley Tour.
15. Honeymoon Island State Park, Florida
Contributed by Pauline of BeeLoved City
If you are looking for an amazing beach destination in the USA, Honeymoon Island in Florida will be perfect for you!
Tampa Bay area is known for being home to some of the best beaches in the USA and Honeymoon Island is, without a shadow of a doubt, Florida's best-kept secret!
You can get to the island by car, there is a bridge. The entrance fee is $8 per vehicle. On the island, you can go on one of the numerous walks such as the Osprey trail or head straight to the beach!
There are several beaches which means you will be spoilt for choice! The longest one is 2.5 miles long. It's very well preserved and away from the crowds. You can literally spend the whole day there without seeing anyone!
The sand is white and thin. There are trees for a bit of shade if needed and the views on the gulf are amazing. You will see plenty of dolphins jumping!
In terms of accommodation, you won't find any hotels on the island itself but can go camping or book your accommodation in St Pete or Clearwater.
16. Rehoboth Beach, Delaware
Contributed by Derek and Mike of Robe Trotting
Rehoboth Beach, Delaware is one of the best, cleanest, and most fun beaches in America. It's conveniently located about two hours from Philadelphia, Baltimore, and Washington DC on Delaware's Atlantic coast.
The beach is popular for families, singles, and the LGBTQ community in America's northeast. In Rehoboth Beach, you will find a charming boardwalk filled with games, souvenir shops, and classic food stands. In the enchanting seaside town of Rehoboth Beach, you can also dine at fantastic local restaurants. On the outskirts of Rehoboth Beach, you will find outlet stores for tax-free shopping in Delaware.
There is also a waterpark for days when the surf is rough but you still want to cool off with your family. With so many things to do in Rehoboth Beach, the miles of soft sand coastline is the main attraction. Rehoboth Beach consistently ranks as one of the cleanest stretches of ocean in the country and beach access is free. There's so much to love about Rehoboth Beach, Delaware.
17. Mustang Island State Park, Texas
Contributed by Stephanie of History Fangirl
Mustang Island State Park is home to one of the most relaxing beaches in the United States. The park is a great place to bring your dog and enjoy the soft sand and rolling green waves common to the part of the Gulf of Mexico. While the park has trails, campsites, and facilities, there aren't any businesses here.
Bring your own snacks and drinks to keep your day at the beach both fun and filling! Locals who come often bring fishing gear to fish off the jetties. You will also commonly find seahorses, dolphins, and sand dollars in this part of the water. After you are done sunning at the beach, you can spend your evening at the fun restaurants of Port Aransas.
This colorful town has some great seafood joints, but you can also buy local catch if you'd prefer to cook back in your accommodations or vacation rental.
18. Clearwater, Florida
Contributed by Andrew and Emily of Along Dusty Roads
Voted 'America's Best Beach' three times in the last four years, Clearwater – just an hour west of Tampa – is a firm holiday favorite with families, spring-breakers, and retirees alike; its two and a half miles of powder-soft white sand edged by the warm waters of the Gulf of Mexico a joy to visit even in the cooler winter months.
Choose to rent your self a couple of beach beds, a shade, and submit to the sunny skies of the Sunshine State (with a quick break to grab lunch in one of the city's excellent seafood restaurants, naturally) or mix it up with boat days, wild dolphins and salty water swim, before taking in the spectacular sunsets at the iconic Pier 60.
This is definitely not a quiet or under-the-radar destination, but with a huge variety of accommodation options, an abundance of great places to eat, and ample pristine beach space to lay down a towel, it offers everything you could need for a one-destination vacation.
If you're anything like me then a list of incredible beaches only serves to add more destinations to your bucket list rather than less… but hopefully you now know which are some of the real highlights so you can start planning your next trip.
PIN IT!