Whether you're thinking of booking a coastal vacation in Cali or just want to get out of the city for a few days to soak up the sun or catch some surf, you'll want to know which are the best beaches in California so you can choose which one is right for you.
With over 1000 miles of California coastline, it can be difficult to know where to start, but with the help of other travel bloggers I've rounded up some of the best so you don't have to do the work! Read on to find out which beaches in California I think are well worth a visit…
20 Amazing Beaches to Visit in California
1. Baker Beach
Contributed by Noel of Travel Photo Discovery
Not too many people think San Francisco is a great place for the Beach scene, but when the weather gets warm in the city people want to be outdoors and hang out at the local beaches. Of the most popular and also scenic beaches to enjoy in the city is just on the coastline in the sunset district at Baker Beach. A long white sandy beach with secluded cliffs protecting the beach areas below, Baker beach is stunning.
You'll get gorgeous views of the coastline, across the way is the beautiful Marin Headlands and just at the tip of the beach is the stunning Golden Gate bridge for those spectacular photo opportunities. The beach is popular so the further you get away from the parking lot, the fewer people and secluded areas along the cliffs hugging the shoreline. You'll love the beach scene but only the brave will try getting into the very cold water and sometimes rough waves breaking on the shoreline.
It doesn't matter because the beach scene, being outdoors, and walking the lovely coastline to the base of the Golden Gate Bridge is a unique experience. If you're visiting the city and it's a hot day, head to the shoreline beaches especially Baker Beach and if you are looking for more cool things check out this post on 20 quirky, fun and trendy places to explore in San Francisco for more inspiration to visiting this fantastic city.
2. Jenner Beach
Contributed by Allison of Eternal Arrival
For a spectacular wild beach in Northern California, you have to check out Jenner, right off of Highway 1 (better known as the Pacific Coast Highway). It's a must on any California bucket list.
This Sonoma Coast beach is best known for being the place where the Russian River meets the Pacific Ocean, making it extremely beautiful to view from above (there are excellent views near the River's End restaurant, which is a fantastic place to dine after enjoying Jenner Beach).
There are no amenities on the beach itself, which is more on the rugged side (as typical for a Northern California beach, which tends to be more windy and rocky with more cliffs than its Southern Californian counterparts). There's usually quite a bit of driftwood on the beach which makes it really fun for kids to play on. While the beach can often be a bit foggy, making sunbathing not the best option most days, there is something really magical about watching the sunset here, amidst all the rocks strewn in the ocean like little islands.
3. Huntington Beach
Contributed by Heather of That OC Girl
Huntington Beach is located in Orange County, California, just 30 minutes from John Wayne Airport. It's great for a family vacation since it is the closest beach to Disneyland!
There is something for everyone in Huntington Beach. You can spoil yourself in beachfront resorts, spend time in nature, learn to surf, or kick back on the beach all day.
Start your morning with a walk through the Bolsa Chica Wetlands, a yoga class on the beach, or kayaking through the Harbour. Treat yourself to a spa day or a wine charter. Being one of the most popular surfing spots in California, you'll love watching the surfers from the pier. Shop and dine at Pacific City, eat fish tacos at Duke's, and order a shake from Ruby's. End the day with a bonfire and s' mores on the beach while you witness an amazing sunset. Whatever you desire you can have it in Huntington Beach!
4. Pfeiffer Βeach
Contributed by Ivan of Mind The Travel
Located in the heart of Big Sur, Pfeiffer Beach is one of the most photogenic in all of California. This beautiful and unspoiled beach is quite popular with locals and somewhat unknown among tourists. You'll get astonishing offshore views of rocks, sea stacks — and occasional good surf.
Pfeiffer beach is easily accessible by paved Sycamore Canyon Road off Highway 1, aka, the Pacific Coast Highway, which is considered to be the most scenic drive in the state. The road to the beach is twisty and narrow so folks aren't allowed to use them here (there is also the yellow "Narrow Road" sign at the turn-off).
From the parking lot, you have a short walk down to the beach. At this location, Sycamore Canyon Creek empties into the ocean and a rocky point prevents some of the sand from blowing into the Pacific. Impressive waves crash hard all around and the northern part of the beach can be best explored at lower tides. Keep in mind, the parking lot filled up quickly, particularly on busy weekends.
The focal point of the beach is Keyhole Rock, where the sun's rays filter through a natural archway, creating a spectacular tunnel of light. The north part of the beach boasts purple-tinted sands, a byproduct of an eroding. The beach impresses with its stunning surrounding cliffs, so you may want to come here solely to enjoy its imposing collection of rock formations.
5. Moro Beach in Laguna Beach
Contributed by Chris or Explore Now or Never
Moro Beach is one of six beautiful beaches in Crystal Cove State Park, which straddles the cities of Laguna Beach and Newport Beach. It makes a great weekend getaway in Southern California!
Picture a wide and lovely sandy beach…one of the most scenic in Orange County. Just to confuse matters, locals also call it El Moro and Moro Canyon as well. The beach, which backs up to bluffs for a windbreak, features lifeguards in summer, easy parking, and clean restrooms, making it a family favorite. It's also excellent for sunset viewing. Check out the viewpoint, hiking trails, and tide pools at Reef Point.
Best of all, there are 2400 undeveloped acres within the park for hiking and mountain biking before or after beach time. Ruby's Shake Shack makes a great stop for salads, shakes, and comfort food. Or head to the historic district in the park for lunch at the Beachcomber Cafe.
6. Dana Point Harbor Beach
Contributed by Trijit Mallick of BudgetTravelBuff
If you are looking for a family-friendly beach in Orange County, look no further and come to Dana Point Harbor Beach in Dana Point. Located in between the Dana Point Harbor and the Ocean Institute, the beach is also known as 'Baby Beach' because of its calm water which is perfect for babies and young children. There is a small roped-off section of water where the youngest member of the family can swim freely. During summer times, lifeguards are always there for your safety.
There is also a picnic lawn behind the beach where the shower facility is also available. Being it one of the cheapest places in California, Dana Point Harbor Beach is very crowded, especially at the weekend. So, if you have a plan for picnic reach here early as the picnic tables are served as the first-come, first-serve basis. When you are done with swimming you can walk around the harbor or go for kayaking which is also popular in Baby Beach.
Tips: Parking is free here but there are no restrooms or shops available. Bring some snacks and enough water while traveling with kids.
7. Davenport Beach
Contributed by Sean Lau of LivingOutLau
When you think of beaches in California, you would probably think of the famous Santa Monica Beach in Los Angeles or the surfer beaches in Malibu. However, due to the geographic location of California on the Pacific Coast, California is a state that is not lacking in incredible beaches. Some of these beaches have yet to be spoiled by tourism, allowing visitors to marvel at the stunning landscapes uninterruptedly. Davenport Beach is the perfect example of that.
Davenport is a small town located in Santa Cruz county, and many visitors traveling the coast will often times skip this quaint town. I don't blame them, because this quiet town with less than 1000 residents isn't exactly exciting. A few old houses, restaurants, and that's pretty much it.
The most redeeming quality of this town is the idyllic beaches that are often quiet and peaceful. The white sand beach is surrounded by dramatic cliffs, making Davenport Beach one of the most picturesque places in California. In fact, due to the remnants of the Davenport Pier, it has become one of the most popular Instagram places in the United States.
Though the beach is spectacular, the treacherous trail makes the descent onto the soft sand dangerous. Most visitors simply pull up a comfortable chair on the cliff and watch the sunset behind the dreamy Pacific Ocean, appreciating nature at its best.
8. Seal Beach
Contributed by Erin of The Gal On The Go
Seal Beach rests in the cozy beach city of Seal Beach, California which lies in sunny Orange Country. Parking can be found free on side streets or in the paid parking lot area directly in front of the beach. Upon arrival, you will notice California's second-longest wooden pier featuring a lifeguard look-out station and incredible views of the ocean. Walking down the pier is a must and visitors can immerse themselves in a sweeping view of the California coastline.
Take a moment to find one of the many benches on the pier and watch the surfers catch a wave. This is, after all, a popular spot for locals to practice their boogie boarding and surfing skills. To the left of the pier, you will find a playground situated directly at the entrance of the beach where children can enjoy a jungle gym and swings. During the summer season, a lifeguard is on duty at peak hours providing a safe environment for families to escape to. Pack an umbrella and sunscreen and be sure to arrive early to claim your slice of paradise on the beach!
9. Malibu Beach
Contributed by Rob of Roam Yonder
If LA is the playground for the rich and the famous then Malibu is where they go with their bucket and spade. Located on the pacific coast highway, on the drive from San Francisco to Los Angeles it stretching over 30 miles and with nearly three dozen beaches. Malibu is beach-lovers heaven.
Hollywood stars and top athletes own the oceanfront homes, front-row seats for the surfing, and the picturesque sunsets. While it may seem exclusive (many of the beaches require membership) there are still plenty of beaches to enjoy.
Malibu has a big reputation for surfing with many saying it's home to perfect waves. Surfers can check out the 30 historic surfboards on display at the Surf Museum at Payson Library.
Food spots include Malibu Farm, an organic cafe and restaurant on the pier, Malibu Seafood, opposite Dan Blocker Beach, and the famous Malibu Beach Inn located at 'Billionaire's Beach.'
10. Natural Bridges
Contributed by Ale of Sea Salt & Fog
Natural Bridges State Beach is located in the central California town, in the small surf town of Santa Cruz. Known for its natural rock arch formation, the beach is the perfect place to hang out and spot migrating whales, take a dip in the chilly Pacific Ocean, or have a picnic. During the winter, you can spot the monarch butterflies in the park as they make their home before migrating south again. There's plenty to explore in the area. The beach is a state park and features tide pools and hiking trails.
Parking costs $10 per vehicle, and keep in mind that if you go swimming, not only is the water freezing cold, but there are also no lifeguards on duty. For a free way to see the beach and the arch, park at the end of West Cliff Drive, at the lookout point. This is one of my favorite places in Santa Cruz to watch the sunset.
11. Mission Beach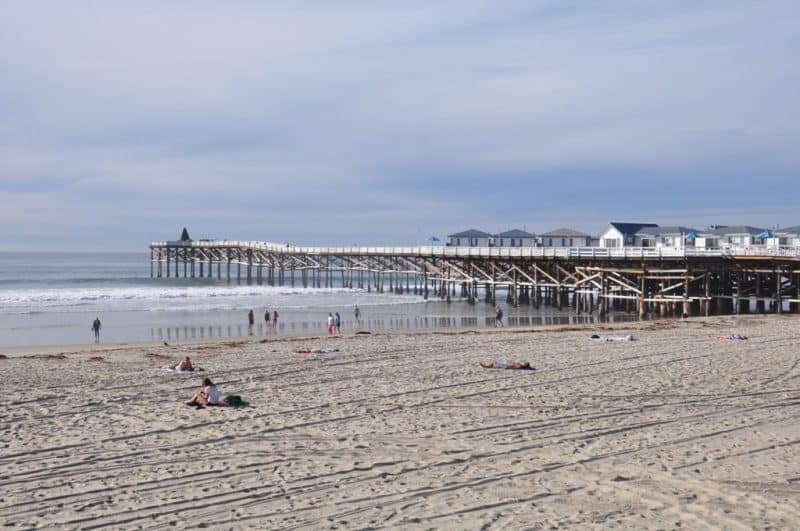 Contributed by Tanayesh Talukdar of Shoe String Travel
Mission Beach in San Diego, California is a long wide sandy beach typically considered as the beach south of Pacific Beach Drive. This area is crazy with activities on daily basis like volleyball players, sunbathers,  a variety of shops, and restaurants are located on both the boardwalk and Mission Boulevard, all easily accessible for the pleasure of the visitors. The beach and bay boardwalks, as well as the connecting courtyards, has a wonderful vacation and long-term accommodations.
The beach has an offer for all. Exploring the beach by biking, skateboarding, rollerblading or a quiet evening stroll is really interesting Belmont Park is also a great place to spend. This amusement park is located on the beach but also features rides, food making it one of the best and most visited things to do in Mission Beach. The amusement park is best known for its Big Dipper, a half-mile wooden track roller coaster built-in 1927. Then visiting the Sea World is adventurous.
12. Carmel-by-the-Sea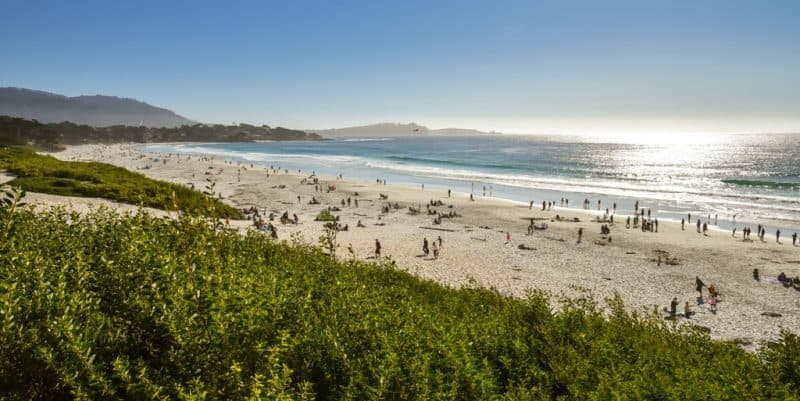 Contributed by Dhara of It's Not About the Miles
The cute little village of Carmel-by-the-Sea is one of the best places to stop along the Pacific Coast Highway, and one of the most enjoyable things to do in Carmel is to spend some time on its beautiful sandy beach.
Fringed with old Monterey cypresses and surf that is gentler than at other spots along the northern Pacific coast, crescent-shaped Carmel Beach is also a great place to watch an amazing West Coast sunset.
Bring a blanket and picnic fixings and enjoy a meal on the sand, or pick up some wine and cheese in the village before you head down. You can also play volleyball on the beach, stroll on the soft sand, walk your dog, or take the walk along the scenic bluff path.
Located at the base of Ocean Avenue, the beach is walking distance from the village, or you can drive down and try for a parking spot close to the water. The parking lot is not big and does get full.
There are no lifeguards at Carmel Beach. The restrooms are located in the parking lot.
13. Coronado Beach
Contributed by Aswani of A Charming Escape
Coronado beach is a beautiful white sand beach that runs along Ocean Blvd in Coronado Island (across the bay from San Diego). It is a large beach with plenty of activities to do like walking, swimming, surfing, and paddleboarding. There is no fee to enter the beach and showers are also conveniently located on the beach.
Being on the west end of the island, it is also a perfect place to watch the sunset over the Pacific Ocean. While you are there, check out the famous Hotel del Coronado and one of the many restaurants nearby. A few restaurant recommendations include Lobster West, Miguel's Cocina, and Burger Lounge.
If you visit San Diego, I highly recommend spending at least half a day at this beach and watching the sunset. For more fun things to do in Coronado Island and San Diego, check out this 3 day San Diego itinerary.
14. Pismo Beach
Contributed by Abi of Happy Go Abi
There are lots of fun beach spots in California, but one place you won't want to miss is Pismo Beach. This sandy stretch of beach on California's central coast is the perfect beach spot…and there are also tons of incredible things to do in the town of Pismo Beach, so you should definitely add this beach to your list of places to visit!
Pismo State Beach is amazing because it is perfect for all sorts of classic California beach activities, from building sandcastles to swimming, to surfing, kayaking, and more! This is also a popular place to simply take a stroll along Pismo Beach Pier or to enjoy fishing from the pier. Plus, the amenities here are wonderful and include volleyball courts, children's play equipment, sand showers, drinking fountains, and public restrooms.
And once you have finished your day at the beach, the town of Pismo Beach offers up all sorts of delightful attractions including the absolute best cinnamon rolls you'll find anywhere in the world. So if you're looking for a beach spot on California's central coast, Pismo is definitely the perfect place to go!
15. The Lost Coast
Contributed by Allison of She Dreams of Alpine
The Lost Coast consists of 25 miles of secluded wilderness in northern California, and this stunning stretch of coastline is by far my favorite beach in California. Though this unique beach is not what you typically think of when you picture a California beach, the black sand and lack of crowds are a welcome change of pace. Most of the Lost Coast cannot be accessed by car, meaning you'll have to hike to appreciate this beach.
If you just want a taste of the Lost Coast, you can take a short day hike from the northern trailhead to visit Mattole River Beach and check out an old abandoned lighthouse in Punta Gorda. But the best way to fully explore the Lost Coast is by taking a few days to backpack the Lost Coast Trail. Along the way, you'll see spectacular views of the King Range mountains juxtaposed with the ocean, and when you camp each night on the black sand beach, you'll experience epic sunsets over the water. It truly doesn't get any better than this when it comes to California beaches!
16. Venice Beach
Contributed by Eden of Rock a Little Travel
My favorite beach in California is Venice Beach, located in an eclectic coastal community on the west side of Los Angeles.
Venice Beach is a popular spot for outdoor activities such as surfing, swimming, biking, skateboarding, beach volleyball, and running. Equipment rental shops are everywhere, so you'll have no trouble finding any equipment you may need. The world-famous Muscle Beach, an outdoor weight lifting gym, is also found along the Venice Boardwalk.
Aside from Muscle Beach, other popular attractions are the Venice Pride Flag Lifeguard Tower, the Venice sign over Main Street, and the Venice canals.
There are boutique shops of all kinds along the beach and boardwalk with more upscale shopping a few short blocks from the beach on Abbott Kinney Blvd. This is where you'll also find posh cafes and trendy restaurants serving everything from avocado toast to organic juices.
As the day comes to an end, head out onto the Venice Pier to enjoy a beautiful southern California sunset.
17. Newport Beach
Contributed by Matt of ItsAllinItaly.com
Newport Beach, California is a beautiful beach in Orange County, South Los Angeles, known for its surfing, water activities, and relaxing lifestyle.
Once popular for maritime industries, today it's a recreational use beach with premium homes adorning its surroundings and is packed on weekends by those looking for a relaxing place to unwind.
Things to do in Newport Beach include boating, sailing, canoeing, paddleboarding, and other water activities as well as bicycling, golf, and a local farmers markets where you can buy delicious produce.
Top attractions include the Newport Pier, Balboa Island, Balboa Fun Zone, Dory Fish Market, and the annual Wooden Boat Festival.
There's also a ferry service from Newport Beach to Catalina Island that takes just over one hour. Catalina is known for its fishing as well as whale watching.
With its warm summers and mild winter, Newport Beach is a fantastic place to visit year-round.
18. Bodega Bay
Contributed by Sierra of Free to Travel Mama
Bodega Bay is a lovely stretch of small beaches and a tiny beach town located in Sonoma County just a short drive from its lush vineyards. It is one of the most beautiful beaches to explore in California. Bodega's beaches are typically cool and breezy and are not safe for swimming, but rather are perfect for a beach walk or picnic on the sand. Sunsets are gorgeous year-round and tidepools offer beautiful places of exploration and wonder. Doran Regional Park is the perfect spot for gentle waves and safe family play.
Once you have walked the beaches, soaked up the crashing wave views, or hiked the bluff trail at Bodega Head, check out one of the charming spots nearby for tasty eats. Spud Point Crab Company is the place for clam chowder or The Boat House for fish and chips. Patrick's Salt Water Taffy can't be missed with its pink striped building and delicious sweet dessert choices.
19. Santa Monica State Beach
Contributed by Constance of The Adventures of Panda Bear
Santa Monica State Beach is one of the most popular beaches in the Los Angeles area. Located just 16 miles from downtown Los Angeles along the Pacific Coast Highway, this 3.5-mile-long beach is a great place to get some sun, sand, and fun.
The beach has a ton of recreational spaces and amenities including parks, picnic areas, playgrounds, restrooms, lifeguard stations, and even the world-famous Muscle Beach and Santa Monica Pier. Bike rentals are also offered for your convenience in exploring the beach. For those who prefer to walk around, the paved walkways also make the beach easy to see on foot.
Santa Monica Pier is especially great for families with a variety of attractions and concessions, including theme park rides. Some of the best rides include the Ferris wheel, roller coaster, and merry-go-round. To the entrance of the pier, you'll also find the historic end of the Route 66 sign.
20. La Jolla
Contributed by Maria of San Diego Explorer
La Jolla is a stunning beach town just north of San Diego. There are actually quite a few beaches in La Jolla, but my favorite one is Shell Beach. It is right in the heart of La Jolla and perfect, whether you want a full beach day, or just want to dip your toes in the sand while you are exploring the town.
Surrounded by gorgeous cliffs, the beach feels small, especially when the tide comes in, but it is incredibly beautiful. When the tide is out, you can explore the tide pools, treasure hunt for sea glass, and dip your toes in the water.
This isn't really a swimming beach though, as there are so many large rocks in the water. Just up the stairs is a lifeguard tower and restroom/shower facilities. Parking can be difficult, especially on the weekends, so I recommend you get there early. As it is right in the middle of the city, you will find plenty of restaurants nearby for a quick bite or even a fancy meal.
As you can see, Californian beaches come in all shapes, sizes, and styles, so whether you want a relaxing day at Pfeiffer Beach, or would rather experience the spectacle of a sunny day out at the world-famous Venice Beach, California has you covered. All you need to do is decide which one you want to visit first!
PIN IT!