This post is also available in: French
If you're researching the Greek isles and are trying to decide where to go, you might have come across the stumbling block of Paros or Naxos? These two islands located in the heart of the Cyclades are fairly similar in terms of size, both have great connections to Athens and both offer a wonderful range of sights, attractions, beaches and cuisine. So, how do you decide which one to visit?
Read on to find out the similarities and differences between Naxos and Paros as well as which one is best for families vs. which is best for nightlife. You can then weigh up the factors that are most important for you so you can choose the island that fits the bill best!
Paros vs Naxos: Which One Is for You?
Naxos Overview
Naxos is the largest island in the Cyclades archipelago with a wealth of history, an excellent selection of beaches and some classically beautiful white-washed Greek villages. The island is known for Naxian marble (the stone that many Ancient Greek statues and temples were made from) as well as its long swathes of sandy shore.
Naxos is a popular island in terms of tourism and as such the port town (Chora) features a number of family-friendly restaurants, shops and accommodation.
Check here: The best things to do in Naxos.
Paros Overview
Naxos' neighbour, Paros, is a slightly smaller island but one that still boasts an airport, port and two main towns. Again, the island features spectacular beaches, quintessentially-Greek architecture and some interesting historical sites. It is also widely regarded as having some pretty decent nightlife so if often favoured among the younger crowd who are looking for cocktail bars and dancing 'til dawn.
As Paros is more compact, it does mean you can explore more of the island in less time so it's a great choice for those who only have a long weekend available as opposed to a week or two's vacation.
Check here: The best things to do in Paros.
Which island is easier to get to – Naxos or Paros?
While both Naxos and Paros have airports, neither of these offer direct routes across Europe and the UK, so travellers arriving by air will have to transfer in Athens or Thessaloniki. It's therefore not any easier to reach one or other island by air.
Apart from the Athens or Thessaloniki airport you can arrive at Mykonos or Santorini international airport and take a ferry to Naxos or Paros.
Alternatively, you can arrive into Naxos and Paros by boat, with ferries leaving from Athens and other islands around the Cyclades daily throughout the summer season. Most ferries travelling from Piraeus serve both Naxos and Paros on the same route, so it's as easy to get to one as it is the other.
In an ideal world you'd have time to visit both Naxos and Paros which is also relatively easy to do as daily ferries run between the neighbouring islands throughout the spring and summer.
Click here to check the ferry connections and timetable and to book your ticket.
Which is best for beaches – Naxos or Paros?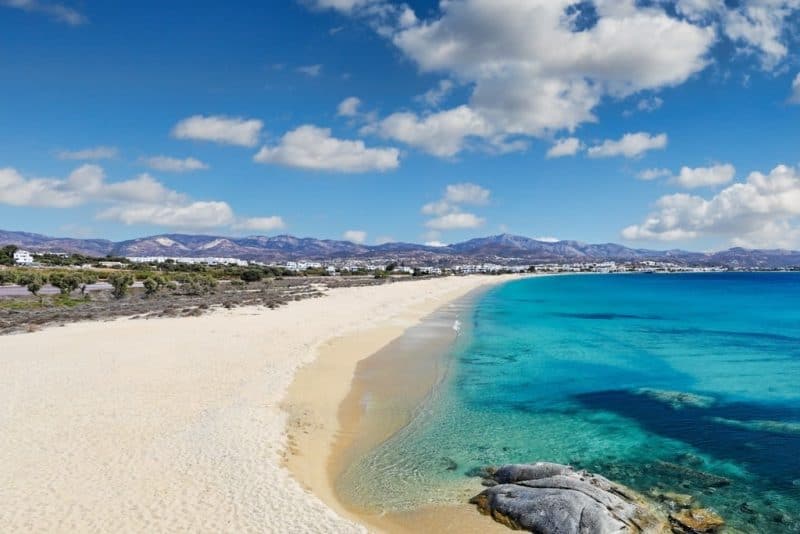 Being Greek islands in the heart of the Aegean, both Naxos and Paros boast some pretty great beaches.
Naxos is known for having particularly long, sandy beaches with warm shallow waters such as Agios Prokopios, Agios Giorgos, Plaka and Agia Anna, which are favourites among families.
Many of these are also really easily accessible from the main tourist hubs on the island or by bus, which means they offer full tourism amenities including sunbeds, parasols, restaurants and water sports.
The island does have some smaller, secluded beaches and as Naxos is quite large it does take some exploring in a car to seek them out. But when you get to the more remote beaches, chances are, you'll have the place to yourselves!
Check here: The best beaches in Naxos
Paros, on the other hand, is smaller, and therefore more of the beaches are accessible by car or moped if you have a little bit of time.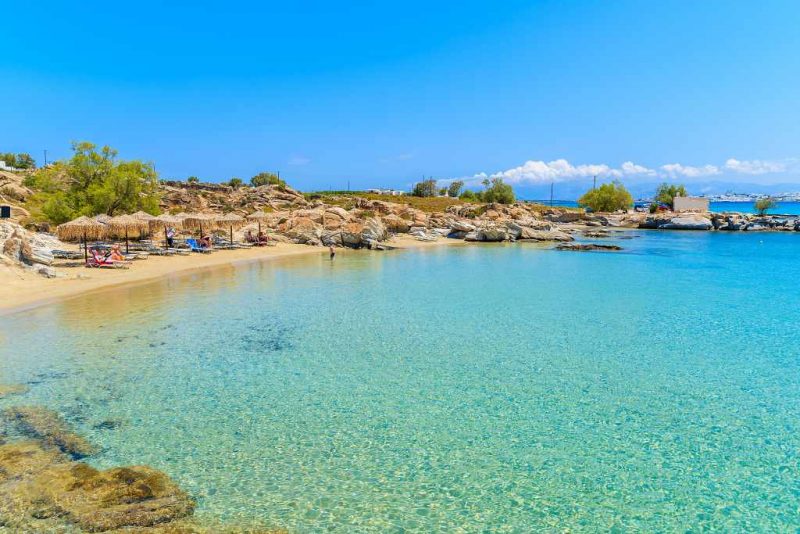 However, thanks to the more rugged landscape of Paros there are many more coves to discover (as opposed to long, sprawling beaches) so you still might find you have a hidden gem of a beach to yourself.
Paros does also have organised beaches with decent amenities including Golden Beach, Parasporos and Faragas Beach.
Check here: The best beaches on Paros.
Verdict: Both
Which is best for families – Naxos or Paros?
As mentioned above, Naxos' beaches lend themselves well to family holidays as they feature shallow waters, soft sand and plenty of amenities to keep everyone well-fed and entertained.
Naxos' restaurants also cater well to families as pretty much everywhere offers a children's menu as well as flavours to suit every palette.
Naxos also boasts a castle, ancient Kouros statues and the impressive 'Portara' (Naxos Window) which are all exciting sites for slightly older children to enjoy.
That's not to say that Paros isn't a good option for families, though. Many of Paros' beaches are also family-friendly, particularly those located near to the towns of Naoussa and Parikia and there are some fascinating attractions such as the Venetian Castle and the Valley of Butterflies too.
One thing that does set Paros apart from Naxos in terms of being family-friendly though it its nightlife which we'll come to next.
Verdict: Naxos is more family frendly
Which has the best nightlife – Naxos or Paros?
As you would expect from the largest island in the Cyclades, Naxos has a fairly lively nightlife scene during the summer, with a number of cocktail bars, tavernas with live music and nightclubs dotted around the main town.
However, when it comes to partying, Paros wins hands down with many more nightlife spots to choose from. As Paros has two main towns (Naoussa and Parikia) there are two different scenes available meaning a variety of options to suit everyone.
In general, tourists tend to enjoy the bars and clubs of Parikia better, while the locals flock to Naoussa to get their nightlife fix. Whether you're looking for late-night coffee shops, chic beach bars, lively local tavernas or all-out night clubs, Paros in high season has you covered.
Verdict: Paros has better nightlife.
Which has the most cultural attractions – Naxos or Paros?
Being the larger of the two islands you would expect Naxos to have a huge range of cultural attractions, and you'd be right! The island features a well-preserved Venetian castle in the heart of Chora, the grand, ancient Door/Window of Naxos at the edge of the main port, the Demeter temple and the Kouros of Melanes and Apollonas to name but a few!
There are also a whole host of churches and monasteries across the island and some beautiful traditional villages like Apiranthos and Halki Village.
Paros also features some stunning villages Lefkes, Prodromos and Kostos, and churches, such as The Monastery of Panagia Ekatontapiliani (Virgin Mary of the Hundred Doors), The Monastery of Logovarda and The Church of Agia Triada.
In addition, the island has a number of museums and ancient archaeological sites including the Byzantine Museum, Sculpture Museum, Folklore Art Museum and Wine Museum as well as the Sanctuary of Asklepios and the Mycenaean Acropolis.
Therefore, neither island is short on cultural attractions!
Verdict: Naxos has amazing cultural sights.
Which is best for nature-lovers – Naxos or Paros?
Of course, the beaches are one of the main draws of Naxos and Paros so nature-lovers who adore azure waters and quiet coves will be in heaven. Naxos also features a protected cedar forest and sand dune landscape out at Alyko, as well as the Cave of Zas, the Routsouna Waterfall and the Garinou Spring which are wonderful spots to explore if you love the great outdoors.
There are a number of hiking and biking trails too so whether you want to get out there on your own or take a guided tour, Naxos has you covered.
As mentioned earlier, Paros has the Valley of Butterflies which is an exciting draw for nature enthusiasts and there are cycling and horseback riding trails to keep you busy too at Paros Park. There are also easy day-trip options to the smaller neighbouring island of Antiparos as well which is the perfect choice for those wanting to get off the beaten track.
Verdict: Naxos
Which is best for water sports – Naxos or Paros?
As both Naxos and Paros are renowned for having some quite windy shores, they are favourites among water sports adventurers who love to enjoy windsurfing and kitesurfing here.
Both islands are equally well-equipped for water sports with everything from family-friendly banana boat rides and para-sailing to more advanced-level windsurfing and kitesurfing competitions that take place on the islands annually. You can book lessons and hire gear on a number of beaches around both Naxos and Paros or opt for snorkelling or scuba diving instead.
Hopefully, by now you know a little more about Naxos and Paros and which one might be best for you. Naxos is a larger island with welcoming locals, fantastic restaurants, a wealth of cultural attractions and some amazing family-friendly beaches and Paros is a slightly smaller chic island with some bustling nightlife, quiet coves and incredible churches and castles.
Verdict: Both
There's really not much in it when it comes to which is best. To be honest, whichever Greek island you visit your bound to have a great time!
Personally, having visited both a couple of times I prefer Naxos. It has a stunning Chora, picturesque villages, amazing archaeological sites and great nature. On the other hand, the smaller beaches in Paros are more to my taste.
As the islands are so close to each other you could easily take a day trip from one to the other, and if you have plenty of time you can visit the nearby islands of Antiparos, Donoussa, Iraklia, Schinoussa and Keros too!
If you have the chance, why not visit both and see for yourself which is your favourite?
You might also like:

How to get from Athens to Paros

How to get from Athens to Naxos

The best Airbnb's in Naxos

The best Airbnb's in Paros

Where to stay in Naxos

Where to stay in Paros