Paris is spectacular at any time of year with its breath-taking architecture, top attractions, mouth-watering cuisine, and eternal style meaning that visiting is always a good idea! Known as both the City of Lights and the City of Love, Paris is a wonderful destination for a cosy winter getaway or a Valentine's break thanks to its array of quality restaurants, gorgeous Christmas lights, quaint cafés and shopping that is second-to-none.
While the summer months offer blooming parks and sunny days, winter brings its own charm, with crisp, clear walks along the banks of the Seine, the lights of the Eiffel Tower glistening at night and bustling Christmas markets providing you with steaming cups of vin chaud and hot chocolate for you to drink while you browse the gifts and handicrafts on sale.
For a tranquil winter city break full of character, culture, and top cuisine, look no further than the French capital as it offers all you need and more!
Disclaimer: This post contains affiliate links. This means that should you click on certain links, and then subsequently purchase a product, I will receive a small commission.
Paris Weather in Winter
Wandering the wintery streets of Paris is beautiful but it certainly can be chilly! Temperatures throughout winter sit between 3 and 8 degrees Celsius (not factoring in snow or wind-chill!).
However, if you're dressed appropriately it can be a lovely city to roam around in winter thanks to the stunning streets and boulevards being quiet and peaceful, and the warm glow of cafés and restaurants enticing you in. Paris generally receives around nine days of rain per month so it's worth packing an umbrella but hopefully, you shouldn't get too wet!
The shoulder months of March and November receive slightly better weather with highs around 11/12 degrees but these months don't offer the Christmas charm of December and January.
Check out the average temperature for Paris in winter:
November average temperature for Paris: 52°F high and 43°F low / 11°C high and 6°C low
December average temperature for Paris: 46°F high and 37°F low / 8°C high and 3°C low
January average temperature for Paris: 45°F high and 37°F low / 7°C high and 3°C low
February average temperature for Paris: 46°F high and 37°F low / 8°C high and 3°C low
March average temperature for Paris: 54°F high and 41°F low / 12°C high and 5°C low
Disclaimer: This post contains an affiliate link. This means that should you click on certain links, and then subsequently purchase a product, I will receive a small commission.
14 Things To Do in Paris in Winter
1. Ice Skating
Ice skating in winter is one of the best things to do in Paris thanks to the vast array of patinores (ice rinks to you and me) dotted around the city. Each rink is set up in a picturesque location such as at the Hôtel de Ville and the Champs de Mars Christmas Village, allowing you to soak up the atmosphere while you skate.
Ice skating can be fun for all the family and is a good way to warm up during cool winter days. The rinks are usually open between late November and early January so you should be able to find somewhere to skate during your winter trip to Paris.
2. Hot Chocolate in Parisian Cafe
On a cold winter day, there's nothing better than warming up with a hot chocolate and Paris certainly knows how to serve this in style! Two of the most famous cafés for chocolat chaud in Paris are Angelina and Café de Flore.
Angelina's hot chocolate is to die for, the thick molten chocolate warming you from the inside out. If you can manage any more sugar, you might want to pair it with some delicate macarons or pristine patisseries from the cake counter – yum!
Café de Flore is another favorite, and you'll want to head here for a croissant and a hot chocolate in the morning as you watch the world go by. This café is famous for its high-profile clientele of years gone by such as writers, artists, essayists, and philosophers like Pablo Picasso, Remy de Gourmont, and Georges Bataille.
Café de Flore: 172 Boulevard Saint-Germain
Angelina Paris: 226 Rue de Rivoli
3. Christmas Markets
As with any good European city, Paris is home to some excellent Christmas markets that pop up between November and January allowing you to shop to your heart's content for gifts, souvenirs, and crafts. The wooden cabins line the streets of Saint-Germain-des-Prés and the Tuileries Gardens (among others).
The charming markets are the perfect place to while away a few hours on a cold winter afternoon, with the hustle and bustle keeping you warm (along with the hot drinks and chestnuts, of course!).
4. Disneyland Paris
Disneyland is always a good idea, no matter the time of year, but there is something about visiting in winter that warms your heart even more than seeing it in summer. Witnessing the snow-capped peaks of the princess' castle and the Christmas trees and decorations dotted around the park make it both photogenic and unforgettable.
Plus, the parks are much quieter in winter meaning you are able to whip round the rides in record time! If there's a spot of snow or rain there are plenty of indoor activities, shows, and shops to keep you entertained too.
You can either drive to Disneyland Paris, take public transport or book a tour. The choice is yours.
5. Champs-Elysées Christmas Lights
Seeing Paris lit up in winter gives new meaning to the nickname The City of Lights. The light-filled trees that line the avenue of the Champs Elysées leading from the Place de la Concorde to the Arc de Triomphe are simply stunning.
Not only are the streets covered in lights, but each store is filled with Christmas decorations and lighting to bring festive cheer wherever you go. Other top spots for Christmas lights throughout the city include Avenue Montaigne, Place Vendôme, and Rue du Faubourg Saint-Honoré.
6. Explore Paris' Museums and Galleries
When winter weather strikes you might want to head inside for some indoor entertainment. Luckily, Paris has you covered with literally hundreds of museums and galleries. Whether you're interested in modern art or are more a Renaissance painting lover, Paris' galleries have something for everyone.
You could wander the halls of the Louvre for hours and still not see everything! Plus, the Centre Pompidou has wonderful rooftop views that allow you to witness another part of the city from above.
A beautiful museum that's sometimes overlooked is the museum D' Orsay.
If museums are your thing you might want to explore the Fragonard Perfume Museum, the National Museum of Natural History or the gold-domed Army Museum on the banks of the Seine.
7. Drink Vin Chaud
Another favourite winter activity in Paris is drinking vin chaud, a steaming cup of mulled wine filled with fruit and spices. The warming wine is served up at all Christmas markets and ice rinks around the city, as well as in many bars whose cosy atmosphere will lure you in on a chilly winter evening.
Made with local red wine, you know this is going to be one of the best glasses of vin chaud you'll drink even if the Germans and their glugwein will claim to give you a run for your money! Some bars also offer warm spiced cider or non-alcoholic versions for those who'd rather not drink wine. They're all delicious so whatever your tipple of choice you're sure to enjoy a winter warmer.
8. Dine out on Christmas Day
While many cities shut down entirely on Christmas Day, parts of Paris are still open for business as usual. There may even be more places open than there are on a Sunday!
Exploring on Christmas Day gives you the chance to see top attractions in peace and dine out in style without having to do the washing up after a traditional roast dinner!
French dishes at a bistro or brasserie, there are numerous options to choose from. Just make sure you call ahead to check that they're open! If you want to continue the night, head to Bar Hemingway at the Ritz or the Mandarin Oriental for some stylish cocktails to toast to Christmas!
9. Shopping at Galeries Lafayette
Les Soldes (sale shopping) in Paris is a big deal with everything from high street stores to designer boutiques offering big discounts. This can be a great way to get your shopping fix guilt-free with some deals offering up to 75% off!
During Les Soldes it's fun to head to the Champs Elysées and department stores like Galeries Lafayette so you can shop in style while it fits your budget!
While the best deals can be found throughout January, it's worth going to Galeries Lafayette if you're visiting in December as it features a huge Christmas tree that rises up through the central hall and can be seen from all levels. The tree is covered in lights, baubles and other decorations that all make it picture-perfect!
10. Hearty French Cuisine
French cuisine is incredible year-round with meals to hit the spot whenever you travel. From cheese, charcuterie and salad platters in summer to warming cassoulets and fondues in winter, Paris' food is something to write home about.
Stews, steaks, soups and spiced wine are all winter favourites, and that's not to mention sweet treats like Bûches de Noël (yule logs) and Galettes des Rois (frangipane tarts) that are celebrated in December and January respectively.
Another bonus of travelling to Paris in winter is that you are much more likely to be able to make table reservations at some of the top spots in town such as Epicure, Septime and Bistrot Paul Bert.
You might also like: How I spent 7 days in Paris. 
11. Festival of Lights at Jardin des Plantes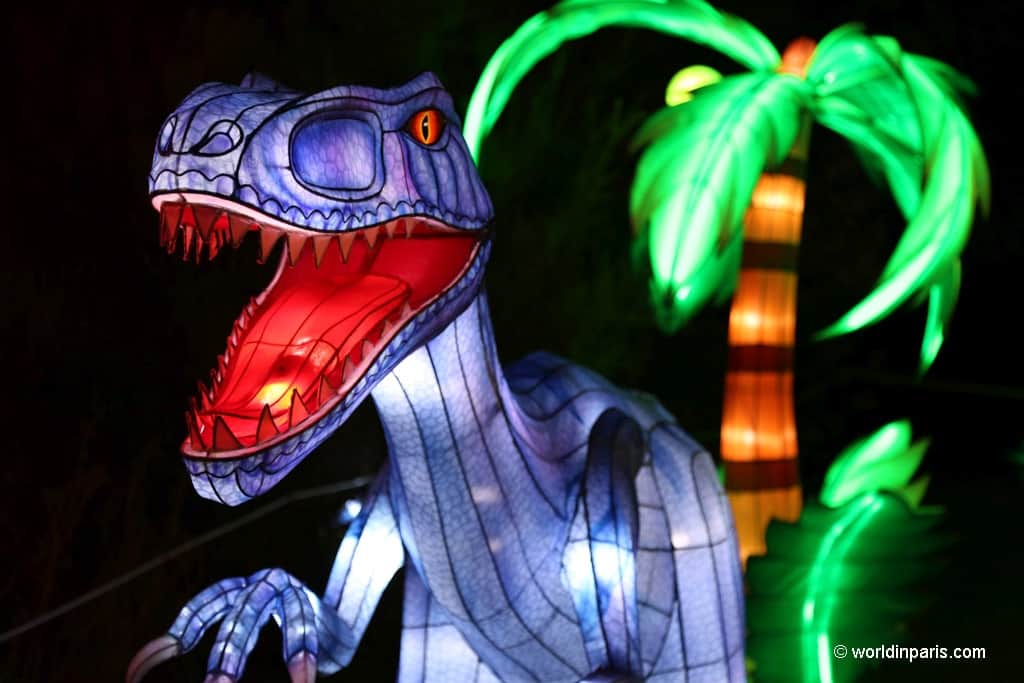 A relatively new winter sensation, the Festival of Lights at Jardin des Plantes is a magical illumination celebration that brings to life plants and animals through shows of light.
This exhibition aims to raise awareness of endangered species such as the polar bear and as it was such as resounding success last year, it's set to come back the gardens again in November 2019.
The illuminations are fun for all the family and it is a great way to spend a few hours while exploring the gardens and ménagerie. Even when the festival is not running, the Jardin des Plantes is a popular attraction thanks to its winter blooms, art deco buildings, alpine garden displays and plants growing in the greenhouses.
12. Passages Couverts
Other indoor spots to explore when the weather takes a turn for the worse are Paris' passages couverts (covered passages). These arcades and walkways are picture-perfect destinations that are often lit up in winter to provide pretty havens in which to walk, shop or stop off for a coffee or chocolat chaud.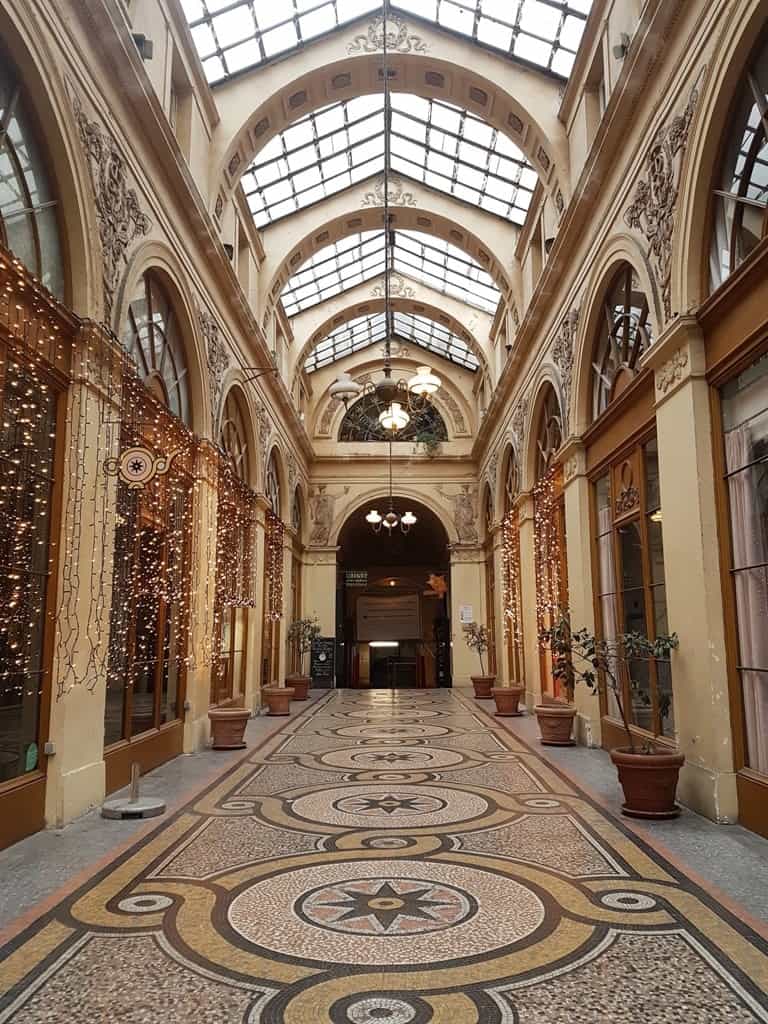 These passages couverts are dotted all over the city so you probably never very far from an indoor arcade. Many of the passages couverts feature glass ceilings, mosaic floors, iron lamps or stained-glass windows which make them unbelievably photogenic (and perfect for the 'gram!).
13. Watch a Cabaret Performance
On a winter evening in Paris you might want to head to Montmatre and the Moulin Rouge to enjoy one of the best cabaret performances in the world. Quality cabaret shows have existed here for decades, with can can girls, burlesque performances and even more risqué shows like L'Art du Nude at Le Crazy Horse offering hours of adult entertainment.
Many of the performances are paired with drinks and dining so you can really make a night of it. Choosing your show will depend on what you want to see, but Le Lido, the Moulin Rouge, Paradis Latin, Le Crazy Horse and Le Lapin Agile are some of the best.
Click here for my review of The Crazy Horse. 
14. Cruise on the Seine
Another way to enjoy the lights of Paris is to take a lunch or dinner cruise along the Seine. These river cruises pass by many of Paris' famous sites and monuments such as the Musée d'Orsay, the Grand Palais, Notre Dame and the Louvre.
Many of these top sights are lit up on a winter's evening, with the Eiffel Tower glistening in all its beauty each night. Taking a cruise allows you to witness these sights while keeping warm and dining on delicious French cuisine and drinks. Cruises run for a couple of hours and allow you to enjoy a three or four-course meal with family and friends.
Check out my review of Bateaux Mouches Seine River Cruise.
How to Get Around Paris in winter
Paris' metro system is easy to understand with colours and numbers pointing the way. The metro snakes its way throughout the city and connects with overland trains and national TGV (high-speed) services so you can explore both the city and its surrounds without any hassle or confusion.
Nearly all stations have automatic ticket machines that operate in a number of languages and there are a range of tickets to purchase depending on the length of your stay. Either buy a book of 10 billets which are each valid for a single journey (on the bus or metro), purchase a day pass or invest in a multi-day ticket which you can use to hop on-and-off public transport around the city with ease.
While the bus system is a little more difficult to understand, it does serve some places that are not on the metro line, so research your route first or ask in your accommodation about the best way to get around by bus.
Another option for exploring the city of lights is by bike. Paris was one of the first cities in the world to set up the pick-up/drop-off bicycle system and there are bikes available throughout the city. This is a great way to get around quite quickly, while still being able to see the sights along the way.
Finally, if the weather allows, discovering the city by foot is arguably one of the best options. Paris' architecture and city design are truly stunning and with parks and gardens popping up all over the place it's a beautiful space to stroll. Plus, by walking around the city you are able to find some real gems like vintage shops, quirky cafés and unknown museums, as well as being able to watch daily Parisienne life go by.
Where to Stay in Paris
If you're staying in Paris, it's important to choose hotels that are comfortable, convenient and budget friendly. Here are two hotels you can consider:
Hotel Gustave
Hotel Gustave is conveniently located. A 15-minute walk from the Eiffel Tower, the hotel is a comfortable boutique hotel that guaranteed a relaxing stay. Hotel Gustave is also set in a very typically Parisian building, the rooms are inspired by the Belle Époque, and there's a continental breakfast served every day. The River Seine is a few minutes away on foot, the Petit Palais and the Place de la Concorde are also a metro ride away.
Find here more information and book Hotel Gustave.
Hotel Saint Paul Rive Gauche
This 17th-century residence was once the home to monks and is now an authentically beautiful hotel. There are shared living areas, a great buffet breakfast every day and free Wi-Fi everywhere. There's a metro station only 5 minutes away from the hotel, and you'll be able to visit most of the monuments quite easily.
Find here more information and book Hotel Saint Paul Rive Gauche.
Le Bristol
One of the six hotels in Paris awarded the "Palace" status. The whole hotel is styled with 18th-century furnishings and architecture, and there is a lot of emphasis on old-style doors, antique 1940s lift, and traditional personal service.
Find here more information and book Hotel Le Bristol.
Shangri-La Paris
This hotel was originally the private mansion of Ronald Bonaparte, who was the nephew of Napoleon. You should expect incredible services, Michelin-starred Shang Palace with some of the best cuisine in town. Some of the rooms have incredible views of the Eiffel Tower.
Find here more information and book Shangri – La Hotel.
While Paris has loads to offer discerning travellers year-round, visiting in winter allows you to enjoy Paris in peace and at relatively cheap prices. Both airfare and accommodation costs are reduced during the winter season (aside from Christmas and New Year), meaning you save some pretty pennies to spend on shopping, dining and sight-seeing around this spectacular city.
If you're lucky enough to enjoy Paris in the snow you will be blessed with a picture-perfect trip that you will never forget!