In October I was in Ireland for TBEX (a travel blogger's conference). While there I spent a day exploring the beautiful countryside of Ireland with a tour of certain parts of the Wild Atlantic Way. During this tour, I was able to visit and see a part of the Ring of Kerry, the Dingle and Skellig Coast. Below is more about my trip and what I was able to experience.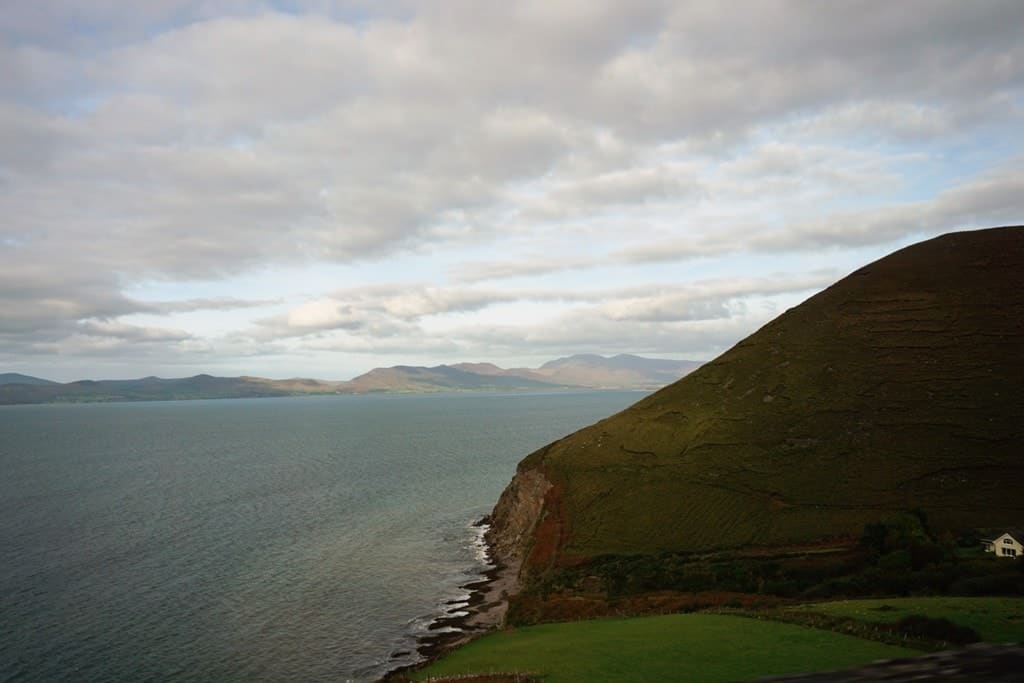 My Tour Along Parts of the Dingle & Skellig Coast of Ireland
The Kells Bay Gardens
My journey started out from Killarney where it took us along the route of the renowned Wild Atlantic Way so my group could see the exquisite coastline of Ireland. As we moved along this route, our first stop was to Kells Bay. While here we stopped at the famous Kells Bay Gardens. This "Jewel on the Ring" has a beautiful coastline view and is filled with various types of gardens you can wander through.
You can visit its Ladies Walled Garden (a 3 level garden with palms), the Bamboo Garden (filled with towering bamboo stalks, native Asian plants, and sculptures), and even the Bog Walk (covered with ferns and native Irish and New Zealand plants).
If you see some plants you're interested in while browsing through the different gardens, you can shop in the Kells Bay Gardens plant center which is filled with rare and sub-tropical plants, many of which are planted in their public gardens. Another interesting attraction you can check out here is the Guest House which is located near these gardens. This home has elegantly decorated rooms that you can stay in.
Besides these magnificent gardens though, some of the biggest highlights here during my trip were the rope bridge, waterfall, and wooden dinosaurs.The Skywalk Rope Bridge is something every visitor here should definitely check out.
It's one of Ireland's longest rope bridges and gives you a spectacular birds-eye view of the gardens below. The bridge will also give you a beautiful view of the garden's famous waterfall which is hidden behind large trees and cascades down moss-covered boulders.
Also, if you look closely during your walk through the gardens, you might come face to face with large wooden dinosaurs carved out of old logs. These dinosaurs are scattered around the park and each sculpture is unique from the other.
The Village of Portmagee
After spending some time at the Kells Bay Gardens we then moved on to Portmagee. Portmagee is a coastal village known for being a great spot to take boat rides out to the unique Skellig Michael, an island that once served as a monastery and is now a UNESCO site. It's also well known for being the setting of the newest Star Wars movie The Force Awakens.
While in the village we had a delicious lunch at the iconic Mooring Bar and Restaurant which consisted of a warm vegetable soup, sandwiches, and massive crab legs. After munching on this wonderful meal we took a quick tour around the village. The local village features many interesting stops you can make, like to local artisan shops and the historic Ballycarbery Castle.
The Skelligs Chocolate Factory
The last stop on this exciting adventure was to the Skelligs Chocolate Factory. This family-run confectionary shop is located near St. Finian's Bay and gives spectacular views of Skellig Michael. It's also one of the only open plan chocolate production locations in the entire country which makes a trip here even more special.
While here you can try some homemade chocolate and learn about the science of chocolate making by talking with their knowledgeable chocolatiers. I tried a few of their unique chocolate flavors, like gin and tonic, Irish honey, Irish sea salt, and lime and black peppercorn, but my absolute favorite was the chili and pink peppercorn.This flavor gives a spicy and peppery taste to the dark chocolate bar and is in fact one of the most intense flavors they make.
Besides their unique flavors (they make over 60), Skelligs also offers many seasonal ones. For the holidays you can find flavors like eggnog and Christmas pudding. These flavors are mixed into various chocolate types like brittles, truffles, and even chocolate letters. You can find a letter of the alphabet that's been beautifully decorated with colorful frosting and enjoy it as a snack.
If that wasn't enough to convince you to visit this creative chocolate shop, the Skelligs Chocolate Factory also makes chocolate shoes!They use a special mold to create a high heel shoe that's made completely out of chocolate. You'll find milk, dark, and white chocolate shoes you can choose from. Skelligs has plenty of mouthwatering and creative delectables that you can enjoy, no matter what your preferences.
My trip here was certainly too short to experience everything the beautiful Wild Atlantic Way has to offer, but the places I did visit were well worth it. The gardens, coastal villages, scenic views, and homemade chocolate are just a few reasons why any traveler should consider taking the same journey I did. You surely won't regret it.