Rome has many different nicknames: the "Eternal City", "The Capital" and "Caput Mundi". They all refer to its historical importance and to its undeniable charm that has been attracting thousands of people from all around the world over the centuries.
Rome is always in the top ten of the most visited European cities and in the top twenty of the most visited cities in the world.  This was made possible by its monuments and its precious historical heritage, but also by its cuisine, lifestyle, and particular atmosphere. Moreover, Rome has always been a traditional destination for honeymooners, thanks to its panoramic views and romantic corners scattered throughout the city.
Even if it's really huge (1287 square kilometers and more than 2 minions of inhabitants), the city center can be easily explored on foot and simply walking around is an experience you'll never forget.
Let's discover this unique city with this detailed Rome Travel Guide!
The Ultimate Rome Travel Guide
The best time to visit Rome
Winter
Weather: Roman winter is generally mild and temperatures rarely fall below 2 or 3 degrees. February can be rainy and require an alternative indoor itinerary.
What to do: the Christmas period is always a good choice because of its festive atmosphere, the lights and the decorations that make the city look cheerful and lively. Spending New Year's Eve in Rome is also an excellent option.
Pros: low season goes from November to March, so that you'll probably find cheaper fares and a wider choice of affordable accommodations. Moreover, the mild climate is perfect to go sightseeing. Best period: late December/early January
Cons: Winter is generally a rainy season. Worst period: February.
Spring
Weather: between the end of March and the beginning of May the temperature is really perfect and it usually stays around 18-20 degrees. You'll mostly find sunny days except in March, which is still a rainy month.
What to do: one of the most popular spring events in Rome is the Primo Maggio Concert, that is a free mega-show taking place on May 1st (Labor Day) in San Giovanni Square. Easter celebrations are also a very important time of the year and they attract many people that crowd the Vatican area for masses and blessings.
Pros: Spring is the right moment to enjoy Roman parks and gardens. Best period: May.
Cons: Easter holidays are a very busy time of the year and many tourists and locals gather in Rome. Worst period: Easter week
Summer
Weather: hot. Temperatures rarely fall below 30 degrees.
What to do: parks are the best places to spend your days in Rome and there are many events, shows, and exhibitions that take place there, both during the day and night. In summer, you can also explore the coast and spend a day on the beach in Ostia, Anzio or Fregene. Other popular summer day trips are the Roman Castles and Bracciano Lake. In summer, there are also many special openings allowing you to visit some important attractions by night (ex: Colosseum or Villa Adriana).
Pros: you can explore some nearby places you'd never discover in other seasons.
Cons: it's often too hot to go sightseeing.
Autumn
Weather: together with Spring, it's the best time of the year to visit Rome. You'll find mild and sunny weather and in September and early October, you'll probably still have the chance to go to the beach or spend a couple of hours at the swimming pool. At the end of October, the rainy season begins and the weather can suddenly change so it's best to bring an umbrella and a jacker with you.
What to do: an important Autumn celebration is All Saints, on November 1st. During the first weekend of November Rome can get busy with tourists. Another typical Autumn experience is tasting "caldarroste" (roasted chestnuts): in Italy is very common to find them at every corner of the streets directly cooked on a stove and sold hot to be tasted while walking around.
Pros: you can admire the foliage and the colors of the sunset creating a particular atmosphere in the Roman sky, especially after a sunny day. To indicate these charming days there is the term "Ottobrate Romane". Best period: October
Cons: none.
The best areas to stay in Rome
Rome is a really big city and you'll be spoilt for choice as regards your next accommodation!
Let's discover the main features of each district (the main ones) to help you figure out what's the best area for you, according to your own preferences and needs.
Testaccio: it is one of the most popular districts of Rome and it is always crowded by tourists and locals. Main point of interest: Cestia Pyramid.
Pros: picturesque
Cons: chaotic
Trastevere: it is located on the right bank of the Tevere River, close to the Vatican State. This area offers many panoramic and picturesque corners and it is suitable to take pictures and have a drink outdoor. Main point of interest: Santa Maria church.
Pros: it reminds of a past time when Rome was not such a chaotic city
Cons: noisy at night
Prati: it is an elegant and peaceful district, close to the Vatican State. Main point of interest: Cavour Square.
Pros: it has many facilities and it is very well connected to the other districts
Cons: there is not so much to see in this specific district
Monti: it is popular for its art galleries and for its bohemian atmosphere. It's particularly loved by young people. Main point of interest: the ancient Suburra.
Pros: not too crowded by tourists despite its picturesque look
Cons: a bit decadent
Tridente: it includes Piazza del Popolo and three surrounding streets (via del Corso, via del Babuino and via di Ripetta). Main point of interest: Piazza del Popolo.
Pros: it is within walking distance from many famous places and it includes one of the main shopping streets of the city (via del Corso)
Cons: none
Monteverde/Gianicolense: this residential district is located upon a hill and it is one of the "green lungs" of Rome. Main point of interest: Villa Doria Pamphili.
Pros: quiet and green
Cons: far from the city center
Piazza di Spagna area: it includes the streets surrounding one of the most iconic squares of Rome. Main point of interest: Trinità dei Monti church.
Pros: one of the main touristic areas
Cons: crowded by tourists during both day and night
Veneto Street area: it was once a very glamorous area of the city and it was made famous by Fellini's movie "La Dolce Vita". Now it's a modern and vibrant area. Main point of interest: Church of Santa Maria delle Concezione dei Cappuccini.
Pros: many famous places are within walking distance
Cons: today it mostly looks like a modern and contemporary area with no specific attractions.
Piazza Navona area: it is located in the heart of the city center and close to the main attractions. Main point of interest: The Fountain of the Four Rivers.
Pros: you can easily reach the main attractions from there
Cons: none
Campo de' Fiori: it includes the streets surrounding the homonymous square. During the day, you'll find a vibrant market, while during the night it's full of students living their best life. Main point of interest: the statue of Giordano Bruno.
Pros: the best choice for young travelers
Cons: chaotic
Jewish Ghetto: it is one of the oldest ghettoes in the world and it is a very small district almost untouched by mass tourism. Main point of interest: the Synagogue.
Pros: it is a quiet area even if it's close to the city center
Cons: none
San Giovanni: it is one of the oldest districts of Rome and one of the most populated too. There are many attractions within walking distance. Main point of interest: San Giovanni in Laterano church.
Pros: a mix of ancient and modern features
Cons: not so close to the city center
Nomentano: a former middle-class neighborhood. There are many villas built in Liberty style that mix with modern buildings. Main point of interest: Villa Torlonia
Pros: quiet
Cons: not so close to the city center
Trieste: this district includes two smaller areas called "African District" and "Coppedé District". It is mostly a residential area. Main point of interest: Liberty villas of the Coppedé area.
Pros: there are many interesting buildings to see
Cons: none
Flaminio: it takes its name from the homonymous street and it has recently become an important cultural hub. Main point of interest: Auditorium Parco della Musica.
Pros: many things to see and do
Cons: none
Palatino: the most central hill of Rome directly overlooking the Roman Forum. Main point of interest: Domus Flavia.
Pros: it's perfect for history-lovers
Cons: there aren't many facilities
Aventino: another famous hill hosting one of the most elegant and glamorous districts of Rome. Main point of interest: Orange Garden.
Pros: elegant
Cons: there aren't many facilities
Eur: it is Rome's business district and its architecture reflects the Fascist era, that is the period when it was built. Main point of interest: Building of Italian Civilization.
Pros: it's the best choice if you are going to see a show in the PalaLottomatica Arena
Cons: far from the city center
Garbatella: it looks like a village or a small town and you can still notice that it was once a humble "Borgata" (rural borough). Main point of interest: Benedetto Brin Square.
Pros: peaceful and simple
Cons: a bit decadent
Pigneto: a trendy district located near Termini train station. It is always crowded with young people. Main point of interest: its nightlife.
Pros: perfect for young people
Cons: chaotic
For more information check my post: Where to stay in Rome – the best areas recommended by a local.
How to get from Rome's airports to the city center
Rome has two international airports called Fiumicino (its proper name is Leonardo da Vinci, but it usually takes the name of the closest town) and Ciampino (proper name G.B. Pastine).
From Fiumicino airport
By train: there is a train to Rome every 15 minutes. It stops at Tiburtina station and it takes about 50 minutes to get there. The cost is around 8 euro. The fastest option is the Leonardo Express train that only stops at Termini station. It takes about 30 minutes and the cost is around 14 euro. For more information visit here.
By bus: there are 4 Companies offering rides to and from Fiumicino Airport. To reach the city center you'll need about 50 minutes
(depending on the traffic conditions) and the ticket is affordable (under 10 euro).
The Companies are:
By taxi: a standard fare is applied and it's a good option if you are a group and you can split the cost. The general cost is around 50 euros. For more information visit here.
From Ciampino airport
By bus: there are 3 Companies offering rides to and from Ciampino Airport. To reach the city center you'll need about 40 minutes (depending on the traffic conditions).
The Companies are:
By taxi: a standard fare is applied and it's a good option if you are a group and you can split the cost. The general cost is around 30 euros. For more information visit here.
How to get around Rome
Rome is famous for being one of the most chaotic Italian cities and its public transport system isn't always efficient, even if the rides are very frequent. Renting a car is not an option because you would probably get stuck in traffic jams at any time of the day, so let's see how you can effectively get around Rome:
On foot: if your accommodation is close to the city center you can walk around and reach the main attractions on foot. Many monuments and points of interest are close to one another and strolling along the picturesque streets of Rome is always a nice experience.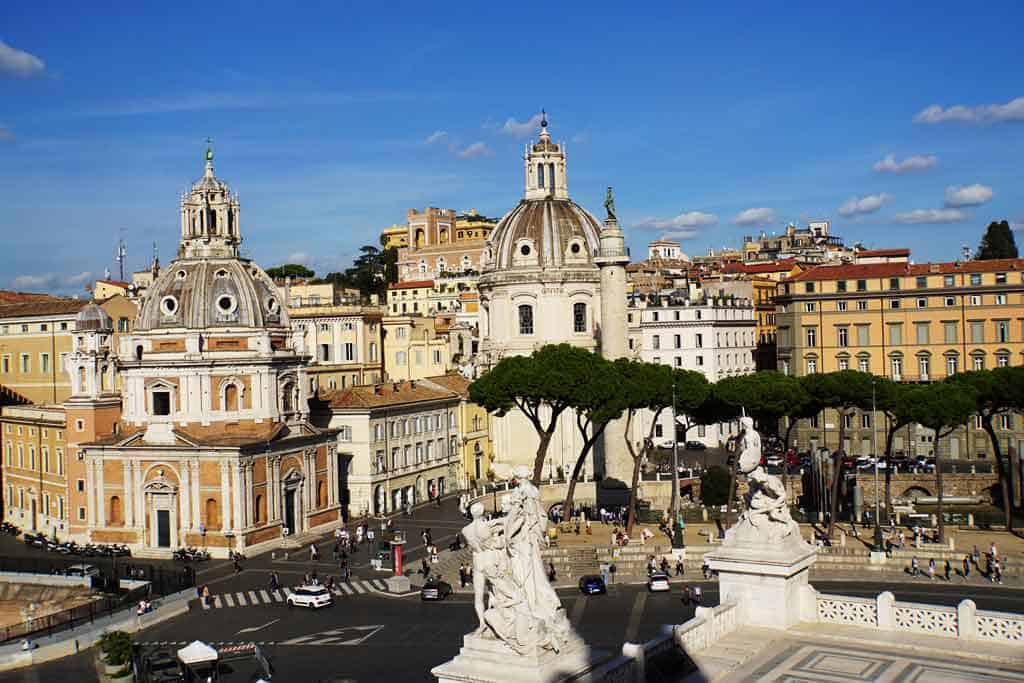 By subway: this way you'll avoid traffic jams and you'll be able to move around quickly. Rome has 3 subway lines (A, B and C) with rides going from 5.30 a.m. to 11.20 p.m. A single ticket costs 1,50 euro and it lasts 100 minutes but you had better subscribing for a cumulative ticket: a weekly ticket lasts for 7 days and it costs 24 euro, a daily ticket lasts for 24 hours and it costs 7 euro, a 48hours one costs 12,50 euro and a 72hours one costs 18 euro. For more information visit here. Subway map https://www.travel365.it/file/mappa-metro-roma.png
By bus: Rome has 414 bus lines. The only disadvantage is traffic: buses are often late and they move slowly so you shall be patient. There are also several lines of night buses working until 5 a.m. A single ticket costs 1,50 and the cumulative tickets are the same as the ones you can find for the subway lines. For more information visit here. Bus lines https://www.travel365.it/file/mappa-bus-roma.pdf
By tramway: Rome has 6 tramway lines only working during the day. Tickets are the same as the ones for buses and the subway. For more information visit here, tramway lines here.
Disclaimer: This post contains affiliate links. This means that should you click on certain links, and then subsequently purchase a product, I will receive a small commission.
28 Popular things to do in Rome
1. Visit the Colosseum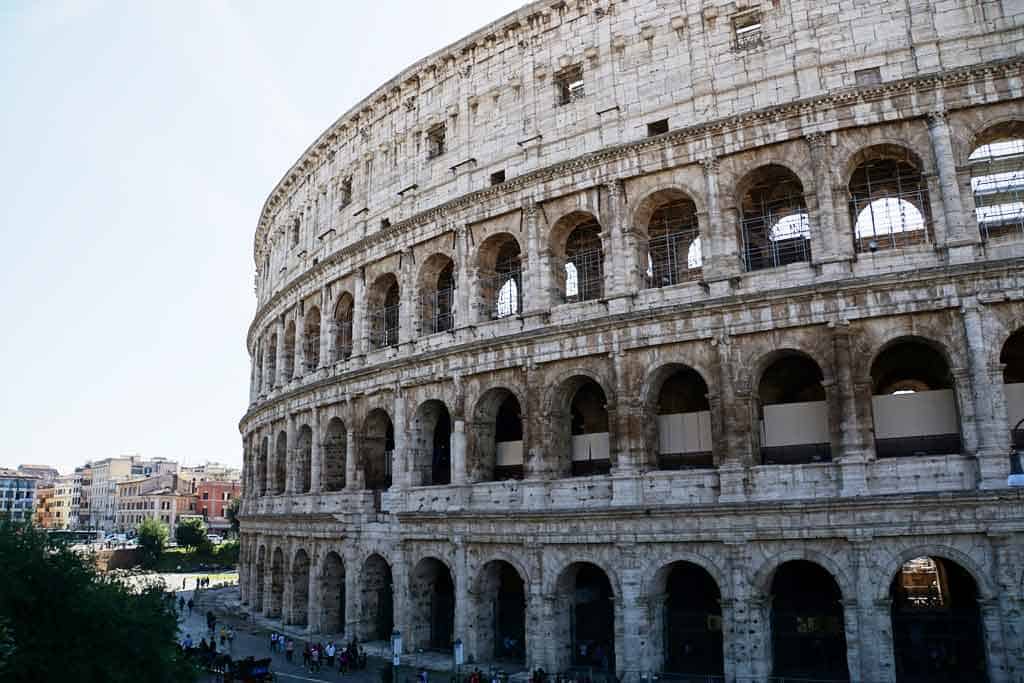 It is the most iconic monument in Rome and it needs no introduction! Its proper name is Flavian Amphitheater and it is included in the UNESCO's World Heritage List. To explore even its most remote corners and learn its history a guided tour is the best option.
Tip: The Roman Forum, the Colosseum, and Palatine Hill were incredible places to visit, and the most important monuments in Rome, so needless to say, the lines were massive. Luckily, we bought skip the line tickets that helped make our tour so much easier and convenient.
Find here more information about the skip the line tour to the Colosseum and Ancient Rome
Opening hours: Every day: 8:30 am until one hour before sunset, 25 December and 1 January: closed
Tickets:
Combined ticket to visit the Colosseum, the Roman Forum and the Palatine:
Adults: 12€
European Union members (18 – 24): 7.50€
Children (ages less than 17) and seniors (over 65) members of the EU: free entrance
2. Admire the Pantheon's dome
It is an impressive temple built to celebrate Roman gods. It looks like a Greek temple and its most striking feature is the hole in its dome: it is the only source of natural light for the internal area of the temple and it creates an evocative atmosphere. To fully enjoy the place, go there early in the morning so that you are not surrounded by a noisy crowd!
3. Walk in the Roman Forum
It is a large archaeological park right in the city center. There are ruins dating back to a period spanning between 46 B.C to 113 A.C. By walking here, you can easily imagine how ancient Rome looked like.  If you don't have enough time for a long visit, choose a tour including Colosseum, Roman Forum and Palatino Hill. An interesting tour is this one. 
4. Explore Palatino hill
It is the most central hill of Rome overlooking the Roman Forum. According to the legend, the Wolf that raised Romolo and Remo lived here. When visiting the Roman Forum and the Palatino hill, you had better bring some water and some food with you, because there are no refreshing points in these areas.
5. Relax in the park of Villa Borghese
It is one of the most beautiful parks in Rome and it hosts the Borghese Gallery, which is a rich art museum. It was the mansion of the noble Borghese family that reproduced a nice English-style garden and began to collect precious works of art. You can spend a whole afternoon here and enjoy the park by renting a bike.
I bought skip-the-line tickets that made the entire ordeal much easier since the lines were discouraging and often tickets are sold out!
Find here more information about the Skip the Line: Borghese Gallery and Gardens Half-Day Tour.
Opening hours: Tuesday – Sunday: 8:30 am – 7:30 pm, Monday: closed
Tickets: Adults: 13 € + 2€ for the obligatory reservation, EU citizens (ages 18 – 25): 6,5 € + 2€ for the obligatory reservation
6. Throw a coin into the Trevi Fountain
It is one of the most scenic fountains in the world and it is fed by an ancient Roman aqueduct still functioning today! According to the legend, throwing a coin into the basin is the best way to be sure to come back to Rome at least once.
7. Spend a night out in Trastevere
You cannot visit Rome without spending a few hours in this picturesque district. It is the perfect place for taking beautiful pictures, strolling along the cobbled alleys and having a drink outdoor.
8. Admire the fountains of Piazza Navona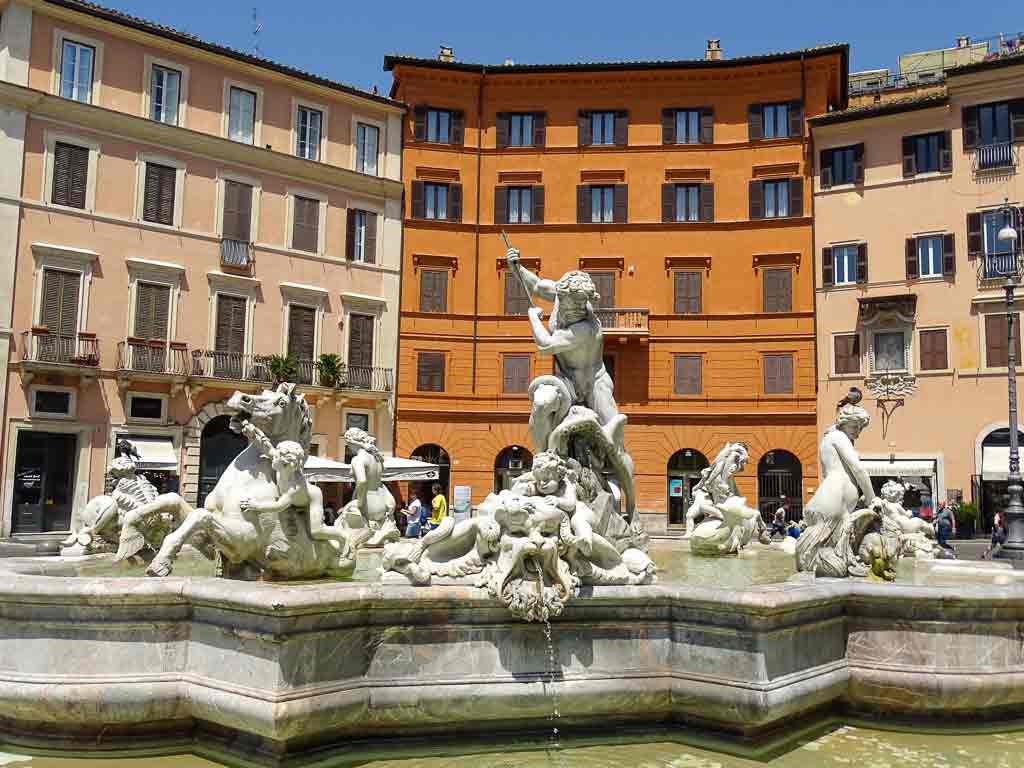 This beautiful Baroque square is famous for its fountains, especially for the Four Rivers one by Bernini. It was once a stadium and during the era of Domiziano, it was the place where the chariot races took place. Today it is always crowded and rich in restaurants and cafés.
9. Visit Castel S. Angelo
It was once the mausoleum of Emperor Adriano and his family, then it became a military fortress and a prison and today it is an interesting museum. To skip the long lines, join a guided tour.
Opening hours: Tuesday – Sunday: 9 am – 7 pm
Tickets: Adults: 10,50€, EU citizens (aged 18 – 24): 7€
Book here your Castel Sant'Angelo Reserved Ticket,
10. Visit the Capitoline Museums

This complex is located in Campidoglio square and it is composed of two buildings called Palazzo dei Conservatori and Palazzo Nuovo. Here you can find some popular works of art like the statue of the Wolf. It is another place where you'll surely find a long line so that a tour is a good option.
Click here to book a skip-the-line guided tour of the Museum.
It's been one of the most important areas of the city since the Renaissance period and it takes its name from the Spanish Embassy's building. Its iconic staircase dates back to 1726 when Pope Innocenzo XIII decided to create a gathering point for the citizens.
11. Admire the view from the belvedere of Trinità dei Monti
Take some pictures and enjoy the view then visit this nice church dating back to the XVI century.
12. Visit San Pietro Basilica
It is one of the most important religious buildings in the world and the most important one for the Catholics since it's the Pope's church. Taking part in a mass or receiving the Pope's blessing could be a very intense experience.
13. Enjoy a guided tour of the Vatican Museums
Most people come here only to see the Sistine Chapel and the Raffaello's Rooms, but there's so much more to discover in this huge complex!
Tip: Visiting there is an essential Rome experience, and it will be quite overwhelming! Before anything, you should know that the queues are huge.  No matter how much you think you can wait, you can't. The queues go on for seemingly forever, so I recommend a skip a line tour, Both times I've been there were with the skip the line guided tour, and it added to the overall comfort and convenience of my entire visit there. If you're not really into tours, you can wander on your own and skip the lines.
14. Visit the Domus Aurea
Literally "Golden House", it was Nerone's palace. Website: https://www.coopculture.it/en/heritage.cfm?id=51# You can only visit it joining a guided tour taking place during the weekend.
15. Watch the cats in Largo di Torre Argentina
It is an important archeological area and the place where Giulio Cesare was murdered in 44 B.C. Nowadays, it is also a feline colony managed by an association of volunteers that feed and take care of Roman stray cats. They can freely wander around the ruins and they are available for adoption.
16. Visit the Caracalla Baths
These baths are very well preserved and they can give you an idea of what the ancient Roman baths looked like under the reign of Emperor Caracalla (216 A.C). During the summer months, they are also used as a location for some opera shows.
17. Enjoy the nature at Villa Doria Pamphili
It is the largest park in Rome (184 hectares) and it is located in Monteverde district. It was the former country residence of the noble Pamphili family. Don't expect to see their villa, because there is none! The only building of the park is the so-called Casino del Bel Respiro, which is closed to the public since it's a representative office of the Italian Government. Website:
18. Enjoy the view from Gianicolo Hill
It is one of the most iconic views of Rome and the belvedere is always crowded. Take the time to have a pleasant walk along its shady streets and in Garibaldi Square.
19. Visit San Giovanni in Laterano church
It is one of the four papal basilicas of Rome and it is called "the mother of all the churches". It was built by Borromini.
20. Discover Palazzo del Quirinale
It is the headquarter of the Italian Government and it is located on top of the homonymous hill. Remember to book your visit in advance!
21. Visit Santa Maria Maggiore basilica

It is one of the four papal basilicas of Rome and it is located on top of Esquilino hill. It is said the Virgin Mary herself ordered the construction of this church to Pope Liberio in the V century A.C. It is close to Termini station, so it makes a nice last visit before leaving Rome.
22. Admire the villas in the Coppedé District
It is a smaller area in the Trieste district and it is a famous neighborhood full of villas built in Liberty and Art déco style. If you love architecture and design you cannot miss it!
23. Admire Piazza del Popolo
It is the heart of the Tridente district and one of the most popular squares of Rome. It's a neoclassical masterpiece by Giuseppe Valadier.
24. Enjoy the view from Pincio's belvedere
Here you'll have the chance to enjoy an amazing view and to walk in a beautiful and peaceful park leading you to Villa Borghese. Website:
25. Visit San Pietro in Vincoli church
It derives its name from the chains ("vincoli" in ancient Italian) that imprisoned S. Peter in Jerusalem. This ancient church is also famous for the statue of Moses by Michelangelo.
26. Observe the Altar of the Fatherland in Piazza Venezia
This patriotic symbol contains the Tomb of the Unknown Soldier and it is an important place for Italian modern history.
27. Visit Palazzo Colonna
It was the private mansion of the noble Colonna family and it dates back to the XIV century. Inside you can admire a rich art collection. Visits are only allowed on Saturday morning.
28. Explore the underground Catacombs of S. Callisto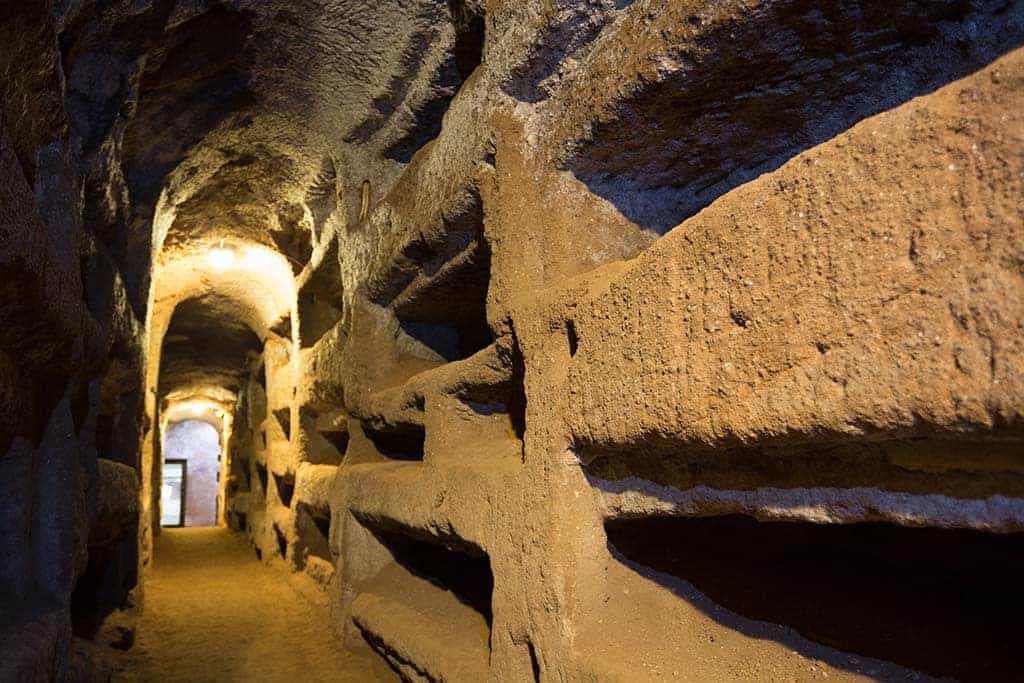 20 Km of 20m deep underground tunnels. Here you can see the tombs of half a million ancient Christians. If you choose a guided tour, you can combine it with a visit to the Appia Antica park!
Off the beaten path things to do in Rome
1. Learn how to cook the most famous Italian dishes
Learn all the secrets of handmade pasta and tiramisu with this cooking class. If you prefer pizza, no problem: check this pizza and pasta-making cooking class. 
2. Become an artist for a day
If you are an art lover, have fun learning how to create a mosaic with your hands. This workshop in Trastevere will teach you how to craft your own souvenir:
3. Enjoy some vintage shopping
At the famous Porta Portese Market, you'll be spoilt for choice as regards vintage shopping! This iconic market is held in the homonymous area every Sunday morning from 6 a.m. to 2 p.m. You'll find extremely cheap second-hand clothes, shoes, and accessories. The market goes from via Portuense to Viale Trastevere.
4. Spy S. Peter's Basilica through the Aventine's Keyhole
It's something only locals know but it's worth a short walk on the Aventino hill. From the keyhole of the Priory of the Knights of Malta, you can enjoy a special perspective of St. Peter's dome. If you see some people spying through a keyhole and trying to take some pictures from an odd position, you'll know you've found it!
5. Walk around Campo de' Fiori
Spending your early morning in Campo de' Fiori is a great experience because you'll immerse yourself in the lively atmosphere of one of the best Roman markets.
6. Visit the church of San Luigi dei Francesi
Not many people know that this church houses some masterpieces by Caravaggio. It's a real museum and it's free! It's also the church of the French community living in Rome.
7. Buy your groceries at Esquilino Market
If you have the chance to cook your meals and you love ethnic food, go there for your grocery shopping. You'll find any kind of ingredient and it's an interesting place to visit for any food lover. The exact address is via Filippo Turati. Opening hours: from Monday to Saturday from 5 a.m. to 3 p.m.
8. Drink from a Nasone
Nasoni are the small grey public fountains scattered throughout the city. They offer free drinking water so that you can take a reusable bottle with you and fill it any time you want without using plastic ones.
9. Take some night pictures from Campidoglio square
Here you can enjoy one of the best night views of Rome.
10. Take the time to do some trekking in Caffarella Park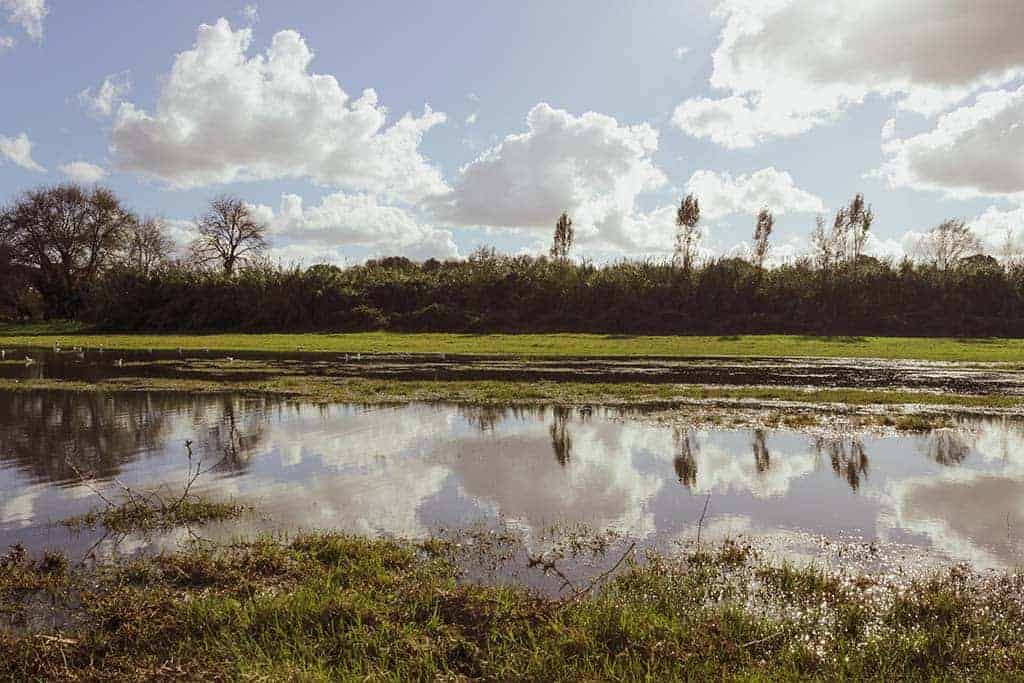 It is located near the Appia Antica and it offers 3 itineraries (natural, archeological or literary).
11. Have lunch in the Jewish Ghetto
Enjoy the typical Jewish-Roman cuisine in a local trattoria. What you cannot miss: Jewish artichokes (carciofi alla giudia), fried courgette flowers, roasted lamb (abbacchio), sweet pizza and visciole (sour cherries) pie.
12. Put your hand into the Mouth of Truth
This marble mask is said to bite liars' hands! You can find it at the entrance of Santa Maria in Cosmedin church, near the Tevere river and in front of Tiberina island.
13. Have a guided tour of Cinecittà studios
The Italian Hollywood. There are two kinds of English tours available.
What to eat in Rome
Roman cuisine is based on simple and "poor" ingredients that were typical of the rural areas. That's because even the poorest farmers had some vegetables and offal available. Roman dishes are very nutritious and filling because in the past people used to have just one meal per day so that they needed something very nourishing to work long hours in the fields!
Let's discover what are the dishes you cannot miss during your visit to Rome:
Rigatoni con la pajata: pajata is the intestine of a calf and it can be both a main dish (a sort of stew) and a pasta sauce, which is more common nowadays. This dish can remind of Bolognese pasta, but the texture is completely different.
Pasta alla carbonara: the main ingredients are eggs, pecorino cheese, bacon, and black pepper. It is mainly served with spaghetti, but any pasta shape is fine. Some recipes use pork cheek instead of bacon.
Bucatini all'amatriciana: pasta with pork cheek, tomato sauce, and pecorino cheese. Some recipes also add onions. It takes its name from the town of Amatrice where it was first invented in the late XVIII century.
Pasta alla gricia: it is the same as amatriciana without the tomato sauce. It is an older recipe dating back to the time when tomatoes had not been discovered yet!
Trippa (tripe): stomach and offal of cattle and sheep. It was a very poor and simple dish that was very popular in the countryside and it's still very much appreciated by the Romans. It is a meat stew cooked in a sauce made with tomatoes, onions, carrots, pecorino cheese, and white wine.
Spaghetti cacio e pepe (cheese & black pepper): a simple pasta dish made with just two ingredients. Despite its simplicity, it's not easy to cook it really well, because the secret consists in using the right amount of water to obtain a creamy but thick and savory sauce.
Abbacchio alla scottadito (roasted lamb): lamb is very popular in Lazio. This dish is mostly prepared during Easter time, but many typical restaurants keep it in their menu all year round. These lamb ribs shall be picked with your hands and they are served so hot that they will burn your fingers: "scottadito" means "burned finger"!
Carciofi alla giudia (Jewish artichokes): fried artichokes typically served in spring. Their main feature is the craving that makes them look like sunflowers once fried.
Maritozzo: it is a small and sweet loaf filled with whipped cream. Sometimes you can also find some raisins and pine nuts in the dough. Its name ("hubby") stems from an ancient custom: future husbands offered this sweet loaf to their brides and they hid a gift inside.
Saltimbocca alla romana: veal rolls filled with ham and a sage leaf. They are cooked in white wine and melted butter. Sometimes they are made with chicken meat, but the original recipe requires veal.
Coda alla vaccinara: an oxtail stew prepared with tomato sauce and mixed vegetables.
Grattachecca (Roman granita): shave ice with flavored syrups. You can find it in every kiosk and it's the most popular summer snack, together with ice cream.
Supplì: a typically Roman street food. It consists of a ball made with tomato risotto that is first rolled into beaten eggs and breadcrumbs, then deep fried. Once it also contained chicken giblets, but today the only filling is usually mozzarella.
Fiori di zucca fritti (fried cougette flowers): you can find them plain or stuffed with anchovies and mozzarella.
Crostata con le visciole (sour cherry pie): it is the typical Roman – Jewish dessert and it is made of shortcrust pastry, sheep ricotta and sour cherries jam.
Tiramisù: it is the ultimate Italian dessert so that you cannot come to Italy without tasting it. Its main ingredients are Savoiardi biscuits, coffee, mascarpone, and cocoa powder. It was invented in Friuli Venezia Giulia, but it has become the main Italian dessert that every tourist wants to taste!
Roman pizza: pizza is another typical Italian dish that one must taste at least once during an Italian holiday. Roman pizza has a thinner and crispier crust in comparison to the Neapolitan one. In Northern and Central Italy, you will mostly find the Roman version, while in Southern Italy and on the islands, you will probably encounter the Neapolitan softer version.
Gnocchi alla romana: in the rest of Italy gnocchi are made with potatoes, while in Rome they are made of semolina. The shape is also different: roman gnocchi are discs of semolina and not small potato balls and they are baked and not boiled.
If you are in Rome during the Carnival period (February), taste castagnole and frappe: they are the Roman version of the traditional Italian Carnival treats. The main ingredients are flour, sugar, and butter and they can be covered with icing sugar or filled with chocolate, custard, jam or ricotta.
If you are in Rome in December, taste the pangiallo (yellow bread): it is an ancient recipe dating back to the Imperial era. It was made on the occasion of the winter solstice to represent the sun. It is a yellow dried fruit loaf that was offered to relatives and friends. Today pandoro and panettone are more widespread, but this tradition still exists, especially in the countryside.
If you are in Rome during the Easter week, taste the "pizza cresciuta": it is a sweet and very soft loaf that is traditionally served for breakfast or for the Easter picnic with cold cuts and some boiled eggs. There are many versions of this kind of bread, according to the different aromas that can be added to its dough: orange or lemon zest, cinnamon, nutmeg or anise.
If you are in Rome in March, taste the Beignet of S. Joseph: it's the Roman version of the Neapolitan zeppole. They are fried beignet stuffed with custard and they are traditionally prepared on St. Joseph's Day (March 19th).
Safety in Rome
Rome is generally a safe city and it is very much controlled by the police, because of the presence of the Vatican and the headquarters of the Italian Government. Just like in any other metropolis, there are some potential dangers you shall be aware of:
Pickpockets
They can be found in any tourist area and they prefer the places where crowds gather, like the entrance lines to the main monuments, the Trevi Fountain or some shows and events. You must also pay attention to crowded buses and subway trains because they could try to push you to enter or to gain some space and steal your bag in the meantime. As most locals do, try to avoid to get on overly crowded buses and trains and wait for the next one. Markets are also a "dangerous" spot because they are noisy and crowded. Some safety suggestions: always keep your wallet and phone inside a hidden pocket of your bag and do not keep them in an external pocket of your jacket or trousers. Keep a hand over your bag when you find yourself stuck in the crowd and never leave your bag out of sight (for example don't put it on the floor when sitting at an outdoor table or on a bench).
Traffic
Pay attention before crossing the streets, even if there is a pedestrian crossing and the traffic light is green. Rome is sadly known to be a city where there are a lot of mortal accidents due to cars going too fast or not giving precedence.
Neighborhoods with a bad reputation
The "worst" districts are Esquilino, San Basilio, Centocelle and Tor Bella Monaca. These areas have a high percentage of thefts, drug traffic, and gangs. The streets surrounding the main train stations should be avoided at night/
How to save money while traveling in Rome
1. Plan your trip in advance
If you buy your flight or train ticket in advance (a few months), you'll be able to pay less! From November to March you can also take advantage of low season discounts in many hotels.
2. Enjoy free admission to all the State museums
In Italy State museums and public monuments are free on certain dates. Dates in 2019: Jan 6th, Feb 3rd, March 3rd, October 6th, Nov 3rd, Dec 1st. Dates in 2020: Jan 5th, Feb 2nd, March 1st, April 5th, May 3rd, June 7th, July 5th, Aug 2nd, Sept 6th, Oct 4th, Nov 1st, Dec 6th.
3. Visit the Vatican Museums at the end of the month
Vatican Museums are always free on the last Sunday of each month.
4. Enjoy the discounts for young people
European citizens from 18 to 25 years old pay a lower fee to enter the main attractions. You just need to show your passport to have a discount.
5. Buy a Roma Pass
It is a prepaid card allowing you to enter many attractions and to freely use public transports. There are two types of cards: 48h and 72h, according to the duration of your trip. For more information visit http://www.romapass.it/en/home/ Omnia card is similar but less useful and more expensive.
6. Take the subway
It is fast and cheap and with 24 euro you can move around the city for 7 days.
7. Taste local street food
It is way cheaper than going to the restaurant and it is perfect for a quick lunch!
8. Choose small trattorie
Sometimes you'll find the best meals in small and simple restaurants rather than in fancy and touristic ones. Trattorie and osterie are often family-run and offer authentic Roman cuisine at an affordable price. Choose also their house wine instead of buying a whole bottle and you'll save some extra money while drinking some excellent local wine.
9. Drink from the Nasoni
Don't buy expensive water bottles but drink free water from the public grey fountains. It's also an ecological choice!
10. Stand at the bar
If you just wish to taste some coffee and have a short break, don't sit at a table because you'll pay for more than a simple coffee! Italians stand at the bar for quick breaks because it's cheaper. Sit down only if you plan to spend at least half an hour at the bar.
11. Walk
You can explore Rome on foot and save some extra money while discovering new streets and picturesque districts!
12. Shop during the season sales
If you are a shopping addict, take advantage of the season sales in January and July.
13. Explore the markets
If you love vintage clothes, second-hand objects or you need to buy some groceries for your meals, markets are the cheapest option.
14. Avoid the gladiators
Especially in the Colosseum area, you'll be probably approached by some gladiators offering to take a picture with you. It's way too expensive (they usually ask around 10 euro) and it's not worth it!
Practical tips for your trip in Rome
Beware of how you dress up to visit Rome's churches – You shall avoid miniskirts, plunging necklines, singlets, hats, and shorts. In Rome, it is considered disrespectful to wear such clothes in a church.
Don't bathe in the fountains – Even if it's a hot summer day, remember that putting your feet or arms inside the basin of a public fountain is strictly forbidden.
Don't rent a car – There are too many traffic jams, so it is preferable to walk or to use the subway.
Wear comfortable shoes – You'll probably walk long hours, so you'd better be prepared! Heels are not recommended, even for a night out: the streets of the city center are often paved with "sanpietrini", that is small stone cubes that can make you stumble.
Bring a city map with you – You can find it at your hotel or at the main train stations. You'll also find many offices where you can ask for tourist materials and some advice (the list is http://www.turismoroma.it/en/node/18692 ). If you prefer to download an app on your phone try this one https://www.ulmon.com/
Have breakfast like a local – Having breakfast in a bar is quite common in Italy. The typical Italian breakfast is made of "caffé e cornetto", that is coffee (or cappuccino) and a croissant. In Rome, you must absolutely try a maritozzo instead!
Remember that smoking indoor is forbidden in Italy!
Book and buy your tickets, Roma Pass and tours online to save some extra time!
A guide to traveling in Rome with pets
The majority of Roman monuments and museums won't allow you to bring your pets. Anyway, there are plenty of things to do and see if you are traveling with your fluffy friends!
What can you see together?
Trevi Fountain
Navona Square
Spanish Steps
Peter Square
Venezia Square
Colosseo (outside)
Pantheon (outside)
The Mouth of Truth
Campo De' Fiori
Via del Corso
Largo di Torre Argentina
Rome has many parks and some of them also provide large areas especially for dogs (fenced areas where dogs can freely play without the leash). The most dog-friendly parks are:
Villa Doria Pamphili: entrance in via S. Pancrazio. There are 2 areas for dogs and several picnic areas.
Villa Borghese/Pincio: entrance in Piazzale Napoleone. Dogs cannot enter the Borghese Gallery.
Parco della Caffarella: entrance in via della Caffarella. Here you can enjoy some trekking and outdoor activities with your dog.
Villa Chigi: entrance in via Villa Chigi. Large area for dogs.
Villa Sciarra: entrance in Viale delle Mura Gianicolensi. Large area for dogs and a beautiful view for you.
Appia Antica: entrance in via Appia Antica. Here you can run or exercise with your dog.
Villa Torlonia: entrance in via Nomentana. Small dogs are allowed to enter the museum.
Villa Ada: entrance in via Salaria. Nice picnic areas.
Villa Celimontana: entrance in via della Navicella. Playground for kids and nice area for dogs.
Orange Garden: entrance in Piazza Pietro d'Illiria. Suitable for your pictures too!
What about public transports? Small and medium-sized dogs are allowed on buses, tramways, and trains. They shall be kept on a leash and you shall always bring a muzzle with you. Large dogs are not allowed. In the subway, remember to catch the first or the last wagon when traveling with your dog. Other pets (cats, rabbits, etc.) are allowed if they are kept inside a kennel. Dogs shall pay the regular ticket, unlike other smaller pets.
Where to stay? Rome has many pet-friendly hotels and B&Bs offering bowls, cushions, kennels, and even pet sitting services upon request. To find the perfect accommodation visit this specialized search engine https://www.mypethotel.it/
Where to eat? More and more restaurants and cafés are opening their doors for pets. Anyway, it is always best to ask before entering. If you sit an outdoor table there should be no problem, but remember to keep your dog on a leash and your cat inside its kennel.
Things to do in Rome with kids
When traveling with kids, it's very important to plan some interesting and funny activities that can awake their curiosity. Remember to plan frequent breaks too, to let them rest and recover after long walks.
Let's discover some ideas to spend some quality time with your kids during your visit:
1. Visit Explora – the kids' museum
It is conceived as a mini-city where kids can touch, play and experiment what's like being an "adult". For example, they can choose to be farmers, bankers, firemen and so on and do their typical activities explained through games. At the same time, these games teach them something about mechanics, physics or biology in a funny way. Address: via Flaminia 82. Opening hours: from 10 a.m. to 6.45 p.m. Closed on Mondays. Cost: from 5 to 10 euros. Website: https://www.mdbr.it/en/
2. Zoology Museum
Kids are always interested in animals and this museum also organizes many activities and guided tours especially conceived for families. For example, there is a guided tour named "The Woodland Tales" that includes some fairy tales about the animals you can find in this ecosystem. Address: via Ulisse Aldovrandi 18. Opening hours: from 9 a.m. to 7 p.m. Closed on Mondays. Cost: 7 euro for adults and 5,50 euros for kids. Website: http://www.museodizoologia.it/
3. "Welcome to Rome" -interactive and digital show
A multimedia show explaining the history of Rome in a dynamic way. It's a multi-projection on the floor, ceiling, and walls that creates an immersive atmosphere. The show lasts 30 minutes. Address: Corso Vittorio Emanuele II 203 Opening hours: shows can be from 9 a.m. to 8 p.m. Cost: 14,50 euro. Website: http://welcometo-rome.it/en/
4. Eden Park
An amusement park with a nice green area. Many events and shows are organized on a monthly basis. Address: via Mattia Battistini 55. Opening hours: from 9.30 a.m. to 1 p.m and from 4.30 to 8.30 p.m. Cost: free entrance and a specific fee for each attraction. Website: http://www.edenparkroma.it/
5. Parks and playgrounds
Many Roman parks have nice playgrounds for kids. The best ones are in Villa Borghese, Villa Celimontana, Villa Doria Pamphili and Villa Ada.
6. Villa Medici Family Tour
This special guided tour takes place every Sunday morning and it is conceived to entertain families while teaching the villa's history through tales and games. Address: viale della Trinità dei Monti 1. Opening hours: every Sunday at 10.30 a.m. Cost: 6 euro. Website: https://www.villamedici.it/en/disvoer-and-visit-the-villa/visits/families/
7. La Fattorietta
A real farm where kids can see animals, enjoy interesting activities and ride a pony. Address: Vicolo del Gelsomino 68. Opening hours: from 10 a.m. to 1 p.m. and from 3 to 6 p.m. More info at https://it-it.facebook.com/FattoriettaRoma/?ref=page_internal
8. Sotto Sopra Rione Testaccio
A practical archeology laboratory for kids organized in the Testaccio district. Address: via Lorenzo Ghiberti 19. More info at https://www.facebook.com/sottosopra.testaccio/
9. San Carlino – the kids' theater
A puppet theater that can be a very good idea to spend a rainy afternoon in Rome. Address: Viale dei Bambini (Pincio). Website: https://www.sancarlino.it/
10. Cinecittà Studios
This guided tour will surely make your kids happy! Website: https://cinecittasimostra.it/en/vip-tour-en/
The best day trips from Rome
Save one or more days to explore the beautiful locations near Rome!
This is a non-exhaustive list of day trips you can plan during your visit:
1. Castelli Romani (Roman Castles)
In this case, the word "castles" refers to several small towns located upon the hills surrounding Rome. The most picturesque ones are Frascati with Villa Aldobrandi, Nemi with its small lake and the beautiful Rocca di Papa. How to get there: 40 minutes by car. Alternatively, you can reach Frascati by train from Termini Station in 30 minutes.
2. Ostia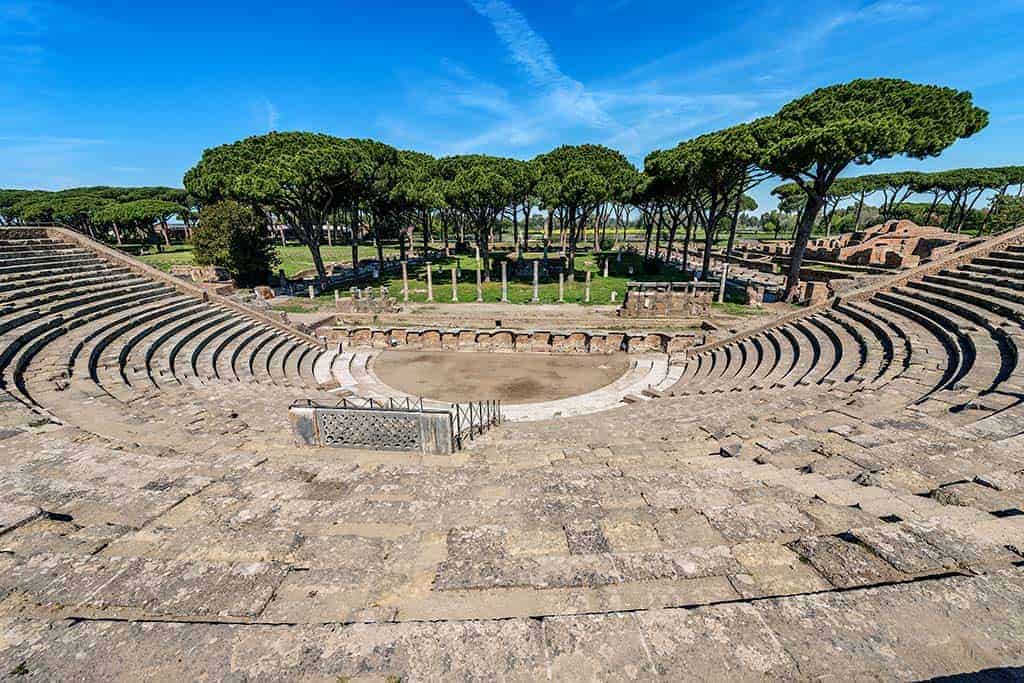 It is a Roman neighborhood and it is the main seaside resort for locals. It also includes the Ostia Antica archeological park with its famous necropolis dating back to the II century B.C. Other points of interest are the Baths, the house of Cupid & Psyche and the Roman Theater. How to get there: you can easily reach Ostia with subway line B.
3. Anzio
It is one of the most popular seaside resorts near Rome, but you can visit it all year round because it also offers the Tor Caldara Natural Reserve. Here you can walk in beautiful natural scenery and take some pictures from the cliffs overlooking the sea. How to get there: by train in 50 minutes from Termini station.
4. Tivoli
It is one of the most typical day trips for both locals and tourists. This nice town hosts the famous Villa d'Este and Villa Adriana. How to get there: by bus from Ponte Mammolo bus station (1 hour) or by car in about 50 minutes.
5. Calcata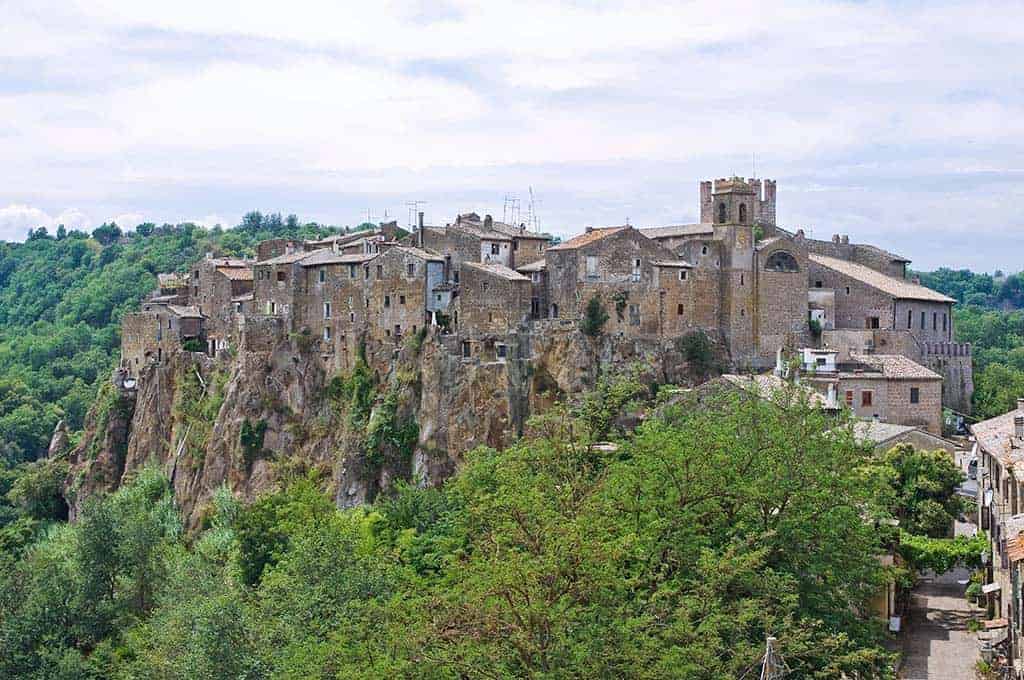 It is a picturesque village located in the mountains and offering a beautiful view. It is especially worth a visit in Autumn to admire the colors of the woods. How to get there: by bus from Piazzale Flaminio or by car in about 1 hour.
6. Bracciano Lake
One of the most popular attractions nearby is Orsini – Odescalchi castle with its amazing views. How to get there: By train from Trastevere station (1 hour) or by car in about 50 minutes.
7. Nettuno
It is another popular seaside resort but it is also worth a visit for its rich old town and its many monuments. What to see: Sangallo Castle, Astura Tower, and Santa Maria Goretti Sanctuary. How to get there: By train from Termini station (1h10) or by car in about 1h20.
8. Latina
This nice town was founded during the Fascist era and you can still see it from its particular architecture that makes it a unique example of a modern Italian city. What to see: City Hall, Old Town, S. Marco's Cathedral and Piazza del Quadrato. How to get there: by train from Termini station in 45 minutes, by bus from Laurentina station or by car in about 1h30.
9. Napoli
It is one of the most popular Italian cities and it would require at least a weekend of sightseeing. Anyway, if you want to visit it even just for a day don't miss Bourbon Tunnel, San Carlo Theater, Spaccanapoli, Castel dell'Ovo, Royal Palace, Cathedral and Plebiscito Square. If you have enough time take also a guided tour of the city's underground passages. How to get there: by high-speed train from Termini station in 1h15.
10. Firenze
As for Napoli, spending one weekend there would be best, but it's so easy to get there from Rome that even a day trip could allow you to get a glimpse of its magic Renaissance atmosphere. Don't miss Uffizi, Cathedral, Giotto Tower, S. Giovanni Baptistery Palazzo Vecchio and Ponte Vecchio. How to get there: by high-speed train from Termini station in 1h20.
11. Bolsena Lake
The town of Bolsena is located upon a hill overlooking the homonymous lake. It offers a nice Old Town, a beautiful landscape and some ancient churches rich in history and art. How to get there: by car in about 2 hours.
12. Pompei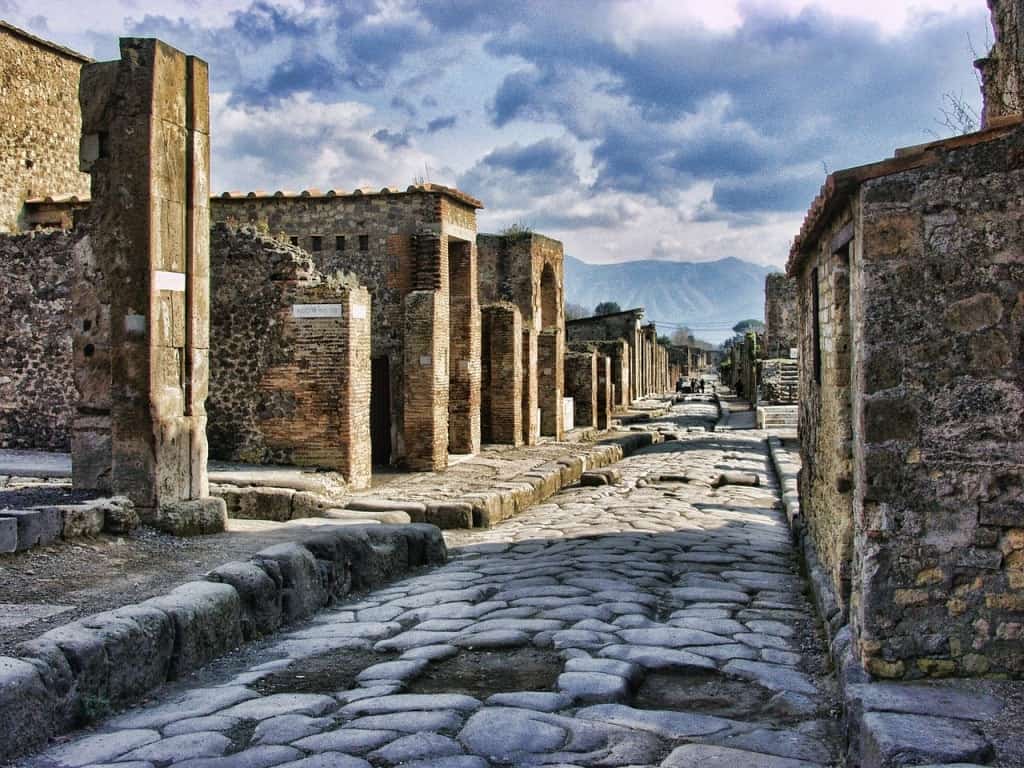 It is another popular day trip from Rome, even if the journey is quite long. There are many attractions in Pompei so having a guided tour is the best option to make the best out of your day. Try this guided tour with an archaeologist How to get there: catch a high-speed train to reach Napoli in 1h15. Once there, catch another train to reach Pompei in another 50 minutes. To get to Pompei from Rome you shall take into consideration that the journey won't last less than 2h30-3h on the whole.
PIN IT!