The second Monday of the year (aka Blue Monday) can have us longing for warmer climes, winter getaways, and spring to roll around sooner rather than later! In which case you may be thinking, like me, about where you could visit in February that will offer brighter days and warmer temperatures. I decided to do a bit of my own research to bring you my top list of the warmest places to visit in the US in February so that you can simply choose a destination and set out to seek the sunshine!
While many destinations in the United States are still covered in snow throughout the month of February, there are a handful of destinations that still offer t-shirt temperatures and even the climate for some beachside relaxation! Florida, California, Texas, Arizona, and Hawaii offer the warmest weather in the US in February, and I'll give you an overview of a few different locations so that you can see what takes your fancy…
Disclaimer: This post contains affiliate links. This means that should you click on certain links, and then subsequently purchase a product, I will receive a small commission.
The 10 Warmest Places to visit in the US in February
1. Houston, Texas
66°F High 47°F Low / 19°C High 8°C Low
Weather across Texas in February is pretty mild which allows visitors to explore the sights, walk around the cities and enjoy the state's festivals without getting too chilly. However, even on cooler days, Houston offers plenty of indoor activities for travelers to discover such as the Houston Museum of Natural Science, the NASA Johnson Space Center, the Museum of Fine Arts, and Minute Maid Park, the home of Houston's Major League Baseball team the Astros.
Temperatures in Houston in February will generally be in the mid 50/60s(F)/teens(C) so you'll be able to wear lightweight clothing and still enjoy the city's Waterwall Park, Buffalo Bayou Park, and Discovery Green.
2. Jacksonville, Florida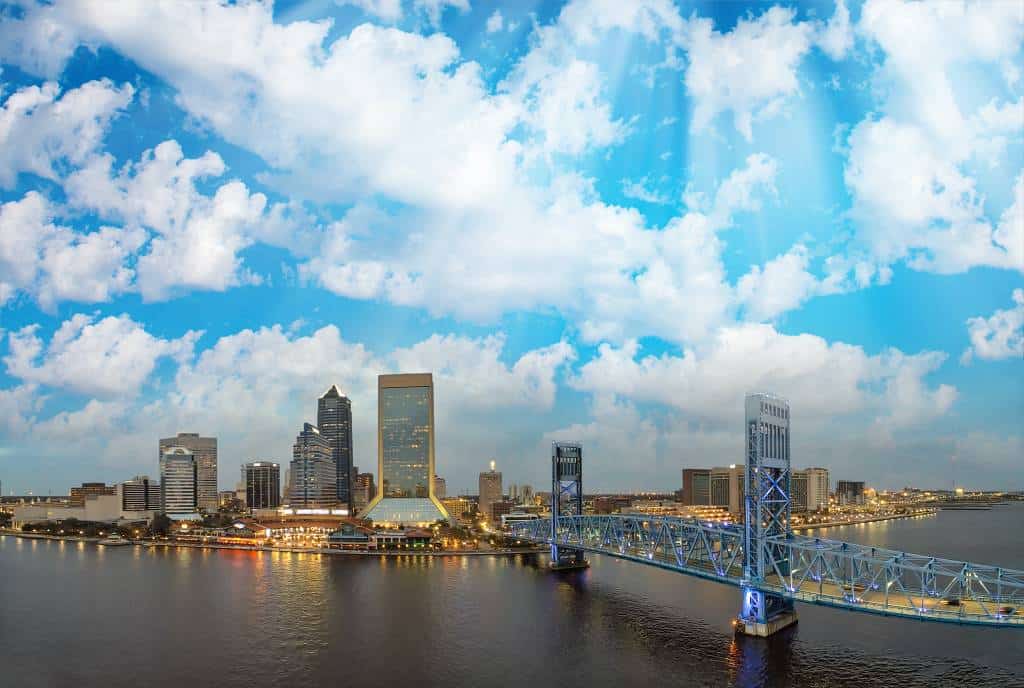 68°F High 45°F Low / 20°C High 7°C Low
Despite often being overlooked in favor of more famous travel destinations, Jacksonville, Florida really does have it all, plus it boasts the weather in February to enjoy it! Jacksonville features beaches, parks, shops, restaurants, art galleries, museums, and more so it can be your one-stop shop for an awesome winter vacation!
Jacksonville can be the perfect choice for those who want to combine cultural sights and activities with enjoying the great outdoors as it offers natural waterways, urban parks, wide-open beaches, and ecological preserves. The city also makes a good family holiday location as there are plenty of indoor and outdoor attractions to keep people of all ages entertained!
3. Los Angeles, California
69°F High 49°F Low / 20°C High 10°C Low
Los Angeles is an excellent year-round destination with temperatures never getting too cold to walk around and explore the city sights. You can start your trip to LA with a sight-seeing tour or hop-on, hop-off ride around town, before soaking up some culture in the city's museums and galleries.
Visiting the observation deck at LA's City Hall is an absolute must and you may also want to make time to visit the Warner Bros. Studio and the original Disneyland! By night, you might want to watch shows like Cirque du Soleil, catch some stand-up comedy, or watch one of the many gigs or sports games that are on throughout the month.
4. Miami, Florida
78°F High 62°F Low / 26°C High 17°C Low
Miami is another of the warmest places to visit in the US in February with temperatures well into their 60s(F)/20s(C). This lush climate allows you to spend days walking along the seafront, enjoying the amusements, bars, shops, and restaurants as well as lounging on the sand and perhaps taking a dip in the sea!
February is also a great time for festivals in Miami, with Miami Veg Fest, the Coconut Grove Arts Festival, Miami International Boat Show, the South Beach Wine & Food Festival and even The Miami Marathon taking place throughout the month. This year, Miami is hosting the Superbowl Live on the 2nd of February, so it is a fantastic time to be in the city!
5. Orlando, Florida
74°F High 52°F Low / 23°C High 11°C Low
If you're looking for warm places to visit in the USA in February then it's likely that Orlando, Florida will spring to mind. Orlando is the home of Disneyworld, Universal Studios, SeaWorld, and Gatorland, not to mention loads of epic outlet stores and festivals.
Tip: Book your tickets to the Walt Disney World Resort in advance.
It, therefore, makes a wonderful family vacation destination for February and is especially good for those who want to avoid the scorching temperatures of summer. Temperatures in the 60s(F)/teens(C) mean that it is plenty warm enough to enjoy your hotel or villa swimming pool while also not being too hot to have days out at the Osceola County Fair or Pioneer Days festival.
6. Phoenix, Arizona
72°F High 49°F Low / 22°C High 9°C Low
Phoenix temperatures in February are similar to that in Los Angeles and Jacksonville, Florida which means that a mix of indoor and outdoor activities will work best. Spend your days exploring the Desert Botanical Garden, hiking up Camelback Mountain, or discovering Pueblo Grande and your evenings checking out museums, gigs, and restaurants around town. There's a lot of fun things to do in Phoenix!
February in Phoenix also boasts a bunch of great festivals such as Arizona Beer Week, the Arabian Horse Show, the Street Eats Food Truck Festival and the Winter Range festival where cowboys and girls come out to compete in Old Wild West-style events!
7. San Antonio, Texas
67°F High 44°F Low / 19°C High 7°C Low
Despite San Antonio, Texas being one of the cooler locations on this list, it will still offer warmth and respite for those coming from snowy spots around the US and from the UK and Europe. Temperatures generally sit in the 50s/60s(F)/teens(C) which is warm enough to sight-see, walk along the river, visit the zoo, take a San Antonio River Cruise or visit the McNay Art Museum.
Click here to book a hop-on hop-off bus tour of San Antonio that includes the Tower of Americas and a River Walk Cruise.
When temperatures get a little cooler at night, you'll be able to soak up San Antonio's theatre scene, enjoy Valentine's dinner or watch some live country music at one of the city's bars or gig locations.
8. San Diego, California
65°F High 51°F Low / 18°C High 10°C Low
February sees the start of Spring arriving in San Diego with warmer temperatures, Valentine's deals, and whale watching season all making it an excellent time of year to visit. It is also much cheaper to visit San Diego at this time before the crowds of late Spring and Summer arrive and you will find great deals on beach resorts.
Click here to book a Hop-on Hop-off Narrated Tour of Old Town San Diego.
Another must-see in San Diego is the USS Midway Museum – book your skip-the-line tickets here.
While it won't be beach weather in February, San Diego has plenty of other attractions and events such as Balboa Park, the Embarcadero harbourside, San Diego Old Town, and Little Italy that all make it well worth a visit.  February is also San Diego Museum Month during which around 40 museums offer half-price discounts – another way to save money while you travel.
Click here for my 3-day San Diego Itinerary.
9. Tampa, Florida
73°F High 54°F Low / 23°C High 12°C Low
Another hot spot for February in the US is Tampa, Florida with downtown being packed full of great things to do! Tampa offers museums, galleries, shops and restaurants galore as well as unique attractions like the TECO Streetcar, the Tampa Riverwalk and the Agua Luces when five of the city's bridges are illuminated.
If the weather is particularly good in February, you may want to kayak or stand-up paddleboard on the water of the Hillsborough River which is a peaceful way to see the city skyline. February in Tampa also sees the Annual Flower Show come to town as well as the Beer, Bourbon & BBQ Festival and regular comedy and country gigs.
10. Honolulu, Hawaii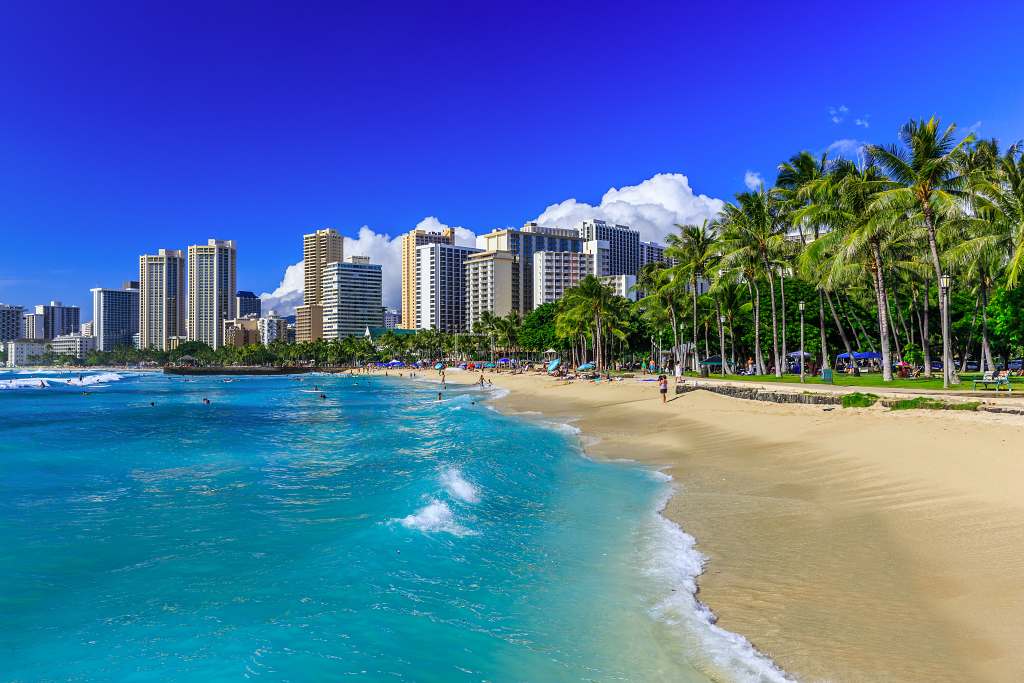 80°F High 65°F Low / 27°C High 18°C Low
The crown for the warmest place in the US in February goes to Honolulu, Hawaii. The temperatures here in February barely drop below 65(F)/20(C) which is most definitely warm enough to enjoy Hawaiian beaches, Polynesian culture, and to sip cocktails on the sand!
Some of the highlights of Honolulu include Waikiki Beach, Iolani Palace, Diamond Head State Monument, and discover the history of Pearl Harbour at the USS Arizona visitor center. Visitors who love the great outdoors may also want to swim and surf or even tackle the Koko Crater Trail on the southern side of the city.
You might be interested in: Pearl Harbor Tour with Arizona Memorial.
Now you have your list of warm places to visit in the US in February, all you have to do is book it and get packing! Let me know in the comments where you'd like to head this Feb!