Killarney is located in the Irish county of Kerry. It's known for its many historical houses and castles that are scattered across its land. Killarney is also known for its traditional Celtic music that's often played in its pubs and for its interesting folklore that tells of leprechauns and fairies who watch over this town.
I visited Killarney for a few days in September to attend a blogger's conference TBEX and I fall in love with it promising that I will come back to explore it further soon.
You might be interested in this 7-day Ireland road trip starting from Killarney.
Things to do in Killarney
Explore Killarney National Park
Killarney National Park is one of the first national parks to have been created in Ireland. It was created in 1932 as a place for residents of this town and tourists to explore and now is a UNESCO site. Killarney National Park is a wonderful place for nature lovers and adventurers to wander through. It's filled with numerous waterfalls, towering mountains, stone bridges, and glimmering lakes.
You'll also find many unique animals and plants that call this park home. Yew trees are scattered throughout its woodlands as well as the rare St. Patrick's Cabbage plant. You might also see a red deer quietly walking through one of its forests.
Besides just viewing the phenomenal scenery that Killarney National Park offers, you can also experience this park even more by biking or walking down one of its many trails and kayaking on one its stunning lakes.
Check out: The best places to stay in Killarney.
Tour the Ross Castle
One place in Killarney National Park you'll want to visit is the Ross Castle. This 15th century structure is a historic landmark in the park. It's survived many wars and conflicts throughout Irish history. Ross Castle also has a haunting tale that says the creator of the castle (O'Donoghue Mór) slumbers in the nearby Lough Leane and occasionally awakens from his sleep to check on his castle.
This castle has guided tours during the summer that you can take to learn more about the castle and to also see its interior.
See the Torc Waterfall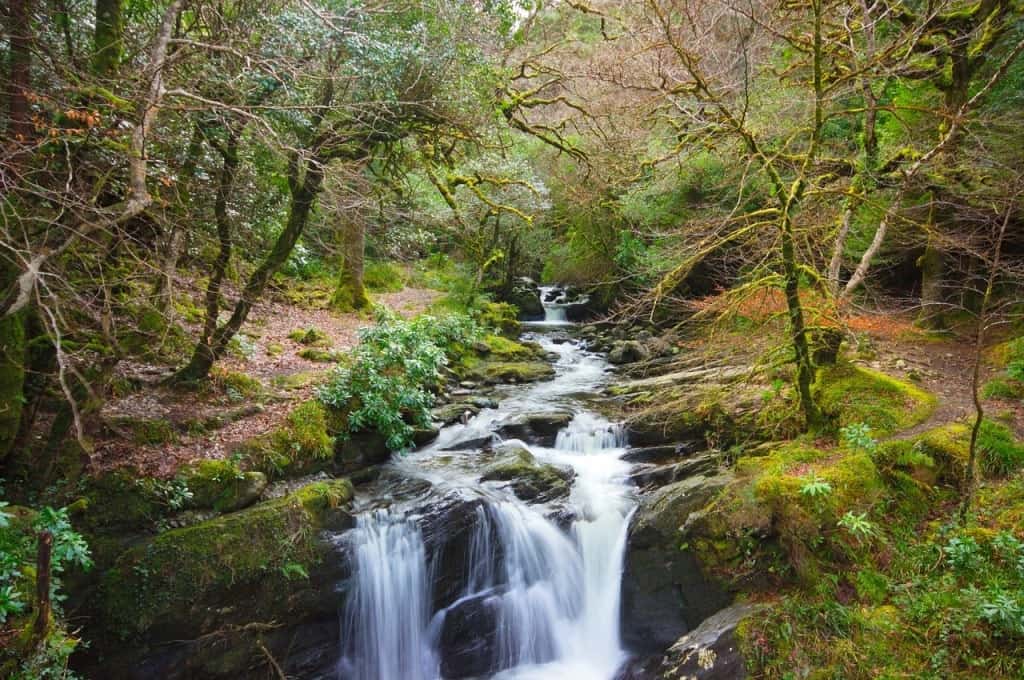 A great natural wonder to see in Killarney National Park is the Torc Waterfall. This 65 ft. high waterfall cascades down massive boulders. You can climb up to the top of this waterfall to get a stunning panoramic view of the Middle Lake nearby.
Walk Through the Muckross House
Only a few minutes away from the Torc Waterfall is the Muckross House. This large 19th century mansion is located next to Muckross Lake. It was home to many prominent families over the years all of who added their own unique touch to the house. One of the most famous additions to the Muckross House is its sunken gardens which feature many fragrant and colorful plants.
Do the Killarney Brewery Tour and Tasting
A trip to Ireland isn't complete without trying some of their famous beverages. The Killarney Brewery Tour and Tasting is located in an old water mineral facility. You'll enjoy various beers that are inspired by local legends and folklore, like the Golden Spear and Scarlet Pimpernel. This one hour tour will allow you to try many delicious beers while learning about the brewery and local history. You'll even be able to meet the brewers who concoct these tasty drinks. When you're done with the tour, you can stop by its restaurant which offers homemade pizza cooked in a special wooden oven.
For more information check here.
Go Shopping
Killarney offers many different types of stores you can visit. If you want to explore traditional shops, Killarney has many of them. You can visit ones that sell fresh wool, homemade sweets, hand blown glass, and rare books. If you're looking to have a more modern shopping experience, you can visit the Killarney Outlet Center.
Do a Pub Crawl in Killarney Town
Killarney Town is a fantastic place to do a pub crawl. You'll find more than 40 pubs within a 400 yard radius that you can visit while enjoying live music inside each of them. Two of my favorites are the J.M. Reidy's Pub House, which has a small and close atmosphere, and O'Connors which is a very traditional Irish pub that offers numerous malts and ciders for you to try alongside famous Irish foods like shepherd's pie.
See the Killarney Race Course
The Killarney Race Course was built in 1822 as a place for people to relax while watching a gripping horse race. This race course has various dining places you can try, each of which have a great view of the race track. You can also go down to the Parade Ring and meet the horses before the race. If you want to bet on one of the races, you can do so with one of the race course's race cards.
Visit the Killarney House and Gardens
This newly renovated attraction is located in Killarney National Park. It's one of the largest urban parks in the world and features a beautiful house that mixes French and Edwardian architecture together. You can walk down one of its many winding paths that will take you to various places in the park or enjoy the day relaxing in one of its peaceful fields.
Head to the Gin and Champagne Bar at the Ross Hotel's Pink Lounge
The Gin and Champagne Bar at the Ross Hotel's Pink Lounge is probably one of the most unique places you can visit in Killarney. The lounge is entirely decorated in various shades of pink. You'll find a wide selection of drinks here available for you to try, like the Bombay Sapphire, St. Patrick's Elderflower Potato Gin, and Kir Royal. In fact, this lounge offers more than 60 gins from around the world that you can enjoy.
For more information check here.
Drive to the Ring of Kerry and See the Gap of Dunloe
After visiting these places in Killarney, you can also drive just a short distance from Killarney to the Ring of Kerry and the Gap of Dunloe. The Ring of Kerry offers stunning coastal viewsand the Gap of Dunloe is a beautiful sight to see as it winds between towering mountains, including the famous Purple Mountain.
Killarney, Ireland is a wonderful place for you to immerse yourself into the Irish culture and explore extraordinary natural landmarks that only Killarney can offer. A trip to this stunning town in the Emerald Isle will surely be a trip you'll never forget.
Did you like this post? Pin it!