Portofino is a small village located close to Genova, in Liguria. It overlooks Tigullio Gulf and it only has about 400 residents. Despite its small size, this village is famous worldwide and it is renowned for being a luxury holiday resort: it has several fancy shops, famous bars, and restaurants and a glamourous yacht club.
Portofino is not just a jet-set destination, but it's also a picturesque village close to beautiful natural landscapes and hosting several pieces of cultural and artistic heritage.
As a consequence of its fame, it's a really expensive destination and you had better visit it with a day trip or just spend a weekend there. For a longer vacation, there are plenty of resorts nearby that are cheaper and quieter.
Disclaimer: This post contains affiliate links. This means that should you click on certain links, and then subsequently purchase a product, I will receive a small commission. It costs nothing extra to you but helps keep my site running. Thank you for supporting me in this way.
Best period: May and June, just before the traditional Italian summer vacations.
How long: if you are visiting Genova, you can save 1 day to visit Portofino too. Or you can also choose to spend a whole weekend there, before visiting other bigger cities in Liguria.
You might be interested in: A day trip from Milan to Portofino and Genoa or a day trip from Genoa to Portofino.
The best things to do in Portofino
1. Admire its old and colorful houses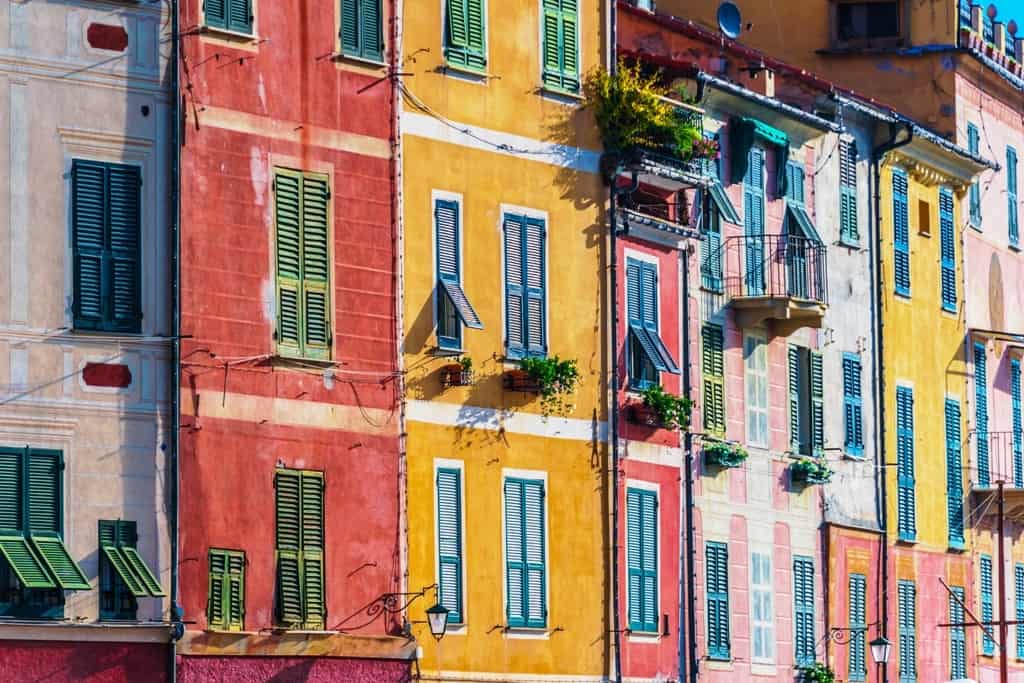 Together with the central square of the village ("Piazzetta"), the tall and narrow buildings overlooking the sea are the symbol of Portofino. Like in other villages nearby, they are colorful and aligned along the narrow strip of land between the sea and the hills. It's very rare to find white houses in Liguria because there is an ancient tradition of painting them with pastel colors.
2. Visit Brown Castle
This ancient military fortress was built in the 15th century to protect Tigullio Gulf from pirates and enemies in general. It saved the village from the Venetians' fleet in 1435 and it was rebuilt and extended several times throughout the centuries.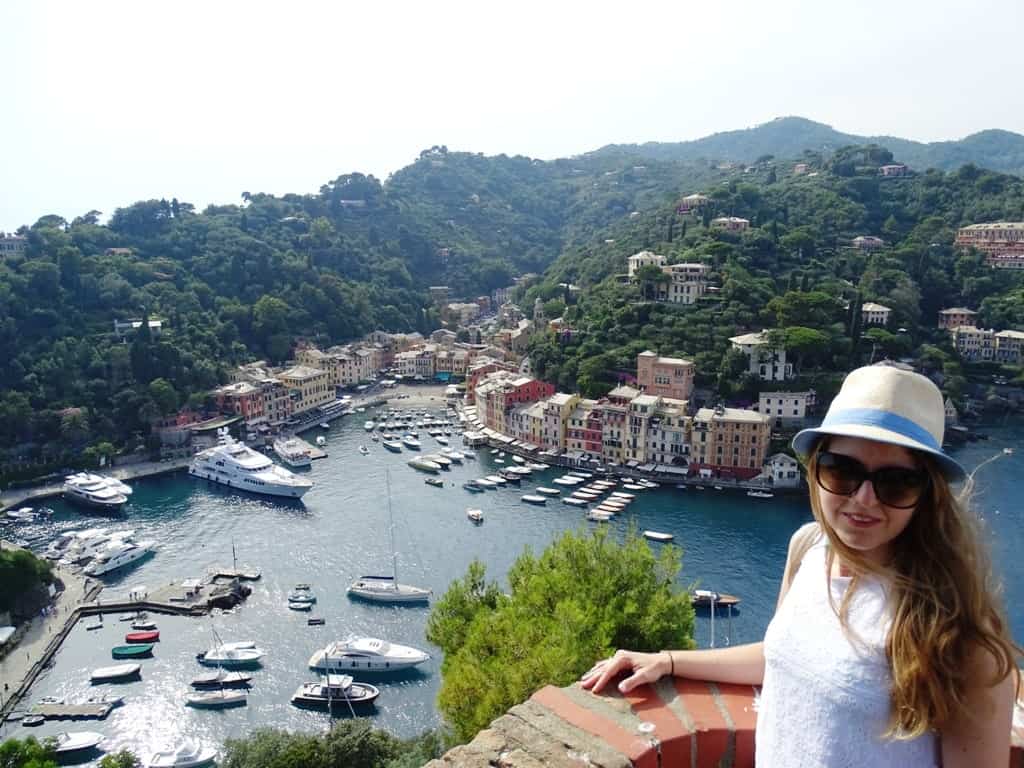 Its dominant position on top of a promontory offers a great view of the entire gulf and its garden is the perfect place to take amazing pictures. This location is also frequently used for marriages and photoshoots. Don't miss the Mediterranean garden, the panoramic terraces, the original furniture inside its rooms, and its ancient majolica tiles.
3. Go shopping
Portofino is famous for its luxury shops and you can find the most glamorous brands there (Armani, Vuitton, Hermés, and so on). One would not expect to find a boutique in a narrow and ancient alley or in front of a marina, but in Portofino, it can happen!
The best places to go shopping are Umberto I Pier, Calata Marconi, via Roma, and Piazza Martiri dell'Olivetta. Jewelry and shoes are some of the most requested articles, thanks to the high quality of the local products and shops. Don't miss the many craftsmen's shops selling local products like traditional embroideries and laces. Shopping here requires a medium-high budget.
Selected Tours in Portofino

1-Hour Snorkeling Tour in Paraggi Bay, Portofino. Dive in the crystal clear blue waters and admire a seabed rich in fauna and flora.

Portofino Kayak + Snorkeling Tour. Experience the marine reserve kayaking and snorkeling.
4. Visit San Martino Church
It's the main church in Portofino and it's really ancient (it was built around 1100 A.C.). Once inside, you'll discover many beautiful paintings, especially the one called "Madonna del Rosario", whose author is still unknown.
5. Sit in Piazzetta to taste local ice cream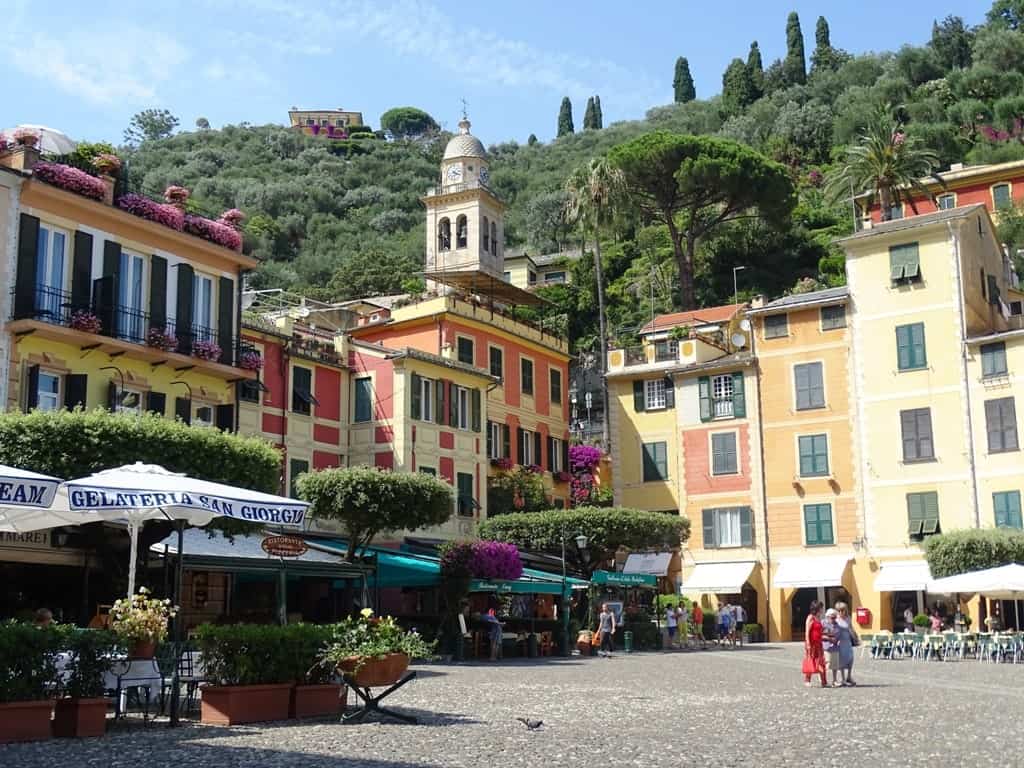 The main square is the heart of the village and it is loved by tourists from all over the world. It is the center of local social life and the place where you can find the most popular cafés and restaurants. You should definitely try Caffè Excelsior, which is a historic place founded in 1924. The famous ice cream called "paciugo" (literally "mixture") was invented here. It is made of chocolate ice cream, whipped cream, fresh summer fruits, sour cherries in syrup, and chopped hazelnuts.
6. Walk up the hill to reach the lighthouse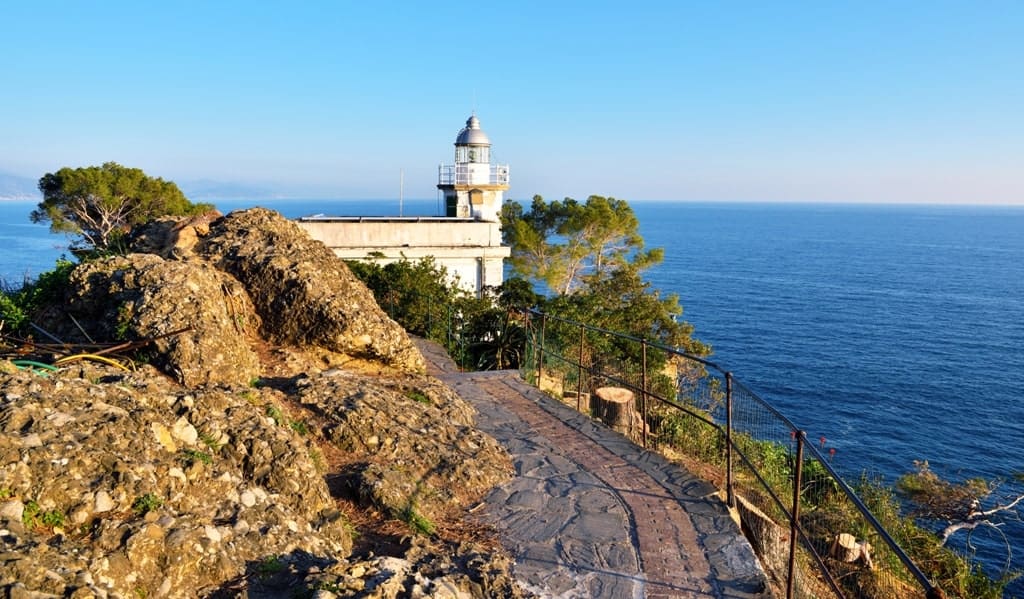 It's a short and easy climb that will lead you to the ancient lighthouse, located on top of the local hill. The lighthouse is still active today and you can find its guardian living here. Go there on a sunny day to take some pictures and enjoy the natural landscape.
7. Enjoy a bike tour from Chiavari to Portofino
Sports lovers will surely enjoy this bike itinerary among the hills. It's very panoramic and it offers spectacular views of the Gulf. It's also a bit long (about 40 Km), but you can do that during an entire weekend, with a stop for the night. This itinerary will also let you discover some other villages like Zoagli, Rapallo, and Santa Margherita.
8. Do some "VIP watching"
The best place to meet famous people is the local yacht club, but you can also see some international actors or local entertainers in Piazzetta. Famous people often come here by yacht and stay just outside the marina, so that you can easily meet them in restaurants and bars.
9. Arrive by boat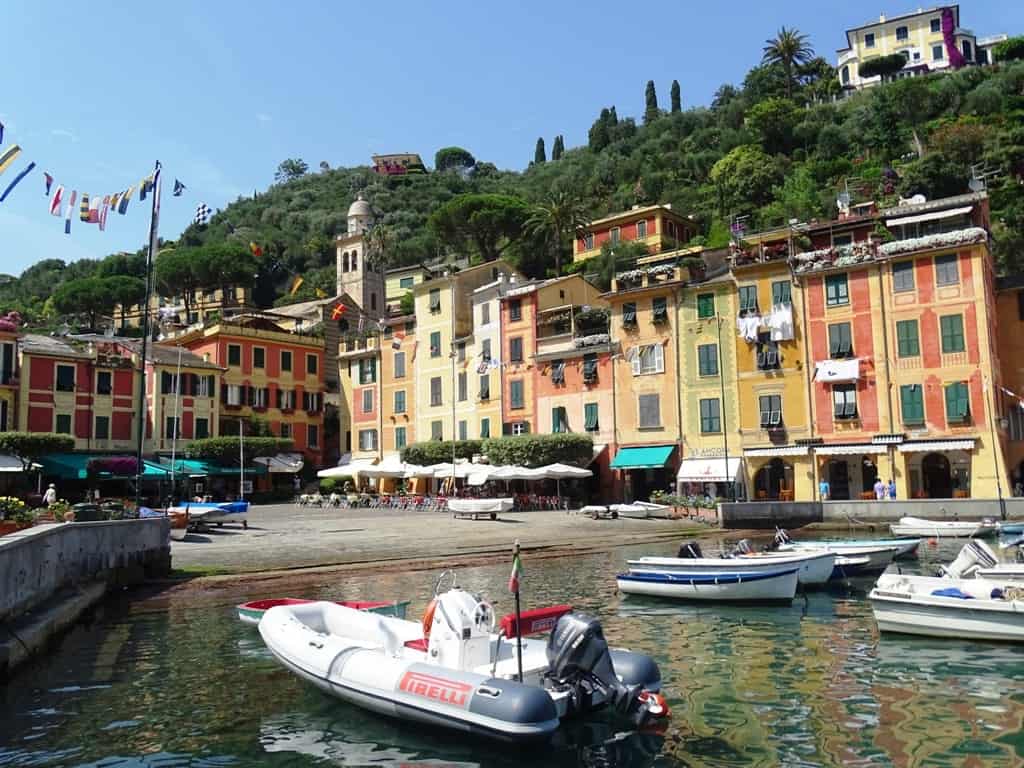 The most spectacular arrival in Portofino is definitely by boat because it allows you to admire the coast from a distance and enjoy the beautiful scenery of the blue sea and green hills with the small village in the middle. There are many ferries crossing the Gulf daily and connecting Portofino to Genova, but also to the other resorts along the coast. For more information click here.
10. Enjoy some hiking
One of the most popular trails is the one connecting Portofino to Camogli. It is a 3-hour walk of medium difficulty and it is one of the most panoramic trails nearby. Along the way, you'll have the chance to walk among a lush Mediterranean scrub and see some ancient olive trees along with the typical maritime pines, which are the most common trees you can find in Liguria.
11. Visit the Parks' Museum
An open-air museum close to the local marina. It hosts several contemporary artworks that are located among trees and bushes in a beautiful terraced garden. This visit is perfect to admire the Mediterranean scrub, the sea and to enjoy some contemporary art all at the same time. This particular concept was developed during the 80s and the collection has been constantly implemented with works by famous artists like Fortunato Depero or Lucio Fontana.
12. Take part in the "Blue Mile" swimming event
If you like swimming and you are in Portofino in August, take part in this special competition taking place every year. It is conceived for amateurs of all ages. The starting point is Niasca beach, while the arrival is at Santa Margherita (a village close to Portofino).
13. Relax at Paraggi Beach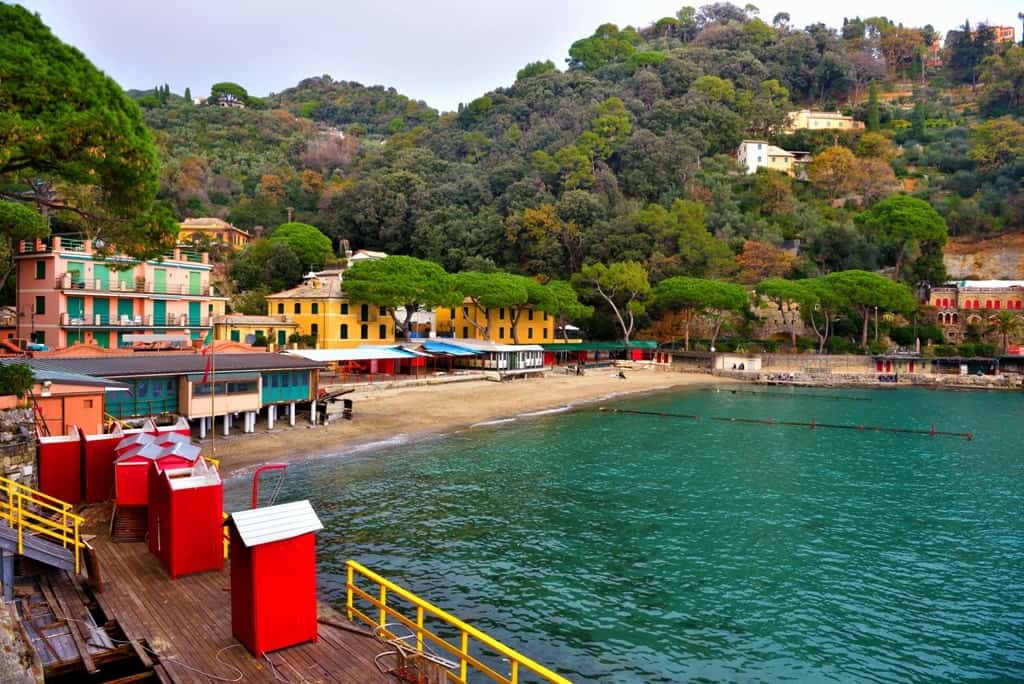 This is the most popular beach in Portofino and it is famous for its green water. The beach is sandy and large and it is surrounded by the Mediterranean scrub. If you like scuba diving, this is the right place for you too because you'll find some red coral close to the shore.
Book a 1 -Hour Snorkeling Tour in Paraggi Bay, Portofino
14. Visit San Fruttuoso Abbey
With a pleasant walk of 1h30, you'll reach an ancient Abbey that's definitely worth a visit. The path starts from the marina and it's easy and suitable for people of all ages. San Fruttuoso is a tiny coastal village only reachable on foot following this trail or by sea. It has only 36 residents.
You might like this Half-Day Hiking Tour with Lunch to San Frattuoso Bay.
15. Try a kayak tour of the bay
While everybody sails on luxury yachts or large ferries, try a kayak to slowly explore the coast and spend a couple of hours discovering hidden places and beautiful natural locations. You'll also have the chance to watch many species of marine birds.
You might like this Portofino Kayak + Snorkeling Tour.
16. Taste Pasta alla Portofino
A local pasta dish seasoned with a sauce made with both pesto and tomato. The pasta shape is usually "trofie".
17. Dive in San Fruttuoso to see the Christ of the Abysses
In front of San Fruttuoso beach, there is a famous diving spot where you can see a huge bronze statue of Christ with open arms. This statue was commissioned by one of the most important Italian scuba divers to honor a friend that lost his life during the testing of some diving equipment. For more information visit here.
18. Test your survival skills
In Portofino and other villages nearby, there are several possibilities to learn the basics of survival techniques and do some open-air training. These activities are generally organized during weekends and you can spend 2 days with a group and a guide in a safe environment and in close contact with nature. For more information click here.
Where to Stay in Portofino
Located on the seafront, hotel Piccolo Portofino offers luxurious rooms in a historic villa, a private rocky beach with a bar, and stunning views across the sea. It's great for couples, as the rooms are stylish and modern. Rooms have terraces or balconies. Check the latest prices and book Hotel Piccolo Portofino here.

At the Eight Hotel Portofino (be careful when booking as there is one in town and one in the mountains with the same name), rooms are large and well-equipped with ensuite bathrooms, cozy bedding, and seating areas. Do not miss the sauna and spa services, as well as the private gardens. Breakfast can be served on the terrace or in the room. Children are welcome here, and they can arrange babysitting services! Check the latest prices and book Eight Hotel Portofino here.

Practical tips for your visit to Portofino
Remember to wear comfortable shoes and clothes for your trekking. Don't hike wearing thongs or beachwear.
If you have time, visit Rapallo, a village nearby which is perfect for a relaxing day on the beach. Head to Punta Pagana if you want to sunbathe or swim, while taking the cable-car to Montallegro if you prefer some trekking.
You might also like:

The best places to visit in the Italian Riviera

Where to stay in Cinque Terre

One day in Cinque Terre

How to spend 2 days in Cinque Terre

Northern Italy Itineraries