After the joys of Christmas and the New Year, you might be craving some sunny weather to replace the January Blues that are so often felt during the Northern Hemisphere winter! In which case, you might be asking 'Where is hot to go on a holiday in January?'.
Luckily there is a range of incredible destinations that are just begging to be explored, with cities, beaches, islands, and even safari locations having hot weather throughout the month of January. Read on to find out my top picks for warm places to go on holiday in January so you can start your New Year off with a bang!
The best places to travel in January for hot weather are far-flung destinations that are situated in tropical locations not far from the equator. These include Central and South America, the Caribbean, East, and Southern Africa, the Far East, and Australia.
Disclaimer: This post contains affiliate links. This means that should you click on certain links, and then subsequently purchase a product, I will receive a small commission.
16 Warm Places To Travel In January Around the World
1. Bahamas
The Bahamas is a fantastic destination for some winter sun, with the whole archipelago receiving temperatures around the mid-20s and at least 7 hours of sunshine a day. For those who want notably warm temperatures, Southern Bahamas is the place to go with a constant of around 26°C throughout the month of January.
While there are some sporadic rains in the Bahamas in January, these most often happen overnight or in the early morning so they shouldn't disrupt your peaceful vacation! You'll have the perfect weather to spend long days by the beach followed by evenings of coastal dining and cocktails.
You can check out this guide with the best diving spots in the Bahamas.
You might want to check out this:

Pearl Island Beach: Full-day Snorkelling with Lunch
2. Costa Rica
Costa Rica certainly ticks the box of being a hot holiday destination in January with average temperatures being between 23°C and 32°C across the country! This is one of the best times of year to visit Costa Rica as the rains of the wet season have been and gone, leaving lush landscapes and long, dry days in which to explore them.
The Pacific side of the country is usually drier and warmer during January, with the Caribbean side still running the risk of having a few potential downpours. On your Costa Rica itinerary, you can spend a few days by a beach resort like Manuel Antonio that has a plethora of things to do.
January in Costa Rica also sees a number of fun festivals in which to soak up local cultures such as the Fiestas de Palmares during the first half of the month as well as Fiestas de Alajuelita, Santa Cruz Fiestas, and the Copa de Café.
You might want to check out this tour:

Arenal Volcano, La Fortuna Waterfall, and Hot Springs Tour
Check out: A Guide to the village of Sarchi, in Costa Rica.

Visiting Poas Volcano in Costa Rica.

Things to do in Arenal, Costa Rica.

A Guide to Tortuguero, Costa Rica.
3. Barbados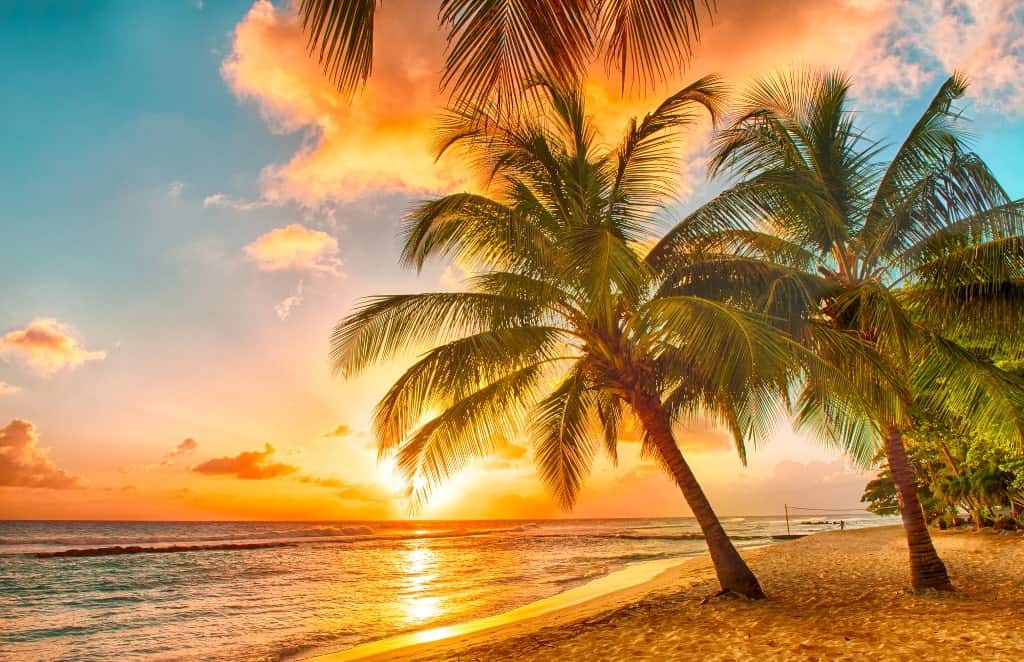 If you're wondering where to go in January for sun look no further than beautiful Barbados. This tropical island receives temperatures of 28°C across the island, with high heat and humidity and around 9 hours of sunshine per day! Being a beach destination, it is also important to note that the sea temperature is a welcoming 27°C so you'll be able to dip in and out of the clear blue waters to your heart's content.
Barbados offers blissful relief from the cold temperatures of Europe and North America and the delicious cuisine, laid-back atmosphere and free-flowing cocktails will make you feel as though you are continuing the holidays in style!
Check out this lovely tour in Barbados:

Bridgetown: Carlisle Bay Clear Kayak Shipwreck Tour
4. Cape Town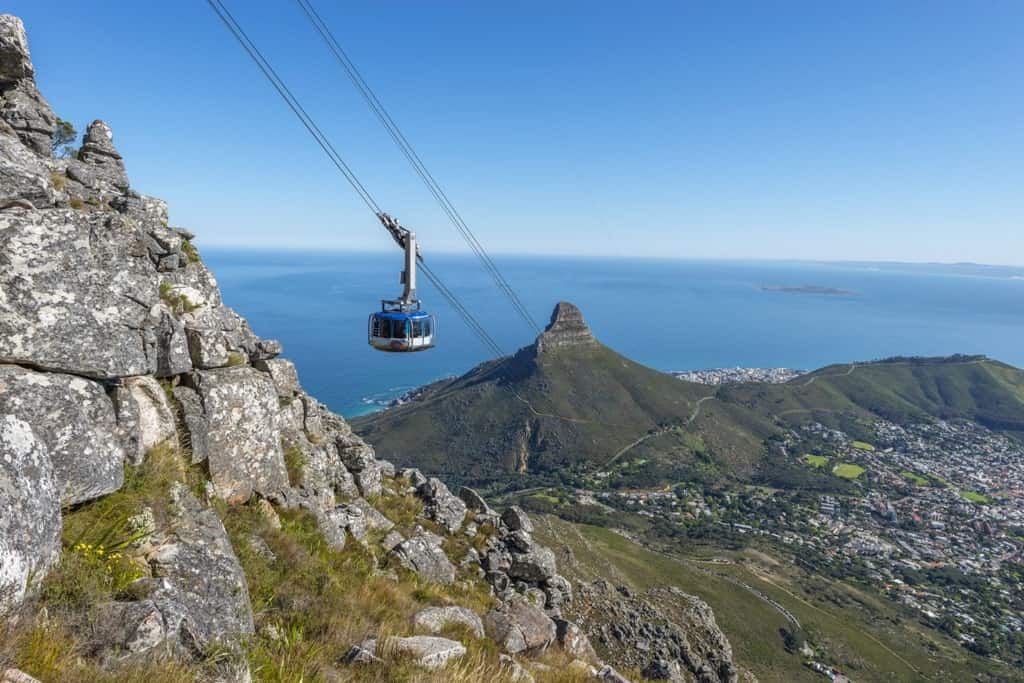 As January is the peak of summer in Cape Town you can expect warm, dry days in which to explore this fascinating city. Daytime temperatures average around 25°C which is perfect for hiking up Table Mountain, taking trips to the beach, or walking along the harbor.
While temperatures do drop to 15°C during the night, it's still pleasant enough to wrap up and sit outside for dinner or to enjoy an open-air cinema screening at the Kirstenbosch Botanical Gardens. The Cape Town Minstrel Carnival also takes place on the 2nd of January which is a unique, colorful parade that dates back to the city's slave era of the 1800s.
You might like: How to spend 3 days in Cape Town.
Check out this great tour in Cape Town:

Cape Town: Table Mountain Kirstenbosch to Cable Station Hike
5. Zanzibar Archipelago
The stunning Zanzibar Archipelago is a wonderful warm holiday destination in January making it an ideal getaway from the cold winter months elsewhere. As January is the beginning of the dry season in Zanzibar, the island receives hot temperatures (between 22°C and 32°C) and just a little rain (around 89mm for the whole month).
The sea temperature is a balmy 30°C which is absolutely glorious for lounging around in the shallows! As Zanzibar does receive the blustery 'kaskazi' winds the beaches may have a little more seaweed on than normal, but the winds make it ideal for kite surfers along the north and east coasts. January is also mango season in Zanzibar, so don't miss out on this deliciously sweet, seasonal fruit.
You might also like:

Stone Town & Prison Island Private Tour (Transfers & Lunch)
6. Maldives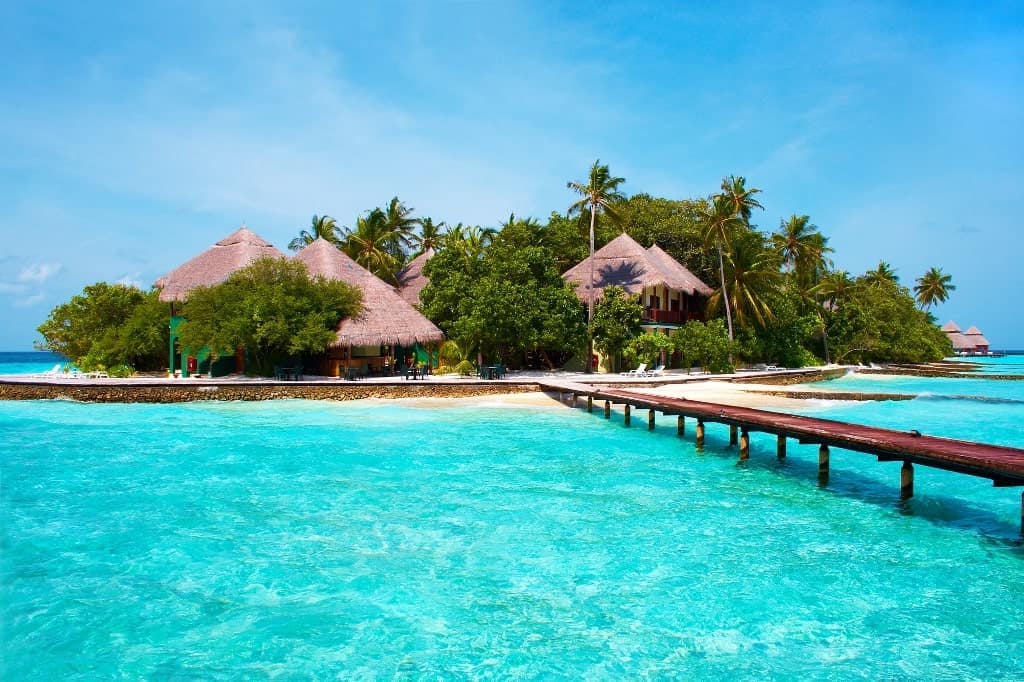 Another hot destination for January is the Maldives which boasts 9 hours of sunshine a day and average temperatures of 31°C. This pristine island is the perfect antidote to the January Blues, with long stretches of white sand beaches and azure waters to take your mind off your Christmas credit card bills! While the dry season is the most expensive time to travel (from December to March), you can sometimes pick up some great last-minute deals in the Maldives in January when travel is slow.
7. Cuba
The cultural hub of Cuba is an excellent location for a warm-weather holiday in January with average temperatures sitting between 18°C at night and 27°C during the day.
Thankfully, the weather is pretty similar across the whole country, so whether you opt for a city break in Havana, an all-inclusive beach holiday in Varadero, or fancy backpacking around different spots on the island, you should receive plenty of sun.
The good thing about January in Cuba is that the humidity and UV index aren't too high so you don't have to worry about being uncomfortable or burning in the midday heat.
You might like: A 10 day Cuba itinerary.
8. Israel
If you want excellent weather not far from Europe, Israel is your perfect destination. The summer is too hot for traveling, while spring and autumn are pleasant but crowded with tourists. In the winter, the weather is usually mild, and the attractions are much less crowded. You have about a 50% chance for rain in the north of the country, but the southern half of Israel is a desert with almost no rain and average highs of around 20°C.
You can go Hiking on one of the many marked trails or enjoy other outdoor adventures such as ATV, Mountain Biking, Jeep tours, and stargazing. If you prefer relaxation, head to the resort town of Eilat on the shores of the Red Sea, where you can enjoy a swim in the middle of winter or go scuba diving in the amazing coral reef.
You might like these recommended tours:

Eilat Mountains: Sunset Jeep Adventure to Mount Joash

Eliat: Coral Reef Snorkeling Trip with Instructor
9. Sri Lanka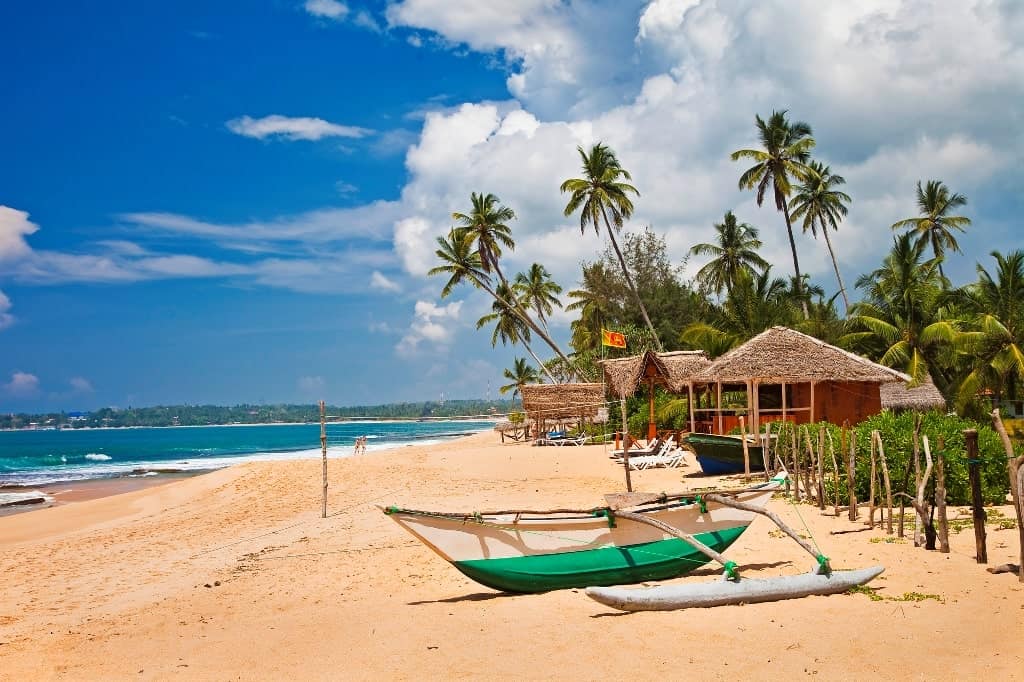 If you plan on traveling to the south or west of Sri Lanka, January is a fantastic time to travel, with these areas of the island receiving average temperatures of around 30°C. This means you can spend long, relaxing days on the beach, visit historic towns such as Galle and Colombo and even try to spot elephants and leopards in Yala National Park. While central Sri Lanka is likely to receive a bit more rain (Kandy, the Tea Country, and Sigiriya) it will still be pleasant enough to explore.
Check out these recommended tours in Sri Lanka:

Yala National Park: Private Safari at Golden Hours

Sigiriya and Dambulla Day Trip from Colombo
10. Chiang Mai
Chiang Mai is a great year-round destination, with January boasting some of the best weather for outdoor activities. The month barely receives any rainfall (around one day/9mm) which means you can enjoy hiking, rafting, trips to elephant sanctuaries and plenty of time spent exploring the city's temples and markets. Temperatures range between 28°C in the day and a cooler at 13°C at night, but with 9 hours of sunshine a day and a constant moderate heat you'll be able to don some shorts and soak up the sun.
You might like: How to spend 3 days in Chiang Mai.
Check out these recommended tours in Chiang Mai:

Chiang Mai: Elephant Care at Elephant Retirement Park

Chiang Mai: 6-Hour Doi Pui National Park Summit Hike

Chiang Mai: Mae Taeng River White Water Rafting
11. The Philippines
January is one of the most popular times to travel to The Philippines, with pretty much every island having excellent weather. Even though January has slightly cooler temperatures than other months in The Philippines, it is still plenty warm enough to explore the islands of Boracay, Cebu, and Palawan.
Lowland areas will generally receive temperatures of around 26°C while locations at a higher elevation such as Cordillera and the Banaue rice terraces will be notably cooler. This makes them good for hiking though as the heat and humidity won't be too oppressive.
You might like these recommended tours in the Philippines:

Boracay: Island and Beach-Hopping Boat Tour with Snorkeling

Cebu: Mactan Hilutungan, Nalusuan & Pandanon Island Hopping

Puerto Princesa: Honda Bay Island Hopping & Optional Massage
12. Langkawi, Malaysia
If you want to escape the chill of January in the northern hemisphere, head over to Langkawi in Malaysia for tropical heat and holiday vibes. Langkawi is certainly a hot place to go in January, with average highs of 33°C and 8 hours of sunshine a day.
This is ideal for kicking back and relaxing on the endless stretches of beach. The seawater is usually around 28°C at this time of year too so there's no excuse not to go for a dip. NB: The UV index is high in Langkawi in January, so make sure you pack a hat and some decent sun cream!
Check out this tour in Langkawi: Paradise 101 Access with Paradise Package
13. Tasmania
January is one of the warmest months of the year in Tasmania and is, therefore, the height of the tourism season for the island. While Tasmania doesn't receive quite the high temperatures of mainland Australia, averages throughout January are still in the low 20s during the day which is warm enough to enjoy the great outdoors. January in Tasmania boasts summer festivals, open vineyards, adventure activities, and hiking trails that are just longing to be seen.
You might like these tours in Tasmania:

Cradle Mountain: Day Trip from Launceston with Lunch

Bruny Island Wilderness Cruise
14. Nicaragua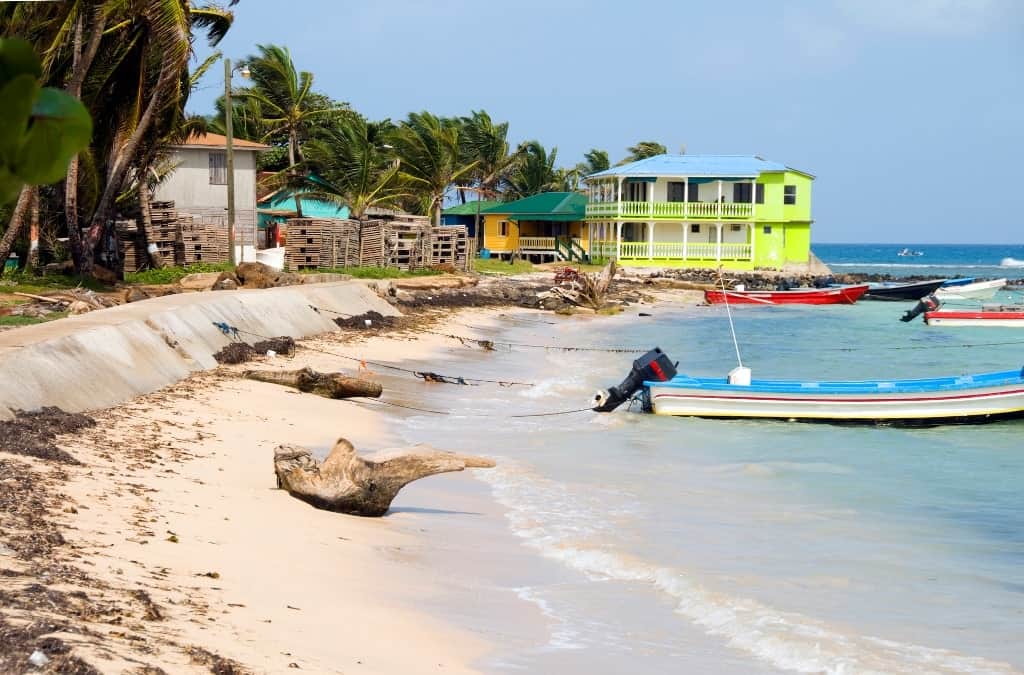 Nicaragua's climate is spectacular year-round with only September and October best avoided due to the rains. January sees gorgeous dry, sunny days in which to discover the Pacific coastline, the collection of volcanoes, and the country's stunning cities that feature a whole host of cultural sights.
Most locations throughout the country, including the wonderful island of Ometepe, receive temperatures of around 30-32°C during the day, so swimming in the lakes, sea, and waterfalls around Nicaragua will be much appreciated!
You might be interested in: From León: Hike and Volcano Boarding on Cerro Negro
15. Rio de Janeiro, Brazil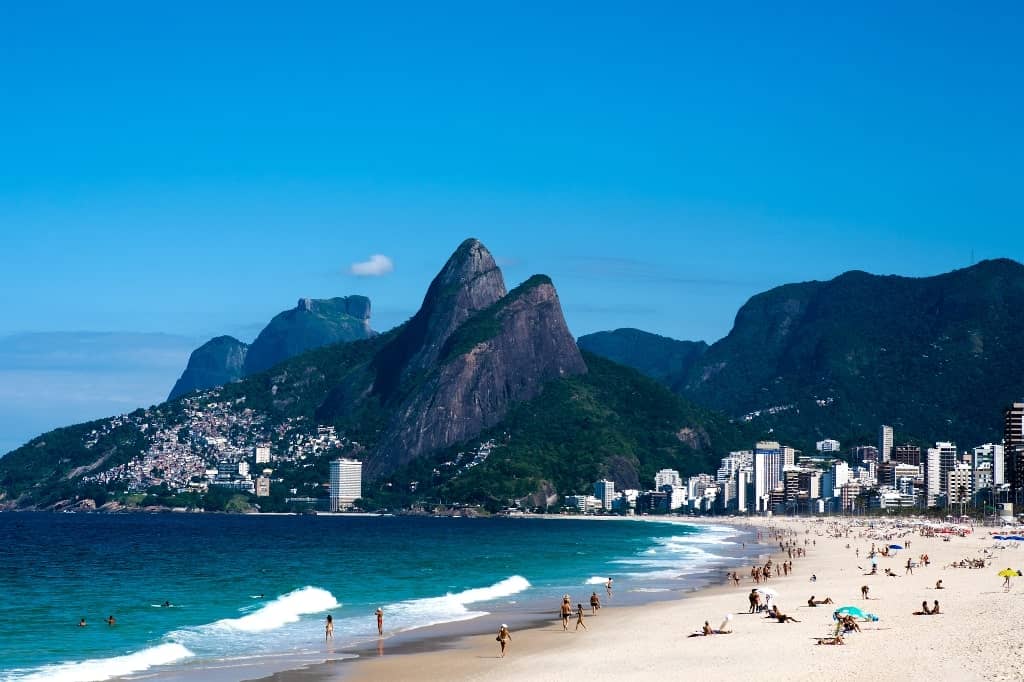 While January is a fairly wet time of year in Rio de Janeiro, Brazil, it is still hot, humid, and sunny which makes it a great deal better than much of the northern hemisphere! Temperatures in Rio in January tend to sit around the 30°C mark, with night-time lows only getting down as far as 21°C. Day of St. Sebastian festivities takes place every January 20th which is a fun time to be in the city. Watch as processions and parades pass through the city, soaking up the local party atmosphere throughout the day.
Check out: How to spend 3 days in Rio de Janeiro.
Check out this amazing tour in Rio: Christ the Redeemer Official Ticket by Cog Train
16. Tanzania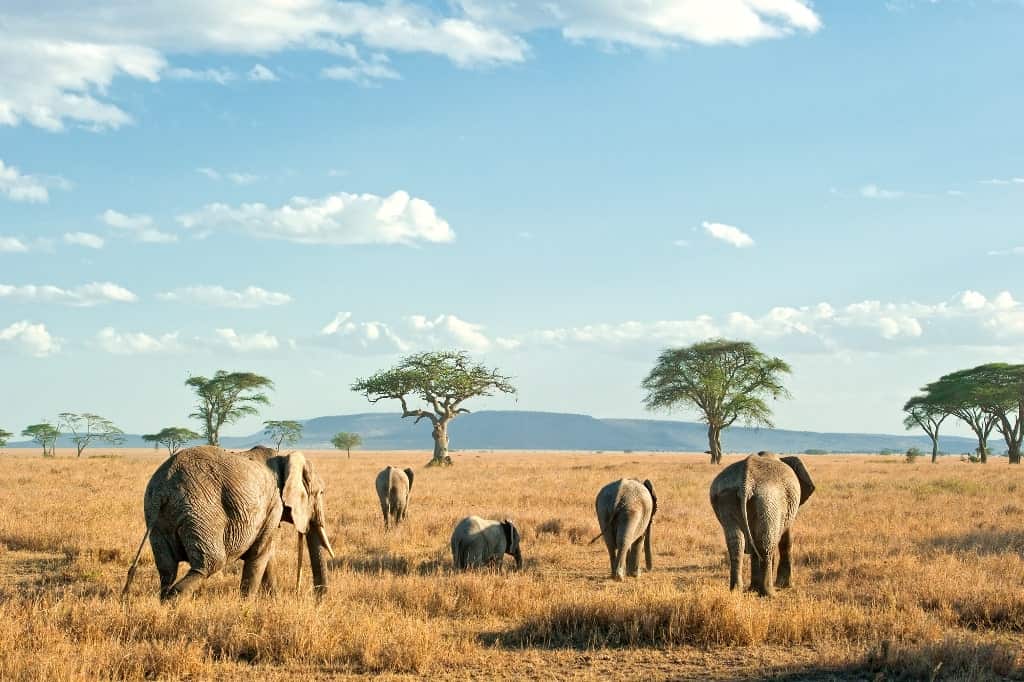 While January is officially part of the rainy season in Tanzania, parks such as the Serengeti and the Ngorongoro Crater are spared some of the worst of the weather. This makes Tanzania is a good safari destination in January.
Different areas of the country receive different temperatures and levels of rainfall, but on the whole daytime temperatures are in the high 20s and there are around 8 hours of sunshine per day. Because January is not peak season in Tanzania, there will be fewer tourists and therefore prices will be lower and wildlife encounters more intimate – win-win!
You might like this recommended tour in Tanzania: Arusha: Serengeti and Ngorongoro Multi-Day Camping Safari
So, if you're looking for hot holiday destinations in January, check out these top spots and start planning your new year getaway now.