Germany in summer is a treat for the senses, with long, sunny days, food and beer festivals galore, and blossoming trees dotting the landscapes. With the snowy mountains becoming verdant alpine meadows, there's no better time to get out into the Alps to enjoy some hiking and biking through the undulating trails.
Some of the best places to visit in Germany in summer include cities such as Munich, Dresden, Dusseldorf, and Frankfurt which are all filled with markets, museums, festivals, and outdoor entertainment throughout the summer months.
Germany is also an ideal summer destination for those that don't like the extreme temperatures of the southern Mediterranean. Beach spots such as Rugen Island and the island of Sylt in the north of Germany and the natural beauty of the Black Forest allow travellers to enjoy the great outdoors without the oppressing heat and possibility of burning!
Despite not being thought of as a holiday destination, Germany is perfect for history buffs, wine lovers, walkers and even beach bums thanks to its varied landscape, architecture, and activities. Even if Germany was never on your bucket list for summer destinations, it really should be after reading this…
Disclaimer: This post contains affiliate links. This means that should you click on certain links, and then subsequently purchase a product, I will receive a small commission. It costs nothing extra to you but helps keep my site running. Thank you for supporting me in this way.
16 Great Places to Visit in Germany in the Summer
1. Mecklenburg-Vorpommern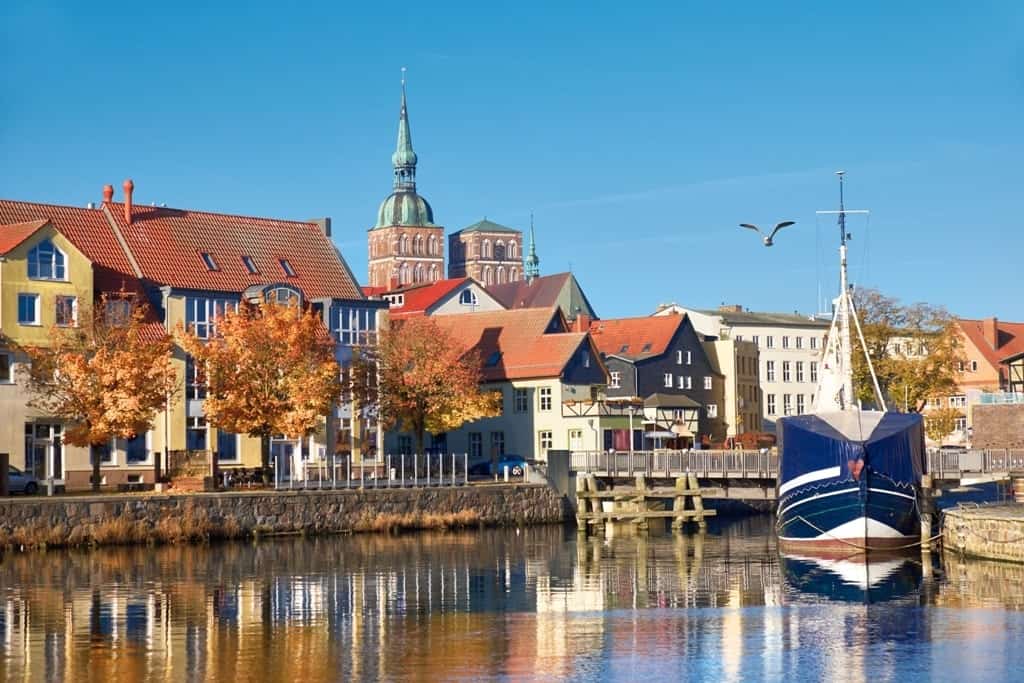 contributed by Amelie of Mostly Amelie
Mecklenburg-Vorpommern, affectionately known as Meckpom, or Mecklenburg-West Pomerania in English, is a wonderful green region just North of Berlin. You can make the trip to this northernmost state by car or train fairly quickly and cheaply, but bicycle touring is a wonderful option to consider in the Summertime.
Starting from Berlin, you'll cycle through the lush greenery of Brandenburg as you make your way there. The land is mostly flat and the infrastructures are excellent, with several camping sites and resorts along the way. A refreshing change from the big city life (Meckpom is one of the least densely populated states of Germany) and a breath of fresh air as you wander through the beautiful natural environment, you'll also encounter many well-known lakes, such as Thuren, Zethner See and Mirower See.
All the way North, you'll ultimately reach the Baltic Sea and its numerous seaside resorts, all with beautiful sandy beaches. More things to discover in Mecklenburg-Vorpommern are the medieval towns of Stralsund and Wismar, as well as Usedom Island, a holiday hotspot and apparently one of the sunniest parts of Germany! There's lots to see and do in Meckpom, but it'll mostly appeal to nature and beach lovers.
Recommended hotels to stay:
Hotel Hanseat Stralsund: Newly opened, this superbly renovated hotel with chic modern interior boasts beautiful views of the city from its windows and is within walking distance of Stralsund Harbour and the historic Old Town. – Click here for more information and the latest prices.

The Grand: This pet-friendly Baltic Sea resort hotel with spa, fitness room and indoor pool sit directly on the white sand beach at Ahrenshoop ensuring a great seaside vacation. Rooms are modern and spacious with a bright and airy feel. – Click here for more information and the latest prices.
2. Bodensee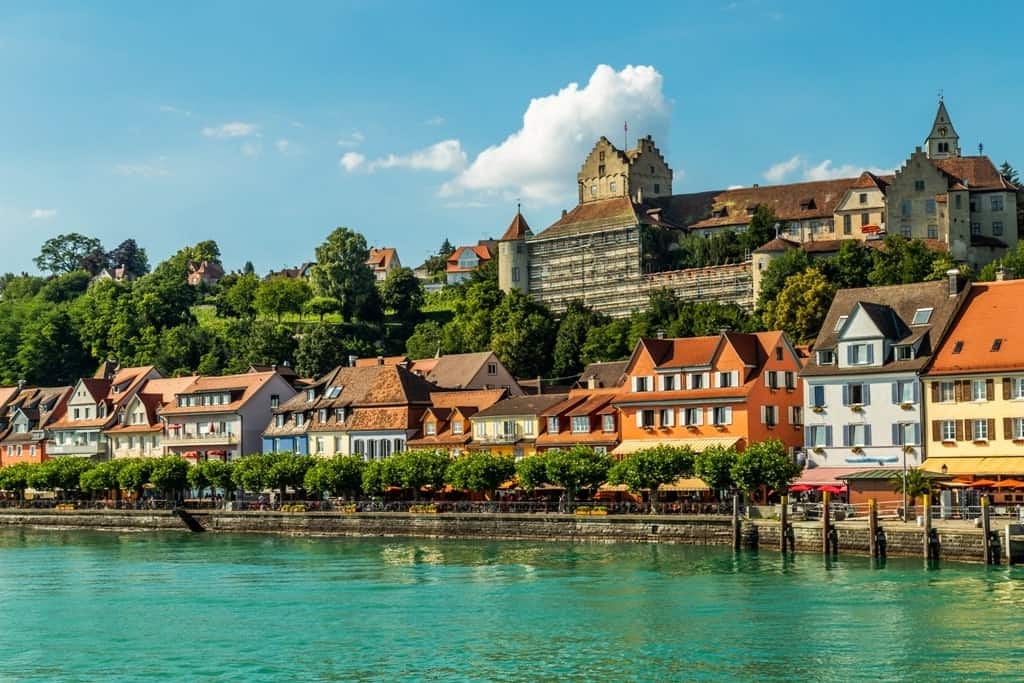 contributed by Diana of The Elusive Family
Bodensee is a great summer escape during Germany's warmest months. Also known as Lake Constance, Bodensee provides numerous activities and events throughout the summer that make this one of the most popular summer destinations for not only German, Austrian and Swiss citizens, but the millions of tourists that flock to Europe in the summer.
Bodensee has numerous seasonal activities during the summer that impress all visitors. A boat ride on the lake is an idyllic way to take in the beauty of the water and surrounding land and visitors can enjoy onboard amenities on several boats including drinks and meals. Water sports are one of the most popular pastimes at Bodensee. Take a canoe ride along the shores, or try stand up paddling for an enjoyable adventure. If you are a bit more daring, sail with an experienced captain or give windsurfing a try.
If you go out on the lake, Mainau Island is a must-see. Hosting a beautiful butterfly garden and a small castle the tropical feel of this little island will have you wanting to visit it more than once. If you choose to stay on the shore, be sure to visit one of the towns along the shore, such as Meersburg. Surrounded by vineyards, the town hosts a castle as well as beautiful baroque architecture, it is a beautiful town to visit with equally amazing residents.
Recommended hotels to stay:
Bodensee Yachthotel Schattmaier: Located right on the harbour ensuring great views of the boats from your room and a stunning sunset view, this elegant hotel with friendly staff offers a sailing school and yacht rental for its guests. – Click here for more information and to check the latest prices.

Landhotel Bodensee: Located right by the shore with beautiful views of the lake and harbour, with the Marienschlucht gorge a 5-minute walk away, this hotel features spacious rooms plus some apartments with cooking facilities. – Click here for more information and to check the latest prices.
3. St. Goar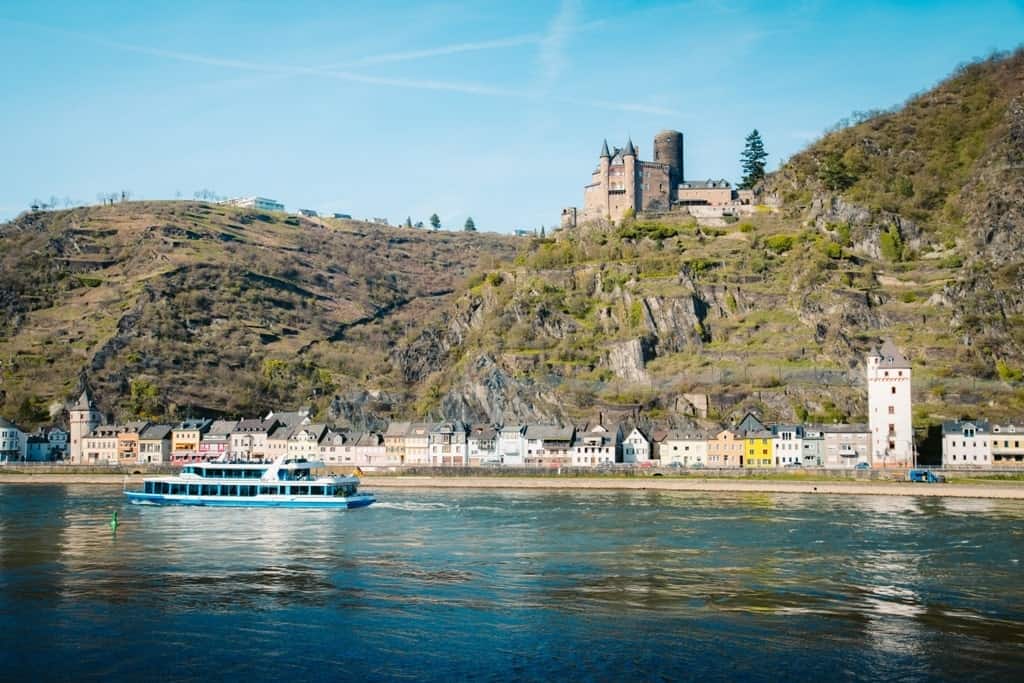 contributed by Serena of Serena's Lenses
One of the best summer getaways in Germany is to visit St. Goar and its surrounding area. St. Goar (Sankt Goar) is a quaint town on the bank of the Middle Rhine in the UNESCO World Heritage Site Rhine Gorge in Germany. The town itself is relatively small and cute and many people come to St. Goar to visit its castle.
Accessible by walking from St. Goar or the St. Goar train station, Rheinfels Castle is perhaps one of the most popular tourist attractions in St. Goar. Thought to be one of the largest and most romantic castles in the area, one can easily walk 45 minutes from the St. Goar Train station up to the Castle to explore its ruins and visit the castle museum.
Right across the river from St. Goar is Castle Katz in Sankt Goarhausen. But unfortunately, it's private property so nobody can tour, but it's beautiful to look at nevertheless. Another popular activity near St. Goar is the Rhine Cruise.
You can either get on the cruise from St. Goar to visit others along the Rhine or get off at St. Goar to explore the town. One of the best-known festivals near St. Goar is "The Rhine in Flames". Boats leave from towns near the Rhine including St. Goar to Loreley Rock to witness a stunning fireworks display.
Recommended hotels to stay:
Hotel zur Loreley: At this small, family-run hotel which is centrally located, you'll be looked after as if you're one of the family. One of many great touches is that this hotel offers guests free landline calls to the UK and Europe, USA, and Australia. – Click here for more information and to check the latest prices.

Hotel Rheinfels: With Rhine River views, the boat dock just across the street, and the train station within walking distance, the exterior of this red building welcomes you into spacious and comfortable contemporarily surroundings.- Click here for more information and to check the latest prices.
Check out: The Best Castles on the Rhine.
4. Düsseldorf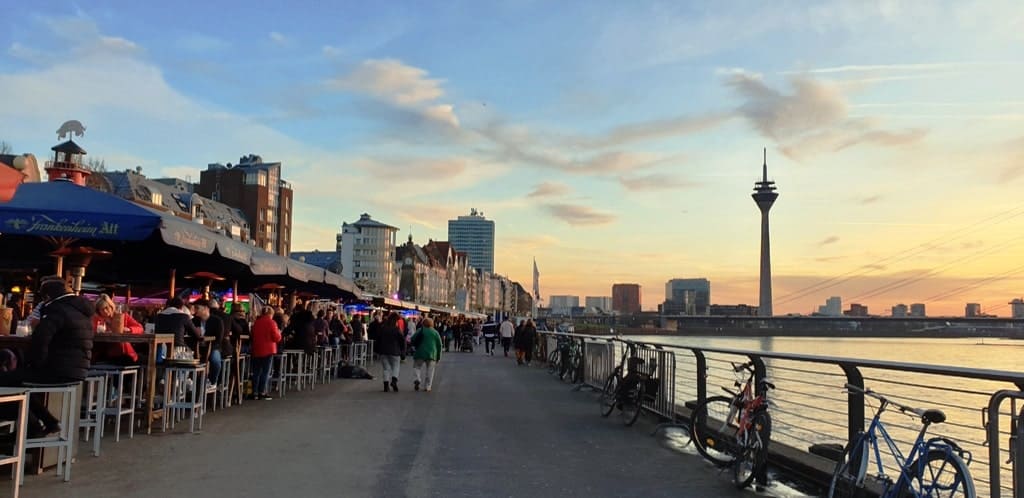 contributed by Amber of With Husband in Tow
There are so many great things to do in Dusseldorf during the summer when the city comes alive with great food, drink, and outdoor activities. With the third-largest Japanese population in Europe, behind London and Paris, Dusseldorf is home to some of the best Japanese cuisines outside of Japan.
From ramen to katsu curry and of course sushi, Dusseldorf is bursting at the seam with plenty of Japanese as well as other Asian dining options. The quality of the Japanese food is so good in Dusseldorf that you'd have to travel to Japan to find better. In addition to year-round dining options, Dusseldorf plays host to its annual Japan Day, held every May.
One of the best times to visit Dusseldorf is over the summer, which provides travellers with a glimpse of Dusseldorf at its best. Take a long stroll along the Rhine River on one of the many pedestrian-friendly paths or head over to the Altstadt area of Dusseldorf for a refreshing local beer. Considered to be the longest bar in the world, the Altstadt is the perfect location to enjoy local dishes like pickled eggs while watching locals go about their day.
Also check out Carlsplatz Market, an open-air market with fresh food stalls, bakeries, and bars with plenty of opportunities to enjoy the weather. Over the summer, Dusseldorf also hosts a triathlon, a Medieval festival, and a light festival focused on classical music.
Recommended hotels to stay:
Hotel Sir & Lady Astor: Elegantly decorated, this charming boutique hotel with its 2 adjacent buildings offering either masculine Scottish/African style rooms or chic feminine rooms is located in the heart of the city. – Click here for more information and to check the latest prices.

Leonardo Royal Hotel Düsseldorf Königsallee: Centrally located and within walking distance of the Old Town with taxis and trams outside too, this hotel's rooms feature modern décor, a choice of pillows, and sound-proofing from the street noise to ensure a good night's sleep. – Click here for more information and to check the latest prices.
5. Rügen Island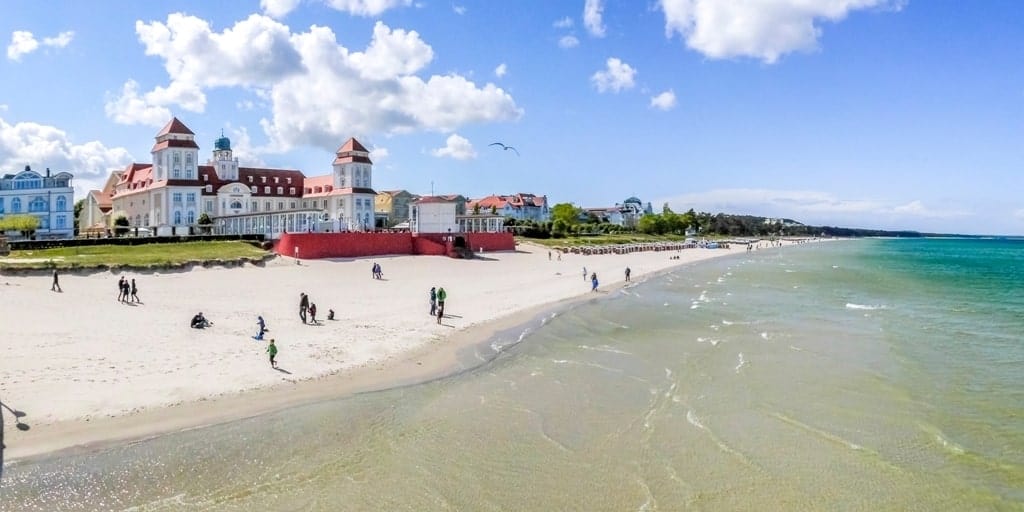 contributed by Amandine of Les Berlinettes
Germans love to go to the seaside in summer. Seaside in Germany is very typical for it's "Strandkorb" aka typical German beach-chairs. Indeed, the seaside in Germany can be very windy so better hide in a Strandkorb. If you are not too afraid of the wind, there are many beautiful destinations for a summer getaway in Germany. One of my favourites is Rügen.
Rügen is the biggest island in Germany and to me also the prettiest. It is situated on the Baltic sea and has both wild and touristy beaches: Binz, Sellin and Göhren. I like the wild beaches of Rügen the most with it's famous big chalk cliffs. Besides the beach, people like to go on a bike tour through the island. It has indeed numerous cycle paths. To access Rügen, you will need to take a ferry from Stralsund.
Recommended hotels to stay:
BinzHotel Landhaus Waechter: This atmospheric medieval-themed hotel is a short walk from the seafront and pier in the town of Binz, close to the steam railway. With a bar and clean, comfortable rooms, this is a unique hotel that you won't forget! – Click here for more information and to check the latest prices.

Hotel & Ferienanlage Kapitäns-Häuser Breege: Located on the waterfront of Lake Hafen ensuring you get to enjoy breathtaking views, this well-established hotel with modern rooms and helpful staff is also within walking distance of the beach.- Click here for more information and to check the latest prices.
6. Munich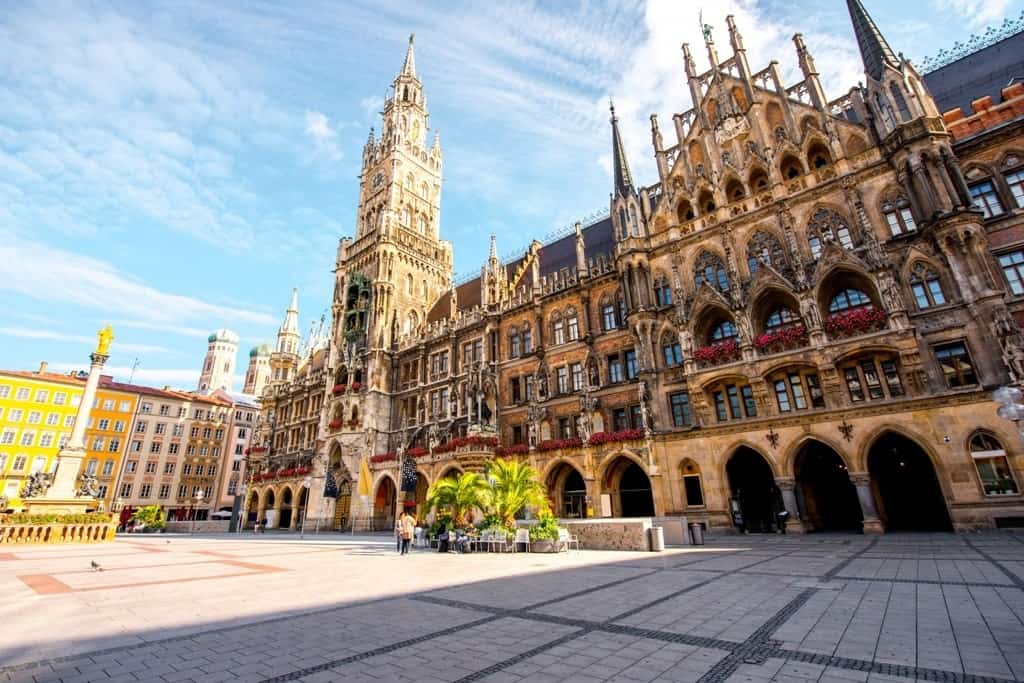 contributed by Patrick of the German Backpacker
Munich is one of Germany's most beautiful cities and especially nice to visit in the summer. The Bavarian capital is known for its high life quality, historical buildings, and beautiful nature around. If you're in Munich in the summer, make sure to spend some time in the English Garden, a large green area directly in the center full of people enjoying the sun and the good weather. You can even try to go surfing on the "Eisbach Welle", an artificial wave in the river in the park.
One of the big highlights in Munich is also its surrounding nature. Due to its proximity to the Alps, you can reach plenty of beautiful mountains and lakes within an hour outside of the city. The famous Starnberger See is only a train ride away and one of the most popular tourist getaways. Munich is also a good base to visit the famous Neuschwanstein Castle for a day. 
If you're visiting in late summer (mid/end of September), you will even get the chance to attend the world-famous Oktoberfest (which doesn't take place in October, but actually in September). While this is a unique experience, make sure to organize accommodation months in advance, since the city is full of tourists during this period.
Recommended hotels to stay:
Arthotel Munich: Centrally located and close to the station and other transport links, this boutique-style pop-art hotel offers good value for money with spacious and soundproofed contemporary rooms with a great breakfast served too. – Click here for more information and to book the latest prices.

Maison Schiller by DesignCity Hotels: With uniquely decorated rooms (parrot wallpaper anyone?!) and spacious modern bathrooms, this centrally located hotel which serves up a great choice for breakfast is a 2-minute walk from the train station. – Click here for more information and to book the latest prices.
7. Rostock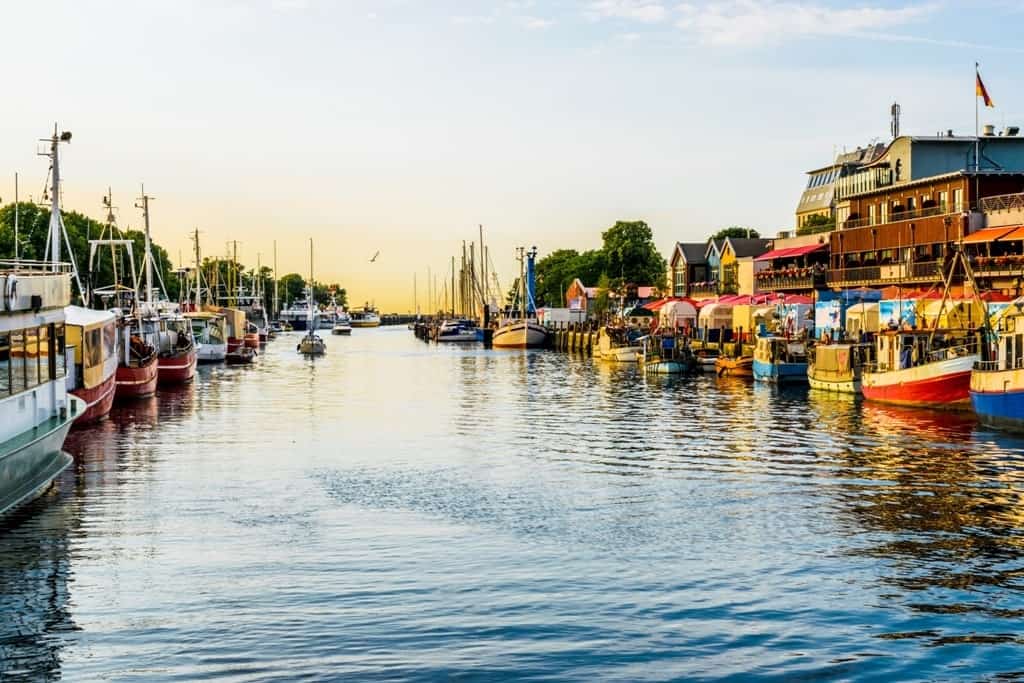 Contributed by Dhara of It's Not About the Miles
Rostock is a beautiful university town on the Baltic coast in northern Germany. It is just perfect for a summer getaway, especially when combined with the nearby seaside resort of Warnemunde. Rostock is just about two hours away by high-speed train from Berlin or Hamburg, so it's easily accessed.
In Rostock, you can walk just about anywhere. Take the tram from the train station to the town centre, and, once you are checked into your accommodation, do a walking tour to see the architecture. Much of Rostock was razed by World War II bombing but has been since restored for the greater part. At least two of the impressive medieval town gates are still standing, as is part of the high wall that once enclosed the town.
Take in the morning market at Neuer Markt, the main town square. Especially if you visit on Saturday, when the main weekly market is held, the market stalls are worth browsing. Also spend time at the university plaza, relaxing over a drink at a cafe, people watching, and enjoying the sculptures and fountains in the plaza. Rostock University is actually one of the oldest in Europe.
Rostock's churches are also worth visiting. At Petrikirche, you can go up to the top of the tower, either in the lift or by climbing the steps. At Marienkirche, don't miss the astronomical clock: it is one of the oldest in Europe that still functions.
In the nearby resort of Warnemunde, accessed via a local train in under 20 minutes (or by ferry in season), you can laze at a blue flag beach, or stroll the lively waterfront and the streets of the little town. While you can spend just one day in Rostock and Warnemunde, they make for a pleasant weekend getaway or a multi-day sojourn as well.
Recommended hotels to stay:
Hotel GreifenNest: This charming hotel has had a lot of thought put into its design to create a cosy home away from home. Located next to Wallanlagen Park, there are bars and restaurants on the street outside with the town centre a 15minute walk away. – Click here for more information and the latest prices.

Stadtperle Rostock: This art nouveau-style hotel is located in a villa that dates back to 1894. Lovingly restored inside, the comfortably furnished hotel is within easy reach of the train station, Old Town, and harbour. Click here for more information and the latest prices.
8. Dresden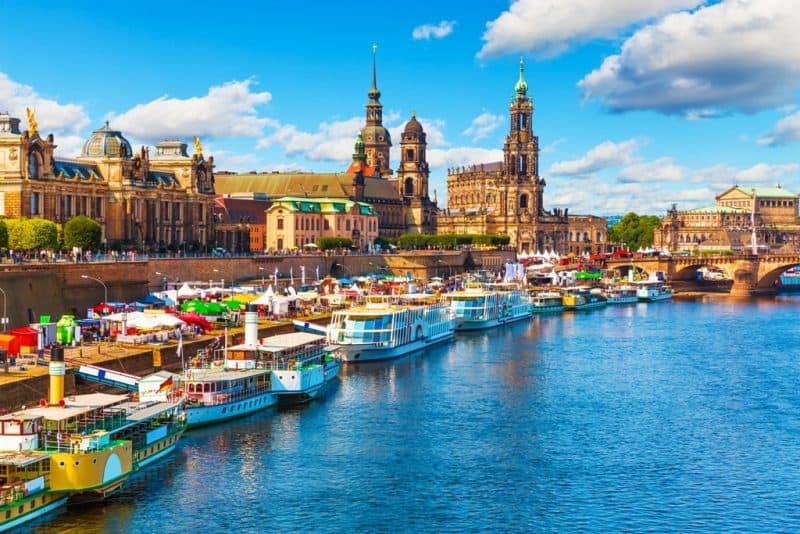 contributed by Manon of Visiting The Dutch Countryside
Dresden is one of the best and most beautiful places to visit in Germany. Dresden, located in the East of Germany, is a very charming city that one must visit when travelling to Germany.
One of the reasons why Dresden is an amazing destination in Germany to visit during summer is because of its location. The river Elbe flows through the city of Dresden and during summer you'll find the perfect atmosphere on the riverside. Families, groups of friends, friendly strangers. Everyone is enjoying their day.
Grab yourself some food from one of the many great restaurants in Dresden and go for a picnic on the riverside. Another great thing to do in Dresden in summer is to cycle along the Elbe. Cycle as far and long as you wish, during the summer season you won't even notice how far you've cycled. And at the end of your cycle ride, there's only one way to cool down. Get into the river the Elbe for refreshment and a great ending of your day.
Recommended hotels to stay:
INNSiDE by Meliá Dresden: Ideally located in the Old Town within walking distance, this modern hotel with spa and 6th-floor sky bar has bright and airy rooms with minimalist décor – think clean lines and a neutral colour palette. – Click here for more information and to check the latest prices.

Maritim Hotel Dresden: This stylish modern hotel located on the edge of the Old Town has views of the river Elbe from its conservatory restaurant and terrace plus rooms and has a gorgeous piano bar, indoor pool, and spa. – Click here for more information and to check the latest prices.
9. Frankfurt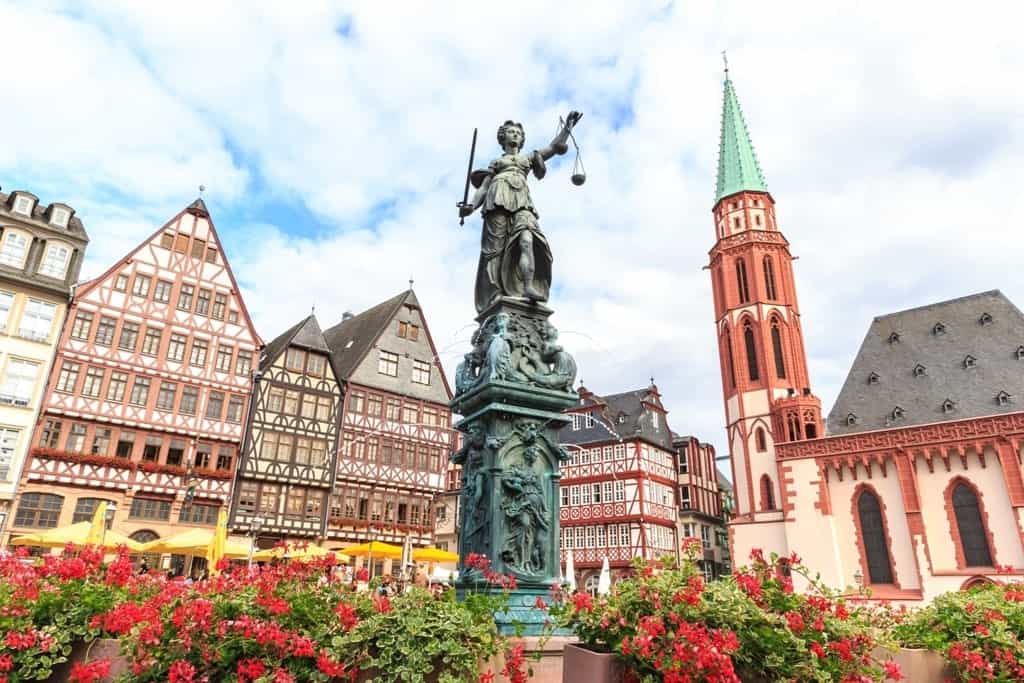 Contributed by Megan of Megan Starr
One of the best places to visit in summer in Germany is Frankfurt.  While most people ignore the city aside from flying in and out of its renowned airport, it definitely is one of the coolest cities to venture to in Germany during the warmer months.  Frankfurt turns a beautiful green during summer and there are more festivals than I can even count happening. 
I am based in Frankfurt and have lived here for nearly five years and the summer months, while a bit too hot for my taste, offer so much excitement and thrill that I love sticking around for them. Frankfurt is home to several parks and green spaces and with the open drinking laws, it is fun to grab a beer and sit in the park with friends and socialize.
There are also so many cafes in Frankfurt that you can check out to enjoy a cold brew on a spacious terrace. My favorite festivals during the summers are Museumsuferfest and the African Festival in Rebstockpark. If you're looking for a city with a lot of life and energy during summer, don't overlook Frankfurt.
Recommended hotels to stay:
Moxy Frankfurt City Center: Newly opened in 2018, this stylish urban hotel located in the city centre has a vibrant modern lobby area with coffee bar where you can relax and chat with fellow guests outside of your room. – Click here for more information and to check the latest prices.

The Niu Charly: This cool new hotel with its hip décor has all the modern amenities and is located close to the train station and within easy reach of the Old Town whether you're moving around on foot or using public transport. – Click here for more information and to check the latest prices.
10. Lübeck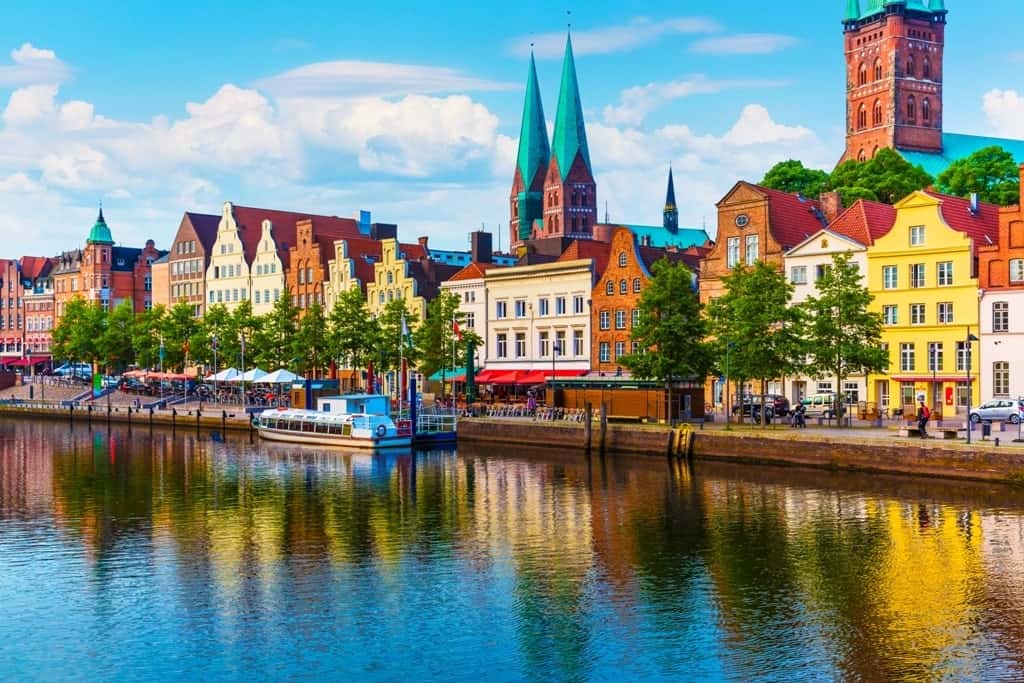 Contributed by Jacky of Nomad Epicureans
One of the best summer getaways in Germany is without a doubt Lübeck. Located in the northern state of Schleswig-Holstein, it offers a welcome reprieve from the sweltering heat of central Europe. Not only that but is also easy to reach from Hamburg and relatively free of big tourist crowds. Lübeck is perfect if you want to get away for one or two days.
Despite its small size, the city still has plenty to offer to keep you busy. For starters, one of the most iconic landmarks in Germany is located here, the Holstentor. Built in the 15th century it is the only still existing of four gates which once flanked the city. It's the ideal starting point for a tour of the historic old town.
Although Lübeck was heavily damaged during World War II, it has been well restored and has even been listed as a UNESCO World Heritage Site. Some of the most notable sights include city hall, the Hospital of the Holy Spirit, St. Mary's church, and St. Peter's church. It is also the home of one of the best museums in Germany, the European Hansemuseum, dedicated to the city's Hanseatic roots.
Finally, if that wasn't enough yet, Lübeck is also known for its high-quality marzipan. Make sure to stop by Cafe Niederegger and pick up some of the convincingly shaped marzipan treats looking like fruits and vegetables! Oh, and of course, there is a marzipan museum as well.
Recommended hotels to stay:
Park Hotel Am Lindenplatz: Located within walking distance of the station and all the tourist sites, this small family-run hotel is in an Art Nouveau-style building. It has bright and airy rooms and serves up a scrumptious breakfast. – Click here for more information and to check the latest prices.

Ringhotel Jensen: With views overlooking the historic salt warehouses, this waterfront hotel is ideally located for exploring the Old Town. The spacious rooms exude the cosiness of hygge, decorated in a modern Scandinavian style. – Click here for more information and to check the latest prices.
11. Hamburg
contributed by Cate of International Desserts Blog
Hamburg is the perfect city for a summer getaway! Located in northern Germany, this vibrant Hanseatic city offers a multitude of charm, things to do, and great food and drink all year long. Summertime in Hamburg means wonderfully long days, with the sun rising before 5 am and setting after 10 pm, so you have lots of time to explore all that Hamburg has to offer.
A few outdoor options: learn to sail on the Alster lake, picnic at Planten un Blomen park, canoe through the canals and take in the gorgeous villas and gardens, take a stroll along the Elbe (take the S3 to Blankenese) and spend an afternoon enjoying one of the beaches (or beach bars), wander around Ohlsdorf, the biggest rural cemetery and park in the world, explore the Speicherstadt neighbourhood or enjoy a coffee or beer at a cafe or Kneipe in the hip Sternschanze neighborhood.
Indoor options: visit the Miniature Museum, the Elbphilharmonie (even if just for the great city views), the International Maritime Museum, the U-434 Russian espionage submarine turned year-round museum, one of Hamburg's art museums or dance the night away at a club on the Reeperbahn.
Want to explore Hamburg through food? Be sure to try Fischbrötchen (fresh rolls with fish and other condiments inside), a Franzbrötchen (a buttery pastry with cinnamon and other fillings), a bowl of Rote Gütze (a red berry dessert topped with fresh cream, vanilla sauce, or ice cream), and of course beer!
Recommended hotels to stay:
Hotel Baseler Hof: Close to the train station and U-Bahn, this traditional hotel is ideally located for sightseeing. Spacious rooms with balconies plus helpful staff who ensure you have everything you need make it a great place to stay. – Click here for more information and to check the latest prices.

PIERDREI Hotel HafenCity Hamburg: This modern hotel has an urban vibe to it and is ideally located, within walking distance of most of the top touristic sites. Family rooms have a room within a room for the kids making it ideal for families. – Click here for more information and to check the latest prices.
12. Romantic Road Germany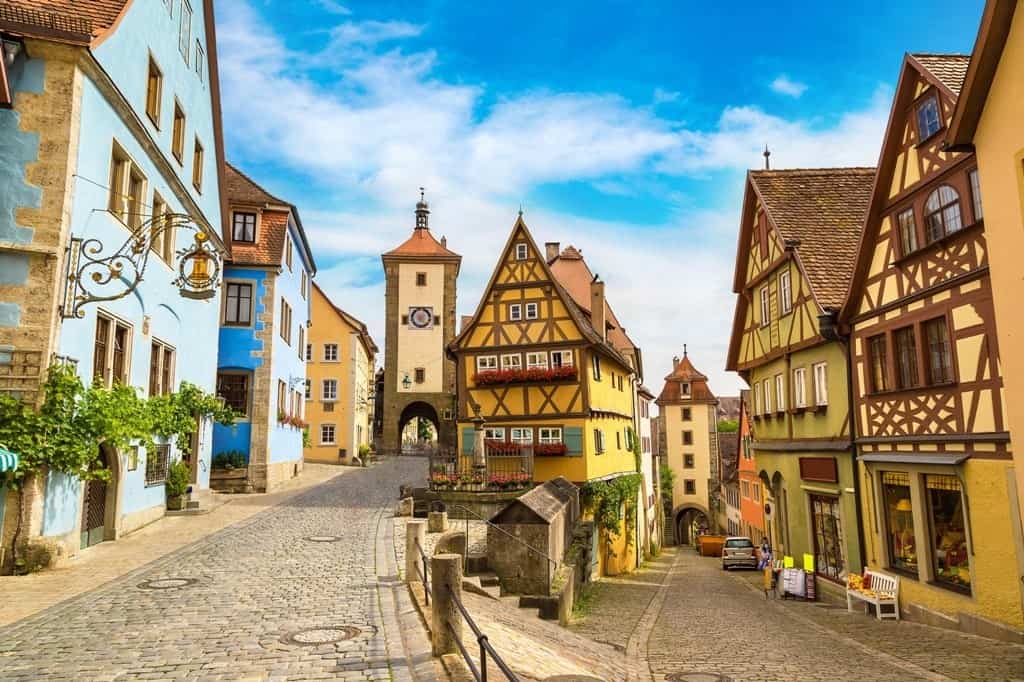 Contributed by Hannah & Adam of Getting Stamped
One of the best things you can do during the summer season in Germany is to take the scenic route from Wurzburg to Fussen which is dubbed the Romantische Straße, or Romantic Road. Loosely based around a path in Roman Times through the southern regions of Germany, the Romantic Road winds its way down through medieval villages with many pull-offs to see stunning castles along the way.
The Romantic Road should ideally be done from North to South if you have time, since following in this direction you finish at the fairy tale Neuschwanstein Castle near the southern border of the country. While there are many highlights big and small, it's hard to top one of the most iconic castles in the world!
Other highlights include the Würzburg Residence in the north and Rothenburg ob der Tauber as a definite must-stop near the centre of the route. It's best to plan a trip down the Romantic Road for a long weekend, but you could easily spend a week-long vacation exploring all of the little towns.
There's no shortage of hidden gems and lesser-visited little towns like Dinkelsbühl that not everyone pulls off of the main road for. No matter where you decided to stop along the Romantic Road, it's sure to make the perfect summer trip in Germany.
Recommended hotels to stay:
Zum Winzermännle: Located in the heart of Wurzburg, 1 street back from the river, this pink hotel is on a shopping street but the soundproofed rooms mean you'll get a good nights sleep and there's a quiet courtyard at the back. – Click here for more information and to check the latest prices.

Hotel Gasthaus zur Sonne: Located in the heart of Dinkelsbühl Old Town, this renovated Bavarian property has modern guest rooms and benefits from a Bavarian-style beer garden and restaurant serving up Franconian cuisine. – Click here for more information and to check the latest prices.
13. Wurzburg
Contributed by Lance and Laura of Travel Addicts
The historic town of Wurzburg, Germany may be one of Germany's most beautiful. Located in the center of the country, close to three major international airports, and along two important ancient trading routes, Wurzburg offers a great summer getaway destination.
The town is best known for the Royal Residenz, which is one of Europe's most impressive royal palaces and a UNESCO World Heritage Site. Originally, it was home to the Prince-Bishop of Wurzburg. It is rumoured that Napoleon Bonaparte stayed here in May 1812 while he was heading to invade Russia (evidently he didn't sleep well, which contributed to his loss in the battle). Behind the Royal Residenz, the gardens are not be missed. By European standards, the gardens are quite small, however, they are incredibly beautiful in summer and are a great spot for a picnic.
In the heart of Wurzburg, the Old Main Bridge stretches across the Main River. Many visitors will make the comparison to Prague's Charles Bridge. Architecturally, they are both very similar and both are adorned with statues. Towering above the city across the river is the Marienberg Fortress, erected in response to the invading Swedish army.
Wurzburg is also the heart of the Franconia wine region. Many of the hillsides along the river are covered in vines. The white Franconian wine (and its distinctive bottle) is a source of pride for locals, although it is less well known abroad than other German wine regions. In the summer, you'll see visitors and locals alike drinking along on the Old Main Bridge and the banks of the river.
Recommended hotels to stay:
Zum Winzermännle: Located 1 street back from the river, this pink hotel is on a shopping street but the soundproofed rooms mean you'll get a good night's sleep and there's a quiet courtyard at the back. – Click here for more information and to check the latest prices.

GHOTEL hotel & living Würzburg: This modern chrome and glass skyscraper boasts spectacular views from its upper floors and is ideally located on a shopping street in with the old town a short walk away. Make use of the complimentary sauna after a day of sightseeing! – Click here for more information and to check the latest prices.
14. Rheinsteig Trail
Contributed by Jennifer of Luxe Adventure Traveler
One of the best summertime trips to take for adventure and outdoor lovers in Germany is hiking the Rheinsteig Trail. The trail is 320 kilometres long covering the castle and vineyard dotted hillsides from Bonn to Wiesbaden, though the long-distance trail can be hiked in smaller segments.
One of the most spectacular sections is the 40 kilometres between St. Goar and Lorch am Rhein, where terraced vineyards slope down the steep gorge right toward the Rhine River and castles dot the clifftops around every bend. Cosy guesthouses with the most delicious food or even stays in castles await at the end of each long day of hiking, bringing together the best of both adventure and luxury.
There's even a number of Germany vineyards hikers can visit along the way for a little wine tasting in route. And if you wish, there are porter services to shuttle heavier bags from one accommodation to the next so that hikers need only carry a day pack for the day. It's truly one of the best summer adventures in Germany.
Recommended hotels to stay:
Hotel Alexander: Located right next to the old town in Wiesbaden and within easy reach of the train station, this elegant family-run hotel has individually decorated rooms with wooden floors and antique furniture. – Click here for more information and to check the latest prices.

FETZ Das Loreley Hotel: Overlooking the Rhine river in Dörscheid this recently renovated hotel with a restaurant, garden sun terrace, kids playground, and spa is tastefully decorated and a great base for hiking, cycling, and sightseeing. – Click here for more information and to check the latest prices.
15. Cuxhaven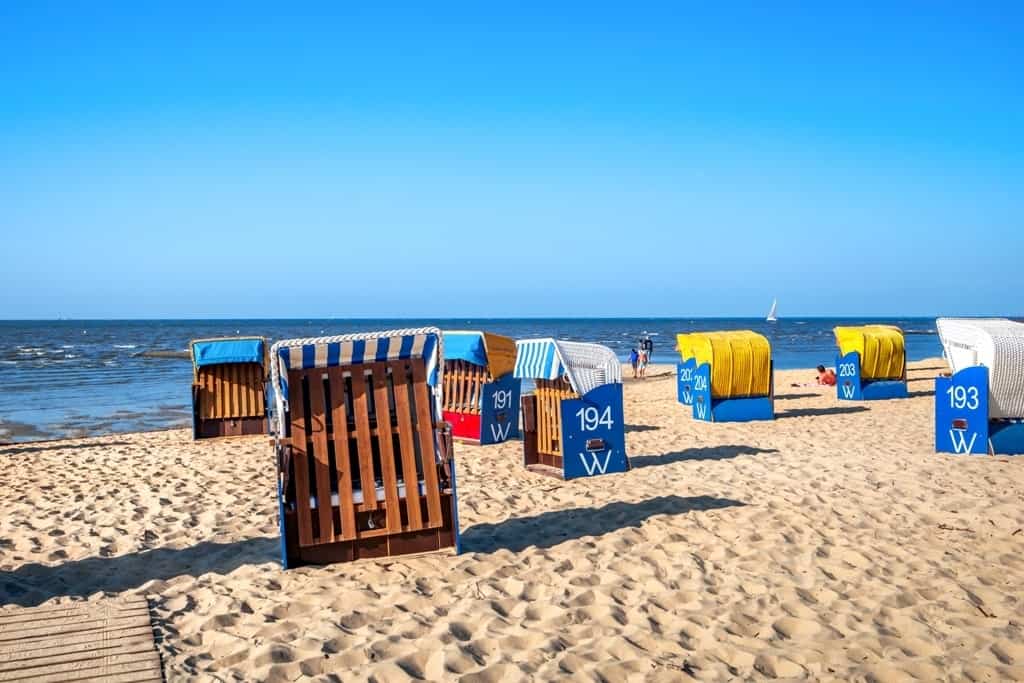 Contributed by Victoria of Bridges and Balloons
Cuxhaven, just two hours from Hamburg, is the gateway to the Wadden Sea National Park, a UNESCO World Heritage Site that spans Germany, Denmark and the Netherlands. It's a popular German tourism destination, and a stunning landscape of sandy beaches and expansive mudflats.
Twice daily, when the tide goes out, you can walk for up to 20km across the seabed. The vast mudflats, carved by the shapes of the tide, create an otherworldly landscape, home to more than 10,000 plant and animal species. Take a guided tour to discover what you can find – you may even uncover some amber.
While in Cuxhaven, don't miss the beautifully designed Cuxhaven Visitor Centre, which teaches you about the geography of the area and its designation as a UNESCO World Heritage Site. This is also where you can catch a wattwagen (horse and cart) ride to the island of Neuwerk.
The colourful carts hold up to nine people and are pulled by strong horses across the mudflats and tidal creeks. It's possible to stay the night on Neuwerk, or you can catch a wattwagen ride back.
There are three main beach areas to choose from in Cuxhaven: Sahlenburg, Duhnen, and Dose. The latter is more of a park than a beach, but still features Cuxhaven's iconic colourful beach huts.
Recommended hotels to stay:
Hotel Stadt Cuxhaven: This centrally located hotel, halfway between the port and the station, offers a comfortable stay that's good value for money. Rooms are modern with a marine theme throughout, the staff are helpful, and the breakfast is tasty. – Click here for more information and to check the latest prices.

Hotel Beckröge: Next to the beach and within easy reach of public transport, this light and bright renovated hotel, located in a 19th-century building, provides guests with a cosy home away from home with great sea views. – Click here for more information and to check the latest prices.
16. The Island of Sylt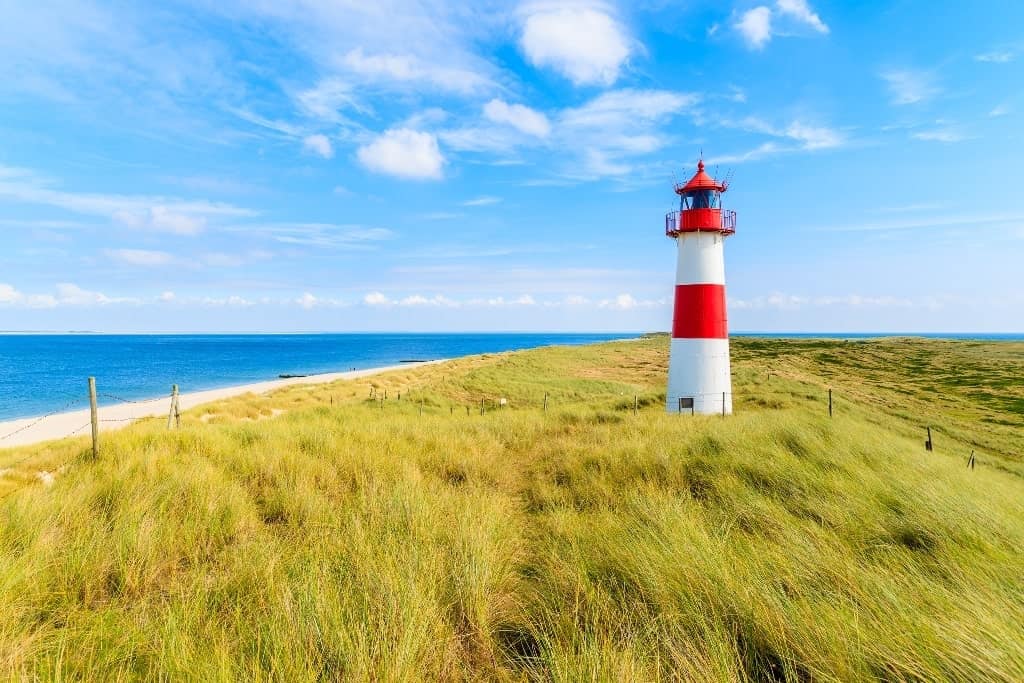 Contributed by Jordan of Wayfaring With Wagner
Comparable to the Hamptons in the United States, the island of Sylt on the North Sea is a hidden gem in Germany. Surrounded by sand dunes, quaint villages, and lighthouses, Sylt is the ultimate summer getaway in Germany – but be prepared to spend some money! Sylt is a notoriously wealthy island – the island is the most expensive place in all of Germany to buy a house. The average house goes for $3,500 per square foot.
However, don't let the prices on the island dissuade you from not visiting. Only a three-hour train from Hamburg, it can easily be visited for a day trip!
After arriving in the main city of Westerland by train, rent a bike and start making your way around the island. My favorite spots include the sand dunes north of Westerland (particularly Uwe Düne and the observation deck), the ritzy town of Kampen (keep an eye out for celebrity sightings!), and the adorable thatched-roof town of Keitum.
I highly recommend stopping at the cute tearoom "Kleine Teestube" when in Keitum. Feeling ambitious? Head to the northern tip of the island to see the lighthouse (and views of Denmark), or head to the southern tip of Sylt for the local and relaxing town of Hörnum. Regardless of what you decide to do on the island, you can't go wrong – the summer months provide the best weather and outdoor adventures!
Recommended hotels to stay:
Dorfhotel Sylt: Close to the beach and the mudflats, this cosy family-friendly hotel with apartments is in a quiet, slightly secluded, location. With a spa, indoor pool, kids play around, 2 restaurants, and a bar it makes a great base for exploring the area. – Click here for more information and to check the latest prices.

Hotel Watthof: This small period property with a thatched roof is in a quiet countryside location close to the Wadden sea. Decorated to a high standard and with courteous staff, every room boasts a stunning sea view. – Click here for more information and to check the latest prices.
From the northern beaches of Cuxhaven, Rügen and Heiligenhafen to picturesque towns and cities such as Lübeck, Wurzburg and Rostock, Germany in summer has plenty to offer travellers seeking something a little different to beach breaks on the Costa del Sol or the Greek Islands.
The vibrant cities, stunning natural landscapes and peaceful lakeside towns each provide something unique that makes them worth visiting. It is also fun to combine some of the best places to visit in Germany into a road trip adventure so you can mix history and culture with beachside relaxation to create your perfect getaway.
Did you like the post? Pin it!