Rome is such a fascinating city that you could easily spend weeks discovering the amazing attractions that it has to offer, not to mention the incredible cuisine and nightlife too! However, this three-day Rome itinerary is a great way to get a taste of the city, perhaps over a long weekend. You'll have the chance to visit some of Rome's highlights, learn about the city's history and culture and take plenty of photographs of the pristine streets and sights as you explore.
Step back in time as you discover sights like the Roman Forum, the Colosseum, and the Spanish Steps that have all played their part in Rome's history.
I've been to Rome enough times to know the best way to visit the major sights, so here I've broken the itinerary down into three clear days allowing you to visit sites that are close together while stopping for coffees, and gelatos, and Italian cuisine in between!
Disclaimer: This post contains affiliate links. This means that should you click on certain links, and then subsequently purchase a product, I will receive a small commission.
How to spend 3 days in Rome, an itinerary for first-timers
2 days in Rome: Day One
1. Campo di Fiori
Visiting Campo di Fiori is a must for any trip to Rome, with the ancient market being a wonderful place to start your first day. The square plays host to a vibrant market every day (except Sunday) between 7 am and 2 pm. This bustling market is a real attack on the senses, with bright colors, interesting smells and a cacophony of sound from market vendors selling their produce. The fruits and vegetables come from the surrounding countryside and it is lovely to try some delicious local fruit to start your day.
If you get time, you can also come back to Campo di Fiori in the evening to enjoy the nightlife.
2. Piazza Navona
Another of Rome's famous squares is Piazza Navona. This ancient square once hosted thousands of spectators for athletic events but is today home to three stunning fountains, restaurants and terraces and artists selling their work. Each of the fountains are well worth seeing (Fontana dei Quattro Fiumi, Fontana del Moro and Fontana del Nettuno) as are the Church of Sant'Agnese in Agone and the Palazzo Pamphilj.
3. Pantheon
Rome is home to a number of spectacular buildings, one of which is the Pantheon, a present-day church that was once a grand Roman temple. The Pantheon was built between A.D 118 and 125, which considering its pristine state is astounding!
The building is most known for its vast pillars, domed roof and its circular hole in the roof (the Oculus) which shines a beam of light around the interior throughout the day. Remarkably, the Pantheon has been in use ever since it was built and is now much loved by locals and tourists alike.
Opening hours: Mon-Sat: 9 am – 6.30 pm and Sun: 9 am –1 pm.
4. Fontana di Trevi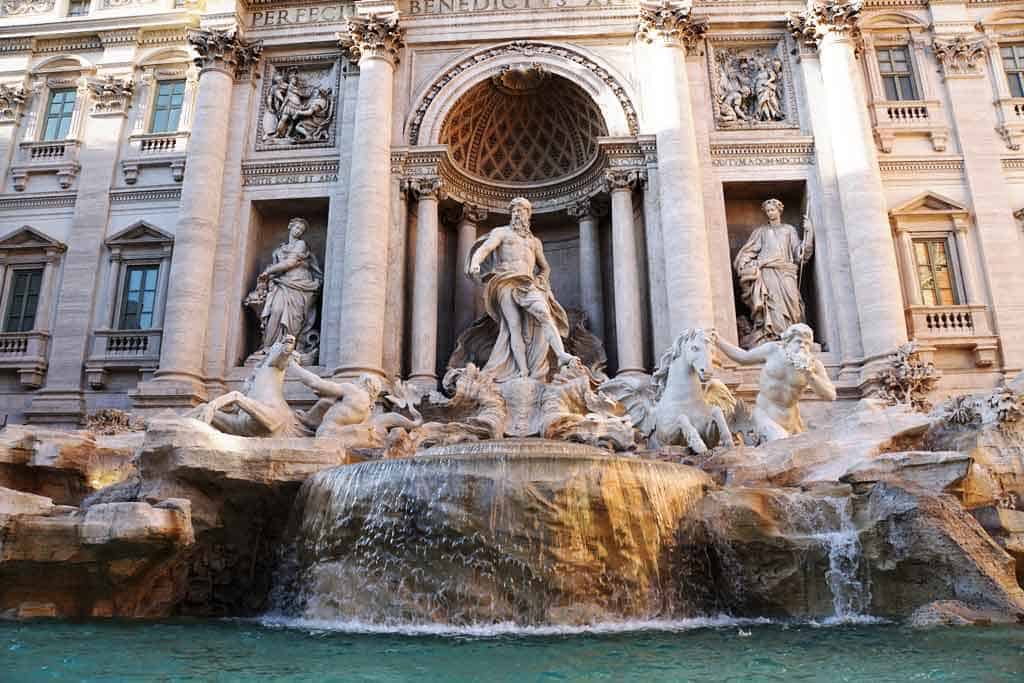 The Trevi Fountain is arguably the most beautiful fountain in the city, with many people recognizing it from the film La Dolce Vita. The name comes from the Italian tre vie, meaning three roads, the fountain is the point in which three roads meet. The fountain stands at over 26m tall, with grand Baroque design features making it one of the most impressive in the world!
5. Spanish Steps, Piazza di Spagna
You continue your day with more famed sight-seeing spots including the Spanish Steps that lie between the Piazza di Spagna at the base and Piazza Trinità dei Monti at the top. This steep staircase comprises 138 marble steps dating from 1723. While these have been relatively well preserved, there has been some wear to the marble which has led to a ban of sitting on the steps (a law which is enforced by fines if you are caught!). You can still stop to take photos though as the walk between the stairs is well worth it.
6. Via Veneto
Via Veneto is a chic Roman street home to fountains, cafes, bars, hotels and designer shops (basically the best of all worlds!). It is also a place to see and be seen – as it has been since the 1950s – and you can live out your La Dolce Vita fantasies! This is the perfect place to while away an afternoon, people watching with a coffee or cocktail in hand. If you head north up Via Veneto you'll come to Villa Borghese Gardens, one of the best parks in the city.
7. Villa Borghese
Villa Borghese is a picturesque set of landscaped gardens at the top of Via Veneto with stunning works of architecture and manicured bushes dotted throughout. This is a lovely place to take an afternoon stroll out of the heat of the day. If you want to see some Italian art, head over to the Galleria Borghese or Villa Medici which house works by the likes of Bernini, Raphael, and Caravaggio.
Opening hours: Tuesday – Sunday: 8:30 am – 7:30 pm, Monday: closed
Tickets: Adults: 13 € + 2€ for the obligatory reservation, EU citizens (ages 18 – 25): 6,5 € + 2€ for the obligatory reservation
Find here more information about the Skip the Line: Borghese Gallery and Gardens Half-Day Tour.
8. Piazza del Popolo
The last stop on your first day of sight-seeing in Rome is the Piazza del Popolo, a large open square in the heart of the city. An Egyptian obelisk dedicated to Ramesses II dominates the landscape of the square with the Santa Maria del Popolo basilica lying just behind. Not only is the square impressive when you're standing in it but you can also ascend the stairs on the east side to gain a great vantage point!
After a busy day of sight-seeing you'll probably want a fairly relaxed evening, so head back to one of the squares you've visited today for an evening meal before bed!
2 days in Rome: Day Two
Day two is going to be spent in and around the Vatican City as this area of Rome has so much to see and do!
1. Vatican Museums
The Vatican Museums are one of the largest art collections in the whole world, with a whopping 1400 rooms all together! It is thought that the Vatican Museums have around 20,000 works on art on display at any one time, with the whole collection amassing to around 70,000 pieces. If you placed each piece next to each other they would stretch 9 miles, so to say there is plenty to see is an understatement! The Sistine Chapel is a chapel in the Apostolic Palace which is part of the Vatican Museums, so visiting is an absolute must!
Opening hours: Monday – Saturday: 9 am – 6 pm (Ticket office closes at 4 pm).
Sunday: Closed except the last Sunday of each month: 9 am – 2 pm. (Ticket office closes at midday, 12:30 pm).
1, 6 January, 11 February, 22 February, 19, 28 February, 29 June, 15 August, 1 November, 8, 26 December: closed
Tickets: Adults: 16€. Children (ages 6 – 18): 8€. Students (ages 19 – 26): 8€.
The entrance is free the last Sunday of every month.
Tip: Visiting the Vatican is an essential Rome experience, and it will be quite overwhelming! Before anything, you should know that the queues are huge. No matter how much you think you can wait, you can't. The queues go on for seemingly forever, so I recommend a skip a line tour.
Another way to enjoy the Vatican if you don't have much time is by this Pristine Sistine, early entrance small group Vatican tour by the Walks of Italy. The reason I like this tour is that you get inside the Vatican one hour before it opens, the group is up to 14 people and you get to see the Vatican in under 4 hours.
All times I've been there (currently 3) were with the skip the line guided tour, and it added to the overall comfort and convenience of my entire visit there.
If you're not really into tours, you can wander on your own and skip the lines.
2. St Peter's Square
St Peter's Square is the next stop on your Vatican City exploration with the grand St Peter's Basilica being the top sight. Entrance to the basilica is free but there are always long queues to enter and a strict dress code is enforced (no shorts, short skirts or bare shoulders).
It's worth getting an audio guide for your visit to St Peter's Basilica so that you can learn about the architecture, the history of the Vatican and the works of art inside. Don't miss Michelangelo's Pieta statue that is located to the right of the entrance to the church which has been signed by the artist himself!
3. Castel St Angelo
Castel St Angelo is another sight that is well worth seeing and as it's located just 10-15 minutes from the Vatican City it's a good add-on for day two of your Rome itinerary. This cylindrical fortress is also the Mausoleum of Hadrian and is today a museum, the Museo Nazionale di Castel Sant'Angelo. Thanks to its location near the Vatican, it was used as a fortress and castle by Popes in days gone by.
Opening hours: Tuesday – Sunday: 9 am – 7 pm
Tickets: Adults: 10,50€, EU citizens (aged 18 – 24): 7€
Book here your Castel Sant' Angelo Skip-the-Line Ticket & Audio Guide
4. Night in Trastevere
As you won't have walked too far today, you'll have plenty of energy for an evening spent in Rome's Trastevere district. Trastevere is located on the west bank of the Tiber River and is home to a wealth of authentic Roman restaurants, chic shops, and lively bars. You can spend time wandering the narrow, cobblestone streets and visit the Piazza Trilussa and Piazza di Santa Maria before settling down in a restaurant to enjoy thin Roman pizza and taste lovely craft beers or cocktails on Via del Politeama.
3 days in Rome: Day Three
Today is a big day and you'll visit some more of the top attractions in the city. This is the chance to fill your Instagram feed with the best bits and see anything else you have missed out on before heading home! You'll want to purchase a skip-the-line combination ticket to the Colosseum, Roman Forum and Palatine Hill so you don't waste time waiting in lines.
It is best to get up early on day three and head straight to the Colosseum. Not only will this mean beating the queues but you'll also be able to witness the building in the majesty of the morning glow. The Colosseum is a breathtakingly beautiful and vast amphitheater which makes you feel as though you have stepped back in time! You can really imagine the epic battles and competitions that would have taken place here as you stand small in the shadow of the surrounding walls.
Opening hours: Every day: 8:30 am until one hour before sunset, 25 December and 1 January: closed
Tickets:
Combined ticket to visit the Colosseum, the Roman Forum and the Palatine:
Adults: 12€
European Union members (18 – 24): 7.50€
Children (ages less than 17) and seniors (over 65) members of the EU: free entrance
2. Roman Forum
From the Colosseum, you'll move on to the Roman Forum which is included in your combi ticket. The Roman Forum ruins really allow yourself to get a glimpse of what life would have been like in ancient times with temple and palace ruins at every turn. Wandering around the Roman Forum will have you standing in awe at the grandeur of it all and is a fantastic site for your third day in Rome.
3. Palatine Hill
Palatine Hill is the final stop with your combi ticket, the nearby peak from which you can witness the Roman Forum from above. This verdant landscape is a wonderful place to connect with nature while also thinking about years gone by as you look down upon the ruins.
Opening hours: Every day: 8:30am 7:00pm

Tickets:
Combined ticket to visit the Colosseum, the Roman Forum and the Palatine:
Adults: 12€
European Union members (18 – 24): 7.50€
Children (ages less than 17) and seniors (over 65) members of the EU: free entrance
Tip: The Roman Forum, the Colosseum, and Palatine Hill were incredible places to visit, and the most important monuments in Rome, so needless to say, the lines were massive. Luckily, we bought skip the line tickets that helped make our tour so much easier and convenient.
4. Piazza Venezia
Yet another of Rome's grand sights is the Piazza Venezia. This vast square is located close to the Roman Forum and features statues, steps, fountains, and architecture to admire. Visitors should try to see the Palazzo Venezia, the Palazzo delle Aste, Palazzo Bonaparte and the San Marco Church nearby.
5. Vittorio Emanuele II Monument
Located on Piazza Venezia is the Vittorio Emanuele II Monument also known as the Altare della Patria (Altar of the Fatherland). This mammoth monument was built in honor of Victor Emmanuel II, the first king of unified Italy. The monument comprises of large stairways, Corinthian columns, beautiful fountains statue of Victor Emmanuel II on a horse. Not only can visitors admire the monument bu they can also take a lift up inside the structure offering them a panoramic view of the Roman surroundings!
6. Via del Corso Shopping
If you'd like to enjoy a spot of Italian shopping before you go home, head over to Via del Corso which starts from Piazza Venezia and runs as far as Piazza del Popolo in the north. This famous shopping street features everything from high-street stores to designer brands so everyone is well catered for. It's a great place to pick up some souvenirs or just clothes, bags and shoes for yourself!
If you have extra time to spend in Rome you might also want to add some tours and day trips that will give you a greater insight into the region and its cuisine and culture.
This half-day food tour gives you the chance to wander the streets and eateries of Rome, stopping off to try some delicious foodie treats and wine along the way. The tour takes you from Campo de' Fiori to the Trastevere to sample some local specialties including an aperitif, artisanal charcuterie, fine wine, and local cheese! Of course, it wouldn't be an Italian food tour without trying some gelato too, so you'll top off your visit with some fresh flavors at a famous gelateria.
A Day Trip To Pompeii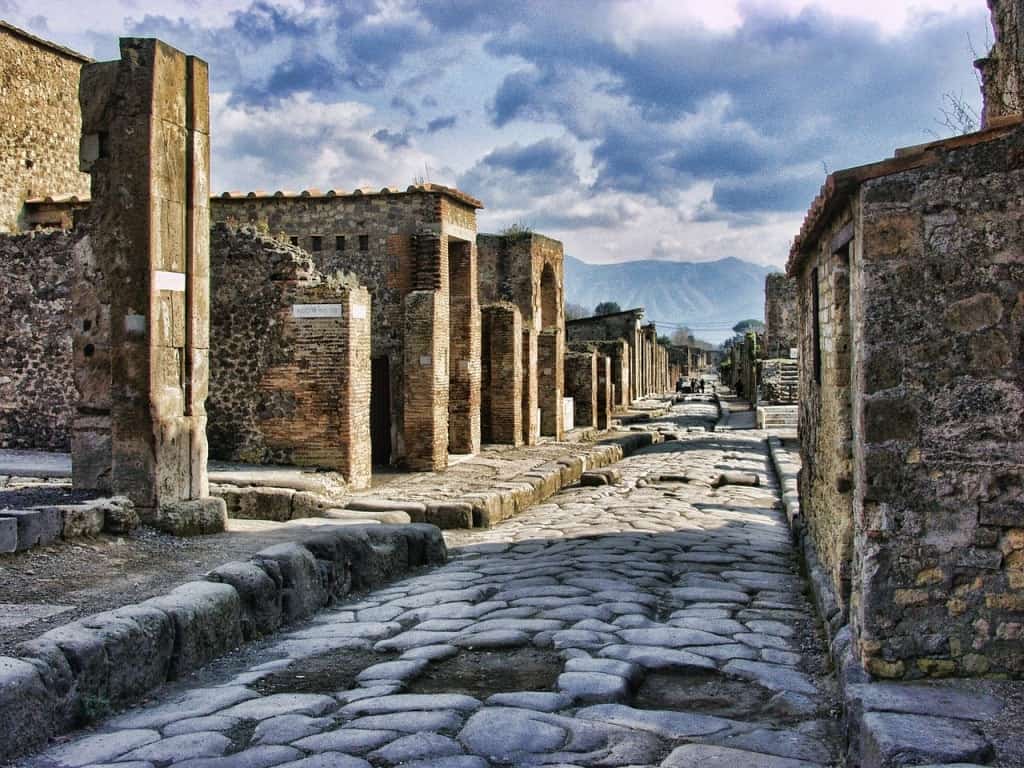 This day trip to Pompeii gives you a glimpse of history with a visit to the Roman remains of Pompeii, the town that was destroyed by the eruption of Mt. Vesuvius. After visiting Pompeii you'll head over to Vesuvius itself, checking out the crater and witnessing impressive panoramic views from the top. On a clear summer's day, visitors can see over to the Bay of Naples and the Amalfi Coast. The whole day tour starts and ends in Rome and gives you skip-the-line tickets so that you can make the most of your time.
Find here more information about the day trip to Pompeii
How To Get To And From The Airports In Rome
The city of Rome is served by two airports, Fiumicino and Ciampino, which offer flights in and out of various countries. You will want to check which airport you are arriving into so that you can plan your trip accordingly. Read on to find out how to get to and from Fiumicino and Ciampino airport in Rome:
From/To Fiumicino Airport:
Fiumicino Airport (also known as Leonardo da Vinci International Airport) lies 26km to the south-west of Rome. There are four options for getting to and from the airport to the city: train, shuttle bus, taxi or private transfer.
Train:
There are two train options for getting to/from Fiumicino to the city.
The first is the Leonardo Express, a direct train that runs from Fiumicino airport to Termini Station in the heart of Rome. This journey takes 30 minutes from the airport to the city, costing €14 one way. Tickets can be purchased both at the airport and Termini station and you will need to validate the ticket in the machines on the platform before boarding the train. It's important to note that tickets are valid for 90 minutes from the time of validation, so you'll need to buy your ticket just before traveling and get on the train as soon as your ticket has been stamped.
The second train option is the Regional FL1 Train. This is a good option if you are not staying in and around Termini as it connects to various other stations within the city. You can take the train from the airport to Tiburtina and then connect to the metro to find the closest stop to your accommodation. The Regional FL1 Train is a cheaper option than the Leonardo Express as a single cost €8 and metro tickets cost €1.50 per journey.
Shuttle Bus:
A cheaper option still is to take the shuttle bus from Fiumicino Airport to Rome city center. The shuttle ticket costs €6 one way and tickets can be purchased online before travel. This, therefore, makes them a great option for those who like to be super organized and have everything ready upon arrival. The shuttle bus takes around 55 minutes to reach the city (depending on traffic) and stops at Termini Station and Piazza Cavour near the Vatican.
Book your shuttle bus from and to Fiumicino airport here.
Taxi:
As with all airports, there is a taxi rank located outside of Fiumicino Airport where you can grab a licensed taxi to the city. These taxis are fixed at a rate of €48 from the airport to the city. While this is more expensive than public transport, it is a good option for larger groups or those traveling with lots of luggage!
Private Airport Transfer with Welcome Pick-Ups:
If you'd like a quick, comfortable journey from Fiumicino Airport to Rome but want to be organized in advance, you might want to book a private transfer with Welcome Pick Ups. These transfers are also fixed at €48 (so are the same price as a regular taxi), but as you have booked and pre-paid in advance you won't need to worry about having cash. Taking a transfer with Welcome Pick Ups allows you to take any extra hassle out of traveling as you will have a driver waiting for you upon arrival with a sign with your name on it, a bottle of water and a map of Rome so you can start preparing your trip.
Click here for more information and to book your trip
From/To Ciampino Airport:
There are fewer options for getting to and from Ciampino Airport so you'll just need to decide whether you want to take public transport or would prefer a private transfer.
Shuttle Bus:
If you're seeking the cheapest option for getting from Ciampino Airport to Rome city center, you'll want to take the shuttle bus. This journey takes around 40 minutes (depending on traffic) and runs from Ciampino Airport to Termini Station throughout the day. A single ticket costs just €5 so is a cheap and cheerful way to travel.
Book your shuttle bus from and to Ciampino airport here.
Private Airport Transfer with Welcome Pick-Ups:
Alternatively, if you are traveling as a group, with lots of luggage or would just prefer to travel by private transfer, you can book a trip with Welcome Pick Ups. The service is exactly the same as a pick up at Fiumicino Airport (name sign, water bottle, and city map), but the price from Ciampino Airport to Rome city center is fixed at €44.
Click here for more information and to book your private transfer.
Where to stay in Rome
You could stay at Royal Rooms which is about 201m away from Via Margutta and enjoys all types of amenities – from shopping, nearby plazas, cafes and things to do, along with amenities like a bidet, shower, hairdresser and much more.
Located just outside Palazzo Medusa, this property is one of the best in Rome and is a lot of people's top pick there. Not only do you get a large TV, bathroom, hairdryer and more, you also get to enjoy a wonderful gastronomic experience, bike rental, and super comfy beds!
The thing about Navona is that it sells well and it sells fast. It's an incredible choice for travelers – there is the food, the city walks around, and bike rental. But there's also the unbeatable location of being 192 m from Piazza Navona. You'll thoroughly enjoy the Baroque architecture of the hotel.
This is where comfort and slide go hand in hand, and the hotel itself has a hard to compete with the location. Located directly on the Piazza Navona, this hotel is a 5-minute walk away from history – the Pantheon… You'll also enjoy free city views, free WI-FI, furnishings, and everything you need.
For more information on where to stay in Rome, check out my post the best areas to stay in Rome.
When Is The Best Time To Visit Rome
Rome is a fantastic year-round destination with decent weather from around April to October. Of course, the summer months of June to August are also peak summer season so the main tourist attractions are at their busiest. Therefore, the best time to visit Rome is either April – May or September – November.
These months give you the chance to enjoy the city with clear, warm weather, without being jostled by the crowds. While Rome can also be visited in winter (and the tourist attractions will be much quieter) you'll need to pack and dress appropriately as it can get a little chilly!
How To Get Around Rome
Many of Rome's attractions can be reached on foot, with buses and metros being quick and reliable for longer journeys. Whether you choose to purchase a three-day pass for public transport or not depends on where you are staying in the city. If you think you will be using public transport a lot in one day, you can buy a one-day pass, or you might want to consider getting a Roma Pass which includes transportation as well as entry into some main attractions.
Public Transit Buses run throughout the city of Rome 24 hours a day, so you'll always know you can get around by bus. Bus and metro tickets are interchangeable and a single ticket can be used continuously for up to 75 minutes. Rome has two metro lines with stations near some of the city's top sights – Vatican Museums (Cipro), the Vatican (Ottaviano), the Spanish Steps (Piazza di Spagna), St. Pauls (Basilica S. Paolo) and the Colosseum (Colosseo).
Safety Tips For Travelling To Rome
Rome is generally considered a fairly safe city and many travelers visit each year without incident. However, it is worth being a little cautious, especially when traveling on public transport and around busy streets and attractions as pick-pocketing is quite common. If can use a cross-body bag, money wallet or backpack (on your front while traveling), you should be able to avoid pick-pockets by keeping an eye on your zips and possessions at all times. It is best not to have any valuables in your pockets while using public transport if you can avoid it.
Other precautions to take while traveling in Rome (and any major city really) include not flashing money or valuables around, not traveling alone at night, not walking along dark quiet streets and making sure you know where you are going and look confident while doing so.
Now you have all the tools you need to plan an incredible three-day trip to Rome, knowing when to visit, how to get to the city from the airport, how to stay safe and most importantly the top sights you should include on your itinerary!
Let me know if you have been to Rome or if you are planning a trip and what your highlights are.
You might also be interested in:
PIN IT!