This post is also available in: French
Amarante is a picture-perfect town in Northern Portugal with medieval, Renaissance and Romanesque influences that make it an absolutely breath-taking place to explore. Nestled between the mountainous mass of the Serra do Marão, rolling vineyards and the valley of the Tâmega River below, Amarante's setting is stunning in itself, but the architecture within the town also works to boost the beauty of this relatively unknown locale.
The town of Amarante is located on the Romanesque Route, a heritage trail of monasteries, churches, monuments, bridges, castles and towers situated in nine countries across Europe. I was lucky enough to travel with Transromanica, a company specialising in travel exploring the Romanesque Routes of European Heritage. Through cultural tourism, Transromanica works to bring to light the spectacular features of Romanesque architecture and highlight the cultural, architectural and historical similarities between heritage sites from Portugal to Romania. Transromanica also promotes sustainable tourism across the network ensuring these fascinating sites are here to explore for many more years to come.
As Amarante is such an important part of this Romanesque Route, you can expect plenty of cultural offerings such as churches, bridges, monasteries and museums. You'll therefore have loads of things to see and do in Amarante during your trip to Northern Portugal.
8 Things To Do In Amarante, Portugal
1. Ponte de São Gonçalo
Ponte de São Gonçalo is one of Amarante's most striking features both due to its central position within the town as well as its large, arched architectural style. The Ponte de São Gonçalo is the gateway to the Igreja de São Gonçalo church and a picturesque place to watch the rushing waters of the Tâmega River pass by. Travellers can stop and admire the view on their way across the bridge thanks to the two rounded platforms that were added to the bridge's design at the end of the 18th Century.
2. Igreja de São Gonçalo
The Church of Saint Gonçalo is another of Amarante's most impressive sites, with an intricate facade, a 16th-century Renaissance doorway and the tomb of Gonçalo de Amarante himself located within. São Gonçalo is said to have performed a number of miracles during his time, including splitting open his own head to produce wine for the thirsty workers who were building the Ponte de São Gonçalo! Quite fitting for a Saint from the Vinho Verde wine region! If you happen to visit Amarante on the first Saturday in June you will see the locals celebrating the Festas de São Gonçalo with cakes, ceremonies, church services and other festivities.
3. Museu Municipal Amadeo de Souza-Cardoso
Despite being located in the old cloisters of the church's convent, the Museu Municipal Amadeo de Souza-Cardoso is a decidedly modern attraction. The museum collection opened in 1947 to celebrate Amarante's famed writers and artists such as the Expressionist António Carneiro, painter and sculptor, Acácio Lino, and, of course the Modernist artist the museum is names after, Amadeo de Souza-Cardoso. The museum also hosts regular exhibits of up-and-coming contemporary artists and features a small archaeological collection for those interested more in the region's history.
4. Igreja de São Domingos
If you are already itching to see another church after your visit to Igreja de São Gonçalo, then fear not as the Baroque-style Igreja de São Domingos is just a few paces away! Built in 1725, Igreja de São Domingos is very different to its neighbour and it is interesting to compare and contrast the two as they stand side-by-side. Inside, Igreja de São Domingos is decorated with exquisite gilded wood carvings which are well worth seeing. The church also houses a museum, this time of sacred art such as icons and ceremonial items used within the church.
5. Make or try traditional deserts at Confeitaria da Ponte
Once you've spent the morning exploring some of the sights of Amarante, you'll want to head over to Confeitaria da Ponte to try some delicious local delicacies. This bakery has been open for over a century and is the place to come to indulge in some Portuguese sweet treats. You can either sit back and relax and simply eat the cakes and sweets, or why not try your hand at making some? Inside Experiences Amarante offers fun and interesting cooking classes during which you can create local favourites like Foguetes, Lerias, Brisas do Tamega, Papos de Anjo and Sao Goncalos.
6. Try Vinho Verde
If you're visiting Amarante to explore the nearby wine country, it would be amiss not to try the famous Vinho Verde or Green Wine. This local speciality is thankfully not actually green, rather it's most often a crisp, aromatic white wine. You can get red and rosé varieties too but the slightly sparkling white wines are the best ones to try to get a taste of the region's crops and techniques. The wine can only be called Vinho Verde if it comes from this region and if you can it's best to try wine created by smaller producers rather than large manufacturers.
7. Walk by the Tâmega River
Walking along the banks of the pristine Tâmega River is one of the most relaxing things to do in Amarante, plus it's free so everyone can enjoy a peaceful stroll! It's a great way to get a glimpse of local life as it's not only tourists who enjoy the banks, but fishermen too, who hop in their little boats or wait on the banks for a hopeful catch. There is a riverside path that you can take from the municipal market car park that passes underneath the São Gonçalo bridge and along the waterfront, so if you get a sunny day, head down and soak up the views.
8. Take A Jeep Safari
If you want to explore further afield in a more rugged style during your trip to Amarante you might want to head into the mountains above the city for a Jeep Safari! Again, Inside Experiences Amarante are a great choice as they offer experienced guides who can show you the Neolithic sites of Aboboreira, giving you an insight into the history of the region that was inhabited over 7000 years ago! Not only is the landscape dotted with fascinating megalithic monuments such as the Chã de Parada and the Meninas do Crasto 3, but the surrounding scenery is stunning too and is well worth a visit.
5 Things To Do Near Amarante
1. Monastery of Travanca
Located around 20-25 minutes to the west of Amarante lies the Monastery of the Saviour of Travanca, another work of Romanesque architecture. Unlike the churches within Amarante, the Travanca Monastery does not feature intricate detailing on the exterior facade, but it is still an interesting building thanks to its perfect symmetry throughout and its adjacent medieval bell tower which actually stands separate to the church building itself.
2. Quinta da Aveleda Gardens & Winery
Quinta da Aveleda is a beautiful historic mansion set within grounds of manicured gardens and vineyards. The house itself is covered in winding trails of ivy, and the gardens feature lakes, fountains, monuments and flower arrangements which are amazingly photogenic. Take a tour of the gardens and receive some wine tasting samples too. Quinta da Avelada produces 19 million bottles of wine annually so it would be rude not to try or buy at least one!
3. Monastery of Saint Peter of Cête
The Monastery of Saint Peter of Cête is another site that is well worth visiting if you're interested in Romanesque architecture as this monastery blends Romanesque and Gothic features in a way like no other. The building has undergone various renovations over the years with the most notable being in the 13th and 14th centuries when Gothic features were added to the upper half of the building. The monastery has a rustic charm, so those who prefer unobtrusive architecture will love this style.
4. Lunch at Casa Da Viuva Restaurant & Wine Bar, Quintandona
If you want to try local cuisine paired perfectly with wine produced in the region, head to Casa Da Viuva Restaurant & Wine Bar in the village of Quintandona. This elegant restaurant serves up some of the best food and wine in Northern Portugal (which is saying something when Porto is on the doorstep!), and as the food is served up tapas-style, you get to try a wonderful range of dishes. The staff here are knowledgeable and friendly and love to wax lyrical about their region's produce and heritage.
5. Interpretation Centre of the Romanesque
Located in Lousada the Interpretation Centre of the Romanesque is a relatively new centre to enable those exploring the Route of the Romanesque to delve deeper into the region's history. It is a great place to start your Transromanica trip, discovering information about the territory, art, symbolism, society and monuments.
Where To Stay In/Around Amarante, Portugal
Lousada Country Hotel
The Lousada Country Hotel is the perfect place to stay when exploring Amarante as it seamlessly blends original features such as stone walls with modern facilities and furnishings. The hotel is set within surrounding vineyards, allowing you to soak up the atmosphere of this spectacular wine region from the get-go. The country hotel also boasts a swimming pool, tennis courts, restaurant and free WiFi throughout so you have everything you need on-site for an unforgettable stay.
If you've ever thought about visiting Amarante or the winelands of Northern Portugal, this is your sign to go now! The region is still relatively undiscovered but it won't be long before this beautiful town and the surrounding vineyards are awash with tourists flocking to see the Romanesque architecture and pristine landscapes. There is plenty to see and do in Amarante and I can assure you, you won't be disappointed!
Planning to extend your trip to Portugal? You might be interested in:
Did you like the post? Pin it!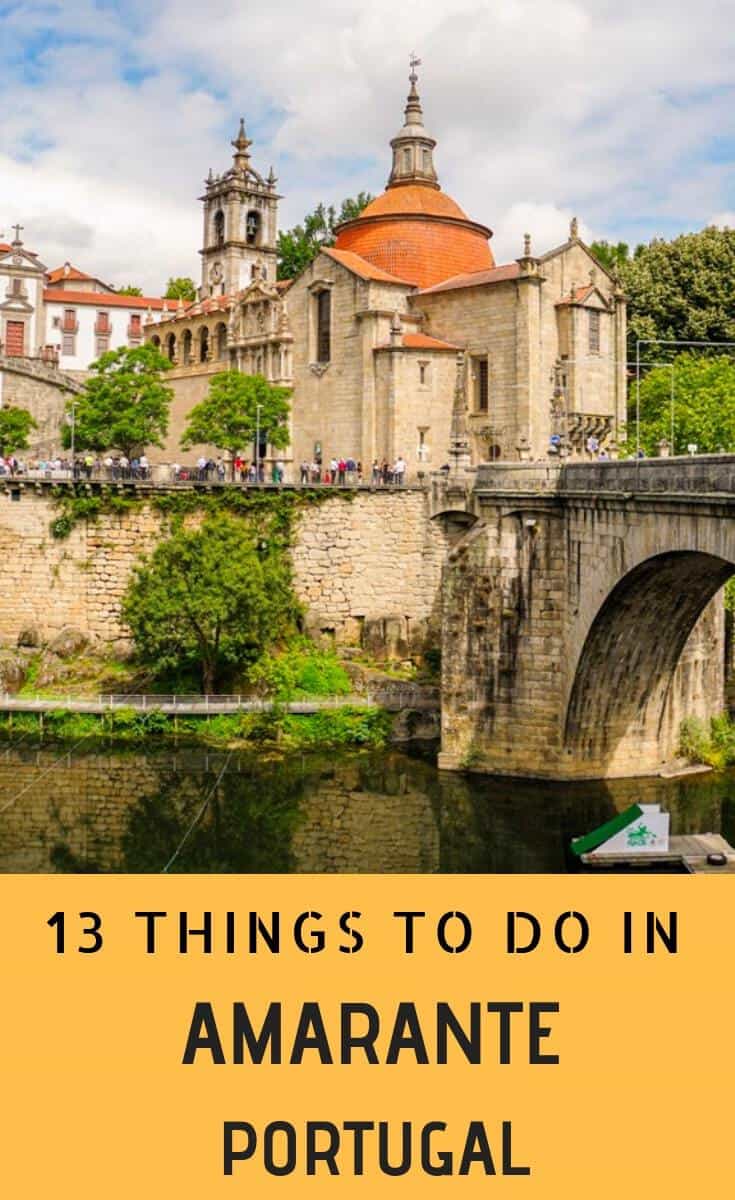 I was a guest of Transromanica, but as always opinions are my own.