Throughout most of Europe, April marks the start of Spring, a new season filled with opportunity and a fresh start. A perfect time to travel, there is no shortage of where to go to in Europe in April. From art to fine food to religious celebrations, every region offers a wonderful holiday destination in Europe for the month of April. The following list comprises dated events and places to travel to in Europe come April.
Best places to go to Europe in April 2020
Seville Spain for Semana Santa
5th of April 2020 11th of April 2020
The Spanish Holy Week features an early celebration filled with visual artwork and processions depicting the Passion of Jesus Christ. The procession constitutes large statues that line the streets of Seville, and locals carry floats as a sign of repentance. The sight is spectacular and filled with displays of passion. Art, music, and imagery combine in a celebration of one of the most emotional events of the year. Andalucía is rich in tradition, making this season one of the best reasons to pay a visit and witness locals in Nazarenos and the La Madrugada, or the performance of the Virgins of Macarena and Triana. Most restaurants close on Maundy Thursday and Good Friday, and the processions pass by the entrances of stores making it difficult to access some entrances throughout the processions.
Budapest, Hungary for the Spring Festival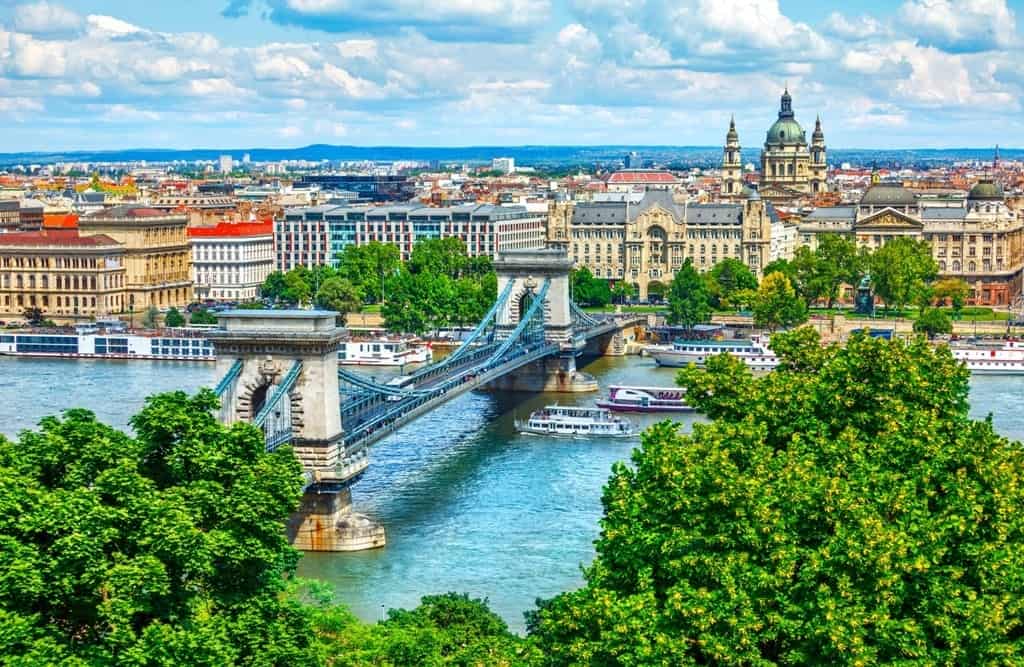 3rd of April 2020 – 19th of April 2020
The annual Budapest Spring Festival is a true celebration of the arts. From theatre to classical music, to fine arts, the festival is elegant and commemorate, and spans three and a half weeks in totality. Over 120 programs are available, performed in 40 set venues, as well as public areas. The classical works of Franz Liszt are performed, as well as the annual rendition of Excelsior, dedicated to the story of Liszt. Guided gallery visits and museum tours are also available, making this the perfect occasion to learn about Hungarian history and culture.
Lisbon, Portugal for the Lisbon Fish & Flavours (Peixe em Lisboa)
4th of April 2020 – 14th of April 2020
Lisbon Fish and Flavours is the largest culinary event dedicated to seafood throughout Portugal. This 10-day festival comprises a gourmet market exhibiting a wide range of brands, and where the largest freshly caught prawns can be found. Varieties of fish are on sale, and world-famous chefs offer cooking classes, celebrating the traditional take on preparing Portuguese seafood. Something for the taste buds, pair the finest Porto wines with various dishes and be sure to participate in the best Pastel de Nata contest.
Obidos & Porto in Portugal for the Holy Week (Semana Santa)
5th of April 2020 – 11th of April 2020
Similar to festivities in Seville, Semana Santa is also celebrated throughout Portugal and starts on Palm Sunday. Processions start by enacting Jesus' entrance into Jerusalem on a donkey, where locals show hospitality with olive branches and palm leaves. A highly emotional and religious event, processions commonly take place in Obidos and Porto and re-enact Biblical passages through repentance. The end of Holy Week signifies the end of Lent, and Easter is a feast of fine meats, almonds, and traditional cakes.
Brussels Belgium for the International Fantastic Film Festival (BIFFF)
7th of April 2020 – 19th of April 2020
Home to one of the largest fantasy film festivals worldwide, this Belgian Festival features a series of cult films where an excess of 150 movies premiere throughout theatres. Genres range from horror to fantasy, to science fiction, and draws over 60000 people annually. Providing access to the first screening of films, the Festival has an element of novelty and provides for a great cinematic experience.
Nürnberg, Germany for the Spring Fair
11th of April 2020 – 26th of April 2020
The annual Spring Fair is a traditional fun fair-style festival and the second largest fair in Bavaria. The fairgrounds of the Dutzendteich Lake attract approximately 2 million visitors each year for this purpose. Fun for the whole family, activities ranges from games and roller coaster rides, and a folklore experience. Food stalls line the streets, and true to German tradition, beer is available on tap. The festival is the most famous event in Nuremberg and a celebration of local life. The festival runs from the afternoon until late.
Verona, Italy for Vinitaly (wine festival)
19th of April 2020 – 22nd of April 2020
Home to the biggest Italian wine show, Verona celebrates the pride of its region at the annual Vinitaly wine festival through tastings and pairing. This festival is for connoisseurs and social drinkers alike, and provides a great platform to learn about the wine-making process, as well as the ins and outs of the industry. In short, Vinitaly is a world-renowned wine festival which hosts 400 events in a 4-day period, attracting over 125000 visitors from 145 countries to taste 18000 wines of 4500 exhibitors. Besides fantastic traditional wines, this wine festival showcases the best in haute cuisine, the latest in modern wine technology, as well as interactive masterclasses.
Paris, France for Beer Week
24th of April 2020 – 3rd of May 2020
A week dedicated entirely to craft beer production, Paris Beer Week features the best of its 74 breweries to suit the tastes of beer enthusiasts. The purpose is to advertise the products of minor breweries that lack the means to do so directly. Craft beers are mainly Parisian and French, but also feature international crafts. Boasting over 250 beers on tap, and even accommodating vegan preferences, there is certainly something for everybody. Beer tasting works by way of a token pass system based on the number of days of attendance.
Seville, Spain for the April Fair (Feria de Abril)
26th of April 2020 – 2nd of May 2020
The April Fair celebrates the beginning of Spring and is one of the most honored events of the city. It is common to see women clad in flamenco dresses, and the daytime is dedicated to fun and festivity. This week is peak bullfighting season, and drinks and tapas flow from the hundreds of casetas or large striped tents which become commonplace this time of year, accompanied by traditional Sevillian folk music and late-night dancing. Horses roam the streets in the late afternoon, and the elite maintains tradition by arriving at the fair in a horse-drawn carriage. Jamon, or rotisserie pork, is a festival staple, as well as paella and sangria. The fair attracts over a million visitors each year to bask in rich Spanish culture and cuisine.
Check out my posts: One day in Seville and 2 days Seville itinerary.
Amsterdam, the Netherlands for King's Day
27th of April 2020
A festive European highlight amongst the Dutch, King's Day celebrates King Willem-Alexander's birthday. On this day, streets are a sea of orange which represents the color of their Royal House. However, the pre-party starts the evening beforehand, which is referred to as King Night, which extends until evening on the 27th. The canals are also lined with party boats which attract over a million locals to Amsterdam to partake in the festivals. The evening ends with a tall glass of herstelbiertje (recovery beer) as work resumes the next day.
Essentially, Europe's shoulder season marks a new start and a great opportunity to make the best of a range of events and festivities throughout the month. Events overlap at times, but the duration is optimal in order to schedule visits to multiple countries and bask in the magnificence of various cultures in a single month. From Western to Eastern Europe, Spring travel makes for the perfect getaway.