Rome or Florence?
Which is the perfect city for your next Italian trip?
Whether you're looking for the perfect destination for a romantic weekend, a short vacation with a group of friends or your next family trip abroad, Rome and Florence are probably on your bucket list.
Which one is the best when you only have a few days to spend in Italy?
The choice is hard, but let's take a closer look at these cities to better understand their main differences!
Rome vs Florence? Which one to visit?
Choose Rome if …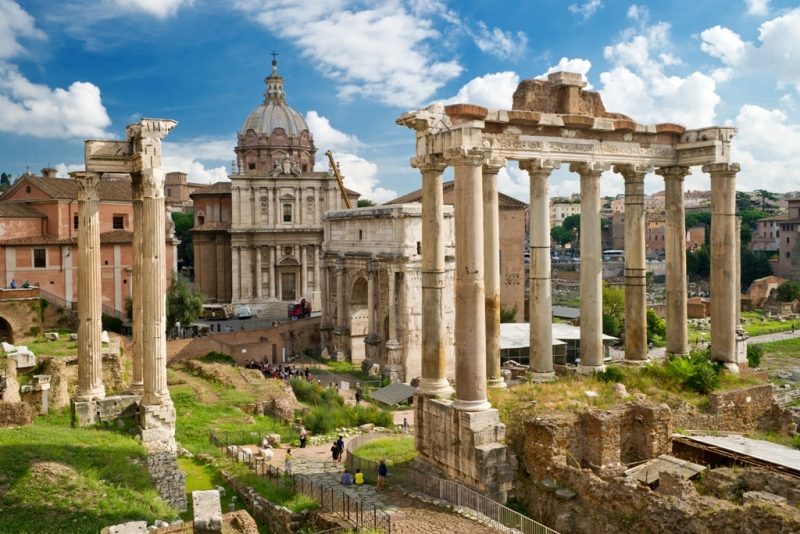 It's your first trip to Italy
You shall definitely start your Italian explorations from the Eternal City! Most of the famous Italian monuments can be found in Rome and all the main historical events you studied at school took place in this city whose history spans from the 7th century BC to today! Moreover, Italians and other Mediterranean people were deeply influenced by the ancient Romans, which makes this city the perfect starting point to learn more about Mediterranean cultures in general.
You are passionate about ancient history or archaeology
Ancient times still linger in the air in Rome and you can see monuments, works of art, and buildings that were already there many centuries ago. Just think about how many things the Colosseum or the Imperial Forum have seen throughout the centuries! Learn more about Roman Emperors in their own ancient villas (ex: Domus Aurea) or at their baths (ex: Caracalla Baths) and imagine how life was like back then!
You are interested in the spiritual side of a Country
Whatever your religious beliefs are, a visit to the Vatican is quite impressive and emotional. St. Peter's Basilica is always full of pilgrims from all over the world and its atmosphere can fascinate everyone. In Vatican City, you'll also find many precious works of art like the Sistine Chapel or the Pietà by Michelangelo. Remember to always cover your shoulders and knees while visiting the Vatican and to take off your hat when entering a church.
You are interested in cultural events, concerts and art exhibitions
Rome offers endless entertainment opportunities all year round and you'll surely find something suitable for you too! If you love live music, plan your visit around the end of April to attend the "Concertone", which is a free music festival occurring on May 1st and featuring the best national and international performers. If you prefer going to the movies, plan your visit in October when the local Film Festival takes place: it's not as famous as the one occurring in Venice in late summer, but it still offers some interesting premiers.
You like spending some time in a green park
Rome has many parks and gardens offering peaceful places to relax in nature, have a picnic, exercise, or go cycling. The best ones are Villa Borghese with its nice lake and the romantic raw boats, Villa Doria Pamphili with several kilometers of woodland and gardens, Villa Torlonia with its Liberty villas, and the Orange Garden on top of Aventino hill with its amazing view of St Peter's Dome.
You'll be traveling in winter
Winter in Rome is generally mild and you'll be able to spend several hours outdoor all year round. Rain is possible but it never lasts long, so an umbrella and a pair of waterproof shoes will be more than enough. If you plan your trip in January, you'll also benefit from lower fees (it's low season), winter sales, and fewer tourists around.
Italy is a great destination for foodies since every region has its own gastronomic specialties, but Rome is especially famous for its typical pasta dishes: amatriciana, carbonara, cacio e pepe and so on!
You want to experience local nightlife
In Rome, you'll be spoilt for choice when planning a night out! Choose your accommodation according to the kind of nightlife you prefer in order to make the best of your evenings and nights! Choose Trastevere for happy hours and typical dinners, Pigneto if you like a cosmopolitan and multicultural atmosphere, Testaccio if you want to go clubbing, Campo de Fiori if you like standing outdoor and make new friends sipping a cocktail, and San Lorenzo if you are in your 20s.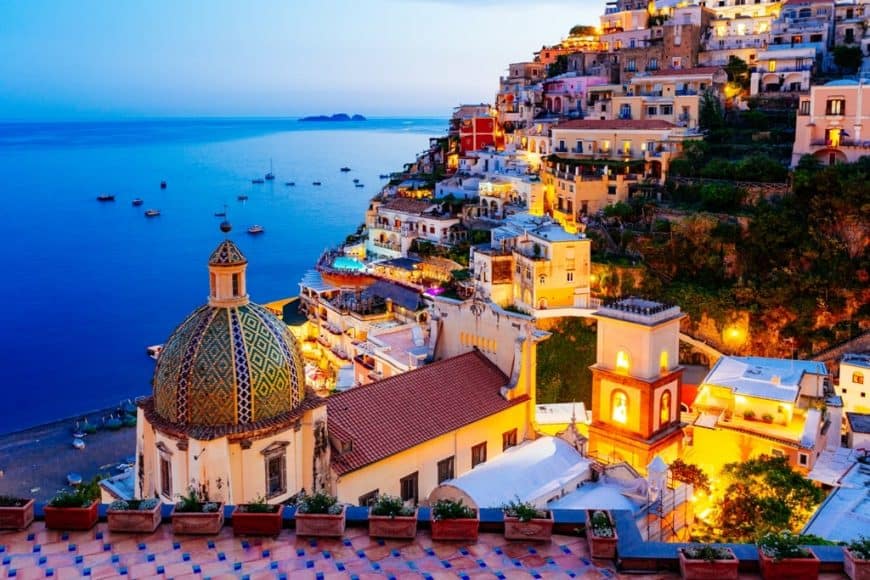 You dream about the iconic Amalfi Coast
Numbers of guided tours leading visitors to explore the best of the Amalfi Coast start right from Rome. If you have not enough time to spend in Naples or Sorrento, but you don't want to give up enjoying some sea breeze, stay in Rome and save one day for a trip to the coast!
Planning a trip to Rome? You might like:

Where to stay in Rome

How to spend 5 days in Rome

How to spend 3 days in Rome

Things to do in Rome at night
Choose Florence if…
You want to combine some sightseeing and some relax in the countryside
You can choose Florence as a base to explore the beautiful Tuscan countryside and plan some day trips around Orcia Valley and Chianti. As an alternative, you can also spend a whole weekend on a local farm after having visited all the famous monuments and museums in Florence. If you like farmlands and hills, plan your trip in Spring when natural local landscapes are at their best. If you prefer to visit Italy in summer, choose a farm in the countryside to also enjoy some bike tours, some trekking and some relaxation at a local spa. The best villages near Florence are Certaldo, Vinci, Montepulciano, Bagno Vignoni and Monteriggioni.
You are planning a weekend in Italy
Florence is relatively small and can be visited in just 2 days, while Rome requires at least 4 or 5 days.
Of course, any art lover shall visit Florence at least once in a lifetime! Worldwide famous museums like Uffizi and Accademia Gallery, iconic statues like David and architectural masterpieces like the Cathedral and its Brunelleschi Dome are all waiting for you. In Florence, every corner of streets and squares is full of art!
In the Old Town, everything is within walking distance, so you won't need to use public transports or get stuck in traffic jams…simply walk around at your own pace and you'll see every point of interest in just a few hours. Walking through the picturesque streets of Florence is also an experience in itself.
You are fascinated by the Renaissance
Florence is surnamed "The Cradle of the Renaissance", so it's a great destination if you like this historical period. Learn more about the Medici family who ruled the city for a long time, visit Palazzo Vecchio to discover some historical fun facts and search for the masterpieces of artists like Brunelleschi, Michelangelo, Donatello, Masaccio, or Raffaello. Explore the beautiful Boboli Garden to immerse yourself in the splendor of court life.
Tuscany is famous for its prized wines like Nobile, Chianti, and Brunello. There are many wine tours starting from Florence and leading you to wine estates where you'll discover techniques and local products. There are also plenty of wineries in the Old Town and you can buy a bottle of local wine as a souvenir or spend some time at an outdoor table watching people go by.
If your favorite meal consists of a grilled steak, you're in the right place! The most famous local dish is the Florentine steak: a thick veal steak with bone which is cooked on the grill and it is usually served rare. It comes from a local cattle breed named Chianina.
One single city of art is not enough
Siena, Pisa, Lucca, and Arezzo are all close to Florence and you can visit them with a guided tour or an individual day trip. There are also plenty of other picturesque towns and villages offering monuments, museums, and lovely views of the local countryside. Rent a car in Florence and wander around this corner of Tuscany to discover some iconic places like Piazza del Campo in Siena, the Leaning Tower in Pisa, the towers of San Gimignano, or the Etruscan ruins in Volterra.
Florence is one of the best Italian cities to buy a local and traditional souvenir. There are still plenty of craft shops working with old techniques and creating original handmade products: jewelry laboratories on Ponte Vecchio, bookbinding laboratories in the Old Town, and leather shops around Santa Croce.
Planning a trip to Florence? You might like:

The best day trips from Florence

The best hilltop Tuscan towns and villages to visit

One day in Siena

One day in Pisa
What if you want to visit both Rome and Florence?
Combining Rome and Florence in the same itinerary is easy! Take a high-speed train (Italo or Frecciarossa) to cover the 280Km that separate them in just 1h40! If you have not enough time to spend a few days in each city, choose Rome as your base and save a day for a trip to Florence.
Of course, spending just one day in Florence often means skipping the museums but the Old Town with its churches and monuments is enough to make the best of your time! Try to squeeze in a visit to Michelangelo Square too, in order to take in one last view of the iconic skyline of Florence before heading back to Rome by train.
You might also like:

How to spend 10 days in Italy

How to spend 14 days in Italy