If you're planning a beach holiday in Italy, you' re probably trying to decide whether to choose the Amalfi Coast or the Cinque Terre area. Despite its 8.000 Km of coastline, Italy is mainly famous for these two seaside destinations offering some of the most beautiful natural landscapes, picturesque villages, crystal clear water and sightseeing opportunities.
Let's see their main differences in order to choose your next destination according to your specific wishes and needs.
Cinque Terre vs Amalfi Coast. Which one to visit?
Choose the Amalfi Coast if…
You would like to also visit Naples and/or Rome
If you're planning to visit Naples, you'll reach the Amalfi Coast with a pleasant and scenic 1h drive: that could be a perfect day trip or a brief escape from the chaos of the city. Rome is a little bit further away, but you can get to Naples in just 1h by high-speed train. If you're planning to stay in Rome, you should save at least a full weekend (3 days are even better) to wander around the Amalfi Coast and explore it far and wide.
You like lounging on the beach all day long
In Southern Italy, the pace of life is slow and you will be encouraged to take it easy and relax. There are no extra-large beaches there, but the Amalfi Coast has so many picturesque corners that you'll surely find your favorite spot! The most beautiful beaches are Fiordo di Furore in Praiano, with its high rocky cliffs and a small and intimate cove, Marina Grande in Positano, which is glamorous and trendy, the beach of Atrani that's perfect for families and rich in facilities of any kind, Fornillo Beach in Positano, with its romantic vibe and the Beach of Vietri Sul Mare, which is the largest one of the entire area spanning across 1 Km.
You'll be travelling in early Spring or in Autumn
You'll always find mild and sunny weather on the Amalfi Coast and the bathing season starts in April and ends towards the end of September (or even later sometimes!). It's the perfect destination for an off-season swim and Autumn is the best choice to enjoy lower fees and fewer tourists around!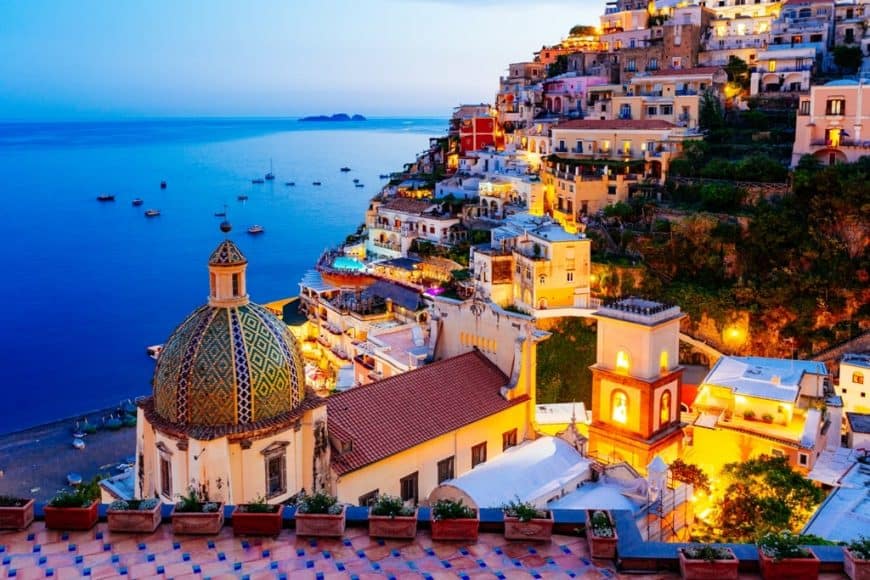 You like visiting ancient monuments
The Amalfi Coast is rich in historical heritage and every town or village offers many sightseeing possibilities. What you cannot miss in terms of monuments: the Amalfi Cathedral and its Cloister of Paradise, the Baroque churches of Ravello (San Giovanni del Toro and San Pantaleone), Arechi Castle in Salerno, Pompei, Ercolano, and Paestum.
You're dreaming of a 5star holiday
The Amalfi Coast was always popular among emperors, kings, nobles, and celebrities so that luxury and glamour are an integral part of the local atmosphere. It's not a cheap destination but it's perfect for visitors who want to experience some 5star hospitality, from hotels to restaurants to spas and private yachts.
One of the Italian best scenic drives is here: highway 163, also named Amalfi Drive. It is 50 Km long and it offers some amazing views at every turn from Sorrento (starting point) to Vietri Sul Mare (end of the scenic road). It's full of bends, so it might not be a great experience for people suffering from motion sickness! Also, don't drive there on a summer weekend, because you'll be stuck in traffic for long hours!
The Amalfi Coast was used as a set of countless movies. Among the most iconic ones, there are "Paisà" (1946) by Roberto Rossellini with Federico Fellini, "Journey to Italy" (1952) with Ingrid Bergman, "Beat the Devil" (1953) with Humphrey Bogart, "Bread, Love and Dreams" (1955) with Sofia Loren and "Mr. And Mrs. Smith" (2005) with Brad Pitt and Angelina Jolie.
Check out: The best movies filmed in Italy.
You like visiting some noble mansions and beautiful gardens
There are many noble mansions scattered around the Amalfi Coast and the most beautiful ones are Villa Rufolo and Villa Cimbrone, both in Ravello. Other than their beautiful gardens, you can also visit the Cimini Garden in Maiori or the Minerva Garden in Salerno.
You're planning a trip for two
Watching the sunset on the Amalfi Coast is one of the favorite summer activities of both Italian and international couples! There are plenty of romantic places around Endless Terrace in Ravello, the Lovers' Beach in Cetara, the Love Walk in Furore, or the many cozy and intimate restaurants on the beaches.
Planning a trip to the Amalfi Coast? Check out my posts:

How to spend 3 days in Naples

Where to stay in Naples

How to get from Rome to the Amalfi Coast

Amalfi Coast itinerary

Beautiful villages and towns on the Amalfi Coast

Where to stay in the Amalfi Coast

Things to do in Sorrento

Things to do in Capri
Choose Cinque Terre if….
You would also like to visit Florence and/or Milan
The Cinque Terre area is about 2h30 away from Florence and 3h from Milan (either by car or by train). A day trip is not a good idea, because these places deserve at least a weekend to be fully explored. A good option is spending a few days in one or both these cities of art and then spend a weekend by the sea in Liguria.
You prefer an active and dynamic holiday
Cinque Terre National Park offers 48 trekking trails. If you like filling your schedule with outdoor activities, buy a Cinque Terre Trekking Card to also have the chance to join guided tours and workshops. Other activities you can do? Kayak tours, diving, biking, or sailing!
This destination is quite cheap and it's perfect for young people loving adventure, fun and casual accommodation. You'll find several great campgrounds, B&Bs, and hotels at a small price but with an excellent location in nature!
You prefer to move around using public transports
The villages in Cinque Terre are very well connected by fast and frequent trains. Get a Cinque Terre Card to have unlimited access to local trains. As an alternative, you can even completely skip transports and walk from one village to the other while enjoying some trekking in the National Park!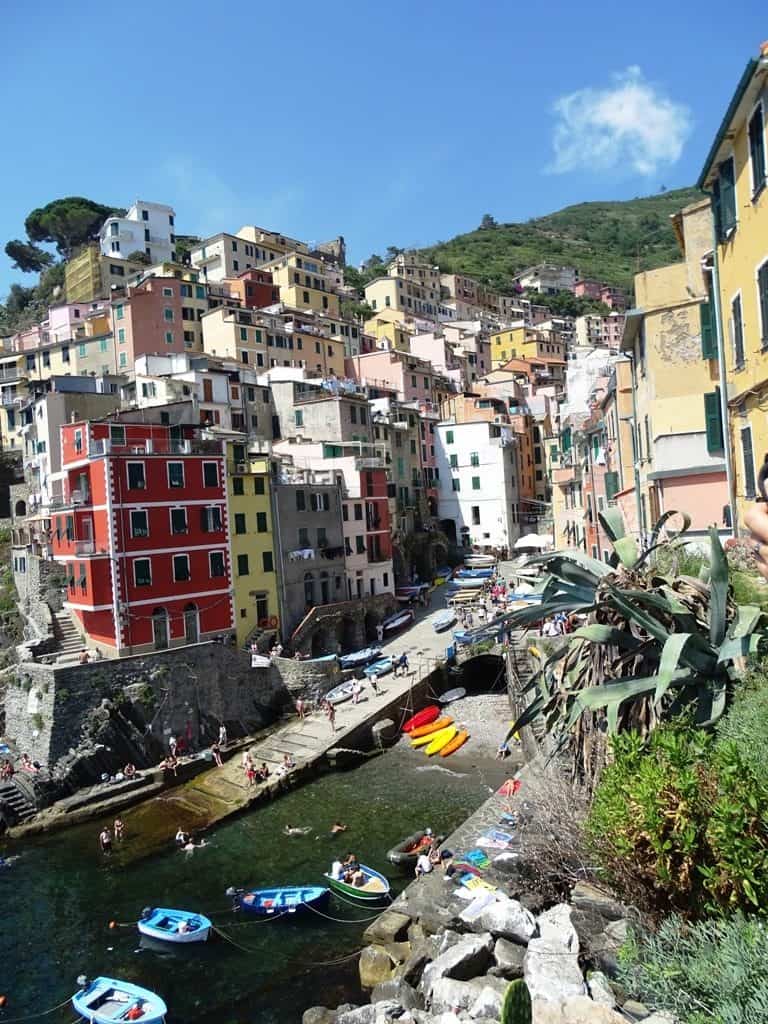 You only have a couple of days
This area is relatively small (about 40 square kilometers), so you can explore it in just 2 days (or even 1 if you start very early in the morning!). The best option is choosing either La Spezia or Genoa as a base, then getting there by train. If you're planning a 2day hike, just split the itinerary into 2 and spend the night in Corniglia, that's exactly halfway.
You prefer a laid back and informal atmosphere
If you can't stand luxury, fashion, celebrities, and excessive glamour but you prefer a local and authentic vibe, simple fishing villages, and some pristine nature…. that's exactly the right destination for your next holiday! If you want to stay far from the summer crowds, choose Levanto as your base: it's the closest small village to the Cinque Terre National Park and it's less famous among tourists and really authentic and perfect to get a glimpse of the authentic Ligurian lifestyle!
Every Italian Region is rich in excellent local dishes and typical products, but Liguria is definitely one of the best: pesto sauce, focaccia, ice cream, farinata, rice tart, salted anchovies and so much more! Cinque Terre area is also famous for a couple of local wines and it could be the perfect place to experience a cooking class like this Authentic Pesto Making Class in Cinque Terre or a food tour like this one La Spezia Cinque Terre Food Tour.
Without taking anything away from the sunsets and the blue sea of the Amalfi Coast, the high rocky cliffs, the lush Mediterranean scrub, the vineyards and olive groves, the forests and the colorful houses of Cinque Terre are a real paradise for any photographer, influencer or travel blogger. The best spots for your pictures are the view of Vernazza from the Monterosso trail, the marina of Vernazza, the Rock of Monterosso, Bonfiglio Point, and the panoramic view from the Sanctuary of Riomaggiore.
Crowded places don't bother you
The villages are really small with narrow alleyways, beaches are small and trails are intricate and narrow too….of course, there is a crowd everywhere, especially in summer! It might not be the right destination if you're searching for quiet and peace, but it's great if you want to make new friends, mingle with the locals, and being immersed in a vibrant atmosphere.
Planning a trip to Cinque Terre? Check out my posts:

Best places to visit on the Italian Riviera

How to spend one day in Cinque Terre

How to spend 2 days in Cinque Terre

Where to stay in Cinque Terre

Things to do in Portofino

How to get from Florence to Cinque Terre
What if you want to visit both the Amalfi Coast and Cinque Terre?
Visiting both the Amalfi Coast and Cinque Terre on the same trip is not a good idea unless you really have plenty of time. They are far away from each other and high-speed trains don't get there, so the journey would be long. It's best to only choose one destination according to the other stops of your trip: visit Cinque Terre if you prefer to focus on Northern Italy and choose the Amalfi Coast if you prefer to focus on the Southern Regions of the Country.