Italy has always been one of the favorite destinations of honeymooners thanks to its countless romantic spots: art cities, picturesque villages and amazing natural landscapes are everywhere!
Moreover, international visitors can enjoy local traditions, folk events, and excellent food from North to South.
Let's explore a few of the most popular destinations to help you plan your honeymoon in Italy!
Disclaimer: This post contains affiliate links. This means that should you click on certain links, and then subsequently purchase a product, I will receive a small commission.
Best Places to visit on your honeymoon in Italy
Rome
When to go: April, May, September, October
How many days: 4,5 or 6
If you've never been to Italy before, you certainly cannot miss Rome! It's a perfect destination to go sightseeing all day long, but it's also a great choice for foodies and for couples loving some nightlife.
Romantic Rome
An evening cruise on the Tiber is a great classic: watch the sunset and the many Roman beauties while having an Italian-style aperitivo (ex: Rome: Wine and Appetizers on the Tiber River).
For a romantic stroll in nature, head to Villa Borghese Park. Its small lake is one of the best spots for couples and you can even rent a rowboat.
Picturesque Rome
The most picturesque district of Rome is Trastevere with its cobbled streets, its colorful buildings and its many typical trattorie
Among the most iconic places in Rome, you surely cannot miss a picture of the famous Spanish Steps, also offering a great view from above the staircase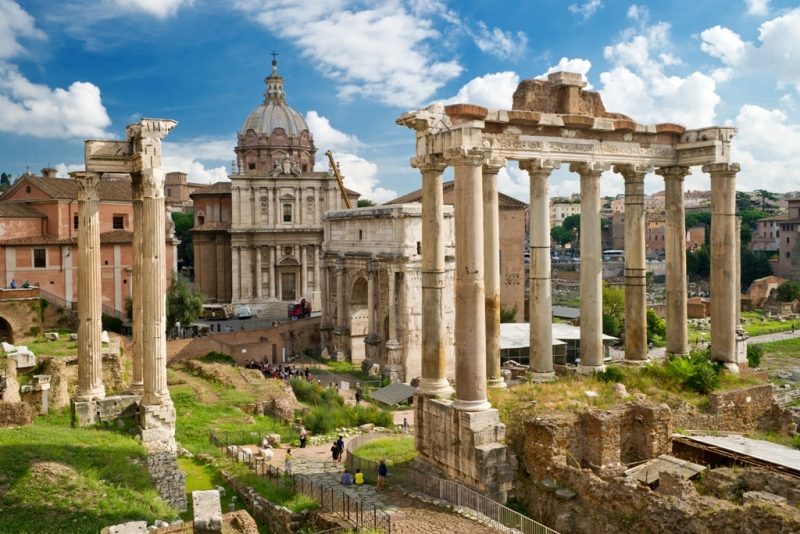 Cultural Rome
Gourmet Rome
Pasta is everywhere in Italy and especially in Rome! The best pasta dishes in town are pasta alla carbonara and pasta cacio e pepe.
Where to stay on your honeymoon
Hotel Ponte Sisto: located inside a former monastery and overlooking a peaceful courtyard.
Hotel Savoy: located inside a former noble mansion, it's a luxurious and glamorous accommodation.
Check out my Rome posts:

Where to stay in Rome
How to spend 3 days in Rome
How to spend 5 days in Rome
Amalfi Coast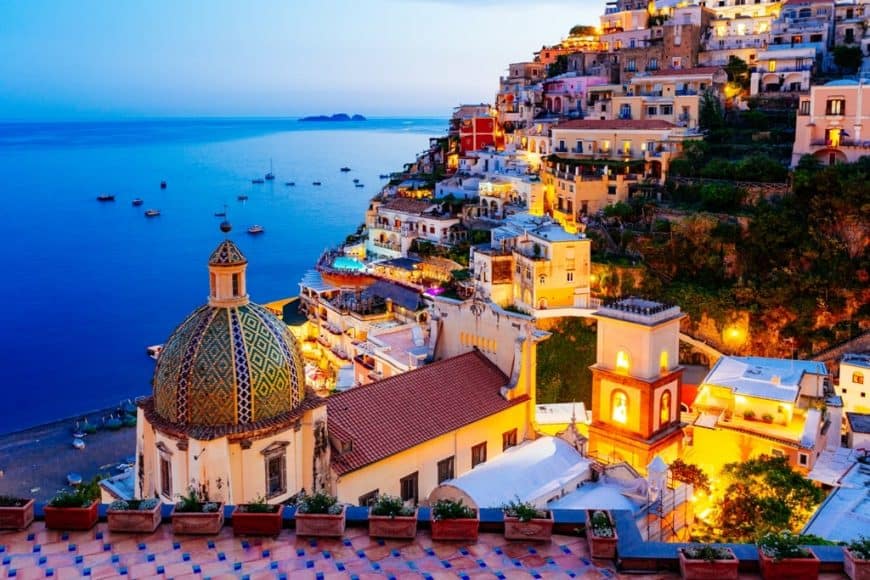 When to go: May, June, September, October
How many days: 4 or 5
If you want to combine sightseeing and relaxation by the sea, one of the best Italian destinations is the beautiful and picturesque Amalfi Coast.
Romantic Amalfi Coast
Watch the sunset from the Terrace of Infinity in Ravello and keep your camera at hand!
A secluded beach enclosed by rocky cliffs and only accessible by sea: it's Lovers' Beach in Cetara!
Picturesque Amalfi Coast
One of the most picturesque beaches of the coast is Spiaggia Grande in Positano, with its typical pebbles and the hills in the background
The best Italian scenic drive is in Campania: the so-called Amalfi Drive!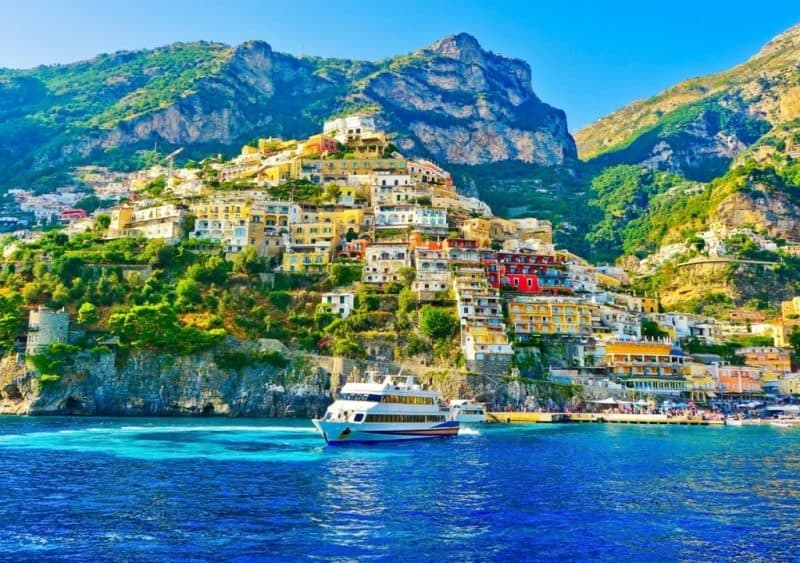 Cultural Amalfi Coast
If you're into art and architecture, visit the Amalfi Cathedral and the Cloister of Paradise, which are the symbols of local artistic production
Among the many noble mansions scattered along the coast, visit Villa Cimbrone in Ravello and enjoy its beautiful panoramic garden
Gourmet Amalfi Coast
The main local products are Colatura di alici from Cetara (an anchovy sauce) and the popular lemon-based liquor named Limoncello
Where to stay on your honeymoon:
Check my posts on the Amalfi Coast:

Where to stay on the Amalfi Coast
An Amalfi Coast Itinerary
Best towns and villages on the Amalfi Coast
Things to do in Sorrento
Capri
When to go: May, September, October
How many days: 1 weekend
To experience the charm of a romantic tiny island, spend a few days in Capri: it's the perfect getaway to relax after some sightseeing!
Romantic Capri
The best spot to watch the sunset in Capri is the Belvedere of Punta Tragara overlooking the famous Faraglioni
Enjoy a private boat tour to visit the amazing Blue Grotto in peace! (ex: Capri: Private Gozzo Boat Island Tour)
Picturesque Capri
Visit the beautiful Garden of Augusts and enjoy the view from the belvedere
One of the main landmarks of Capri rises from the sea: the rock formations called Faraglioni which make the typical picture of a Capri vacation!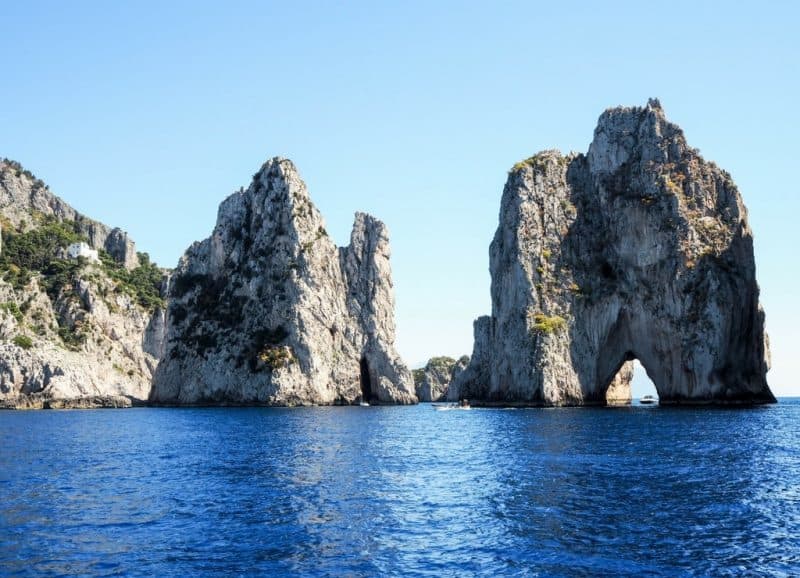 Cultural Capri
To experience the authentic island vibe, head to La Piazzetta, the tiny square of Capri and the main gathering point for both locals and tourists
Anacapri is slightly less popular than Capri, but it's a lovely village with picturesque streets, historic churches and small squares located in the foothills of Mount Solaro.
Gourmet Capri
Two Italian dishes rhyme with Capri: the summer Caprese salad made with tomatoes, mozzarella, and basil and the delicious Caprese cake made with almonds and chocolate
Where to stay on your honeymoon:
Hotel Quisisana: private garden, two swimming pools and all the comforts you might need.
Capri Palace Jumeirah in Anacapri: it's a hotel & museum full of contemporary works of art scattered around the entire complex.
You might like: Things to do in Capri.
Florence
When to go: May or September
How many days: 3 or 4
If you like the Renaissance and you would like to feel like a royal couple of the XVI century, choose Florence for your honeymoon! It's also the perfect destination for art lovers and for Dante Alighieri's fans!
Romantic Florence
One of the best ways to get a first glimpse of the city center is a romantic carriage ride
A great classic: watching the sunset and the skyline of Florence from Michelangelo Square!
Picturesque Florence
Take the best picture of Florence from above after climbing the 463 stairs leading you to the top of the famous Brunelleschi Dome
Ponte Vecchio is one of the most iconic places in Florence and you can take plenty of pictures of the Arno River from its arches but you can also take a picture of the bridge itself from Ponte delle Grazie located just opposite Ponte Vecchio!
Cultural Florence
Start your exploration of the city from Piazza del Duomo and visit the Cathedral, the Museum of the Treasury, the Baptistery and the Giotto Tower. A guided tour is a great option too (ex: Giotto's Bell Tower and Florence Cathedral Museums Tour).
Visit one of the most famous museums in the world: Uffizi! A skip the line ticket or a guided tour is a must! (ex: Uffizi Gallery: Tour).
Gourmet Florence
The most representative dishes of local gastronomy are the Florentine steak and the Ribollita soup
Where to stay on your honeymoon:
Ville sull'Arno: a romantic location overlooking the Arno River with a cozy internal restaurant and free bike rental.
Four Seasons Hotel: a 5star hotel with spa and a starred internal restaurant.
You might like my Florence posts:

How to spend 2 days in Florence.
How many days do you need in Florence?
Florence in winter.
Best day trips from Florence.
Tuscany
When to go: April, May, June, September
How many days: 1 week
If you prefer to focus on just one region and explore it far and wide, choose Tuscany: nature, history, art, castles, and farms are just waiting for you!
Romantic Tuscany
Tuscany is famous for its many spas where you can spend a relaxing day enjoying wellness treatments, swimming pools and local nature. The best ones are in Chianciano, Saturnia and Bagno Vignoni.
An evening stroll in via del Bacio (Kiss Street) in Pienza is a must for every couple!
Picturesque Tuscany
The skyline of of San Gimignano with its medieval towers is visible from a great distance and it is one of the most popular pictures to take in the countryside
Tuscany is full of castles, but none is as majestic as the famous Rocca di Montalcino overlooking the homonymous medieval town!
Cultural Tuscany
If you happen to be in Tuscany in August, don't miss the chance to attend the famous Palio di Siena, that is a traditional horse race dating back to the Middle Ages
Learn more about local wines visiting some wine estates and enjoying some tastings (ex: Chianti Colors & Flavors Day Trip from Florence).
Gourmet Tuscany
One of the most popular dishes you can taste in Tuscany is named pappardelle al ragù di cinghale (pasta in a wild boar sauce), while the typical local after-dinner is Cantucci & Vin Santo (almond biscuits dipped into sweet wine).
Where to stay on your honeymoon:
Check out my posts about Tuscany:

A 4 day Florence and Tuscany itinerary
45 things to do in Tuscany
One day in Siena
Hilltop villages of Tuscany
Cinque Terre
When to go: April, May, June, July, August, September
How many days: 1 weekend
The perfect destination for active couples loving sport and nature: trekking, biking, kayaking, swimming, and diving are just a few of the many activities you can enjoy in this picturesque area of Liguria.
Romantic Cinque Terre
For a romantic stroll at sunset, choose the scenic trail connecting Riomaggiore and Manarola. It is named "via dell'Amore" which literally means "Love Trail"!
Another romantic way of watching the sunset is taking a private boat tour with aperitivo (ex: Cinque Terre Sunset Boat Tour).
Picturesque Cinque Terre
To take the best pictures, take the trail connecting Vernazza to Monterosso
Another great spot for an Insta-friendly picture is the view of Manarola from Punta Bonfiglio. Go there late in the afternoon to capture the golden sunlight on the cliffs
Sporty Cinque Terre
Gourmet Cinque Terre
When visiting Liguria, you cannot miss some "pasta al pesto". While in Monterosso, make sure to taste some rice tart, which is not a dessert but a savory tart made with rice, eggs, and ricotta.
Where to stay for your honeymoon:
Hotel Marina in Monterosso: a cozy hotel by the beach with a lush garden.
Luxury Dreams in La Spezia: you'll have the chance to reach Cinque Terre by train in just 10 minutes. You'll also be able to reach the lovely town of Portovenere and its Natural Park in about 40 minutes from La Spezia.
Check my posts on Cinque Terre:

Where to stay in Cinque Terre

How to spend 2 days in Cinque Terre

One day in Cinque Terre
Lake Como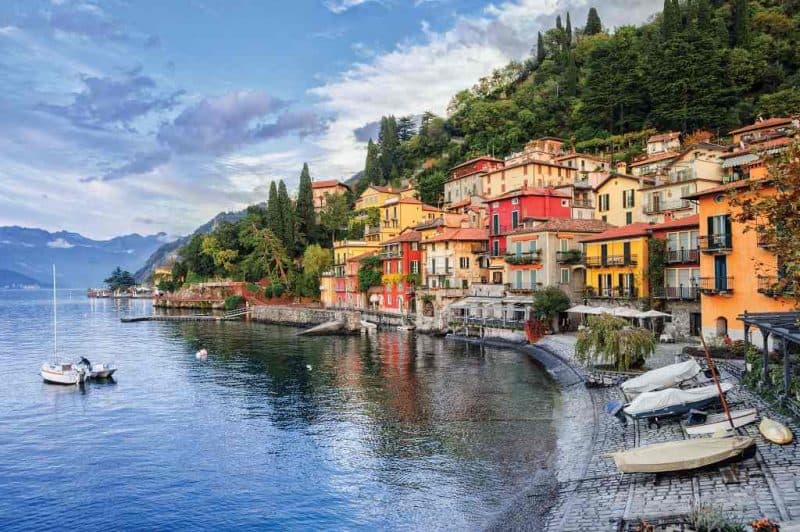 When to go: April, May, June, July, August, September
How many days: 1 weekend
If you're planning to explore Northern Italy, don't forget to add a romantic weekend by the lake to your itinerary!
Romantic Lake Como
A beautiful arboretum full of rare flowers, plants and peaceful corners overlooking the lake: it's the Garden of Villa Melzi in Bellagio!
A sunset sailing experience with aperitivo on board is a great choice for a night out!
Picturesque Lake Como
Varenna's Old Town looks like a fairy tale whit its colorful buildings, its flowered balconies and its cozy restaurants and cafés
See how celebrities and nobles have always enjoyed their vacations on the lake by visiting the beautiful Villa Pizzo in Cernobbio!
Cultural Lake Como
Don't limit your visit to one location but take advantage of a guided tour to also explore the Swiss lakes and the beautiful Swiss city of Lugano (ex: From Como: Three Lakes Tour to Ascona, Lugano, and Bellagio)
Como is definitely worth a day trip! Visit at least its Cathedral, Volta Square, the promenade by the lake and the so-called Voltiano Temple, dedicated to the famous local scientist Alessandro Volta.
Gourmet Como Lake
One of the most typical dishes of Lombardia is risotto, so you shall taste its lake version with local fresh fish. Local lake fish is also cooked "in carpione": it means it is fried then marinated in vinegar, sugar, and fresh herbs.
Where to stay on your honeymoon:
Hotel Belvedere in Bellagio: an old mansion in a panoramic location close to the Old Town.
Hotel Garni Corona in Menaggio: by the lake and at the heart of the Old Town.
Check out: Best towns to visit in lake Como.
Venice
When to go: April, May, September, October
How many days: 4 or 5
If you prefer a classic romantic location and you don't mind meeting plenty of other couples who had the same idea as you, then a few days in Venice are what you need!
Romantic Venice
A slow gondola ride is a must for every couple visiting Venice! Choose an evening ride and watch the city lights reflecting on water (ex: Venice: Private Gondola Ride to Rialto Bridge).
Enjoy a special night out at the opera at the famous and fancy La Fenice Theater
Picturesque Venice
Take a picture of Canal Grande from the highest point of Rialto Bridge!
Another picture you cannot miss is the one featuring the beautiful Bridge of Sighs with its narrow and picturesque canal below
Cultural Venice
Piazza San Marco is the heart of Venice and exploring all its landmarks will take you at least 3hours. Join a guided tour of both St. Mark's Basilica and the Doge's Palace to skip the line at the entrance (ex:Doge's Palace & St. Mark's Basilica with Terrace Access Tour).
If you only have time to visit one single museum in town, then choose the Accademia Galleries to admire the masterpieces of local famous artists
Gourmet Venice
Taste local cicchetti, the Venetian version of international tapas! One of the most typical local appetizers is named sarde in saor and it consists of marinated sardines with vinegar, onions, and raisins.
Where to stay on your honeymoon:
Check my posts on Venice:

How many days do you need in Venice?

When is the best time to visit Venice?

How to spend 2 days in Venice?

Venice in winter.